When you use the internet in Mexico, your online privacy may not be fully protected from surveillance, which is why many people use VPNs.
Although VPNs are legal in Mexico, it's not always working. Many citizens report getting offline error messages.
That may be due to an extension or cookie interfering with your browser and VPN's profile.
Another reason is that your VPN server may be blocked by the website you try accessing, or your connection is unstable.
Want to learn how to fix it? Keep reading.
Does Mexico block VPNs?
VPNs are legal in Mexico, but the country has data retention laws. If you use a VPN that's headquartered in Mexico, your privacy may be at risk.
While internet censorship is not common in Mexico, surveillance is.
As the government mandates, telecom companies must legally retain all user data for at least two years.
Consequently, law enforcement can access this data without a warrant, meaning the authorities can view your browsing history, IP addresses, and other information anytime.
But the good news is you can always use a VPN freely without blocks to encrypt your data and conceal the URLs you visit.
How to fix your VPN when it's not working in Mexico?
1. Change your server
Your VPN may not work in Mexico because of IP bans, too many people being connected simultaneously on a server, or poor configurations that lead to IP leaks.
That's why using a VPN with extensive servers is a good idea. In case you have an issue, you can always switch to a different one.
Here's how to switch to a different VPN server.
Open your VPN app.
Disconnect from the current server.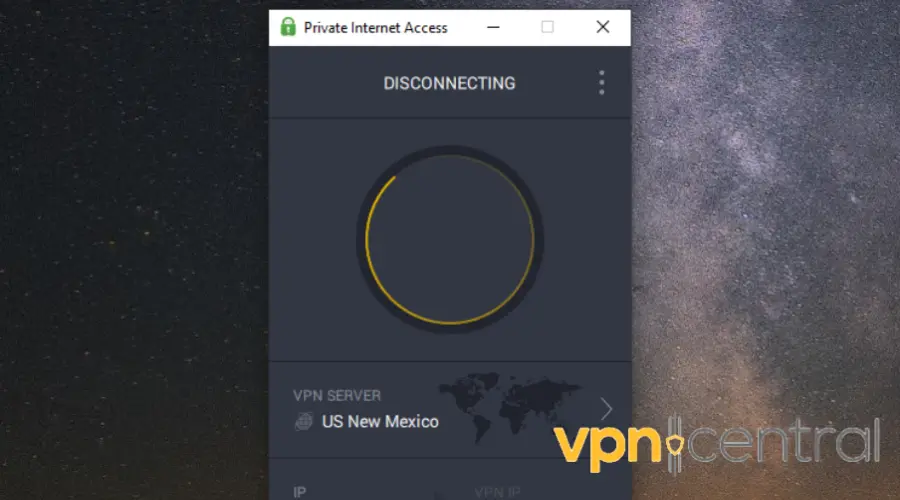 Expand the server list and select your desired location on the list.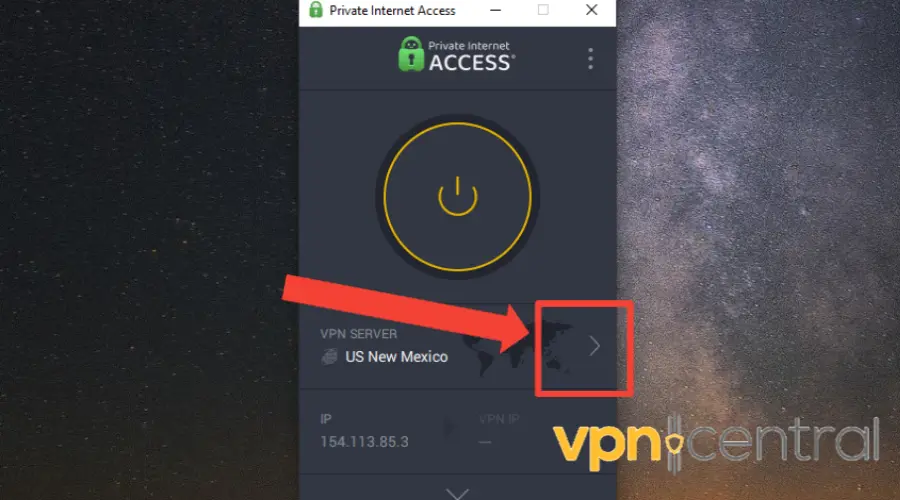 Connect to the server.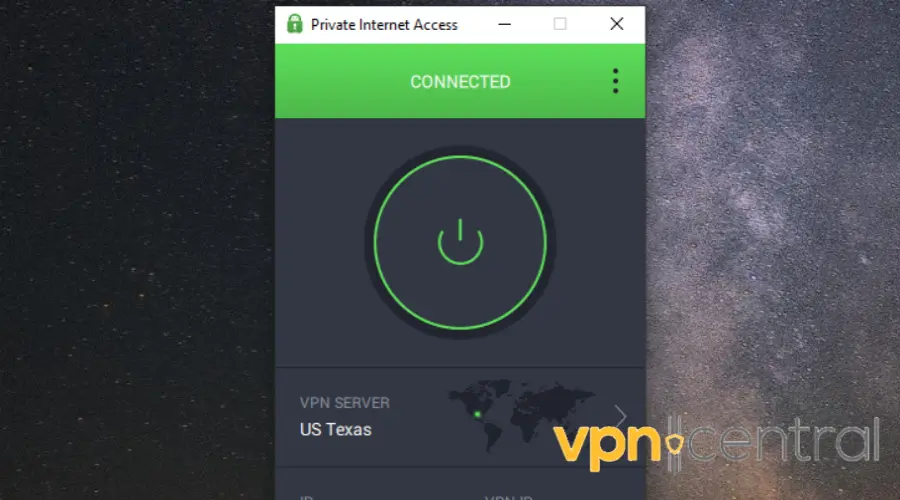 Try browsing the web again, it should work now. If not, try a few more servers.
2. Clear your browser cache and data
Browser cookies store location info and they may interfere with your VPN connection.
To solve this, you can clear your cookies to erase the old information from your browser:
Click on the three dots at the top right edge of your browser.
Go to More tools, and select Clear browsing data.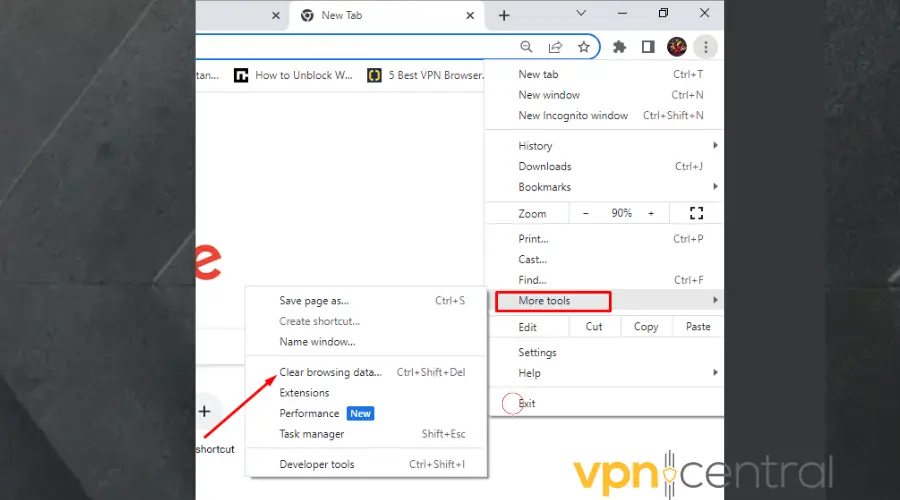 Choose the time range from the drop-down list. Use All time to delete everything.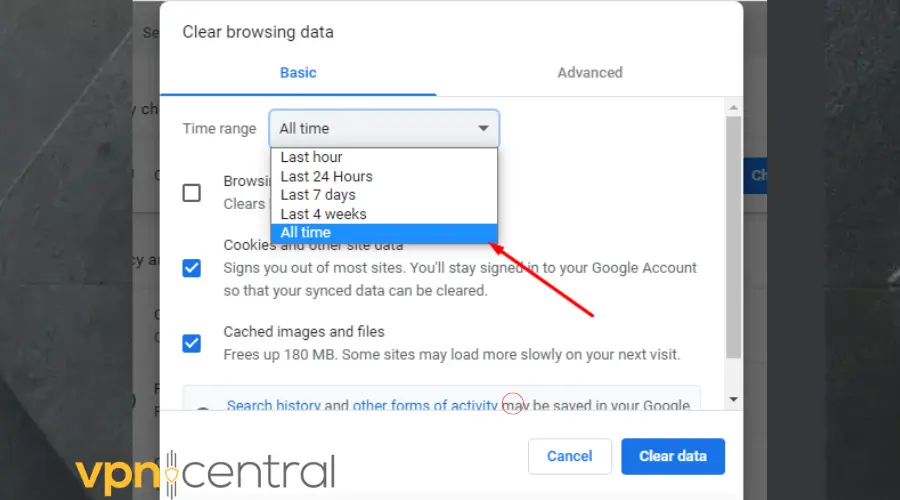 Check the boxes for Cookies and Cached images and files.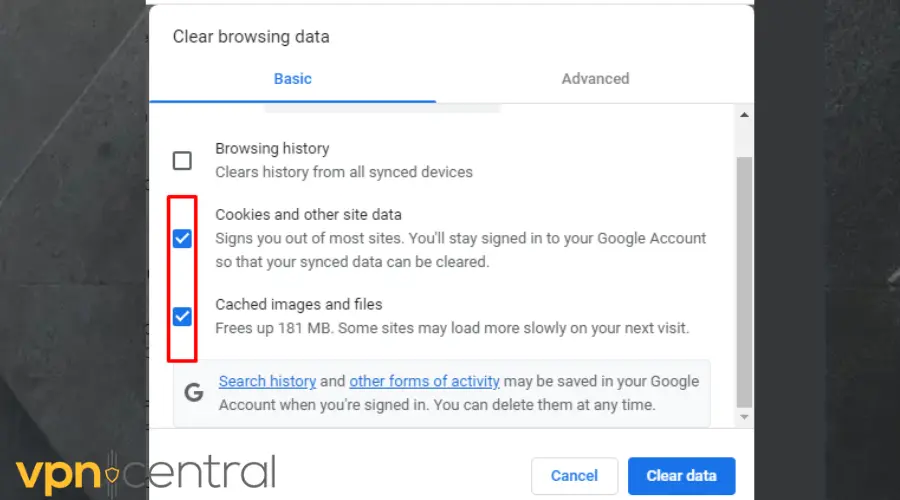 Click Clear data.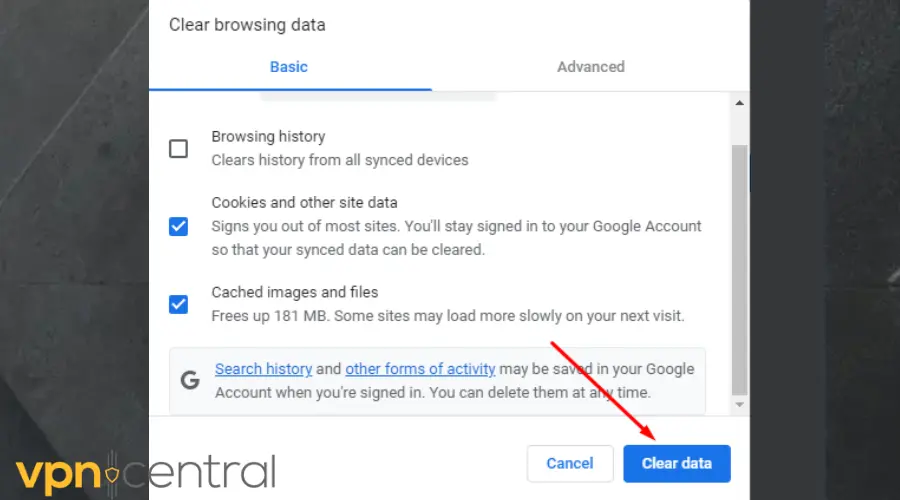 Go back to the website or app. It should work by now.
By clearing your cookies, you can also enhance your browsing speed and safeguard your privacy on the internet.
Also, we've used Chrome as an example, but you can follow similar steps on other popular browsers like Edge, Opera, or Firefox.
3. Allow VPN through the firewall
The responsibility of your firewall is to manage your network security by preventing access to and from questionable platforms or services.
However, it's possible that your firewall may mistakenly label your VPN as dangerous even if that's not the case.
But you can allow VPN through the firewall to stop this. Here's how to do it on PC:
Enter Window Defender Firewall into the Windows search bar.
Click on Windows Defender.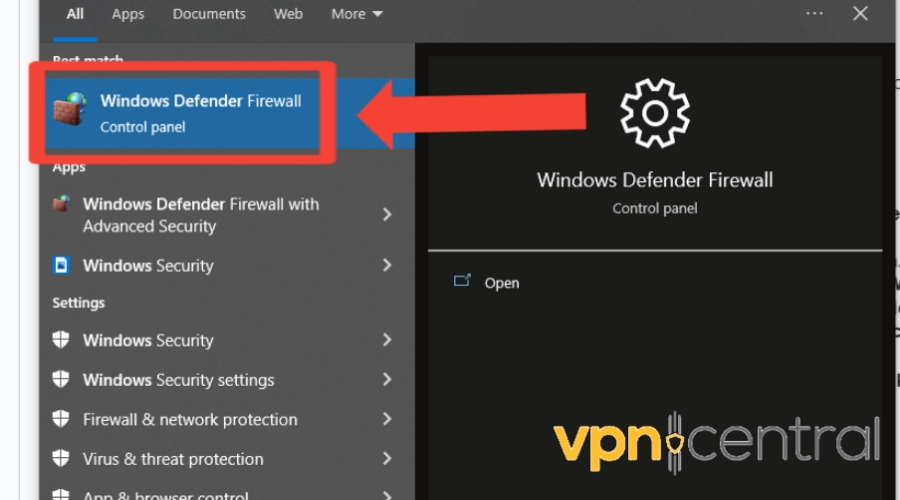 Select Allow an app or feature through Windows Defender Firewall.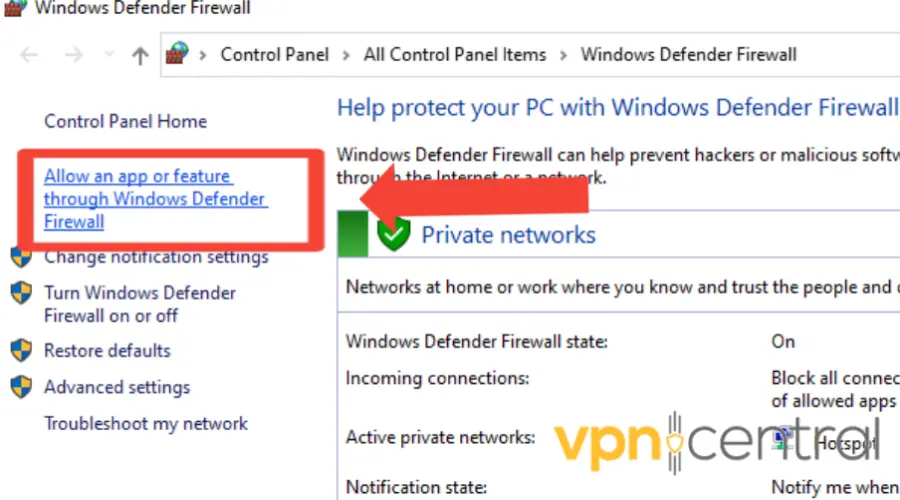 Look for your preferred VPN in the application list.
Check the box beside Private and Public.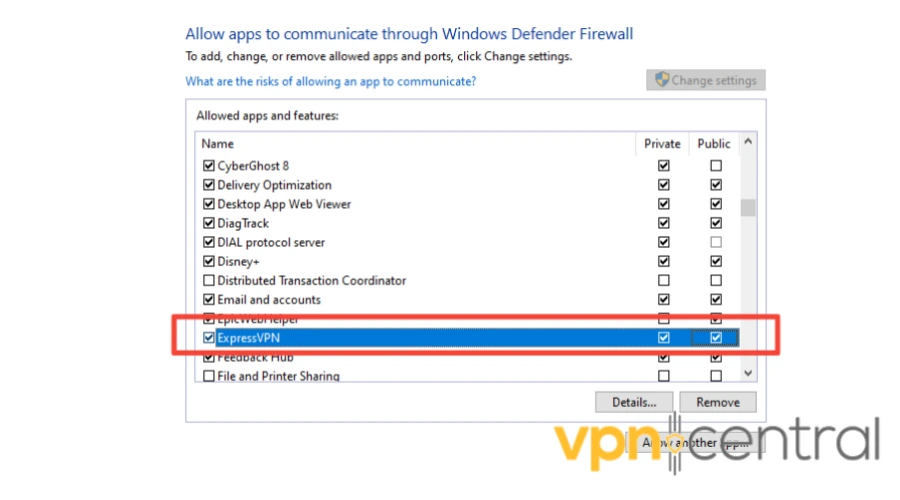 Click OK.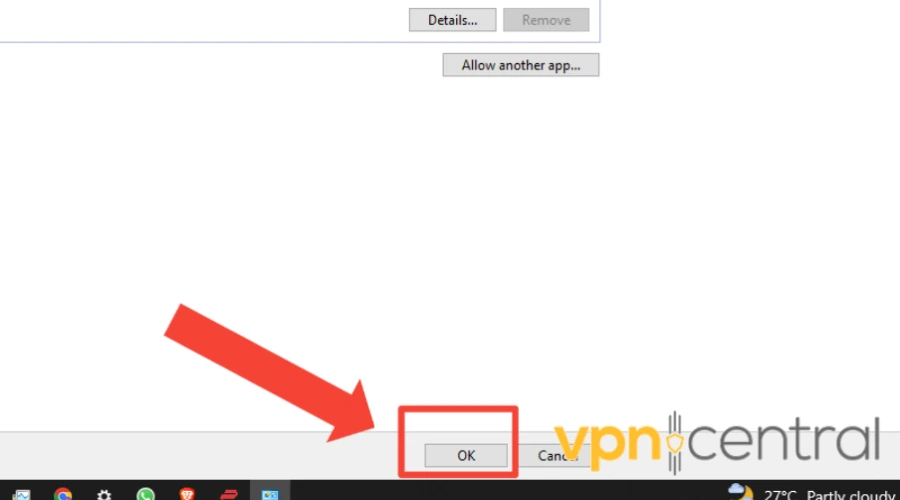 Visit the website you're trying to unblock and try to access it.
Now your VPN can escape your firewall restrictions and should work properly.
4. Change to a better VPN provider
If you tried all the above-mentioned fixes and the VPN still is not working in Mexico, it's possible that the service isn't good enough and you may need to switch to a different option.
To solve this, you can change to a reputable VPN service. We recommend ExpressVPN because of its ultra-fast 10Gbps servers spread across 90+ countries.
Here's how to use it in Mexico:
Subscribe to an ExpressVPN plan and download the software compatible with your device.

Install the ExpressVPN app on your computer.

Log in with your credentials.

Click on the big power button to connect. Alternatively, click on the three dots icon to manually pick a server location. This time, we picked the UK.

Once connected to the server, open the app or website you want to access.
Note that if you want your VPN to be completely private, you should opt for a service that doesn't have to abide by Mexico's data retention laws.
As long as your VPN has its headquarters in a different country, it can't be forced by the Mexican state to log and share your activity.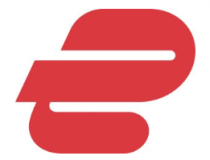 ExpressVPN
Mask your IP, bypass restrictions, and hide your activity from web surveillance using ExpressVPN!
Best VPNs to use in Mexico
A VPN can be very useful to protect your online security in Mexico or access Mexican content from another country.
Here are the top 3 VPNs for Mexico that offer excellent privacy protection, high-speed connectivity, and optimal streaming capabilities.
ExpressVPN: a large network of high-speed servers worldwide, including in Mexico. Excellent for streaming and downloading.
Surfshark: affordable choice that prioritizes security, with good download speeds and a strict no-logs policy. You can connect an unlimited number of devices.
CyberGhost: reliable and well-rounded option with user-friendly apps and a vast network of servers in more than 90 countries, including Mexico.
Summary
While Mexico does not block VPNs, some VPN services and websites may be inaccessible in the country.
But if you have issues with VPN not working in Mexico, try checking your settings, changing your protocol, disabling your firewall, clearing your cache, or switching to a different VPN provider.
By following some of these solutions, you can get your VPN working again in Mexico.