Getting started with VPNs can be a hassle at times. With so much to do, you risk your security for missing a step.
We do this every day, so we know about the challenges. But it doesn't have to be that way.
You can use our VPN Setup Checklist tool to fly past any mistakes. It covers everything from choosing a reliable vendor to configuring the service.
Without further ado, let's begin.
VPN Setup & Usage Checklist
Ensure you've followed the steps below for optimal VPN setup and usage:
Chose a reputable VPN provider.

Research and choose a VPN provider with good reviews and a strong reputation for security and privacy.

Installed the latest version of the VPN client.

Visit the official website of your VPN provider and download the latest version of their software or app.

Connected to a server close to your location for faster speeds.

Choose a server that's geographically closer to you for better connection speeds.

Checked for any DNS leaks.

Use online tools like 'DNS Leak Test' to ensure your VPN is not leaking your DNS queries.

Ensured the kill switch feature is enabled.

Check your VPN settings and enable the 'kill switch' feature to prevent data leaks if the VPN connection drops.

Used a secure VPN protocol (e.g., OpenVPN).

In your VPN settings, select a secure protocol like OpenVPN or WireGuard.

Verified your new IP address after connecting.

After connecting to your VPN, use online tools like 'What Is My IP' to verify your new IP address.

Avoided logging into sensitive accounts on public Wi-Fi, even with a VPN.

Even with a VPN, it's best to avoid accessing sensitive accounts when on public networks.

Checked the VPN's privacy policy for data logging practices.

Review the privacy policy of your VPN provider to ensure they don't log your online activities.

Regularly updated your VPN software for security patches.

Regularly check for software updates to ensure you're using the latest and most secure version of your VPN client.
How to use the tool
Our tool lists ten items you should cross-check before using a VPN. This ranges from installation to advanced security settings and VPN server selection.
We've included every detail in easy-to-follow steps. All you need is to review the checklist and tick the checkboxes individually.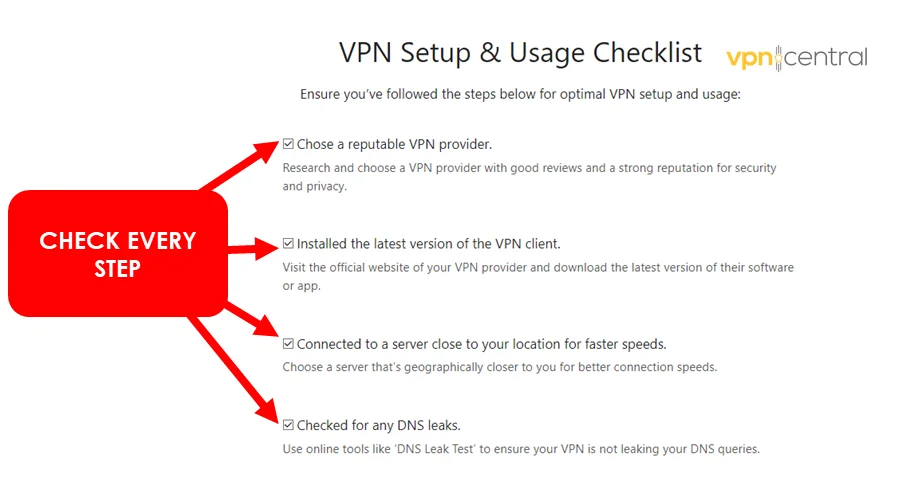 While at it, review the additional instructions just to be sure. They're necessary to ensure you get everything right.
Once done, click the Check Completion button at the end of the checklist. You'll receive a congratulatory message upon finishing successfully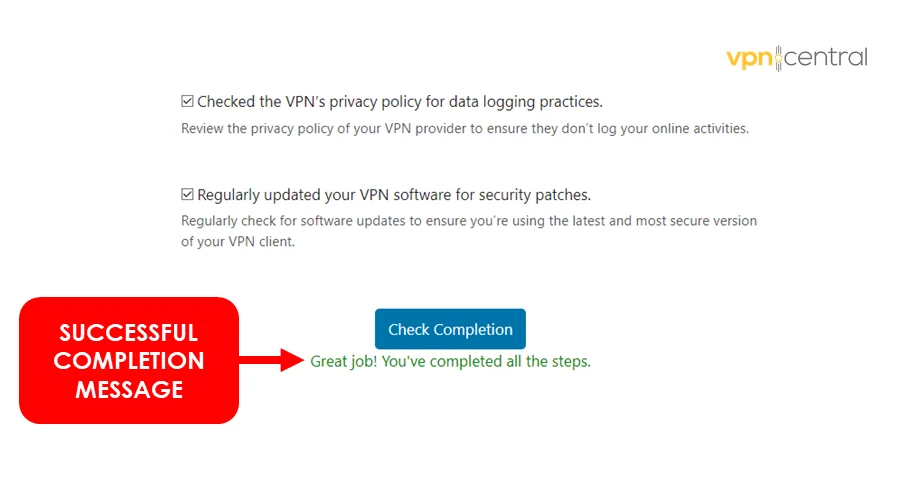 If not, an error alert will show you've skipped some steps. Should that happen, go through the checklist again to verify everything.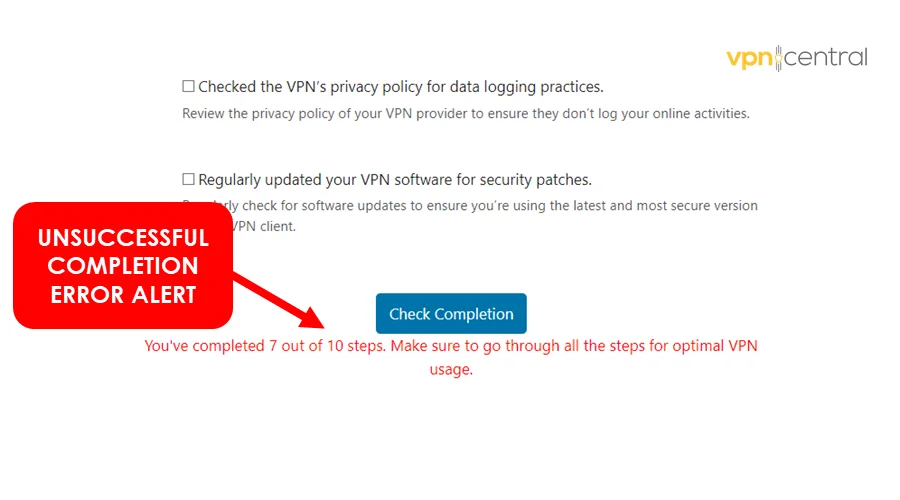 Summary
Setting up VPNs is not as easy as it sounds. Without a guide, you risk messing up your privacy and security.
Luckily, our VPN Setup Checklist tool is designed to make your life easier. It has a list of instructions to follow to configure everything right.