OpenVPN users occasionally report tap driver installation issues like Windows 7 OpenVPN TAP driver unsigned.
This can have a great impact when it comes to using VPN software to prevent any third parties online from gathering and using your data.
There are multiple reasons behind an install failure such as broken driver, invalid or expired driver signature, and conflicting drivers, just to name a few.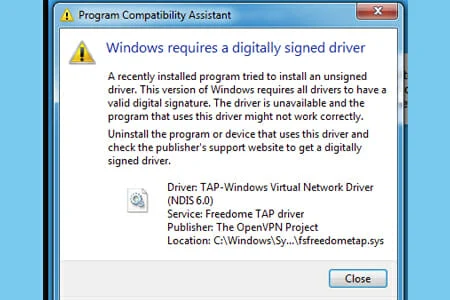 No matter the reason behind your problem, we have a quick troubleshooting guide that will allow you to easily install the OpenVPN tap driver. Check out our solutions below.
Does OpenVPN work on Windows 7?
Yes, OpenVPN is compatible with older versions of Windows, including Windows 7.
The VPN client offers dedicated support for the operating system, and the configuration is pretty straightforward.
Moreover, the OpenVPN file and system impact are pretty small, so you should have no reason to worry about it affecting your PC's performance, even if you use an older device.
How can I fix the Windows 7 OpenVPN TAP driver unsigned error?
1. Use the Internet Connections Troubleshooter
Press the Win key.
Type troubleshoot.
Select Available Recommended troubleshooting.
Click the Available troubleshooters' hyperlink.
Select Internet Connections and click Run the troubleshooter.
Select Troubleshoot my connection to the internet.
Go through the troubleshooting wizard's steps.
2. Reset the TAP-Windows Adapter Connection
Press the Start button from your taskbar.
Type network in the search box.
Select Network status.
Click on the Network and Sharing Center button.
Select the Change adapter settings option.
Right-click the TAP-Windows Adapter.
Select Disable.
Right-click the TAP-Windows Adapter again.
Select Enable.
Restart your PC and check if the issue still there.
This trick can also help with the All TAP-Windows adapters are currently in use error that many Windows users encounter.
3. Reinstall TAP-Windows Adapter and VPN client
Right-click on the Computer.
Choose Manage.
Expand the Network adapters category.
Right-click the TAP-Windows Adapter V9.
Click on Uninstall device.
Select Uninstall to confirm.
Press the Windows key + R key combination.
Type appwiz.cpl and press Enter.
Select your

OpenVPN

software.
Click on the Uninstall button to remove it.
Restart your PC shortly after uninstalling both services.
Reinstall your

OpenVPN

software + TAP adapter driver.
4. Download and install OpenVPN TAP drivers for Windows 7
Windows 7 users report they fixed this issue with the KB4474419 security update that automatically updates your Tap drivers.
Download the KB4474419 Windows 7 security update.
Follow the installation prompts and wait for the process to complete.
Check your OpenVPN Tap drivers.
This update installs SHA-2 code sign support and remediates the Windows that cannot verify the digital signature tap driver error.
Another option is to download an older OpenVPN Tap driver version:
Uninstall your TAP-Windows Adapter V9 driver from the Device Manager (as presented in the third solution).
Download OpenVPN Windows 7 signed tap driver (version 2.1.1.)
Open and run the installer wizard.
Now the signed driver error should be remediated, as users report having issues with the 2.1.2. version. This previous version should work just fine.
If you have any problems manually installing the OpenVPN Tap drivers or want to speed up the process, you can use a dedicated third-party tool such as DriverFix.
5. Change to a more reliable VPN
If you tried all the previous solutions and still get the windows 7 OpenVPN tap driver unsigned issue, you might consider a better VPN alternative.
Private Internet Access, for instance, is a great VPN service that comes with its own TAP driver.
Furthermore, even if it stops working at some point, you can easily reinstall it directly from the VPN client's configuration screen.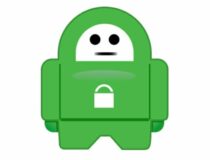 Private Internet Access
Benefit from advanced VPN options and dedicated support for OpenVPN and other protocols!
6. Reset Windows 7
Start the computer.
Press and hold the F8 key.
In the Advanced Boot Options menu, choose Repair Your Computer.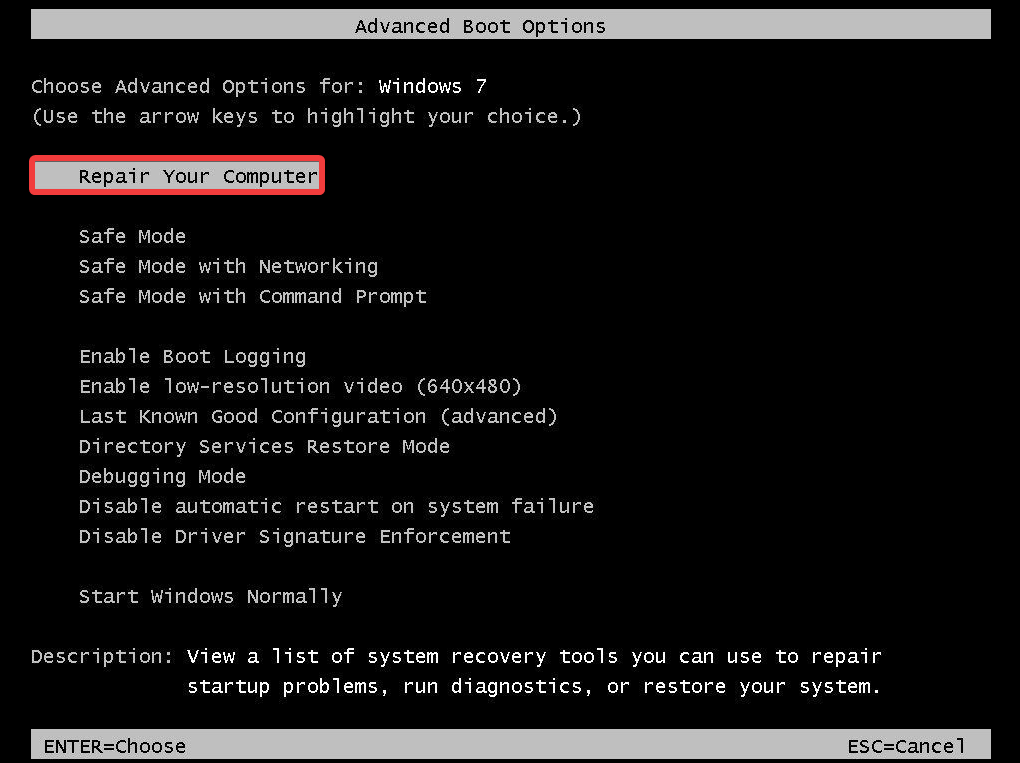 Press Enter.
Select a keyboard language and click Next.
If prompted, log in with an administrative account.
At the System Recovery Options, choose System Restore or Startup Repair (if this is available).
To sum up, if you notice that your OpenVPN tap driver fails to install, there are some steps that you can try from our troubleshooting guide.
However, reinstalling the TAP driver and VPN client will usually fix your issue.
If you need additional help with this VPN service, we have a guide on what to do if OpenVPN is not forwarding traffic.
In case you have an alternative solution we didn't mention or any questions regarding the ones we listed, feel free to share it with us, in the comments section below