Bell VPN issues have become a pain point for many fans of the Fibe TV platform.
Not a day goes by when we don't get complaints from our readers who can't seem to access the website even when they have an active VPN connection.
Bell Fibe TV is not available in your country at this time is one of the many error messages you'll get because, unfortunately, its services are geo-restricted to specific areas in Canada.
For this reason, we're taking a step to help solve all the Bell VPN-related problems you may be experiencing.
If you're one of the users who can't access their favorite online content from outside Canada, even with the help of a VPN, this article is for you.
Does Bell block VPN services?
Bell doesn't officially state that it blocks VPN services.
However, given that the company markets itself as a highly secure telecom provider, there's a higher chance that it does block VPNs
Why? Well, there are many reasons.
Firstly, it may categorize such connections as insecure since VPNs tunnel your traffic through their own servers, bypassing ISPs in the process.
Furthermore, the company once urged the Canadian government and several ISPs to block some websites and certain VPNs.
In fact, it urged the government to legally require ISPs to enforce geo-restrictions.
With this stance, it's safe to conclude that Bell doesn't want its subscribers using VPNs.
Why is Bell Fibe not working with VPN?
Bell Fibe isn't working with VPNs because it's a geo-restricted service. Therefore, it uses systems that detect and block any suspicious connections.
This is understandable since it has to comply with copyright laws and licensing regulations.
However, VPNs still work with the website regardless of its policies, so if yours isn't, then it may be due to:
Poor/unstable network.
Using outdated apps.
Connecting through a blocked server.
VPN leaks.
Now let's dive into the nitty-gritty:
How to fix Bell VPN issues
Having identified the likely reasons why you're experiencing Bell VPN issues, here are a few sure fixes that will work for you:
1. Preliminary fixes
Reboot your devices and WiFi router.
Check your network status by taking a speed test.
Try another network source (switch from Wi-Fi to Ethernet or vice versa)
Update your browser and VPN apps.
Clear your browser cookies and cache.
These simple steps can help you fix various issues. If they don't do the trick, move to the alternatives below.
2. Test for leaks
Leaks can compromise your VPN connection and expose your actual location to Bell Fibe.
Here's how to test for leaks:
Visit ipleak.net and run the test.
Note the information in the results.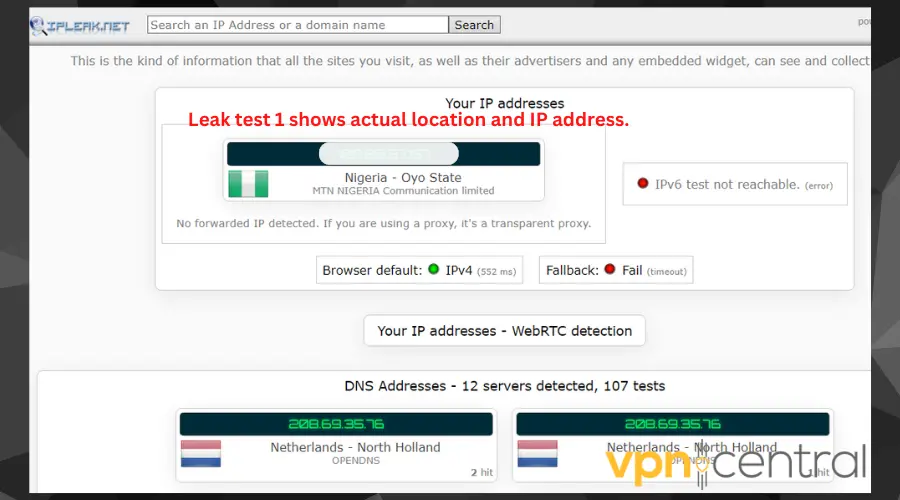 Launch your VPN and connect to a server.
Run the leak test again.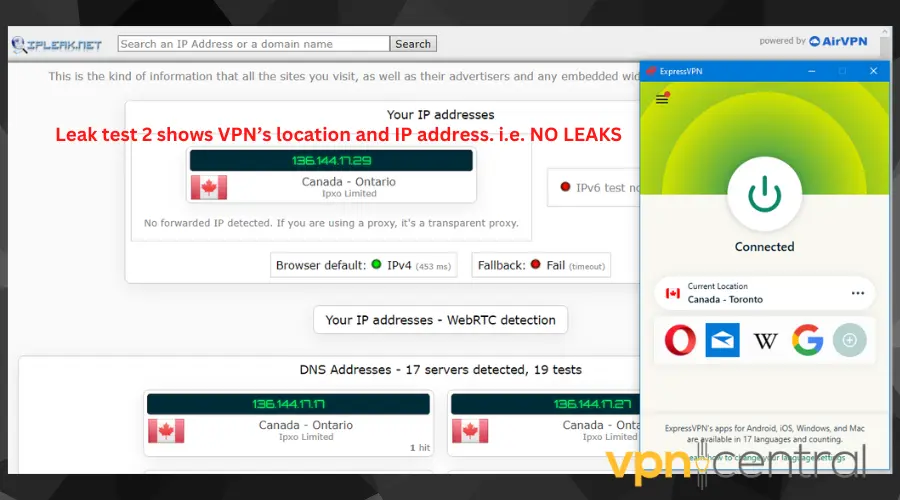 Compare the results of both tests. Similar results mean you have a leak.
If you have a VPN leak, then you have to clear your browser cookies and cache as they're the usual culprits.
Simply go to your browser settings > Privacy and Security > Clear browsing data and set the duration of cookies to clear.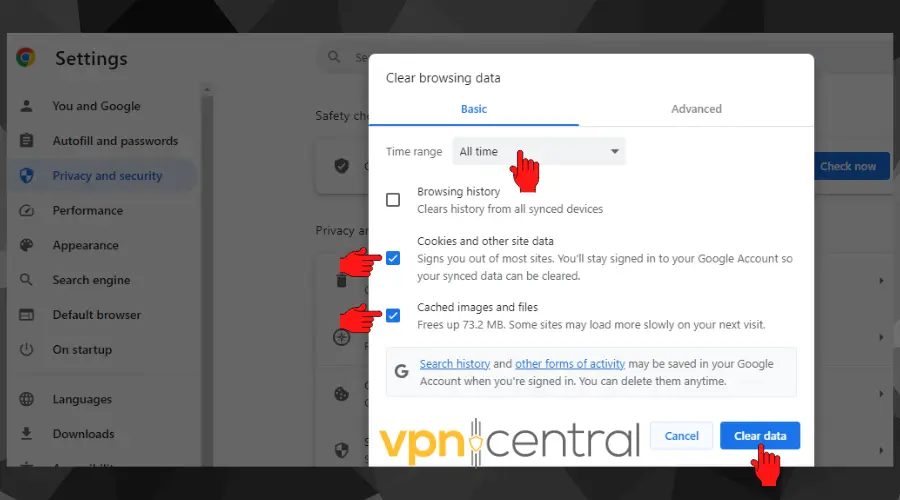 However, another option would be to switch to another VPN provider that has IP and DNS leak protection.
3. Change your server
Follow these steps to quickly do this:
Launch your VPN app and disconnect from your current server.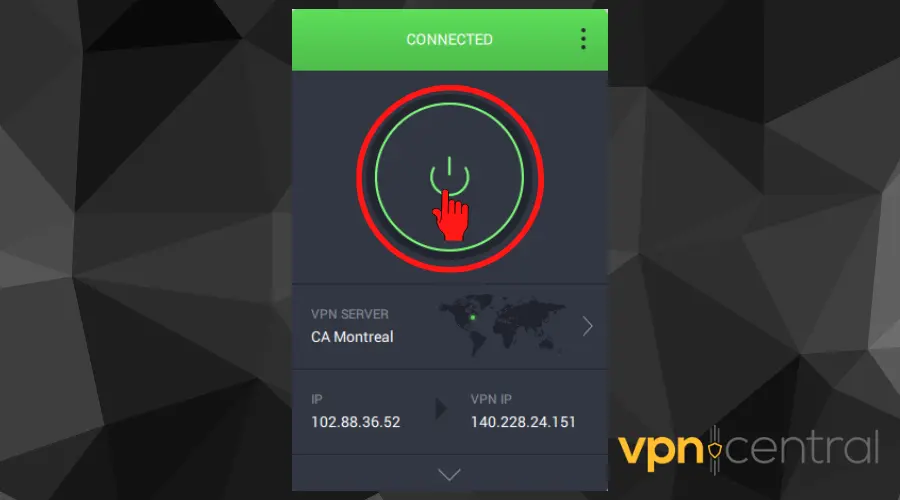 Close the software.
Launch it again and connect to a server where Bell Fibe is available, like one in Montreal.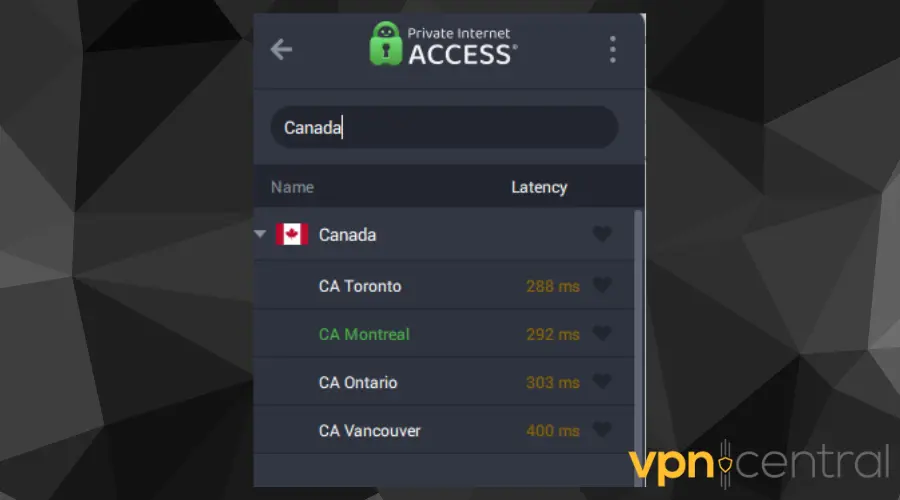 Since Bell Fibe is only available in selected regions of Canada, it is possible that you're connected to the wrong server within Canada where it's not available.
Otherwise, it may mean that you are using a blocked server.
The good thing is that, in both cases, the solution is simple. You only need to switch servers and see if you're able to connect.
4. Change your VPN protocol
Here's how to change your current VPN protocol:
Open your VPN app and go to Settings.
Go to Connection Settings and Click on the Protocols tab.
Select another protocol from the list and try connecting again.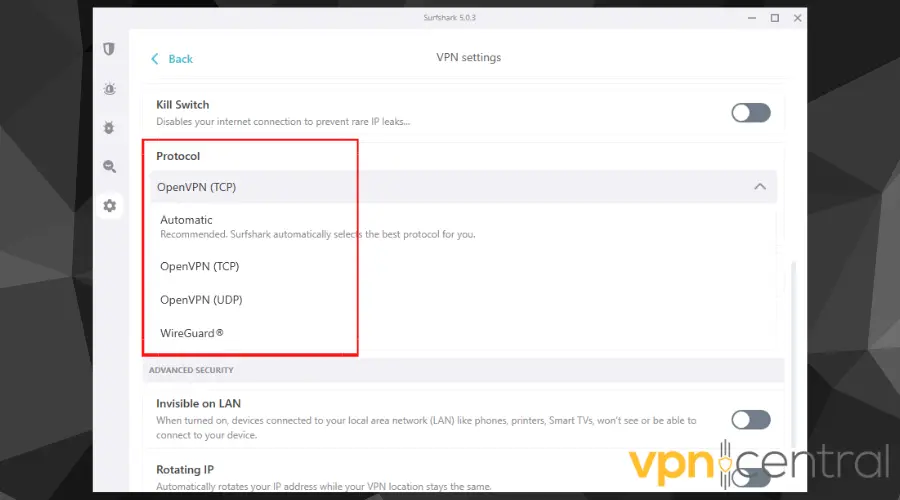 VPNs have options for different purposes. Some protocols favor speed and are great for streaming or gaming.
Meanwhile, others are great for privacy, security, and easy access to blocked content.
So, don't be afraid to tweak your settings and switch protocols according to their use cases.
4. Use an obfuscated server
Some VPNs like ExpressVPN have this obfuscation feature built into their servers. For others, you have to manually select it from a list.
Here's an example with NordVPN:
Open the list of servers and scroll till you find the Obfuscated Servers tab.
Then select one from the list and hit Connect.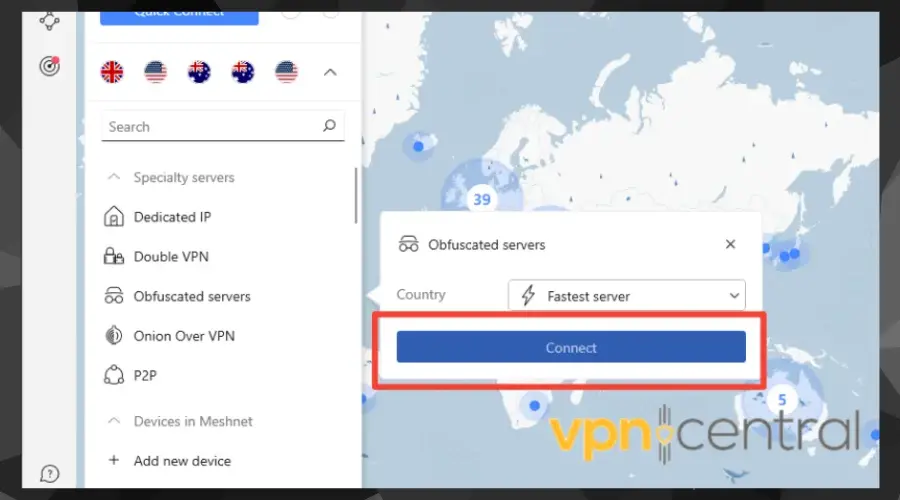 Obfuscated servers help to add an extra layer of encryption to your VPN connection to hide your data and disguise it as regular internet traffic.
In essence, they hide the fact that you're using a VPN, which Bell Fibe doesn't support and has systems in place to punish.
So, using an obfuscated server can help you avoid blocks and gain access to the platform's content.
5. Update the Bell firmware
As with many developers, Bell might have released a new firmware update that is no longer compatible with your VPN configuration.
For this fix, it's important to ensure that your Bell firmware is the most recent version.
The best part is that Bell modems are auto-updated over the air so you don't have to do anything manually.
However, if you want to be sure that you're using the latest version, simply factory-reset your modem.
By doing so, it'll automatically download the latest firmware the next time you switch it on.
6. Change your VPN provider
Your best bet to solve all Bell VPN issues is to use a full-on stealth service like ExpressVPN.
Here's how to set it up for Bell Fibe:
Subscribe to ExpressVPN and download the software.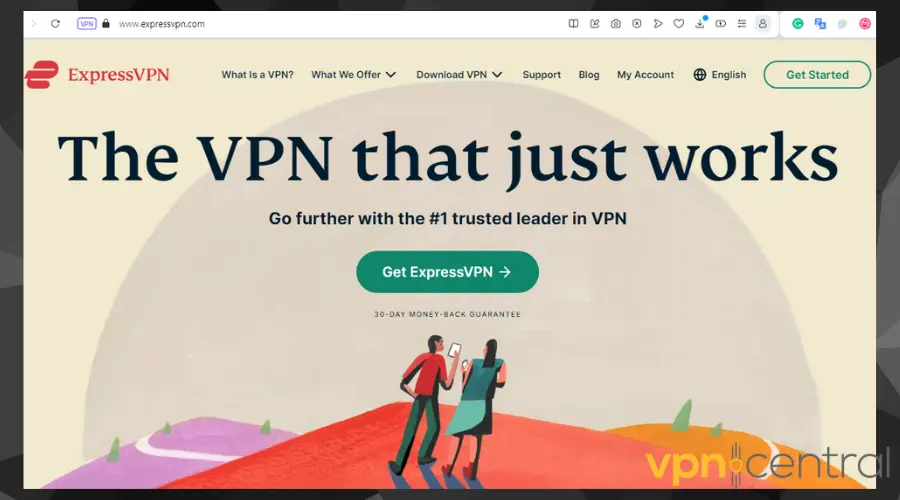 Follow the instructions to install the app.
Launch it and connect to a server where Bell Fibe is available – Toronto and Montreal both work.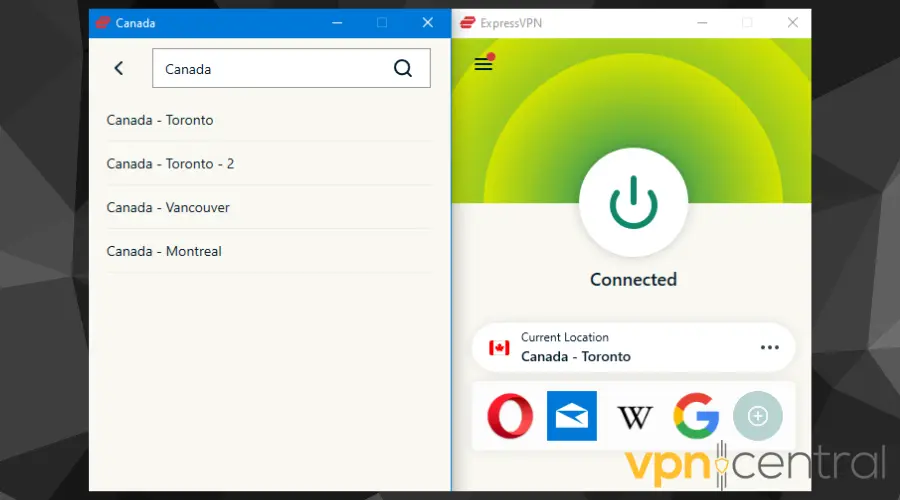 Ensure your connection is stable before you open the Bell Fibe app.
Enjoy streaming your favorite content.
Using a cheap or free VPN with poor servers, leaks, and limited resources will only make your online experience frustrating.
That's why we recommend opting for a premium VPN provider with powerful unblocking protocols, lots of servers, and built-in obfuscation technology like ExpressVPN.
It's been tested and proven to work with Fibe TV, Crave, and other Canadian streaming platforms.
How to use a VPN on Bell
Unfortunately, you can't install a VPN directly on your Bell router, so there's no setup guide for that.
Your best bet is to download the software on each internet-enabled device to get the protection it offers.
The steps to do this are simple:
Select a VPN provider and subscribe, preferably ExpressVPN.
Download and install the software on your devices.
Sign in to your VPN app with your credentials and launch it.
Connect to any server in Quebec or Ontario.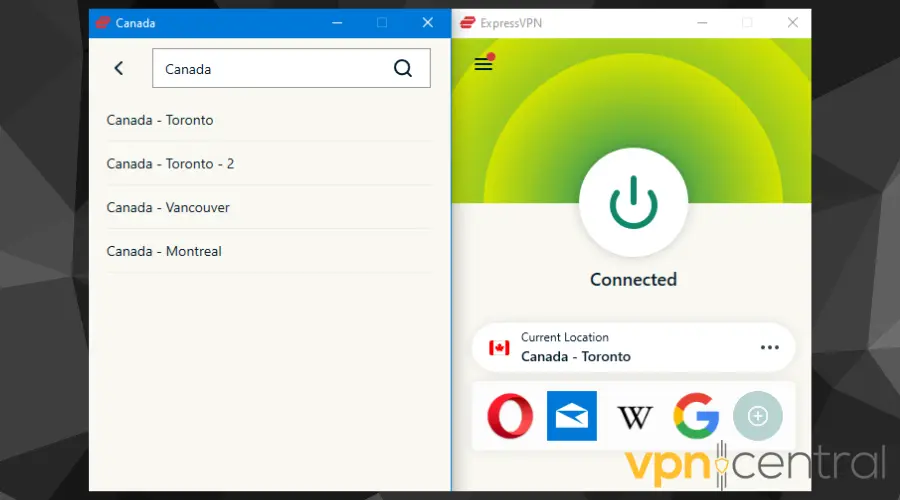 Wait for a few minutes until the connection is established and stable.
Proceed to freely watch your favorite shows on Bell Fibe.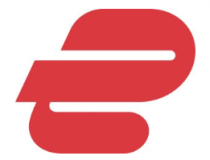 ExpressVPN
Easily resolve all of your Bell VPN-related issues and enjoy a fast and secure connection with this high-performing service.
Wrap up
We've explored solutions to address Bell VPN errors, ensuring a seamless online experience.
Apart from ExpressVPN, NordVPN is another reliable provider with strong unblocking protocols and obfuscation technology.
So, if you've been experiencing any Bell VPN issues, these fixes mentioned in this post are guaranteed to help you solve the issue.
---