Xiaomi Corporation is a Chinese electronics company well known for its affordable yet robust smartphones. But you'll need a VPN to fully enjoy them!
We've tested the Android apps of several popular providers and narrowed them down to seven top services. Each is just as capable as its Windows counterpart. We'll also explain how to install and use them.
Do Xiaomi phones have VPNs?
Unfortunately, Xiaomi phones do not come with pre-installed VPNs. You'll have to make a visit to the Google Play Store and find a suitable service.
But you'll be glad once you do!
A reputable VPN provider will keep your online activities safe and private.
You are especially vulnerable while using public Wi-Fi hotspots. Malicious users could steal your banking information, account ID, login credentials, and other sensitive details.
However, VPNs envelop your data in an encrypted tunnel and hide it from anyone's prying eyes.
AES-256 encryption can't be brute-forced and is practically unbreakable.
Many services also have built-in malware blockers that will detect suspicious links and prevent them from loading.
And, of course, you can access geo-restricted content and even boost your Internet connection's speed. Some VPNs are great for torrenting, as well.
Which are the best VPNs for Xiaomi phones?
The VPN market is flooded with options, and choosing the right one can take quite a bit of research.
Luckily, we're here to make it easier and help you find the best VPN for your Xiaomi phone.
We've hunted down seven VPN providers with the most versatile Android apps. They all have watertight security, blazingly fast speeds, and intuitive UI.
Let's take a closer look at: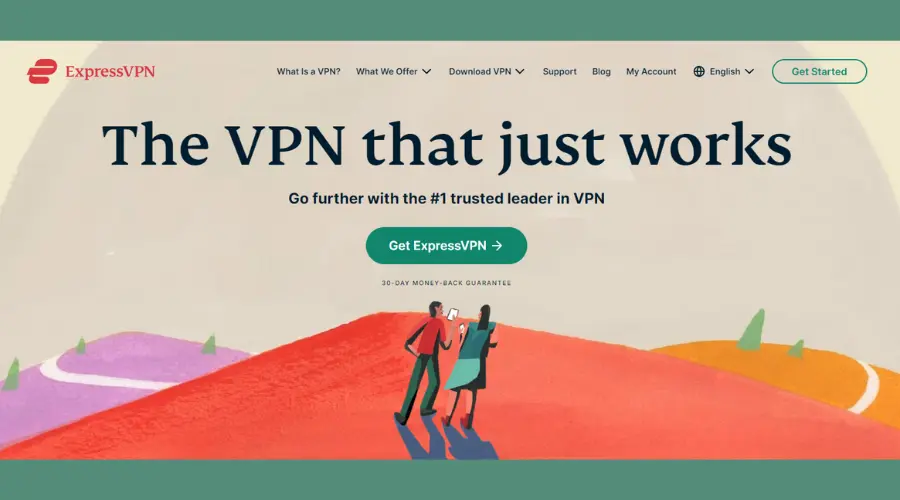 ExpressVPN is one of the leading industry providers, and well-deservedly so.
It consistently works on all big streaming platforms, such as Netflix, BBC iPlayer, Amazon Prime Video, Hulu, and Disney+.
It also quickly replenishes all IPs that get blocked by them.
Furthermore, it has a huge network of 3,000+ servers in 160 locations across 94 countries.
Even better, all of them are RAM-only, so your data won't be physically stored.
You can easily search for whichever connection you need. And, of course, you can count on the highest encryption standards and secure VPN protocols.
ExpressVPN's Lightway protocol is among the best ones. It's optimized for speed, reliability, and security.
Additionally, it has a guaranteed no-logs policy, so your data is in safe hands.
The company is based in the British Virgin Islands, which aren't in the Five Eyes, Nine Eyes, and Fourteen Eyes alliance.
It supports up to five simultaneous connections on Windows, macOS, Android, iOS, Linux, various SmartTV devices, and routers.
You can try out the Android version for free for seven days. It's not among the longest-lasting free trials in the industry, but still gives you enough time to find out if it's the right fit for you.
What ExpressVPN offers:
Lightway UDP/TCP and OpenVPN UDP/TCP protocols
Network kill switch
IPv6 leak protection
Split tunneling
256-bit encrypted DNS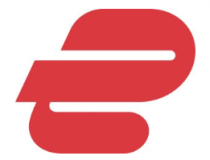 ExpressVPN
Browse securely on your mobile device with this reliable VPN service!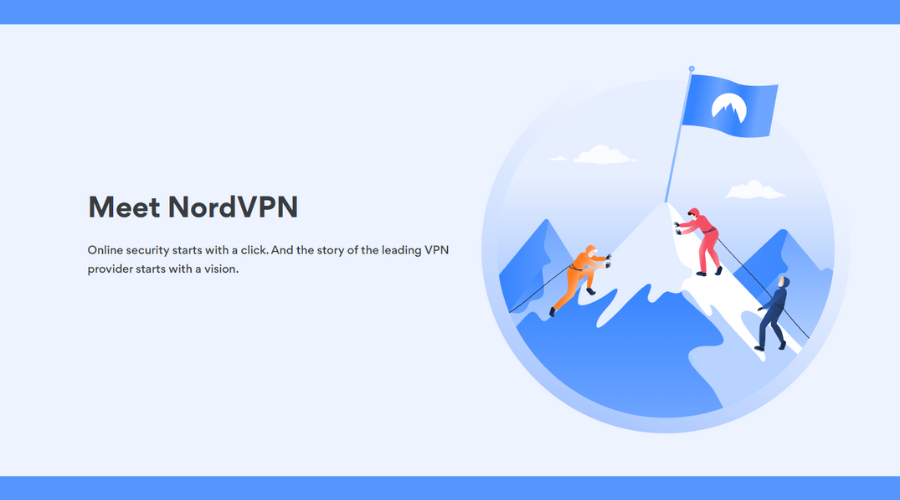 NordVPN's Android app is one of the most popular on the Google Play store, with over 50 million downloads.
Here's why it's so beloved!
You have more than 5,600 servers at your disposal, spread over 85 locations in 59 countries. You can click on the interactive map or simply find them with the search bar.
NordVPN is also a pro at unblocking. It works on Netflix and all its foreign content libraries, Amazon Prime, HBO, Disney+, and many others.
It stands by its no-logs policy and won't record any sensitive data. Additionally, it uses military-grade encryption and private DNS for every connection.
You'll especially love its custom NordLynx protocol. It consistently delivers top speed.
Experienced users will love some of its more advanced features like Onion over VPN and Double VPN.
The former routes your connection over Tor, while the latter routes traffic through two servers.
Both of these options will impact your speed but also heighten your privacy.
You can use NordVPN on up to six devices, including Windows, macOS, iOS, Android, Linux, Chromebook, Amazon Fire, and more.
There's also a seven-day free trial for the Android app.
What you get with NordVPN:
OpenVPN TCP/UDP and NordLynx protocols
Meshnet
Kill switch
Dark web monitor
Split tunneling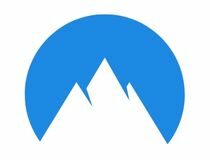 NordVPN
With NordVPN, you'll get a versatile set of features and maintain excellent Internet speeds.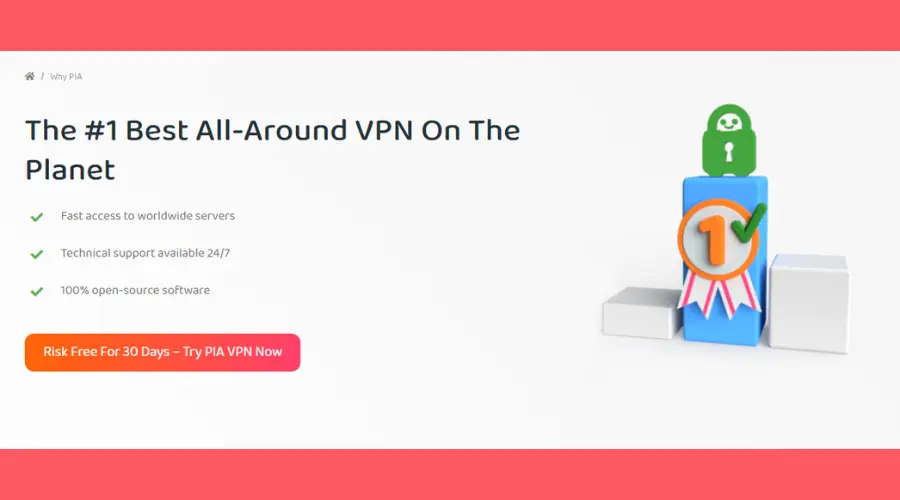 PIA has a surprisingly configurable Android app that can unblock Netflix, Disney+, BBC iPlayer, and more.
It's certified by the ioXt Alliance, which guarantees its compliance with cryptography, software verification, and update standards.
It's also open-source so you can look into the code yourself.
The total server count is over 30,000 servers in 84 countries. Each connection has a latency figure, so you can know the distance.
You are free to choose between 128-bit or 256-bit AES encryption ciphers. In addition, it only uses open-source protocols like WireGuard and OpenVPN.
PIA also has cool extra features like split tunneling. It lets you choose which apps to encrypt instead of your phone's entire traffic. That way, you can increase your connection speed even more.
And if you're a fan of torrenting, you'll be glad to know that it's permitted on every server. PIA supports port forwarding to boost your download speeds.
Additionally, the service clearly states that it doesn't store any data about your online activities. It's been audited by Deloitte, one of the most credible management consulting companies.
It supports up to ten simultaneous connections. You can get it on Windows, macOS, Linux, iOS, Android, and routers.
What makes PIA stand out:
DNS leak protection
Kill switch
MACE ad blocker and malware protection
Dedicated IP
30-day moneyback guarantee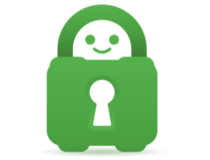 Private Internet Access
The wide server fleet PIA offers allows you to connect to any location you want.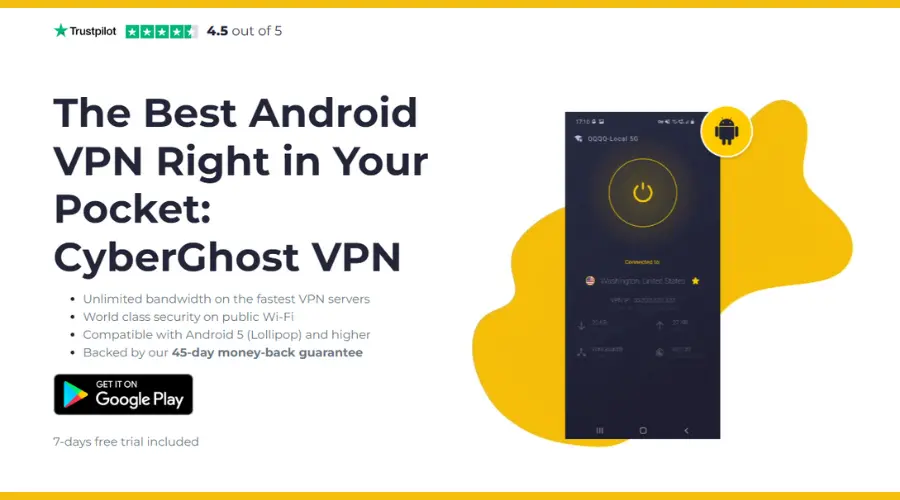 CyberGhost's Android app has diverse features, and it's remarkably easy to use.
And unlike most providers, you can even try it out for free for seven days without signing up!
It has 8,900+ servers in 110+ locations across 91 countries. CyberGhost goes one step further and conveniently lists the least crowded options for the most stable connection.
What's more, it has separate tabs for streaming, gaming, and torrenting. Each displays the servers' physical distance and ping.
As for security, the app uses military-grade 256-AES encryption. It also has an audited no-logs policy.
Additionally, it offers a content blocker that will block domains used for ads, trackers, and malware.
The Android app also lets you choose random ports when connecting. It supports domain fronting, as well.
Basically, you can conceal your traffic to a specific website and cloak it under a different domain. This method works wonders against VPN-blocking tech.
CyberGhost supports up to seven simultaneous connections, including Windows, macOS, iOS, Android, Linux, Smart TV, Android TV, and other devices.
What CyberGhost VPN offers:
WireGuard and OpenVPN protocols
NoSpy Servers
IPv6 leak protection
Seven-day free trial for mobile devices
45-day money-back guarantee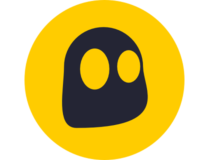 CyberGhost
Don't risk losing your sensitive information, secure your mobile device with CyberGhost!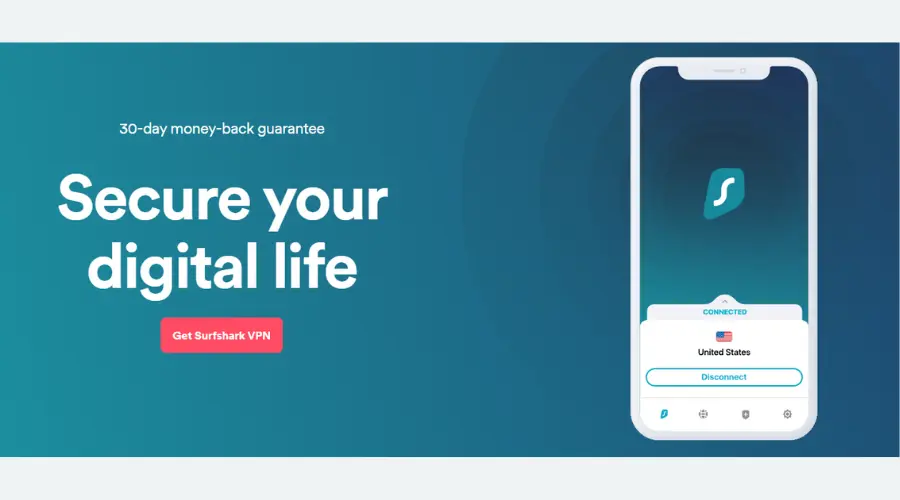 Surshark is another premium provider with an excellent mobile app. It even has some extra features that make it stand out from the rest.
For example, you have the option to override your GPS location, so it matches your connected VPN server.
Or, you can auto-connect when accessing untrusted networks!
Other than that, Surfshark has 3,200+ servers distributed across 160+ locations in 100 countries. That includes often neglected places like Cambodia, Bhutan, Mongolia, Laos, Brunei, and more.
It can also unblock Netflix, Amazon Prime Video, HBO Max, Disney Plus, BBC iPlayer, Hulu, and others.
But what about security?
The app employs AES-256-GCM encryption and private DNS on each server. You can also chain multiple VPN servers together via MultiHop.
In addition to that, you can whitelist certain apps, websites, and IP addresses to redirect them around the VPN.
And Surfshark doesn't log your browsing history, visited IP addresses, session information, or network traffic!
Best of all, you can connect as many devices as you want. Surfshark has apps for Windows, macOS, iOS, Android, and Linux.
Some of the standout features include:
OpenVPN, IKEv2, and WireGuard protocols
Kill switch
Static IP
Multi-Hop
Split tunneling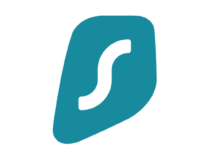 Surfshark
Get an IP from even the most remote locations with this top-tier VPN service.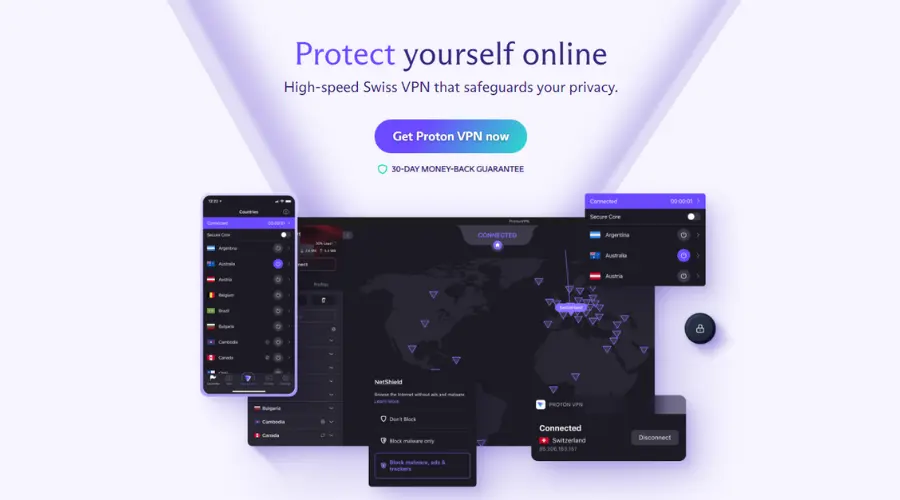 Proton VPN prioritizes privacy, security, and transparency. All its apps are open-source and audited.
It's also Swiss-based, so it's not part of surveillance alliances. Additionally, the country has strong privacy laws and doesn't practice data retention.
You can count on AES-256-GCM encryption and HMAC-384 for authentication. These security standards are routinely used by governments and military organizations.
Additionally, Proton VPN has a guaranteed no-logs policy. It doesn't even store any session details.
It only records the time of your last successful login attempt and overwrites it the next time you log in.
The app has more than 1,700 servers across 64 countries. Even better, it owns and manages all of its servers.
It has special P2P-enabled servers as well. They're optimized for torrenting.
Proton VPN also offers additional cybersecurity measures, like its NetShield. It's an ad tracker and malware blocker.
And if you're looking for a safe free VPN app, Proton's free plan might interest you!
It has unlimited bandwidth and the same safety standards as the full version. However, it does have its limits.
You can only connect one device at medium speeds. You also won't have access to the complete server network — just 100 servers in the US, Japan, and the Netherlands.
You'll also have to upgrade to one of the paid plans to unblock Netflix, Disney Plus, BBC iPlayer, and other streaming platforms.
All things considered, the free app is suitable for basic tasks and not much else.
Finally, it supports up to ten simultaneous connections, which is much more generous than the industry standard.
You can install it on Windows, Android, macOS, and iOS.
Here are some of Proton's strongest features:
WireGuard, OpenVPN UDP/TCP, and IKEv2 protocols
Kill switch
DNS leak protection
Built-in Tor support
Split tunneling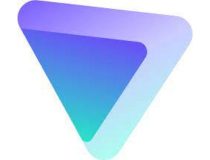 Proton VPN
If you want to stream a movie or torrent freely, Proton can help you out.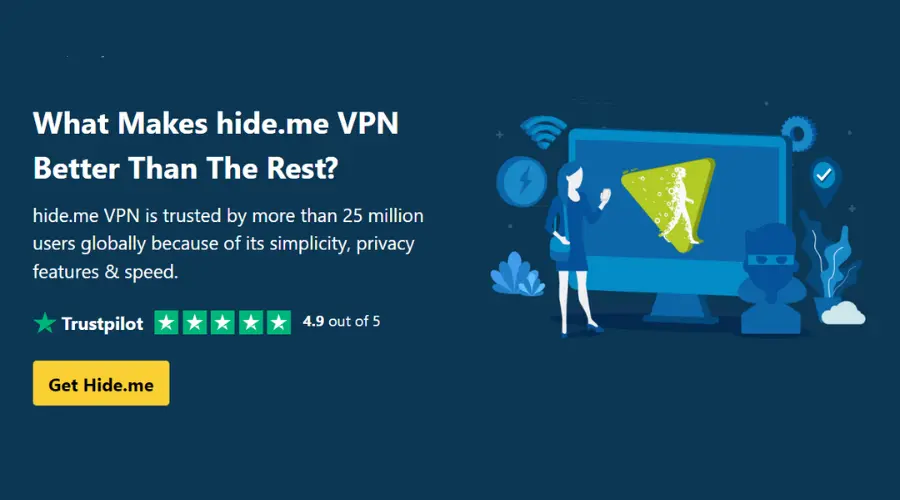 Usually, when a VPN is free, the provider could be selling your data to third parties. Or, maybe it doesn't own its servers, so it relies on users' IP addresses in a peer-to-peer network.
hide.me is not that kind of free VPN.
It offers 10GB of bandwidth per month and speedy servers in eight locations:
Canada
UK
The US
Netherlands
France
Germany
Singapore
Spain
Of course, the paid plans have a broader geographic distribution of 2000 servers in 75 locations.
The mobile app also has a diverse selection of protocols: IKEv2, OpenVPN UDP, OpenVPN TCP, and WireGuard.
It only uses the best encryption ciphers to scramble your data and keep it safe. It also won't log your browsing activity.
And there's more! hide.me supports MultiHop VPN. This feature encrypts your connection across two or more VPN servers.
Furthermore, any of the paid plans can unblock Netflix, HBO Max, Amazon Prime, Hulu, Showtime, and other platforms.
Finally, you can connect up to ten devices, including Windows, macOS, Android, iOS, Linux, consoles, smart TVs, and routers.
Here are some of hide.me's standout features:
P2P support
DNS leak protection
IKEv2 stealth mode
IPv6 leak protection
Custom and random ports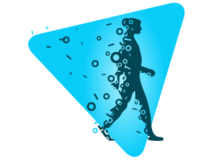 hide.me
Unlike other free services, hide.me can ensure your device is secure.
How to use a VPN on a Xiaomi phone?
Installing and using a VPN is a fairly simple affair. It should only take a couple of minutes, and you'll be all set up!
We'll lead you through the steps using NordVPN as an example:
1. Search for the NordVPN app on the Google Play Store and install it.
2. Sign up and subscribe to the service.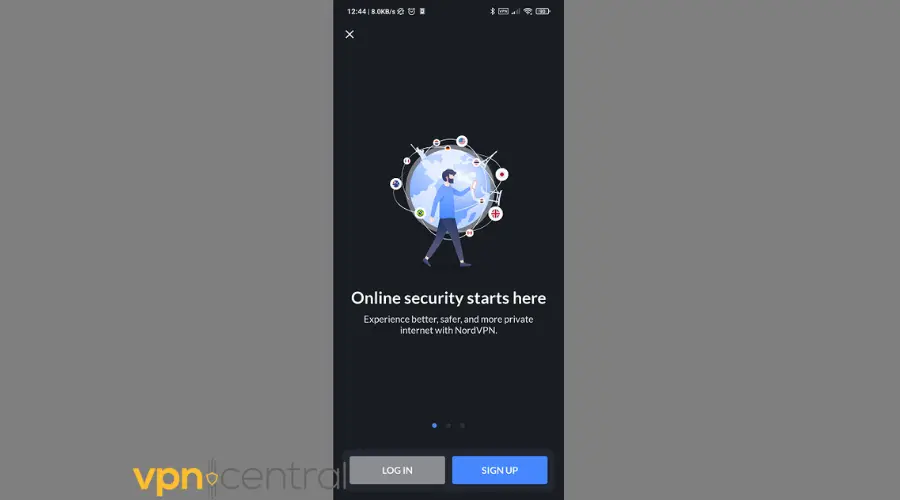 3. Pick your server location and affirm that you want to connect.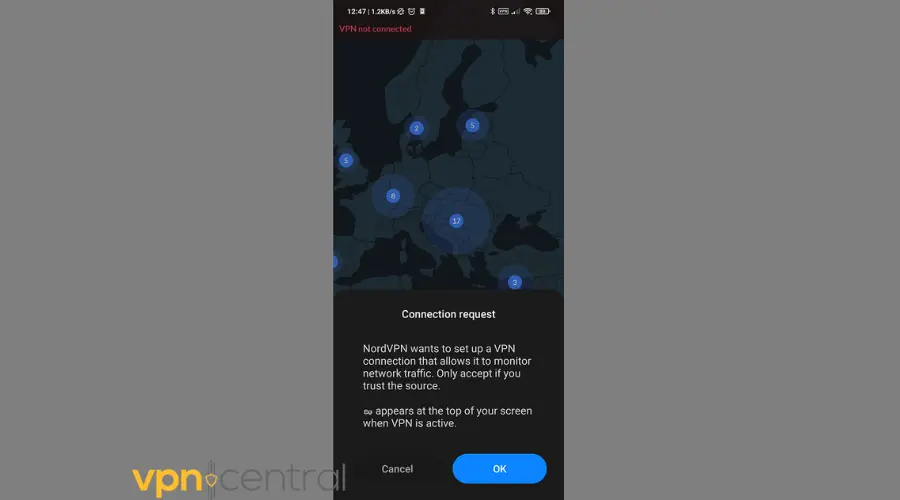 4. You'll be notified if the connection is successful. Now you are free to browse!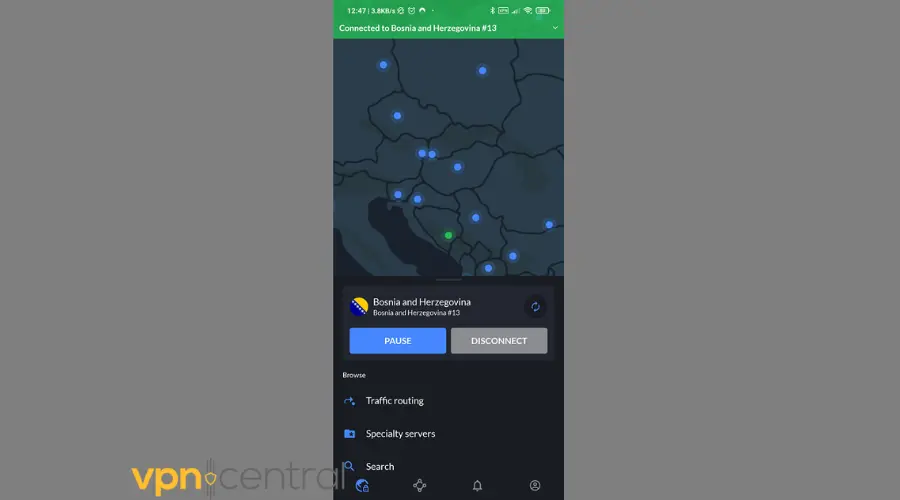 You can also finetune and adjust some details in your VPN's settings. Most services let you modify or enable features like:
Kill switch — That makes sure none of your data leaks out during a sudden VPN connection drop. It acts as a failsafe and will instantly disconnect your phone from the Internet.
Split tunneling — With this tool, you can redirect some apps through the encrypted tunnels, and let others have direct access to the Internet. That allows you to conserve bandwidth, work on a Local-Area Network, and stream content without using foreign IP addresses.
VPN protocols — There are several types of VPN protocols, each suited for different tasks. The best ones for mobile devices are OpenVPN, IPSec/IKEv2, and WireGuard.
Leak protection — Even the best VPNs have vulnerabilities. During a leak, your IP address and DNS requests will be exposed and easy to track. You can turn on protective measures against DNS, IPv6, and WebRTC leaks.
Wrap up
If you spend a lot of time on your phone, a VPN is a must-have.
Don't let free services entice you, though. Most of them are riddled with security flaws and won't offer you the level of protection you'd expect.
Fortunately, all the VPNs we've recommended are completely safe. They will suit both novices and experienced users.
Good luck finding the best VPN for your Xiaomi phone!