These days, the biggest news websites and media houses charge their audience a monthly fee to read their articles and exclusive content.
It's frustrating the way they do it because some would let you get a sneak peek at an article to get you interested. But then a message pops up asking you to subscribe to read the full article.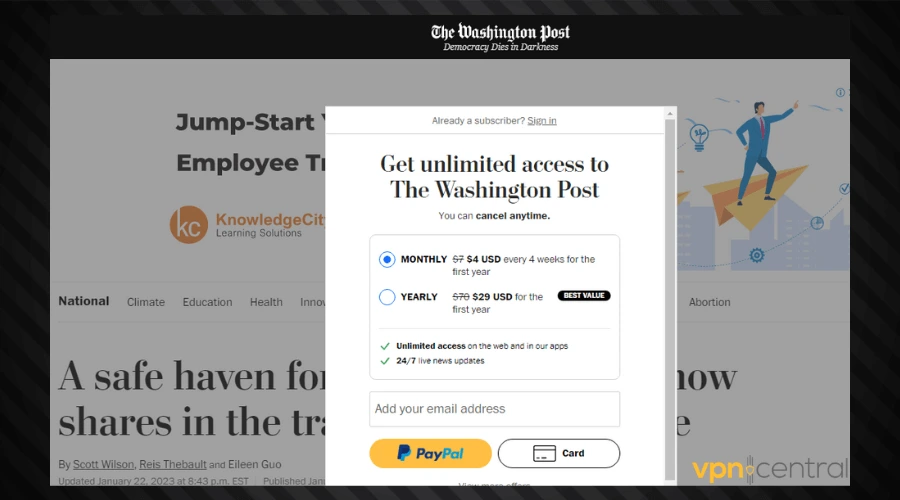 If you have ever come across something like this before, you may be wondering if you can use VPN for articles so that you can read them for free.
You are in the right place. Keep reading to learn how to read unlimited articles for free with a VPN.
Does a VPN get around article limits?
There are lots of websites loaded with information but they have a limit on the number of free articles you can read. Some of these websites include:
| | |
| --- | --- |
| The New York Times | The Washington Post |
| The Wall Street Journal | The Athletic |
| Gannett | The Financial Times |
| Substack | Weather Channel |
After exceeding your free article limit, these websites have a paywall restriction. It blocks you from accessing their content, thereby leaving you one option – to pay a subscription fee.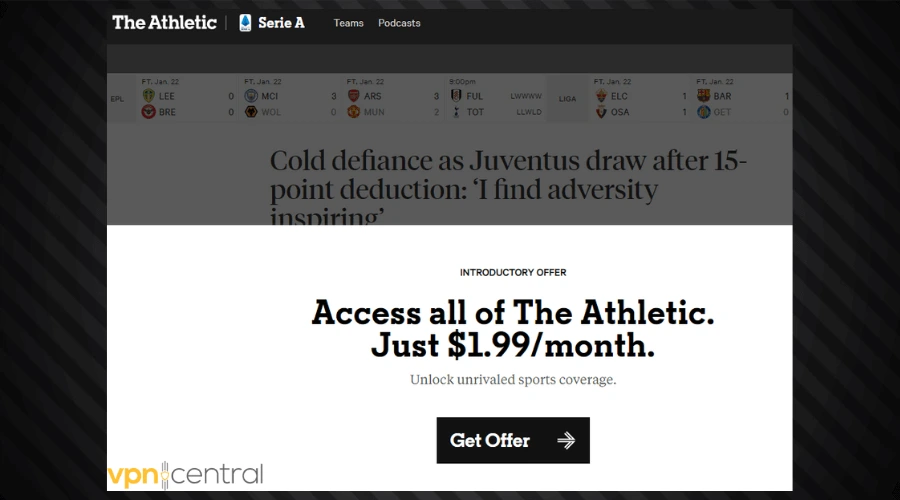 However, we understand that not everyone likes the idea of subscribing to read on a website they rarely visit. Or maybe you're a student with no money trying to read an article on any of these websites.
The good news is that in most cases, you can use a VPN to get around paywalls and article limits without actually paying any subscription fees.
Using a VPN encrypts your data and changes your IP address to that of the VPN provider, thereby granting you unrestricted access to articles on blocked sites.
Moreover, if you use a reputable, premium VPN you'll be able to change your IP as many times as you want. That will allow you to evade any blocks, all the time.
However, it is important to note that a VPN will only work if the website uses a paywall that tracks your IP address.
If they monitor you based on your user account data, the VPN may not get past the restriction.
How to use a VPN to bypass article limits
You need a reliable VPN with lots of servers to get the best experience while reading articles online.
For this reason, we highly recommend Surfshark. It's one of the most affordable VPNs out there and you can use it on unlimited devices with just one subscription.
Here is how to bypass article limits with a VPN:
Sign up for a Surfshark account and download the software to your device.

Install Surfshark and launch it.

Connect to a server.

Open a fresh tab in your browser and visit your preferred news website.

Enjoy reading your articles for free.

Surfshark has a large network of over 3200 servers in 100 countries. This gives their users access to a lot of high-quality IP addresses to choose from.
It also has AES-256 encryption which makes it easy to keep your data safe and secure. The built-in killswitch will ensure no data about you will be revealed even if your VPN disconnects.
Furthermore, Surfshark offers a 30-day money-back guarantee to its first-time users and a 7-day free trial on mobile.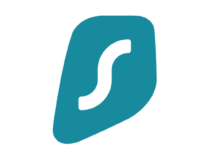 Surfshark
Connect to Surfshark to go past paywalls and read articles without limitations!
Conclusion
Not only will a VPN help you read more articles online, but it will allow you to bypass geo-blocks in case these websites aren't available in your country at all.
Please note that you reside in a country with rigorous Internet censorship, it's possible the VPN service itself is blocked or restricted.
In that case, you'll have to enable advanced privacy features like obfuscation or double VPN.
But can you use a VPN for articles so that you can read them for free? Follow the instructions and enjoy reading articles for free online.