Whether it's bypassing geo-blocked content, avoiding ISP throttling, or protecting your privacy, VPNs are quickly becoming the norm.
ClearVPN is a relative newcomer to the market, having launched towards the end of 2020. In an overcrowded marketplace, what does it bring to the table?
This MacPaw software works on macOS, Windows, and mobile. It also has a much sought-after free forever plan.
In this ClearVPN review, we put its features, servers, and user-friendliness to the test.
Here's a quick overview:
| | | | |
| --- | --- | --- | --- |
| Number of regions | 20 | Kill Switch | Yes |
| VPN Protocols | IKEv2, OpenVPN, Custom WireGuard | Value for money | 5/10 |
| Speed | 7/10 | Split Tunnelling | No |
| Torrenting | Yes | Stealth/Obfuscation | No |
| Apps | Windows, macOS, iOS, Android | No Logs | Yes |
Features
ClearVPN has all the basics you'd expect from a VPN service, along with some nice extras like ad-blocking and a simple DNS changer.
Here's a rundown of all its features.
Encryption
Like all VPNs worth their salt, ClearVPN uses AES-256 military-grade encryption to hide your internet traffic. It's considered the most secure option and is used by all sorts of organizations to protect sensitive information.
The "256" in AES-256 refers to the length of the encryption key, which is 256 bits long. This makes it virtually impossible for ISPs, government censors, and hackers to crack.
Kill Switch
If your VPN connection drops, the kill switch feature will automatically block all internet traffic on your device. This prevents your real IP address from accidentally being exposed to websites, apps, and other snoopers.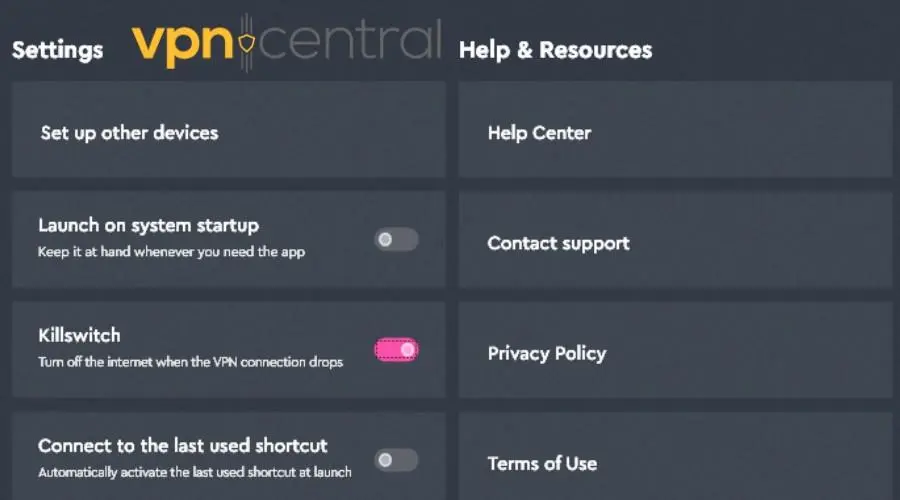 By default, the kill switch is turned off. To activate it, simply turn the slider on in ClearVPN's settings.
DNS Changer
The Domain Name System (DNS) is the internet's way of converting human-readable web addresses into IP addresses that your browser or an app can process.
I.e., when you enter a website's domain name into your web browser, special DNS servers help to find and translate the domain into its underlying IP address.
Typically, your internet provider assigns these servers, but using them can expose your geographic location and other data.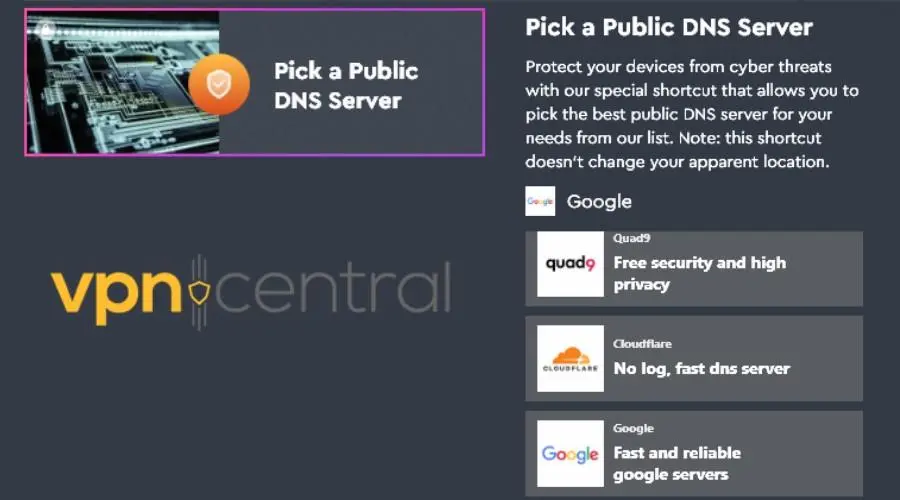 ClearVPN lets you easily use public DNS servers like Google and Cloudflare, rather than having to configure them via your device's settings.
Ad Blocker
A nice addition to the VPN that doesn't cost extra is the ad blocker. Activate it within the app, and then click the link to launch your browser. It supports Chrome, Safari, Firefox, and Edge.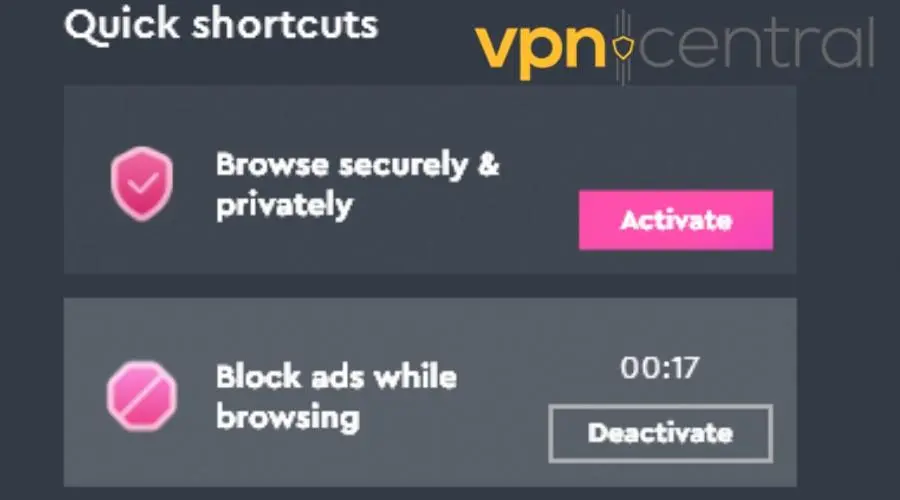 Now when you browse the web, display advertising and popups are removed. Not only does this make for a better browsing experience but it also prevents cookies and other hidden tracking methods.
Upon testing, this feature didn't cause any browser slowdown on Chrome. It also did a good job of blocking common ad networks like Google Adsense.
Apps and Usability
ClearVPN covers all the common ground, including apps for Windows, macOS, Android, and iOS. Simply download the relevant app and all activity on the device is protected.
You can connect up to 6 devices simultaneously, which is more than enough for the average household.
Where ClearVPN falls short is having no clear way to install at the router level, which is a good way of protecting your entire network in one go.
It also doesn't offer any dedicated apps for smart TVs, streaming devices, and game consoles, though most other providers lack these as well.
In terms of usability, the apps work fine but are a bit clunky. Everything is called a "Shortcut" and some options seem redundant.
For example, "Browse securely & privately" and "No limitations".
The first option is actually how you turn the VPN on – so why not simply use an on/off slider or connection button to get your VPN online?
Moreover, every VPN connection should be secure and private with no browsing limitations by default.
The "IP change" and "Change your location" shortcuts replace the ability to simply choose the location and server you want.
On the other hand, we found streaming shortcuts like "Access BBC iPlayer" or "Stream Sporting Events" quite useful. These connect you to optimized servers for maximum speed and allow you to bypass VPN-related restrictions on major platforms.
The aim is a simplified interface for people unfamiliar with VPNs, but in practice, this makes it less intuitive.
Server Network
ClearVPN's server network is a little more restricted than most, offering 20 countries. It only lets you choose the location rather than the individual server.
Admittedly, there's some utility in ClearVPN automatically connecting to the fastest location, especially for beginners. However, if one server in a country doesn't work for a particular task, there's no simple way to test the others.
This also makes it difficult for unblocking regional content within a single country. For example, local news and sports in New York if you reside in Los Angeles.
Where ClearVPN gets a nod is for the location in Hong Kong, which isn't that common for VPNs.
ClearVPN Speed
Unless your ISP is artificially throttling, a VPN will always reduce your internet speed because data is routed through a secondary server. The impact is greater, the further the server is from your real location.
Since everyone's base internet speed varies, the important measure is how far it drops when the VPN is on and whether it gets lower than you require.
Using speedtest.net, ClearVPN roughly halved our mobile data connection from 4.06Mbps to 2.01Mbps. The impact on upload speed was less pronounced – from 2.02Mbps to 1.27Mbps.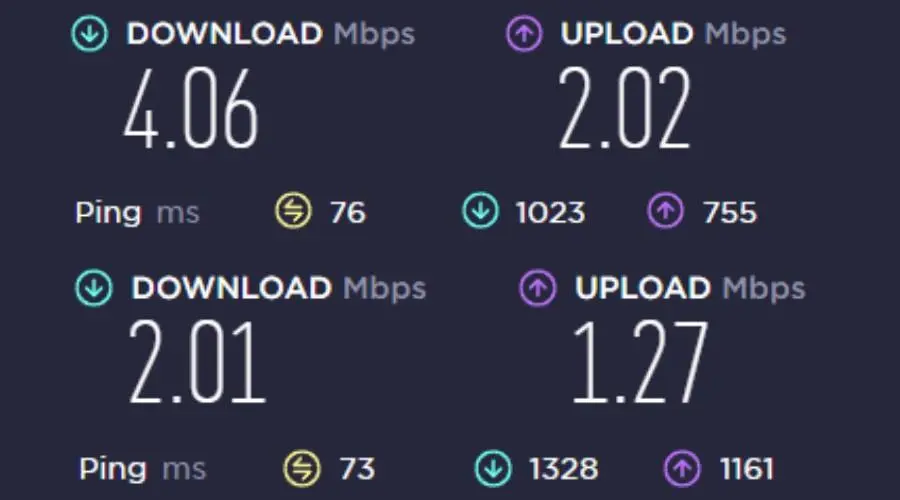 There was much less of a drop for regular Wi-Fi. Download speed went down by roughly 18% from 37.46Mbps to 30.61Mbps, while the upload remained within 17Mbps.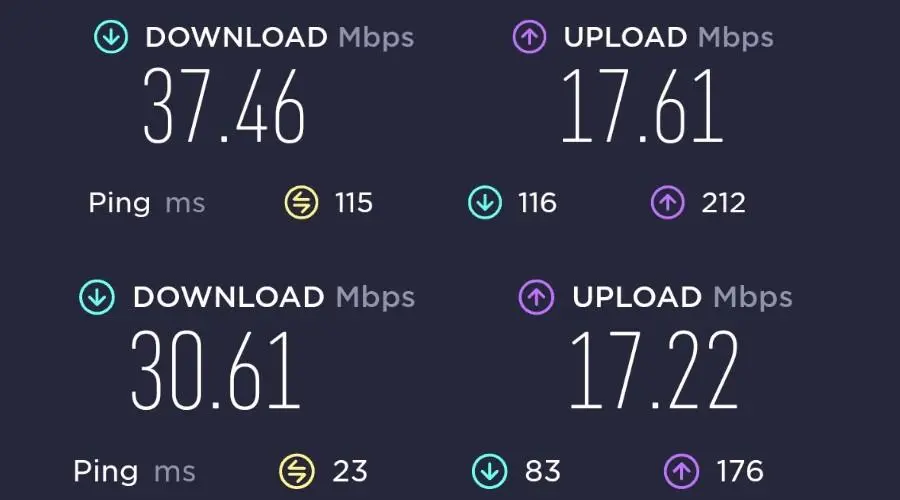 This is well within the normal and acceptable range and would still allow 4K streaming or multiple users streaming HD.
The minor impact on upload is impressive, making ClearVPN a good choice for file sharing and video messaging.
Protocols
ClearVPN supports IKEv2 and OpenVPN.
OpenVPN uses SSL/TLS security and is widely regarded as one of the most secure and reliable protocols available.
ClearVPN also has its own protocol based on WireGuard. However, this isn't a stealth/obfuscated option, so the benefit is not immediately clear.
Furthermore, you can't actually select your preferred protocol in the settings. It appears to automate the process, perhaps based on speed.
Privacy
ClearVPN has a good privacy policy, and most importantly a no logs one. This means the company doesn't track or store browsing data.
There's a bunch of info you can share by opting in, such as mobile device ID and technical information like crash reports.
The only area that might concern you is data collected regardless of permissions. This includes successful and unsuccessful connection attempts, how much bandwidth you use, and device info – operating system, language, etc.
While all that data is anonymized and probably helps ClearVPN improve its apps, it would be better if it wasn't collected at all.
Fortunately, there's been no public controversies or negative reports surrounding this VPN provider and privacy.
Is ClearVPN safe?
Our tests for this ClearVPN review showed it to be a mixed bag when it comes to leak prevention. Overall, it certainly hides your IP and assigns a new one based on the country you choose.
What's disappointing, especially since it has the option to change DNS servers, is that it tends to leak your ISP's DNS requests anyway.
Multiple tests using IPLeak.net revealed the review computer's real broadband provider, Three.
When ClearVPN's default DNS is used, there's a single DNS server from ANEXIA Internetdienstleistungs GmbH, alongside two servers from Three.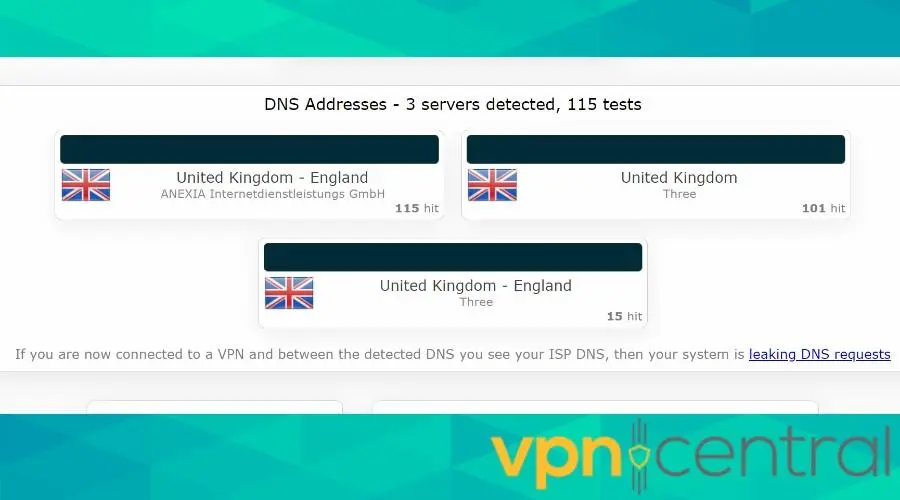 This indicates that your ISP could still enforce content filters and throttling. It also means savvy sites and apps can tell that your ISP location is different from your IP, which will hint at your VPN usage.
Fortunately, there were no leaks via WebRTC or IPv6.
Is ClearVPN good for streaming and torrenting?
ClearVPN's solid speeds are further bolstered by support for streaming and torrenting.
Streaming
You have two options here – going with the default server or trying the shortcuts for specific streaming services.
The good news is streaming works well whatever you choose.
Upon testing, there were no performance issues for popular platforms like Hulu, Netflix, and Amazon Prime. Moreover, ClearVPN is quite capable of 4K video.
Torrenting
ClearVPN doesn't require any specific settings for using the BitTorrent P2P file-sharing platform – it works by default with no restrictions.
Speeds are fast and stable, so long as the torrent itself is well trafficked.
We had no problem connecting to peers from all over the world using the QTorrent client.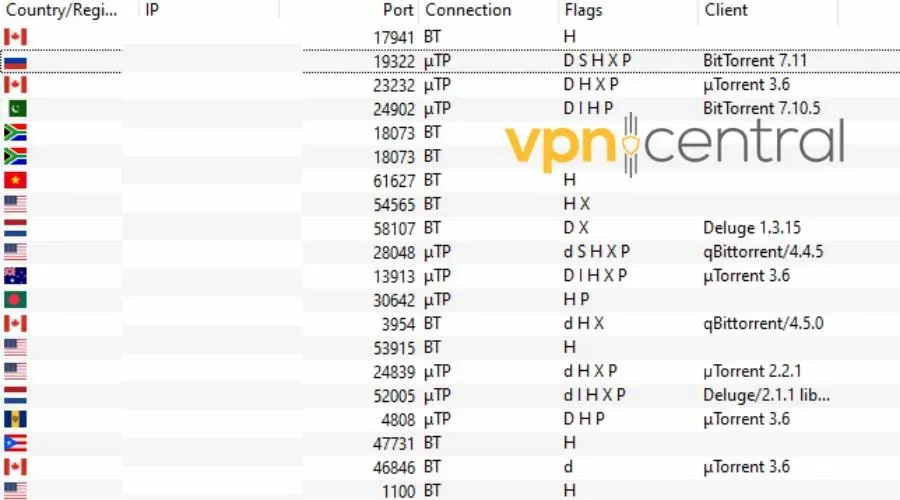 It's possible that DNS leaks could expose P2P activity to your ISP, which only matters if it's particularly strict on torrenting. However, you remain hidden from any other party snooping on the tracker.
ClearVPN Pricing
Monthly – $12.95
6 months – $35.95 upfront or the equivalent of $5.99/mo
ClearVPN is priced at the higher end of the average, which is not that common for a relative newcomer.
The free version is forever, which is great to see. However, its features are limited. You only get one location and as far as we can tell, this is your home country. So, you can't unblock overseas streaming services.
The speed is good for a free VPN, capable of streaming in 4K.
There's also a 7-day free trial for the full premium version. However, you must choose a plan and provide billing information before you can use the VPN.
Nonetheless, there's a 30-day money-back guarantee and 24/7 customer support.
Conclusion
Our ClearVPN review proved that the service has a lot going for it.
Now, like any other product, it does have its drawbacks.
The monthly price of $12.95 is a bit steep, especially for a service that's not yet well-established. Furthermore, the DNS leaks we experienced were disappointing.
However, it's a fast VPN and it reliably encrypts your traffic and changes your IP. Ad blocking is a nice touch and being able to change DNS in-app saves some hassle.
Moreover, it has e free version, which most other providers lack.
It's also suitable for streaming and torrenting, including seeding torrents, thanks to solid upload performance.
Update – ClearVPN 2
Shortly after publishing this ClearVPN review, we found out that the company is working on a new version of its service.
The main improvements will include:
A brand-new user interface without the clutter of features.
More countries and servers to connect to.
A stellar performance and quality of the servers.
The customer support service's response time will be reduced to one hour.
Additionally, the pricing for the new service will be reduced as follows:
Monthly – $5/month
3-month plan – $4/month (a total of $12 for the entire period, which is 20% cheaper than the monthly plan)
6-month plan – a 30% discount on the regular price, e.g. $3.50/month or $21 for the plan's duration.
Feel free to join ClearVPN 2's open-beta waitlist.