If your VPN isn't working with ESPN Plus, it's likely because the service has blacklisted the VPN server you're attempting to use.
This can be frustrating if you have already paid for a streaming subscription and are away from home.
However, you don't need to worry much because we've got a solution for you. Read on to check out our detailed guide.
Is your ESPN+ not working with VPN? Here's how to fix it!
There are several reasons why your ESPN+ is not working with VPN. This includes a wrong server connection, stored cookies, or an outdated protocol.
Interestingly, there are sure ways to fix it quickly!
Use another server

ESPN+ might not function with some VPN servers due to IP prohibitions, too many people connected, or IP leaks.
Therefore, if your VPN has stopped working, consider switching to a different server.
Here's how to do it:
1. Disconnect from the server by clicking the VPN's power icon.

2. Click on the hamburger icon to access the search option.

3. Search and connect to a new server from the list.

4. Once connected, launch your ESPN+.

When you switch to a different server in the US, you'll be greeted with a fresh IP address.
Now, for the secret to an extraordinary streaming experience, look for a VPN that gives you the power to switch servers without limitations.

Clear browser cookies

Cookies are small files that online services use to improve your experience and store your location.

Therefore, if the location stored by ESPN+ when you first accessed it without the VPN differs from your server location, it will deny you access due to conflicting information.

Luckily you can quickly put an end to this by clearing them from your browser.

Here's how to do it in Chrome:

1. Access your browser's settings by clicking on the three dots or lines in the top-right corner of your screen.

2. Click on Privacy & Security.

3. Select Clear Browsing Data.

4 Delete all cookies and other site data, then select 'Clear Data.'

5. Launch the ESPN+ website to access its content.

Clearing your cookies to improve browsing speed and protect online privacy helps resolve ESPN+ not working with VPN.

We used Chrome as an example because it's the most popular browser right now.

However, the method works on any other one, including Opera, Edge, or Firefox, and the steps you have to follow are the same.

Update your VPN app

VPN providers regularly update their apps when the older versions have bugs or inefficiencies.
If ESPN Plus is not working with your VPN, it may be because you're using an outdated app.

How to fix it?

Simply update to the latest version and try reaccessing ESPN+.


Luckily, most VPNs are designed to scan for the latest version automatically and notify you if there's a new update to download.

Change to a different protocol

Try switching to a different VPN protocol to fix the problem of ESPN Plus not working with a VPN. 

Protocols are rules that determine how data is routed through the server.

To get started, follow the steps below:

1. Open your VPN app.
2. Click on the gear icon or go to options.

3. Go to VPN protocol. 

4. Select OpenVPN – TCP from the list.

5. Select Change Anyway from the pop-up.

6. Go back to the website you're trying to access again.

Check if your VPN supports multiple ones like OpenVPN, Lightway, or Wireguard.
It's best to use the WireGuard protocol due to its fast speeds and strong security. OpenVPN is also a reliable option with good encryption, but it may not be as fast.

Check the split tunneling feature

Split tunneling is a handy feature that lets some apps and websites skip the protected VPN tunnel and connect directly to the internet. 
This means they don't go through the usual encryption process but directly through your ISP. 
If you use a VPN to appear like you're in the US but have exempted ESPN Plus from the VPN, the streaming service will detect your true IP address. 
As a result, this could lead to restrictions or limitations when accessing content on ESPN Plus.
Here's how to fix that, using ExpressVPN as an example:
1. Tap on the hamburger icon and select options.

2. Go to General and click on Settings under Split Tunneling.

3. If 'Do not allow selected apps to use the VPN' is selected, remove ESPN+ or the browser you are using.

4. If 'Only allow selected apps to use the VPN' is checked, ensure you add ESPN+ or your streaming browser.

5. Reconnect to a US server location.

6. Stream ESPN Plus with no restrictions.


Change to a better VPN provider 

If you've tried everything else and still can't find a way to get around ESPN Plus, your current VPN might not be able to help you. 
But there is hope! Upgrading to a premium VPN that works with ESPN+ can unlock it.
We recommend ExpressVPN because of its multiple-server network in the US.
Here's how to set it up:
1. Subscribe to an ExpressVPN plan and download the software compatible with your device.

2. Install the ExpressVPN app on your computer and sign in with your credentials.

3. Search for a US server.

4. Select and connect.
5. Once connected to the server, open the ESPN+ website and start streaming.

This VPN offers strong encryption and a wide range of server locations, which can help ESPN Plus users bypass geo-restrictions and access content from different regions.
Does ESPN+ block VPNs?
Yes, they try to block VPNs, but they're not very successful. Sounds surprising, right?
Well, let me explain. While ESPN+ can't directly block VPNs, it has a clever way of rejecting certain IPs associated with specific servers.
Why? Because protecting the interests of copyright holders is the service's top priority.
To ensure that only authorized viewers can access their content, they impose blackouts and display a frustrating error message for users in restricted areas.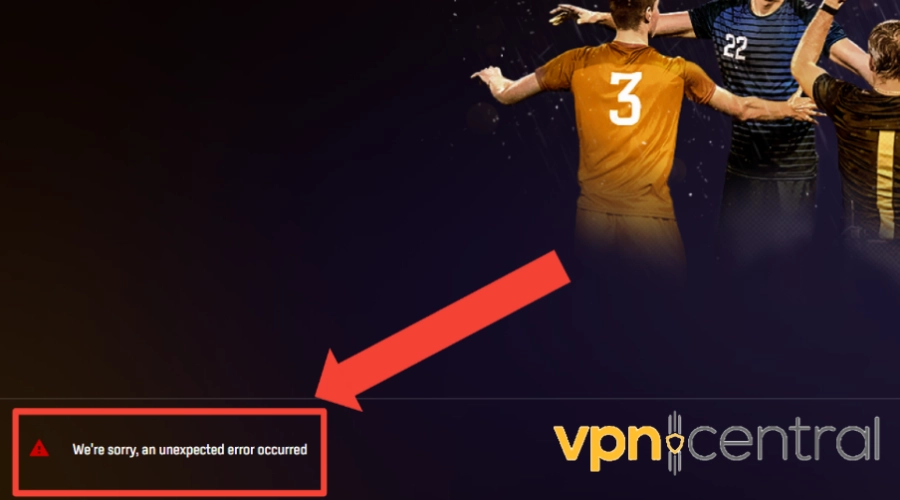 It's a way of making sure their shows stay within permitted regions.
So, if you're using a VPN to trick ESPN into thinking you're in a different location and unlock those exciting geo-restricted shows, it goes against their terms and conditions.
How does ESPN Plus detect my VPN?
ESPN Plus uses many fancy GeoIP databases to sniff out any VPN tricks you might be trying.
It may also check your DNS and WebRTC information.
And what happens when ESPN Plus catches you red-handed? They'll swiftly learn your actual location and slam the gate shut on your access to their fantastic platform.
No more streaming for you!
Oh, and here's another fun fact. It gets suspicious if multiple connections pop up from a single IP address.
To avoid this digital detective work, look for a top-notch VPN that offers IP, DNS, and WebRTC leak protection.
Also, I'll recommend one with dedicated IP, and a big server network so you can switch around your IP in case one address gets detected and blocked.
These features ensure your connection stays secure, keeping ESPN Plus clueless about your actual location. So, go ahead, stream away without a worry!
Does ESPN Plus work with a VPN?
Yes, it does. I regularly tune in to ESPN+ weekly from my residence in Nigeria.
It's crucial to utilize a compatible VPN, such as ExpressVPN ($6.67 per month) or Private Internet Access ($2.03 per month).
These providers employ a clever strategy to outsmart ESPN+'s detection systems, ensuring uninterrupted access to the streaming service.
Whenever ESPN Plus identifies and bans an IP address, ExpressVPN ($6.67 per month) and Private Internet Access ($2.03 per month) swiftly replace it with a new one that it hasn't blacklisted.
This is possible because they have enough servers, so you'll always have plenty of unblocked options.
Therefore, you're guaranteed the availability of a functional one that enables seamless access to streaming content from anywhere in the world, regardless of your location.
Best VPNs for ESPN+
Are you ready to dive into the captivating world of ESPN Plus shows like The Gamer Hour and Al Davis vs. the NFL, no matter where you are?
Our top picks all support streaming and has simple apps for desktop and mobile.
Here are VPNs that work with ESPN+:
1. ExpressVPN — overall best performance with ESPN Plus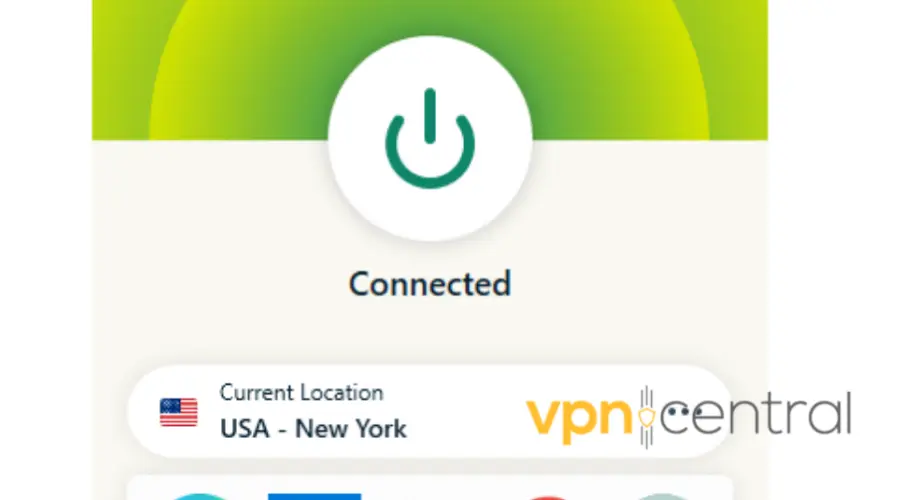 ExpressVPN provides a flawless experience with ESPN Plus; just fire up and enjoy buffer-free streaming.
It has an extensive server base in the US where ESPN Plus is fully available, which can unblock shows like Peyton's Places and Man in the Arena: Tom Brady.
Although ESPN Plus is stringent regarding geo-blocking, ExpressVPN has military-grade encryption and advanced leak protection.
Moreover, it readily works with most day-to-day devices that operate on Windows, Android, macOS, iOS, and Linux.
Furthermore, it also has extensions for Chrome, Firefox, and Edge browsers.
To top it all off, its outstanding media streamer feature allows you to connect VPN-incompatible devices and increase your options for what devices to stream on.
So, if you decide to access other restricted content, you can always be sure it'll work.
In addition, ExpressVPN streams ESPN Plus with highly secure protocols in OpenVPN and its self-developed Lightway Protocol.
Regarding pricing, a month-to-month commitment is a bit pricey but worth it; however, you'll get a discount for longer-term subscriptions.
Additionally, you can test things on mobile with a 7-day free trial.
Pros:
Best leak protection on the market
Consistently fast and stable
Apps for all conceivable devices
Cons:
Not the cheapest
Its servers occasionally get blacklisted due to its popularity
Only five device connections at a time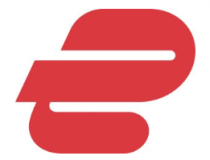 ExpressVPN
Easily unblock ESPN Plus without any errors, using this reliable VPN!
2. NordVPN — multiple servers for unblocking ESPN Plus shows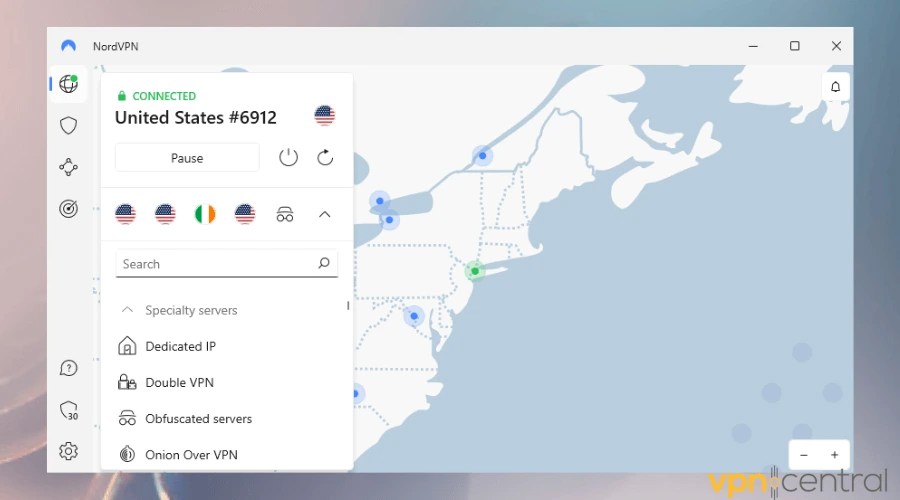 When it comes to ESPN Plus, NordVPN ensures a seamless streaming experience.
Its vast network of 5,500+ servers, including servers in the US, guarantees that you can unlock streaming content from anywhere in the world.
NordVPN lets you change your IP address, bypass restrictions, and ensure uninterrupted access to ESPN Plus.
It doesn't stop at unlocking content only, your online security and privacy are of great priority.
In addition, it offers essential features like split tunneling, which directs traffic to a private network, and a kill switch, which instantly disconnects if VPN drops.
Moreover, with NordVPN, you'll get rid of web tracking, annoying ads, and malicious websites. Therefore, keeping you safe and secure while you enjoy your favorite ESPN Plus shows.
But that's not all!
It also offers an extensive library of how-to pages and guides, ensuring you have all the necessary resources to set everything up correctly.
And if you ever need assistance, their 24/7 support network is always available to lend a helping hand.
Pros:
Affordable monthly price
A high number of servers
Apps for Fire Stick and Android TV
Cons:
Servers are fast, but apps are often sluggish
Complicated when using router setup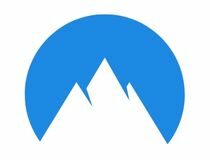 NordVPN
Get quick and unblocked access to ESPN Plus with this untraceable VPN!
3. Surfshark — unlimited devices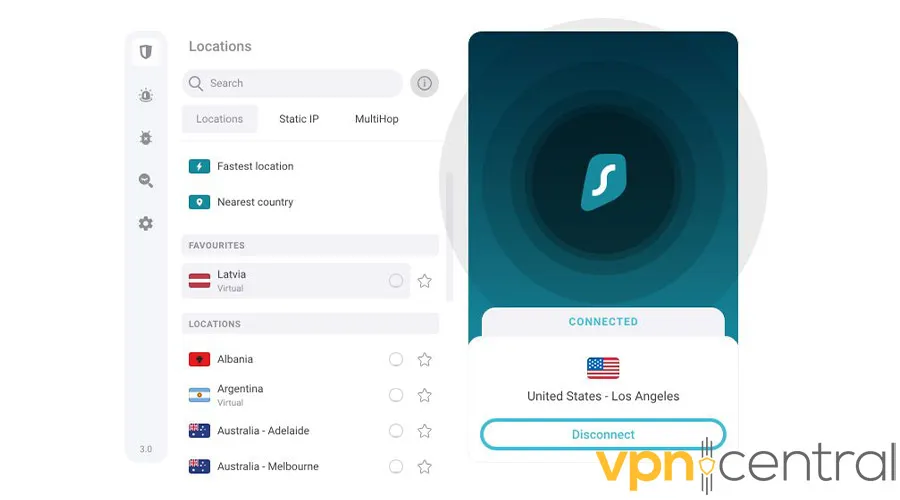 Get ready to enjoy ESPN Plus content from anywhere in the world with Surfshark's impressive features. 
With over 3200 servers spread across 100+ countries, including the US, you can access the shows you love, regardless of location.
One of its standout features is its rock-solid security – AES-256-bit encryption.
It ensures your online activities remain completely anonymous and untraceable—no need to worry about your traffic data falling into the wrong hands.
But that's not all! Surfshark goes the extra mile by including a built-in kill switch.
Picture this: your VPN connection drops unexpectedly, and just like that, all your internet traffic is halted. No data leaks, no risks.
Whether you're using Windows, Mac, iOS, or Android, Surfshark has got you covered.
It seamlessly works on all major operating systems, allowing you to watch ESPN Plus on your preferred device without hassle.
With this VPN, the world of streaming is at your fingertips.
Therefore, with Surfshark, you can bypass geo-restrictions and enjoy endless sports entertainment no matter where you are.
Pros:
Connect unlimited devices
Excellent streaming speeds
Extra features like virus protection
Cons:
Inconsistent P2P performance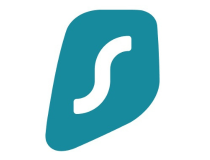 Surfshark
Watch all your favorite ESPN shows restriction free with Surfshark VPN!
Is it legal to use a VPN with ESPN+?
Certainly! It's legal to use a VPN for streaming ESPN Plus.
But here's the thing: streaming services have rules against bypassing location restrictions and measures to detect and restrict access from certain VPN servers.
As a result, they blacklist specific ones known to be used for unblocking content.
ESPN+'s parent company, Disney, stated in its terms of use that it prohibits using any tool to circumvent its content protection system.
Summary
When accessing restricted content like ESPN Plus outside the US, relying on a free VPN may not deliver the enjoyable experience you're hoping for.
Websites can easily identify your actual IP address, causing limitations in accessing the desired content.
If you've been facing difficulties because ESPN Plus is not working with your VPN, implementing the fixes above will resolve the issue.
Choosing a premium service unlocks a seamless streaming experience and unrestricted access to other geo-restricted content.
Say goodbye to limitations and embrace the world of entertainment at your fingertips!
---