In countries like China, Russia, and Iran, internet censorship is a growing concern, with governments and ISPs blocking access to certain websites and online services.
However, a solution to this problem is through obfuscation, which disguises VPN traffic to bypass censorship and blocks.
ExpressVPN is one such provider that offers obfuscated servers to keep your online activity private, even in restrictive countries.
Follow through, as we'll list all of ExpressVPN's obfuscated server locations and test the speed of some of them so you can get an idea of how they perform.
Does ExpressVPN offer obfuscated servers?
Yes, ExpressVPN offers obfuscated servers as part of its service. All their server locations have in-built obfuscation, which adds an extra layer of security and privacy to your online activities.
However, the obfuscation feature is automatic. You can't manually enable or disable it.
These servers bypass these restrictions and let users access the internet freely and securely, particularly in countries where internet freedom is limited, such as China or Russia.
Plus, ExpressVPN obfuscated servers are located in different countries around the world and are available for use with all of the subscription plans.
ExpressVPN obfuscated servers list
Across all of its server locations, ExpressVPN provides obfuscated servers, including the Americas, Europe, Asia, the Middle East, and Africa.
Obfuscation is automatically enabled on all servers, so you don't need to enable it manually. Consequently, all locations available use obfuscation by default.
Americas
United States, Canada, Argentina, Bahamas, Bolivia, Brazil, Chile, Colombia, Costa Rica, Ecuador, Guatemala, Mexico, Uruguay, and Venezuela.
Europe
United Kingdom, Germany, Spain, Italy, France, Netherlands, Albania, Andorra, Armenia, Austria, Belarus, Belgium, Bulgaria, Croatia, Cyprus, Czech Republic, Denmark, Estonia, Finland, Georgia, Greece, Hungary, Iceland, Ireland, Isles of Man, Jersey, Latvia, Liechtenstein, Lithuania, Luxembourg, Malta, Moldova, Monaco, Montenegro, North Macedonia, Norway, Poland, Portugal, Romania, Serbia, Slovakia, Slovenia, Sweden, Switzerland, Turkey, and Ukraine.
Asia Pacific
Australia, Japan, Singapore, Bangladesh, Bhutan, Brunei Darussalam, Cambodia, Hong Kong, India, Indonesia, Kazakhstan, Laos, Macau, Malaysia, Mongolia, Myanmar, Nepal, New Zealand, Pakistan, Philippines, Singapore, Singapore, Singapore, South Korea, Sri Lanka, Taiwan, Thailand, Uzbekistan, Vietnam.
The Middle East and Africa
Algeria, Egypt, Israel, Kenya, and South Africa.
ExpressVPN obfuscated servers list
How fast are ExpressVPN's obfuscated servers?
To determine the performance of ExpressVPN's obfuscated servers, a speed test was conducted.
First, we tested the speed of our internet connection without using a VPN, to establish a reference point.
Then, we conducted our tests using ExpressVPN's obfuscated servers in the US, UK, Germany, and Japan and compared the results to our initial speed test without a VPN connection.
However, keep in mind ExpressVPN's team states they have obfuscation on all locations and there's no way to enable/disable it.
So what we did was we connected to different server locations and checked the speed rates.
We ran each test multiple times to ensure accuracy. Here are the results of our tests:
⚡ Internet speed before connecting to VPN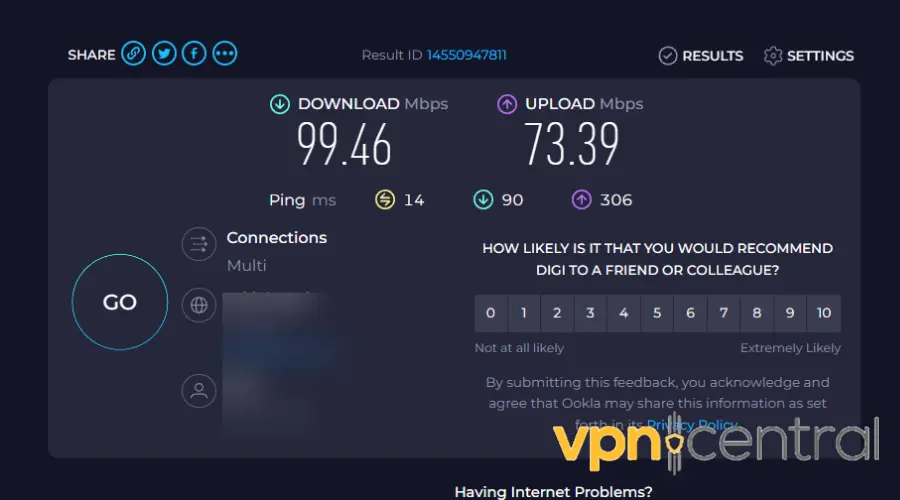 The download speed was recorded as 99.46 Mbps.
⚡ Internet Speed on an ExpressVPN US

server: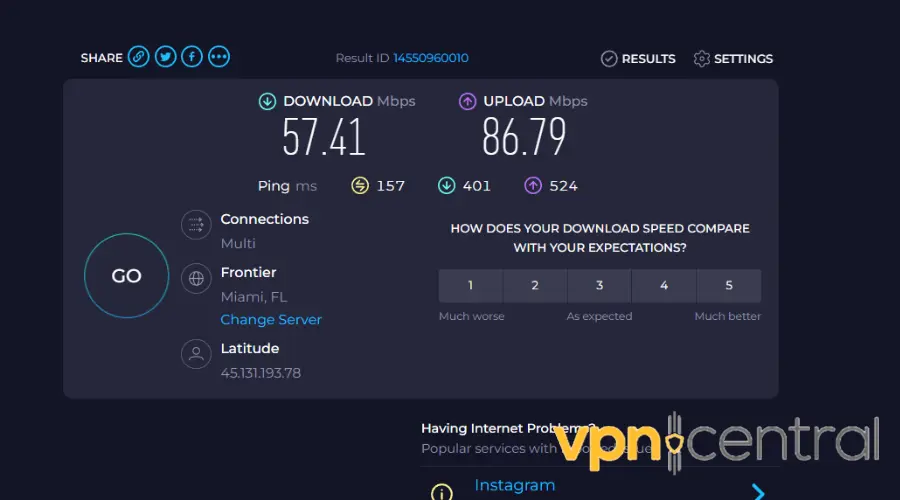 Compared to the speed without a VPN connection, the server in the US had an average download speed of 57.41 Mbps.
That was a drastic 42% decrease when compared to the Internet speed without VPN.
⚡ Internet speed on ExpressVPN UK

server: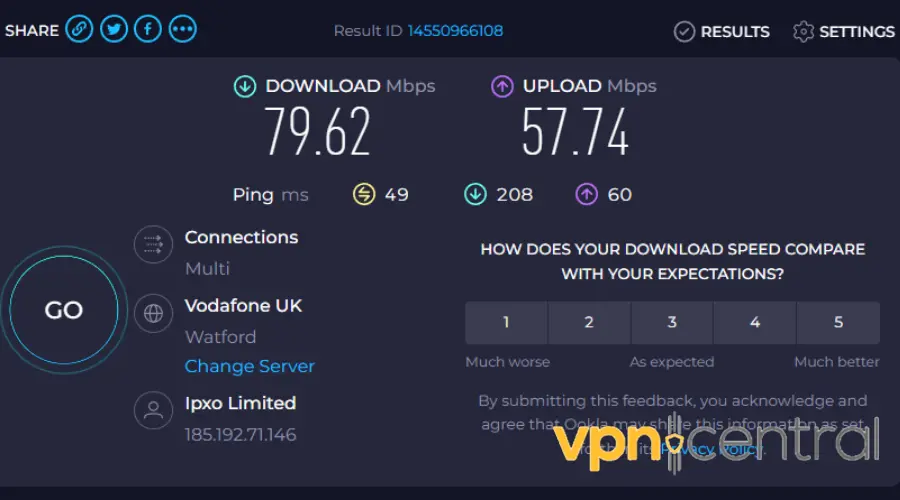 In the UK, our speed test showed that the obfuscated server had an average download speed of 79.62 Mbps.
That was a 20% decrease.
⚡ Internet speed on ExpressVPN German server

: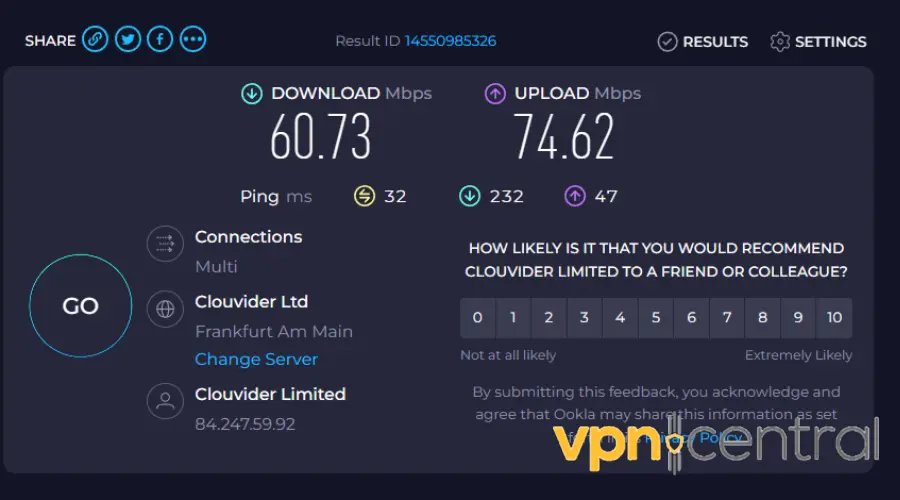 The server in Germany had an average download speed of 60.73 Mbps.
That was a 40% decrease.
⚡ Internet speed on ExpressVPN Japan

server: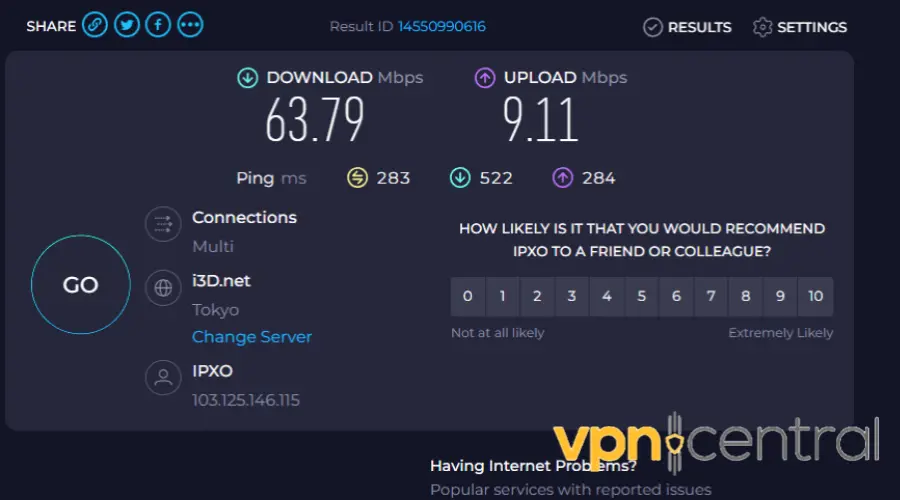 Japan's server had an average download speed of 63.79 Mbps.
That was a 39% decrease.
As you can tell, in all cases, the speed without a VPN connection was faster than the ExpressVPN obfuscated servers.
However, the level of impact may vary based on factors such as the user's location and server load. Although the speed was affected, the rates were still ok for most online activities.
On average, an internet connection of over 30 Mbps is enough for any activity, from streaming to gaming and video calling.
Overall, sacrificing a bit of speed for better privacy and security is worth it.
Summary
In summary, ExpressVPN offers obfuscated servers that can bypass Deep Packet Inspection (DPI) and other methods used by ISPs to block VPN services.
If you want to use the VPN in a specific location, check the ExpressVPN obfuscated servers list in this guide and see if they include your country of choice.
While these servers may lead to a decrease in speed, they remain a crucial feature for users who need to bypass VPN-blocking techniques used by governments and ISPs.
---