FossHub is a go-to site when it comes to free and open-source software downloads for various operating systems.
However, using a VPN with it can present some challenges as some may not work with the website.
In this article, we'll explore the potential fixes to help you download software on FossHub using a VPN and highlight the best provider that works well with the site.
Why is Fosshub not working with your VPN?
One common error encountered when downloading from FossHub is a server IP address not found message.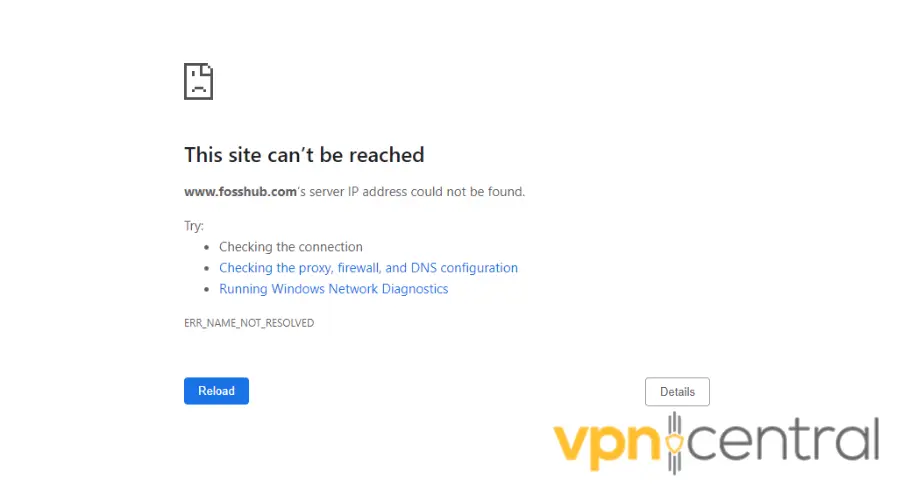 This error occurs when your device is unable to establish a connection with FossHub's server to initiate the download process.
So, why is this happening when you connect to VPN?
Actually, there are a few possible reasons:
Incorrect VPN settings, including open ports and DNS servers.
Technical difficulties on Fosshub's end
Cookies interfering
Fosshub detects and blocks your VPN
Now let's see how you can fix these problems.
How to download from Fosshub with VPN
Once you know the cause, it's easy to tackle it. To save you some time, we tried out a few possible things that could solve the above-mentioned issues.
That said, only those that really worked made the list. So make sure to check out all the solutions below and try out a few if you don't get it right the first time.
Change VPN servers

If you can't download from FossHub with your current VPN server, try switching to a different one. This will work if Fosshub banned a specific IP belonging to your VPN.

Here are the steps to change VPN servers:

1. Disconnect from your current VPN server.
2. Open the server list. You should find the option right next to the current server location in the main interface.

3. Select and connect to the new server.

4. Open FossHub and download the software you want.


Change DNS settings

DNS servers can prevent access to FossHub by denying domain name resolution.

This can occur due to various reasons, like server configurations blocking specific websites or technical difficulties.

So, to resolve this, consider switching to an alternative DNS server. Here are the steps to follow on PC: 

1. Open the Control Panel on your computer.
2. Select Network and Sharing Center.
3. Click on Change adapter settings.

4. Right-click on your VPN connection and select Properties.

5. Select Internet Protocol Version 4 (TCP/IPv4) and click Properties.

6. Select Use the following DNS server addresses.

7. Enter a new DNS server address, such as Google DNS (8.8.8.8) or Cloudflare DNS (1.1.1.1). 

Although DNS is a free service that is provided by your internet service provider (ISP). However, there are also a number of reliable third-party services that offer free DNS addresses.

Popular third-party DNS services like Google and Cloudflare have large networks worldwide and are often faster and more reliable than the DNS servers provided by your ISP.

Clear your browser cache 

Cookies store information about you to help pages load faster, but also keep private details such as your IP address. 

This can reveal your true IP address, defeating the purpose of using a VPN. 
To prevent this, clear your browser cache regularly.

Here's how to clear your cache in Google Chrome:

1. Open Chrome, click the three-dot menu in the upper right corner, and select More Tools.
2. Click Clear browsing data.

3. Choose the checkboxes for Cached images and files, Cookies, and other site data.

4. Select All Time for the time range to delete the browsing data.

5. Finally, click Clear data.
6. Now you should be able to access FossHub.


Use an obfuscated server

Sometimes, your VPN connection may not work with FossHub due to censorship measures imposed by firewalls or network filters. 

In such cases, using an obfuscated server can help bypass these restrictions.
Obfuscated servers use extra layers of encryption to disguise VPN traffic, making it difficult for firewalls to detect and block. 

Note that not all VPNs have this feature. Below is an example of how to enable it on NordVPN.

1. Open your VPN app and click the Settings menu in the lower left corner.

2. In the Settings menu, select Connections.

3. Disable the Auto-connect settings.

4. Change the protocol to OpenVPN TCP/UDP.

5. Go to Advanced Settings and click on the expand icon.

Enable Obfuscated Servers within the Specialty Servers list.

6. A pop-up window will inform you that the protocol will change to make the obfuscated servers available. Click on Connect.
7. Try connecting to the FossHub website again.

Using an obfuscated server, VPN traffic is disguised to appear as regular internet traffic, making it much harder to detect and block.

Try a different VPN provider

If none of the above fixes work, it might be worth trying a different VPN provider that is compatible with FossHub. 

For optimal downloads on Fosshub, we recommend NordVPN for its unbreakable privacy features.

Without further ado, here's how to use it for safe downloads:

1. Subscribe to a NordVPN plan and download the software compatible with your device.

2. Install the NordVPN app on your computer.

3. Log in with your credentials.

4. Search for a server.

5. Connect to a server of your choice and start browsing FossHub without any restrictions.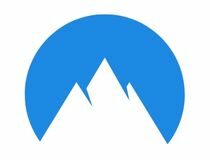 NordVPN
Upgrade to NordVPN for restriction-free and secure downloads on Fosshub!
Important considerations for downloading qBittorrent from FossHub
As you consider downloading qBittorrent from FossHub, be aware that torrents can potentially involve illegal content.
So, proceed with caution and have a clear understanding of the laws regarding torrent usage. Moreover, beware of the risk of getting malware on such sites.
Therefore, to ensure a safe and legal experience, consider the following points.
1. Make sure that you are downloading the official version of qBittorrent.
This is because torrents can be used to distribute malware and other harmful files. So it is important only to download torrents from trusted sources.
2. Use a VPN when downloading torrents.
The main benefit is that a VPN will encrypt your traffic and hide your IP address. As a result, it will protect you from speed throttling as well as tracking from potentially malicious users on torrent platforms.
3. Only download torrents of content you are legally allowed to download.
Not only are illegal torrents gonna get you in trouble, but you may also end up compromising your device. So make sure to only download public domain files or software you already have a license for.
Wrap up
There you have it. Now you should be able to fix any issues that cause Fosshub not to work with your VPN.
As a result, you will be able to safely download any software you want without the risk of being blocked, throttled, or tracked.
That said, we must remind you once more that it's crucial you only use this platform for legal purposes.