Goose VPN is a Dutch VIRTUAL NETWORK service provider based in Rotterdam, Netherlands running since 2016.
Despite being new in the industry, the service is making its mark because of top-notch encryption and salient features.
Digital privacy is a big debate these days as some recent developments in the security industry have suggested that compromising our digital privacy is not much of a problem for national intelligence agencies.
Apart from securing digital privacy, there are some countries where you can't visit certain websites or content. Governments impose these bans to protect unknown interests.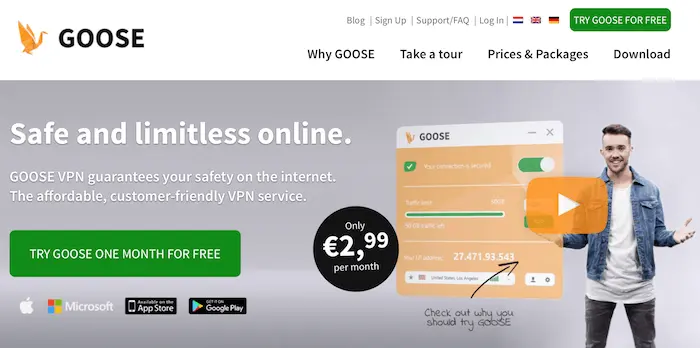 There are simple solutions for all these scenarios called Virtual Private Networks. The VPNs work by creating an encrypted virtual tunnel between the user and the remote server, so any outside intrusion is impossible.
You will find many services claiming to offer you top-of-the-line security and anonymity on the internet, but there are very few who could deliver the promise. GOOSE VPN is one of them.
Here are some of the main features of this VPN provider.
Goose VPN pricing plans
There are two plans the service offers.
First, comes the 50GB GOOSE plan which is the basic plan for this service.
This plan is for light internet users who do not stream many videos and keep themselves to social media and casual surfing.
On the other hand, heavy users may need more than 50GB of data because Youtube, Netflix, Kodi, and similar streaming websites, along with P2P downloading are data-intense activities.
One of our testers maxed out 50GB in almost 10 days.
The second plan is called Unlimited GOOSE.
As the name suggests, there is no data cap on this one. You can watch videos from any of the streaming websites all month long without any hassle as this package is intended for serious internet users who are streaming one video after another while downloading something through torrent clients.
Unlimited GOOSE is priced at €6.99 (7.62 USD) which offers unlimited bandwidth and unlimited simultaneous connections.
Another discounted Unlimited GOOSE plan is priced at €5.83 (6.46 USD) with 17% discount if you choose an annual billing option.
The third option is 50 GB GOOSE priced at €2.99 (3.26 USD).
All of these plans offer a free first month after the subscription.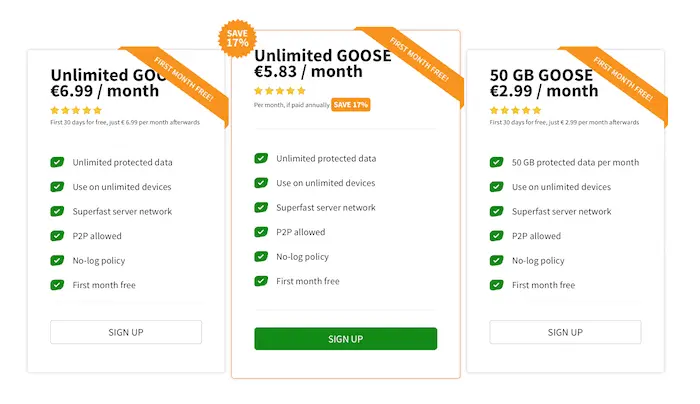 Free trial
Free trials are incredible if they are actually free, but all the good things in the digital world are not truly free as there is always a catch.
The same case is with GOOSE as they offer a 30-day free trial, but there is a minor down payment of €0.45 to register your free trial.
Also, if you exceed the 100MB data limit, you will not be reimbursed for the €0.45.
Also, if you don't cancel before the trial period, your credit card is automatically deducted from the basic package.
Considering the competitive packages offered by GOOSE, not many people would need a refund or cancel the trial anyway.
Servers locations
Server sites in any of these kinds of services are important to the users as they may want to access some restricted websites in a particular region, so without an array of server locations to choose from, it is not possible.
Despite setting its feet in the industry in 2016, this service is spread across 48 locations worldwide. Most of these sites are in user-favorite regions like USA and UK.
There are also some rare locations like Russia, Ukraine, and Egypt.
Here is a complete list of servers GOOSE VPN offers:
| | | |
| --- | --- | --- |
| Sydney, Australia | Frankfurt, Germany | Bucharest, Romania |
| Cairo, Egypt | Haina, Germany | Moscow, Russia |
| Hong Kong | Reykjavik, Iceland | Ljubljana, Slovenia |
| Bengaluru, India | Douglas, Isle of Man | Madrid, Spain |
| Gaza, Israel | Milan, Italy | Stockholm, Sweden |
| Singapore | Luxembourg | London, United Kingdom |
| Vienna, Austria | Chisinau, Moldova | Ontario, Canada |
| Brussels, Belgium | Amsterdam, Netherlands | Dallas, USA |
| Copenhagen, Denmark | Oslo, Norway | Houston, USA |
| Helsinki, Finland | Vestfold, Norway | New York, USA |
| Paris, France | Warsaw, Poland | Pilot Mountain, USA |
Simultaneous connections
Modern-day communications and entertainment require more than one device. There are laptops, Smartphones, Tablets, and many other devices.
So you would want to connect multiple devices with your virtual network client. Allowing simultaneous connections is crucial in all virtual network services these days.
This service does not allow simultaneous connections as you can connect unlimited devices simultaneously.
We have found these feature very unique because the best VPN usually allow from 2 to 5 simultaneous connections.
This service is Dutch based, so the GOOSE software comes in two languages Dutch and English. Unlimited data and better speeds are part of premium unlimited plans.
Security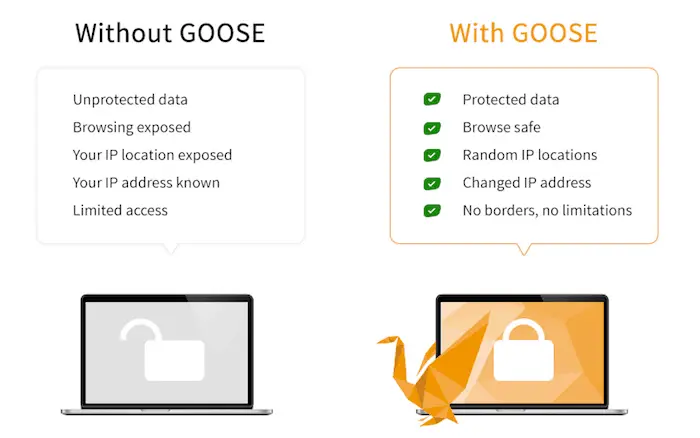 The main reason to use virtual networks is to protect your identity and data from hackers, and this is not possible without top-notch encryption and privacy policy from the service providers.
There are many inferior services in the market with shady privacy policies and subpar encryption techniques.
The GOOSE service, however, comes with 256-bit AES encryption and SHA-256 to make it extra secure. All the communications done through the service are pretty safe, and there is no chance for intruders to intervene or pry on your private data.
Another plus point is the location where the GOOSE service is based. The Netherlands is a favorite place for many virtual network service providers.
The reason is the government's strict policies for privacy, a traditional overall liberal attitude.
The Netherlands has excluded virtual network services from the 2006 Data Retention Directive in Europe which states that all the ISPs and similar service providers have to track and record users' data for a set period.
Proper authorities then analyze data to do a risk analysis. Although this policy seems pretty beneficial for the citizens on the outside, it has some severe privacy loopholes as it violates individual privacy people have on the internet.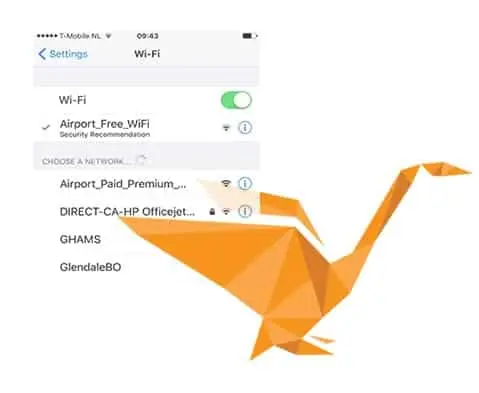 No logging policy
Imagine using a virtual private network service that is logging your data and every online activity all the time.
This logging policy is a severe privacy violation as you signed up for anonymity.
Many similar services have adopted the no-logs policy due to a huge demand of users.
The GOOSE also uses the no-logs policy. As mentioned earlier, the Netherlands has excluded itself from Data Retention Policy. So it is easy for the GOOSE owners to implement a logging policy.
So while using GOOSE, you should have the peace of mind that no one records your online activity.
The GOOSE records your bandwidth usage as they have explicitly mentioned in their privacy policy, but that is nothing to worry about as it has nothing to do with your data or surfing habits.
Shared IP
If you are using just one IP for yourself, then it can cause a lot of trouble if your service provider is under the jurisdiction of Data Retention laws.
GOOSE connects multiple users on the same IP address, and many users can connect to it ranging from a few hundred to thousands.
These multiple users on single IP add an extra layer of anonymity to your online activity. GOOSE is free from Data Retention laws anyway, but this feature is worth mentioning.
P2P Support
If you like torrenting, then using a VPN is essential.
Even if you are not doing any illegal activity on torrents, you must be worried about your privacy as many cautions pop up on popular torrenting websites to protect your privacy. Not many virtual network services are offering P2P service because of an enormous load on the network.
The GOOSE offers P2P service on many of its server locations.
Not all server locations feature the P2P downloading, but there are plenty to fill your torrenting appetite. So with GOOSE, you can download torrents without worrying about privacy or compromising your location.
GOOSE and Netflix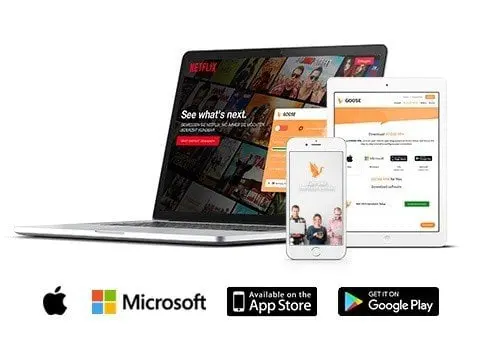 GOOSE works with Netflix, but only a few servers.
You can watch American Netflix as well as Dutch Netflix by using GOOSE. They have kept the Netflix servers a secret because Netflix is excellent at tracking these kinds of servers and they block them forever.
If you can't connect to each server and check whether it works with Netflix, you can send a support ticket to customer support at GOOSE and request the server list.
They'll be happy to help you, and you'll be back to your binge-watching on Netflix in no time.
Evade online restrictions
Many social media platforms and websites are not allowed in some countries.
While the people living there want to use the blocked sites, they also try to understand the reason behind it, and there is never a simple explanation.
Governments blocking your favorite websites are no news, but there is a way around it.
Most of virtual network services are capable of accessing your favorite but blocked sites easily. The GOOSE is not behind in this regard as you can access any blocked website without a problem.
This feature can also come in handy in colleges where all the social media platforms are blocked to keep the students focused on academics.
Well, for some students, academic activities are boring without some fun.
The GOOSE service also supports Android and iOS devices. So if you are a student, just install it on your Smartphone and start surfing the blocked social media platform without any hassle.
The website
Any good virtual network service is also recognized by its web design as it shows that how serious are the founders to make a particular service successful.
A proper presentation attracts many customers and also keeps them on the website for longer times.
The GOOSE service website features all the modern visual and navigational techniques to make users experience excellent on the website.
The overall design seems clean and sleek. Navigation is pretty easy as a fixed navigation bar is on top of the web page.
The homepage gives a complete overview of the service and its features along with many customer reviews testifying the qualities of this service.
If you want to navigate to any link about features, privacy, signup, privacy policy, etc., the links are easy to find on top and bottom of the website.
Not many virtual network services have a blog as they are mostly concerned about acquiring customers and providing services, and that's understandable. GOOSE service has a blog which is kept up to date with latest happenings in virtual network and security industry.
The blog is very informative and full of authentic information. This blog is among the better ones when compared to some other related blogs offered by other virtual network services.
Customer support
The GOOSE offers good support for customers and potential customers. There are a number of options to choose from.
The support section resides in an orange-colored button on the lower right corner of the website which takes you to the support page.
The support page is presented with a big search bar to search for your queries and a Help Center.
The Help Center is divided into various question-and-answer-based sections named Account, Payment, Service, Usage, General Information, Privacy, and Technical. You can click on any of the sections to search for your query.
If you cannot find your desired query in the FAQs section, then you can contact them directly as there is an email form on the support page which can be used to send your customized queries. They also give an option of Facebook and Twitter accounts to ask any questions.
The GOOSE service claim to have a 24/7 customer support, so we put it to test by using the email form on the support page.
They delivered as promised and within a few hours, we received a personalized reply from GOOSE support.
Our question was about the no logging policy and how it is different from bandwidth recording and they gave a very detailed answer explaining every aspect and ensuring that user data privacy is their priority so that they won't compromise it at any cost.
Cross-platform availability
Modern-day software is designed in such a way so that it can be used on multiple platforms because apart from MAC and PC, now there is an array of handheld devices which run on different operating systems like Android, iOS, etc.
It is a grunt work to make software compatible with multiple platforms because there are several programming languages involved in the process, but it is a necessity that every software company has to meet.
The GOOSE is available for:
This cross-platform support covers almost 90% of the devices currently on the market, but this service can make it better by extending support for Linux and gaming consoles as this will attract a lot more customers than they currently have.
Getting started with GOOSE

First on the list is the signup process for GOOSE.
The process of signup is simple and straightforward. You can either signup using your Facebook or an email.
While signing up with email, you have to enter;
first name
last name
email
a secure password.
After submitting this information, customers are redirected to the plans and payment page where they have to choose a plan according to their needs and a payment method.
Accepted payment methods are;
Visa
Mastercard
American Express
Giro Pay
PayPal
iDeal.
You can also signup for the 30 days free trial which is technically not free as you still have to pay a tiny down payment and give your payment information.
If you don't cancel your free trial within a month, GOOSE will automatically deduct a certain amount from your account in the next month.
The GOOSE client software is available in OS X, Windows, Android, and iOS.
Downloading and installing the client is easy as it takes a few minutes for the whole process. The user interface of GOOSE client software is very eye-catching and friendly.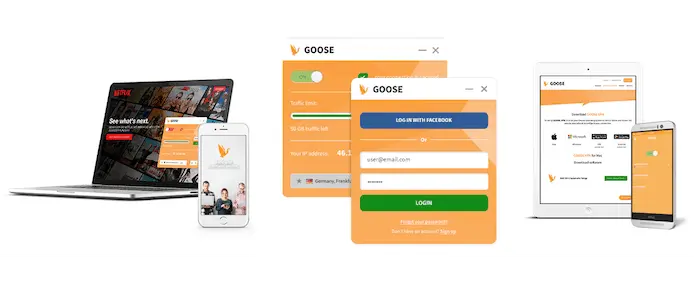 The GOOSE software window contains;
the current traffic limit you've subscribed to
your current IP address
the new IP address assigned by the service
a gear icon for settings
a drop down menu to choose servers.
The drop-down servers list also shows you which servers support P2P.
When you try to change servers, instead of changing it instantly, the software prompts to disconnect the client first and then switch the server.
If you've used other virtual networks, then you know that most of them allow instant server-switching without disconnection from the client. This unorthodox switching may annoy some seasoned users who have experience with other software clients, but it is not much of a bother.
The gear button on the software takes you to the settings.
The configuration page is very simple and somewhat of a disappointment if you think you are going to see an array of customization options and visual themes.
There are two tabs in the settings menu. One tab is named General, and the other is called Connection.
The General tab contains options to minimize the software window to the system tray when you close it and starting the software on startup. You can also change the language and send a support ticket through the General tab.
The Connection tab is also simply designed containing only the two options. One is to start and connect the service automatically on every startup, and another option is to change the service protocols.
IKEv2 and OpenVPN are two virtual network protocols to choose from the menu.
IKEv2 is a faster protocol and supports many devices as compared to OpenVPN which is similar to HTTPS protocol and much slower in speed.
You have to disconnect the service before changing the encryption protocols, which again is not a standard function in conventional private network services.
The mobile app for Goose is also equally responsive and well-designed. The people behind GOOSE have put a lot of thought into making the user interface better and idiot-proof.
Downloading and installing the iOS and Android apps are relatively simple just like any other app.
Performance
GOOSE is spread across 48 locations worldwide with a range of active servers to choose from.
Because GOOSE is new on the market and trying to gain some users, these locations and server numbers may seem nothing to some users. Many services are offering over 1000 servers across 50+ locations worldwide, but compared to new competitors, this service is doing pretty well.
To test the speed of GOOSE service, we first streamed a high-definition 1080p video on YouTube from different servers located in different countries. The video played seamlessly without any lag or stutter.
The service seems to lose its footing on some servers and disconnects for a few seconds, but it is ignorable as this is a small period.
During those few seconds of disconnection, there's no mechanism in the service software to stop the internet activity altogether which in simple terms is called a kill switch.
Then to test the service further, we downloaded a bunch of files using different server locations during different times of the day, and we did it repeatedly for two days.
We also compared the results with the speeds when the service is not connected. The results were as you can expect from any good service.
There was a minor difference in download speeds between the service and without it. The GOOSE was pretty consistent in speeds with all the servers and locations. We performed these tests on a 50Mbps connection.
Verdict
There are many reasons to choose GOOSE as your go-to virtual network service;
Excellent value for money
Availability in English and Dutch language
Unlimited device connections
Intuitive software
P2P support
Zero logs policy
These are some of the many impressive features of this service.
On the other hand, we believe that GOOSE should add a kill switch to its software to enhance security even more.
Limited platform support is ignorable if you don't use Linux or own any game consoles.
All in all, GOOSE is a great option for a virtual private network service as they are new to the industry and still compete with the best in performance and quality.
You can expect only good things from GOOSE in the future like better platform support and loads of new servers.
---