Like the incredible OpenAI's ChatGPT, many people worldwide were expecting the launch of Google Bard.
And finally, Google has made it available, however, only to UK and US users.
If you think you're out of luck if you're outside these locations, you're not. You can use a VPN to bypass the geo-blocks and access Bard from any country.
Below, we'll show you the exact steps to get access to Google Bard from outside the US and UK, so keep reading til the end.
Why do you need a VPN to access Google Bard AI outside the US and the UK?
You need a VPN because it can help change your location to the UK or the US, the only countries where Google Bard AI is available.
If you've tried accessing Google Bard AI from outside the US and the UK, you'll get a message stating Bard isn't currently supported in your country. Stay tuned!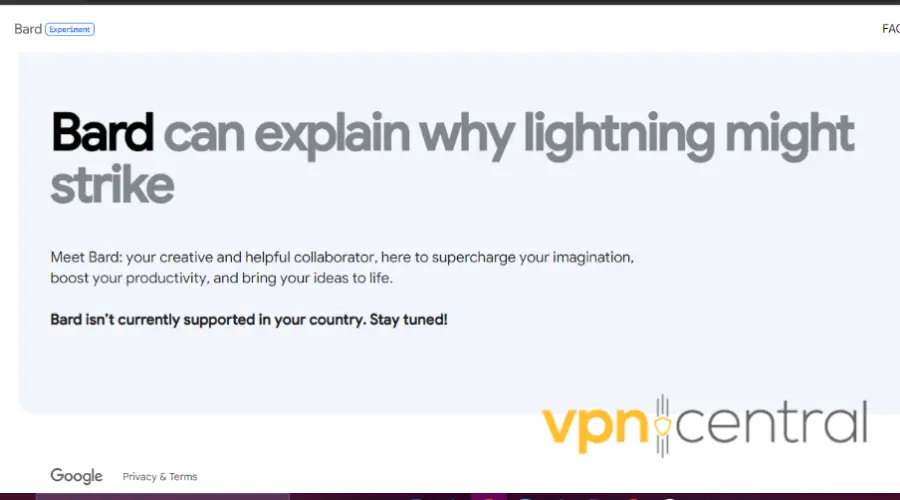 And that's where VPN comes in. It creates a secure and private connection between your device and the internet.
When you use a VPN, it encrypts your traffic and hides your IP address, replacing it with one belonging to its servers.
In this case, it allows you to connect to a US or UK server, making it appear that you're accessing the internet from within these countries.
This tricks Google into thinking you're in the US or the UK, giving you access to Google Bard AI.
So, here's how to do it.
How to access Google Bard from anywhere?
As mentioned, to access Google Bard from a country where it is not available, you must change your IP address to one from a country where it is available: US or UK.
So you'll have to get a VPN that has servers in those locations.
Here's how to get access to Google Bard from any location:
Get a good VPN that can unlock Google Bard.

NordVPN is our top choice for it.

Download and install the app to your device.

Log in with your credentials.

Connect to a server in the United States or the UK. In this case, we connected to a UK server.

Once connected, open your web browser and navigate to Google Bard. 
Click on the join waitlist button. You'll see the region-lock message is gone, and you are now able to join the waitlist.

Click on Yes, I'm in button

Now you should get a message confirming you'll be added to the waitlist and you'll get access via email. You'll have to be a bit patient. It took us 3 days to get access.

Once you're in, you'll get an email stating it's your turn to try Bard. Click on the Take it for a spin button.

You'll be directed to their Terms of Use page. Read and agree to gain access.

After that, you'll get a warning message that Bard is an experiment. This is to remind you that it may give inaccurate or inappropriate responses. Click Got it.

 Now you can enjoy Google Bard and ask it any question.
❗ Remember to reconnect to your VPN each time you access Bard to avoid sending out conflicting location information.
We recommend using NordVPN because it has excellent unblocking capabilities and 1900+ servers in the US, as well as over 400 servers in the UK. This makes it an excellent VPN choice for Google Bard.
With this many servers, you'll be able to connect at high speeds all the time because they won't get overcrowded.
Moreover, the VPN offers unlimited bandwidth so you can use Bard as much as you want without worrying about running out of data.
But that's not all. NordVPN's obfuscation feature adds an extra layer of protection. It's changing your IP address twice and making your traffic appear like regular ISP traffic.
This means Google Bard won't be able to detect your actual location, even if they implement VPN detection features.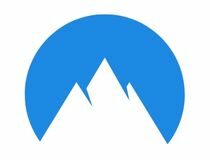 NordVPN
Access Google Bard from outside the US or UK by changing your location with NordVPN!
What can Google's Bard chatbot do?
Google's Bard chatbot is an AI-powered language model designed to carry out conversations with users in a natural and engaging way.
Here are some use cases of the bot:
Answer questions on various topics, including science, history, and current events
Translate text from one language to another
Assist users in writing creative content, such as poems or short stories
Be used as an educational tool for students
Based on the way it works and what it can provide, many compare it to ChatGPT. But how are they different?
Let's compare key differences based on what we know right now.
Google Bard VS. ChatGPT
A critical difference between Bard and ChatGPT is that the former can provide information on recent events, while the latter cannot comment on events later than 2021.
ChatGPT is a good programming companion as it can supply valid codes for Html, CSS, and python, while Bard doesn't do that.
Some users speculate that this is actually intentional and Google blocks the AI from creating code.
When it comes to their reliability, ChatGPT is better at generating and summarizing text, while Google Bard gives more accurate and up-to-date data on current events and research to the users.
This is usually because Bard can draw its responses from the internet. It has the ability to pull real-time data. On the other hand, ChatGPT is trained on data up to 2021.
However, none of them is 100% accurate. The reliability of the data depends very much on the reliability of the sources they use.
Overall, both are likely to produce coherent and grammatically correct text, but sometimes with some errors. While both tools are safe, ChatGPT does collect data, and so does Google Bard.
However, with a VPN, you can protect crucial information while using both.
Summary
While Google Bard is currently not available outside the UK and the US, you can still access the chatbot using A VPN.
By following, the steps outlined in this article, you can enjoy all the amazing services Bard offers anywhere in the world.