When IQ Option is not available in your country, you will get an error message stating that the service doesn't accept traders in your region. This is a rather frustrating experience for expatriate traders.
IQ Option, which was founded in 2013, is one of the most trusted trading platforms globally. Currently, it has over 40 million registered users and is accessible in more than 170 countries.
In contrast, IQ Option is banned in countries like Australia, the USA, Canada, Iran, and much more. Don't fret, we'll show you in no time how to register and trade on this platform from an unsupported city.
Keep reading!
Where is the IQ Option available?
Knowing the parts of the world where IQ Option is available saves you time especially if you plan to travel abroad.
Below are the supported countries for this service:
| | |
| --- | --- |
| Africa | Seychelles, Sierra Leone, Rwanda, Zambia, Zimbabwe, South Africa, Swaziland, Tanzania, Uganda, Guinea, Equatorial, Botswana, Cameroon, Gambia, Ghana, Kenya, Lesotho, Liberia, Malawi, Mauritius, Namibia, Nigeria, Angola, Mozambique, Guinea-Bissau, São Tomé e Príncipe, Ivory Coast, Egypt, Ethiopia. |
| Asia | Singapore, Philippines, Bangladesh, Sri Lanka, United Arab Emirates, Thailand, Vietnam, Indonesia, India, and China. |
| Oceania | Solomon, Islands, Vanuatu, Tonga, New Zealand, Papua New Guinea, Fiji |
| North America | St. Lucia, Trinidad, and Tobago, Anguilla, Bahamas, Belize, Guatemala, República Dominicana, Honduras, El Salvador, Nicaragua, Panamá, Puerto Rico, Cayman Islands, Dominica, Grenada, Jamaica, Bermuda |
| South America | Paraguay, Uruguay, Argentina, Bolivia, Colombia, Costa Rica, México, Perú, Venezuela, Chile, Ecuador, Guyana, and Brazil. |
Sadly, maybe the IQ Option is not available in your country. To be sure, check out the countries where this service is banned:
The United States, Canada, Australia, Japan, Russia, Turkey, France, Belgium, Israel, Iran, Sudan, Syria, Switzerland, Pakistan, North Korea, Palestine
If your country is on the list, you may be wondering why it is so. The next section will enlighten you. Continue reading.
Why do you see this error: IQ Option not available in your country
The reason why you encounter the error message IQ Option is not available in your country is that this trading app is prohibited in certain regions.
Particularly, in places where binary trading options are forbidden. This ban is contingent upon the financial laws and regulatory bodies governing trading in each country.
The problem with binary trading options
In the United States, for example, although binary options trading is legal, it is supervised differently by the authorities.
A specialized organization known as the US Commodity Futures Trading Commission (CFTC) oversees digital financial transactions within the country. Consequently, any broker lacking a CFTC license will be blocked.
Similarly, the EU regulation set by the European Securities and Markets Authority restricts binary options and digital options.
As a result, the availability of IQ Options in your country may be affected if it is part of the regions governed by this rule.
In conclusion, if you are in a location where IQ Option is not allowed or you mistakenly connect to such a server on your VPN, an error message will pop up.
Enough discussion about the ban on IQ Option, let's now delve into methods to bypass geo-restriction and trade undetected on this app.
How to unblock IQ Option from your country?
A VPN is the hero you need to get access to IQ Option from an unsupported country. This tool will conceal your original IP address, then spoof your location by giving you a new IP.
Follow the steps below to unblock the IQ Option:
Use NordVPN:
Subscribe and download NordVPN on your device.
Launch the VPN. Then, log in with the correct credentials.
Click on the short downward arrow beside the default location to reveal all servers.
Select a region where IQ Option is available and click to connect.
When successfully connected, go back to IQ Option and use it again. It should grant you access by now.
NordVPN is the ideal choice for IQ Option due to its exceptional features and reliability. With it, users can enjoy a secure and private online experience while trading on the IQ Option platform.
Firstly, NordVPN offers top-notch security. It encrypts users' internet traffic, making it virtually impossible for anyone to intercept or monitor your online activities.
This is especially crucial for IQ Option traders who handle sensitive financial information and want to protect their data from potential threats.
Additionally, NordVPN boasts an extensive network of over 5000 servers located in 60 countries worldwide. Hence, users can connect to their preferred location, enabling them to access IQ Option from anywhere.
The vast server coverage also ensures fast and stable connections, which are essential for executing trades seamlessly.
NordVPN's strict no-logs policy further enhances its appeal to traders. This transparency instills confidence in traders, knowing that their trading activities remain confidential.
Furthermore, NordVPN offers a variety of advanced features that cater to the specific needs of IQ Option traders.
For instance, its double VPN feature allows users to route their connection through two separate servers, providing an additional layer of security.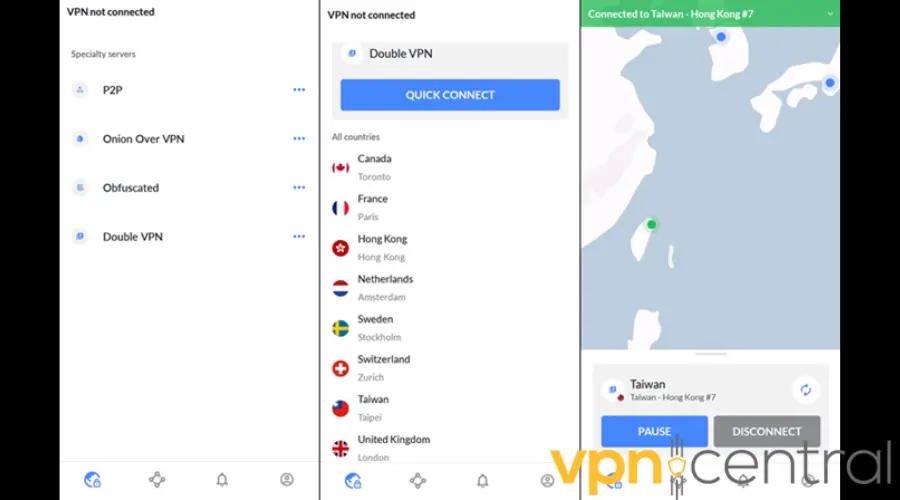 Also, NordVPN offers user-friendly applications for various devices and platforms, ensuring compatibility and ease of use.
Lastly, traders can effortlessly install and configure NordVPN on their preferred devices, including desktops, laptops, and mobile devices, making it a convenient choice for IQ Option users.
Pros
30-day money back guarantee.
AES-256 military encryption.
Split tunneling.
Automatic kill switch.
Double VPN
Cons
Difficult upgrades on Apple devices.
Add-ons that may interfere with a network connection.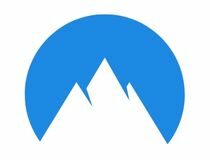 NordVPN
Trade safely & without restrictions with the help of NordVPN!
How to invest money in IQ Option?
You may effectively bypass blockage on this app but end up getting stuck on how to deposit your money as your card may not work.
There are several methods of investing money on IQ and this step-by-step guide below should help you do this in milliseconds.
Sign up for an account on Advcash, Perfect Money or Skrill (Mastercard). Alternatively, you can register for a Bitcoin wallet on any trusted app.
Then, deposit your money on any of the payment platforms you had chosen.
Visit the IQ Option official website or download the mobile app to your device.
Create an account on IQ Option with your Email address, Google account or Facebook.
Login to your IQ account. Click on Deposit the button at the right corner of the IQ Option screen.
Select the payment option of your choice on IQ Option.
Then, follow the instructions to put the amount you need.
When the payment is successful, go back to your dashboard and start trading.
Summary
IQ Option is not available in your country is a common error that appears when you attempt to access this service in a restricted city. But with the help of a stealth VPN, you can bypass this ban.
---