NordVPN needs no introduction when it comes to cybersecurity.
It's a privacy-focused and secure VPN service provider with plenty of features that help to secure data when using the internet and also bypass restrictions.
This is why it's top-rated amongst other VPN services.
One of the amazing features it offers is obfuscation, a feature that's not common with many other VPN service providers.
NordVPN's obfuscated servers are special servers that add an extra layer of security to their users once connected to the network.
What is obfuscation and how do obfuscated servers work?
Read on as I'll cover all you need to know in this article.
Does NordVPN offer obfuscated servers?
Yes, NordVPN offers obfuscated servers.
But, what's obfuscation, you ask?
In simple terms, obfuscation means making something incomprehensible or unclear.
Therefore, obfuscated servers are special servers that disguise your VPN traffic as normal internet traffic, making it undetectable that you're using a VPN.
This allows users to evade government or ISP tracking. It's also useful to access geo-blocked content and other websites or platforms that detect and block VPN connections.
VPN connections are easy to detect, making it difficult for regular VPNs to beat firewalls and other restrictions that target VPN users.
However, obfuscated servers take it up a notch and make your VPN connection invisible and undetectable.
Obfuscation tricks the tools the government or websites employ to block VPN access by changing your data packet to look like a regular data packet, using SSL/SSH encryption.
These obfuscated servers prove extremely useful for those living in countries with strict internet censorship, including those with VPN bans.
In short, NordVPN's obfuscated servers scramble your VPN-encrypted traffic such that it appears like regular HTTPS traffic.
The best part?
Obfuscated servers are entirely safe to use as they don't compromise your encrypted traffic.
They only provide an additional layer of privacy and security so that your VPN use goes undetected.
NordVPN obfuscated servers list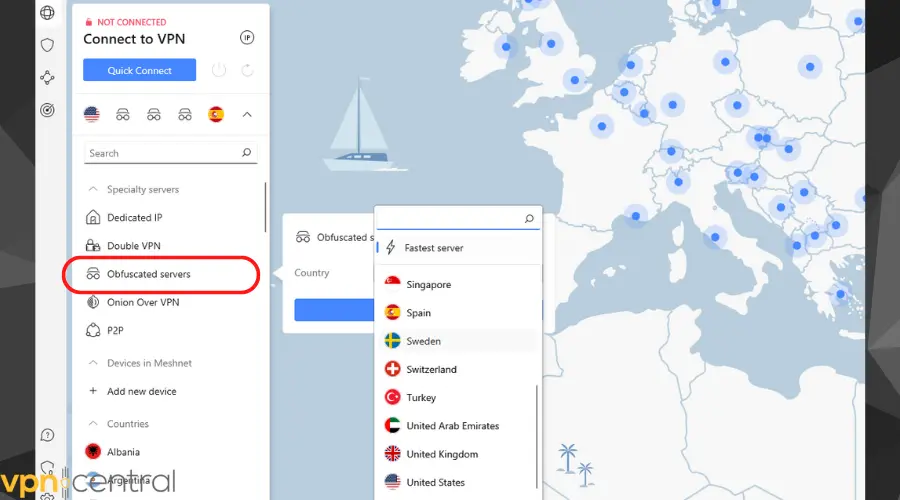 NordVPN currently has 5,736 servers in 60 countries across the world. This also includes hundreds of obfuscated servers in 16 countries.
Below is a list of its obfuscated server locations.
| Country | Server location |
| --- | --- |
| Canada | Toronto |
| France | Paris |
| Germany | Frankfurt |
| Hong Kong | Hong Kong |
| Italy | Milan |
| Japan | Tokyo |
| Netherlands | Amsterdam |
| Poland | Warsaw |
| Singapore | Singapore |
| Spain | Madrid |
| Sweden | Stockholm |
| Switzerland | Zurich |
| Turkey | Istanbul |
| United Kingdom | London |
| UAE | Dubai |
| United States | Chicago, Atlanta, New York, Miami |
How fast are NordVPN's obfuscated servers? ⚡
The fact is:
Obfuscated servers provide an additional layer of privacy that masks your VPN traffic so it appears like normal HTTPS traffic.
This affects your internet speed, i.e., using them will slow down your internet connection.
This is due to the extra processing they require to properly encrypt and decrypt your traffic.
I ran a few speed tests to compare the extent of speed drop on a normal server and an obfuscated one. Below are the results:
Connection speed without VPN:

Download speed: 32.77 Mbps

Upload speed: 19.96 Mbps
Ping: 31 ms

After connecting to a standard VPN server in the US:

Download speed: 30.38 Mbps
Upload speed: 14.22 Mbps
Ping: 204 ms

After connecting to an obfuscated US server:

Download speed: 19.79 Mbps
Upload speed: 16.16 Mbps
Ping: 375 ms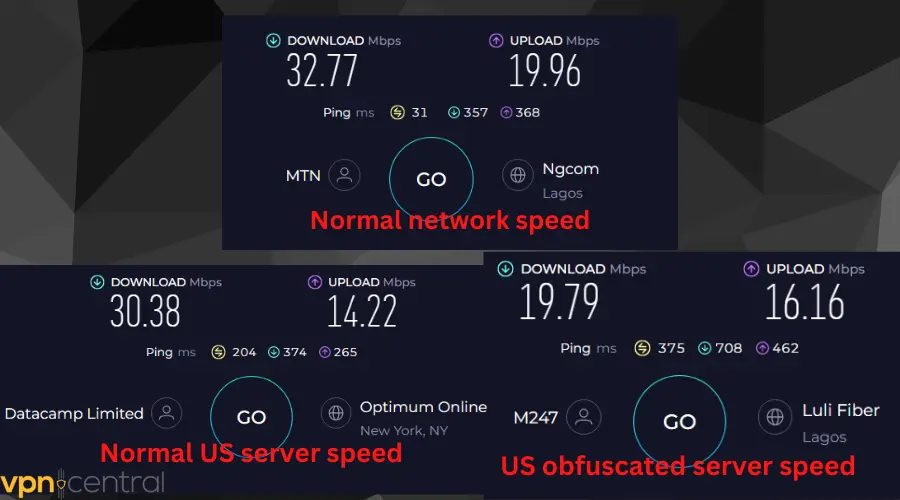 As the results show, there was a significant drop in upload speed and an increase in the network ping when connected to an obfuscated server.
However, it's important to note that your internet speed is also dependent on your physical distance to the server you're connected to.
Summary
Not many VPN service providers use obfuscation on their servers.
Not only does NordVPN have them, but it also has other specialty servers like Onion over VPN, a type of connection that doubles your privacy by routing your traffic through its servers as well as the Onion network.
In addition, it offers Double VPN which helps to connect to two VPN servers instead of one.
There are also Dedicated IP servers that afford additional privacy by providing you with an IP address unique to you.
Finally, there are P2P servers that make NordVPN great for torrenting.
These features enable the VPN provider to work for just about every privacy scenario one can think of.
In all, it's a must-have VPN that allows unrestricted access to any website regardless of its VPN-blocking tools.
Therefore, if you're in a country where it's illegal to use a VPN, NordVPN's obfuscated servers can grant you the private and secure access you need without fear of prosecution.
---