GreenNet VPN is one of the rising names in the VPN industry. It started as a free privacy service for Android and iOS users.
However, it recently added support for Mac, with a Windows app still in the works.
It has all the standard privacy features including location spoofing, virtual IP addresses, and secure proxies.
Anonymith, an Estonian company, owns the service. However, it is not as popular as some of its competitors, which can make users cautious about giving it a chance.
Considering the fact that we live in a period where malicious individuals disguise trojan viruses and other malware as VPNs, it's only natural to ask yourself if a free client like GreenNet VPN is safe.
So, if this is your question, you are in the right place. Here's a quick overview of what the VPN includes:
| | | | |
| --- | --- | --- | --- |
| Number of servers locations | 26+ | Support | Email |
| VPN Protocols | PPTP/L2TP | Value for money | 5/10 |
| Speed | 6/10 | Split tunneling | No |
In this GreenNet VPN review, we will take a deep dive into the app's features and help you decide if it's safe for you.
Features
With GreenNet VPN, users can access the basic features of any standard VPN provider.
That means you can unblock Netflix and other region-locked platforms with ease.
Below are some of the provider's main features:
1. Data protection
If you want to browse the internet anonymously and hide your activities from your ISP and other prying eyes, GreenNet VPN is right for you.
All you need to do is connect to one of its free or premium servers to enjoy privacy online.
Although GreenNet does not specify the type of encryption it uses, the signs point to the fact that your data is secure.
In short, it will encrypt your data and tunnel it through its secure servers so that your information is kept safe.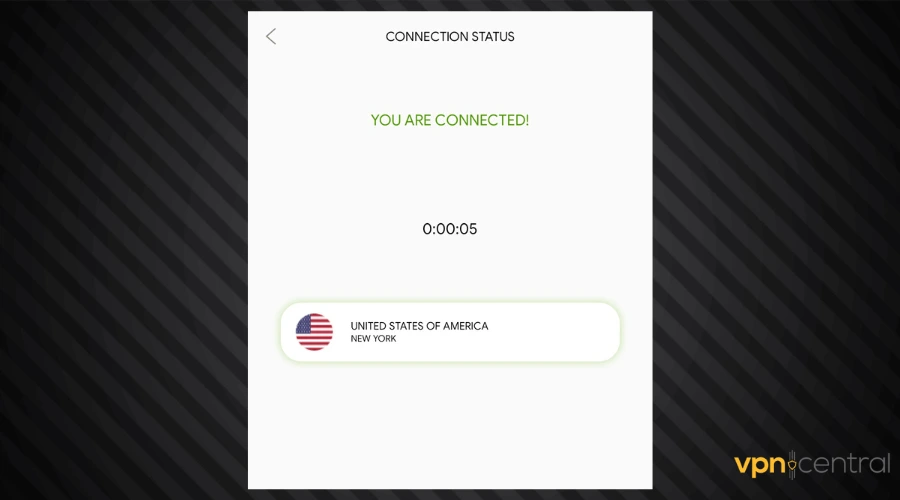 2. Location spoofing
With GreenNet VPN, you can mask your IP address and use a virtual one based on the server location you connect to.
This allows you to change your location and appear online as if you are in any place of your choice, thereby evading geo-blocks on many restricted platforms.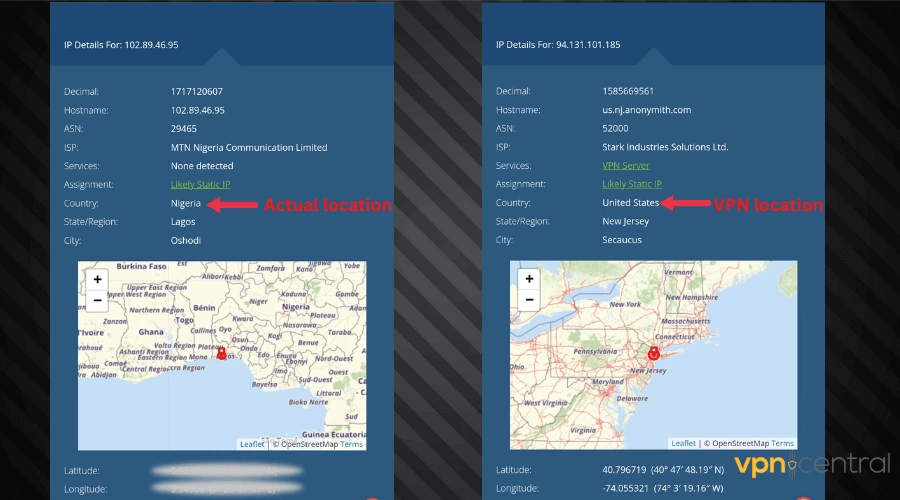 3. Dedicated DNS
GreenNet VPN offers dedicated DNS to ensure that users can connect to their favorite websites and platforms using the same DNS and IP address every time.
This helps to avoid detection on services or countries that ban VPNs. However, this feature is only available to premium users.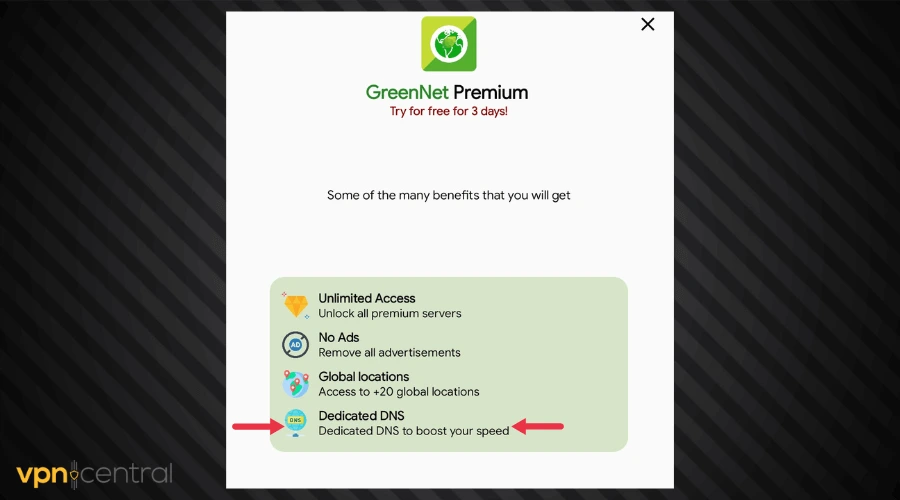 4. Unlimited bandwidth
The service offers unlimited bandwidth which ensures that you can stay connected to your preferred VPN server at all times, avoid sudden disconnections, and also bypass ISP throttling.
This feature is rarely available for free in most VPNs, which makes it an impressive feature for GreenNet VPN.
5. Server network
GreenNet's website does not state the actual number of servers it has in its network. However, from the information available inside the app, it has servers spread across 26+ locations.
These locations include the US, Spain, the UK, Canada, Germany, Australia, Sweden, and Ireland.
Of these servers, users can connect to 11 locations for free. Only premium users have access to all 26 locations.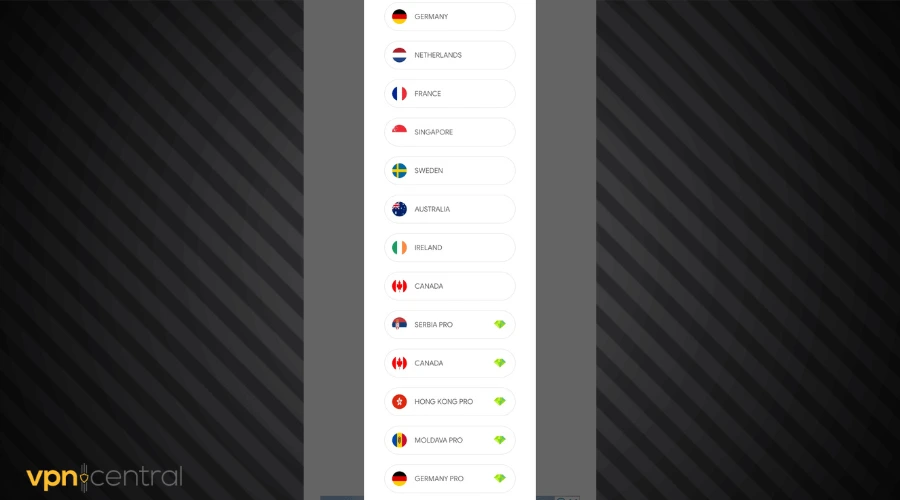 6. GreenNet VPN speed
Being a free service, it is understandable that GreenNet VPN does not have the fastest speeds.
However, we tested three servers in the US, the UK, and Australia using https://www.speedtest.net/. Here are the results:
Normal internet speed (Without VPN): 7.91 Mbps
US server: 5.0 Mbps – the VPN decreased the speed by 36%
Australia server: 11.41 Mbps – the VPN increased the speed by 44%
UK server: 10.46 Mbps – the VPN increased the speed by 32%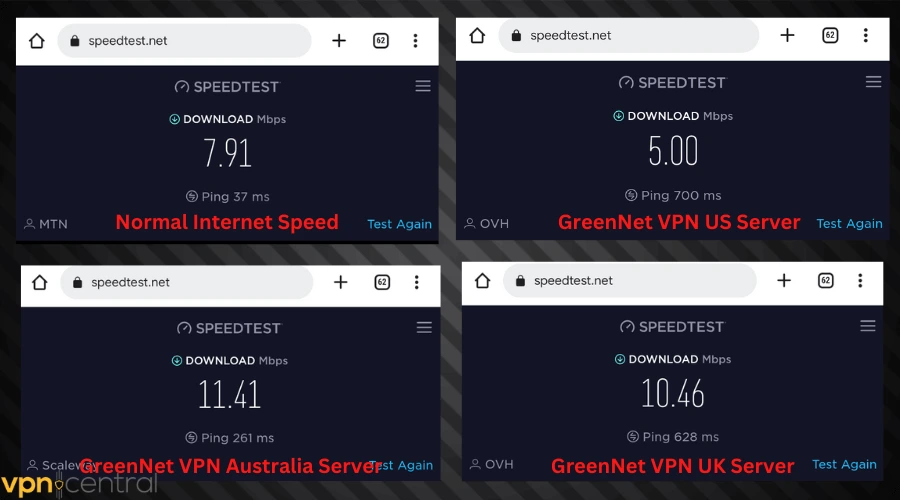 As you can see from the results, only the US server posted high ping and lower speed. However, there were huge improvements in speed on the Australian and UK servers.
It is also important to note that the distance between you and the server location can greatly influence your internet speed. Basically, the closer you are to the server, the higher your speed, and vice versa.
7. Protocols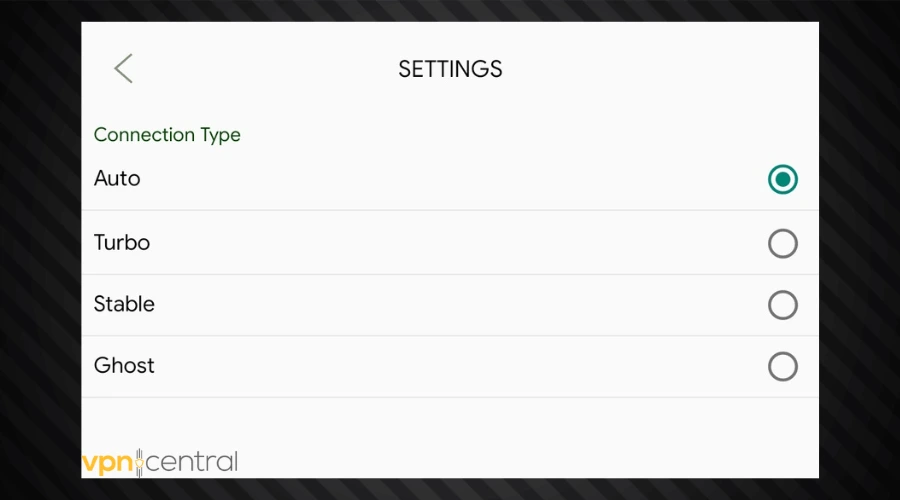 Although the VPN service does not have any information about its connection protocols on its website, here are some of the options available in the app:
1. Auto
This setting automatically uses the best connection type available at the moment you initiate the connection.
2. Turbo
This connection type prioritizes speed above everything else.
3. Stable
As the name implies, this connection type is best if you want a connection that doesn't fluctuate.
4. Ghost
Grennet recommends only using this as a last resort when all the other protocols fail. It may not be as secure as the others.
8. Privacy
We can't overlook privacy when we decide if GreenNet VPN is safe or not.
It's owned by Estonia-based developers called Anonymith.
Estonia is not a member of any internet surveillance alliance which includes the 5 eyes, 9 eyes, and 14 eyes.
This means that they are not compelled by law to log in or share users' information with their government.
Therefore, the VPN provider is reliable in terms of user privacy. Additionally, they also claim on their website that they do not collect logs of their users' activities.
However, the free version of the app contains targeted ads based on the information collected by third-party advertisers including Google and Facebook.
You will get a notification to this effect once you download the app and you have the right not to accept it. But you can get rid of these ads if you subscribe to their premium service.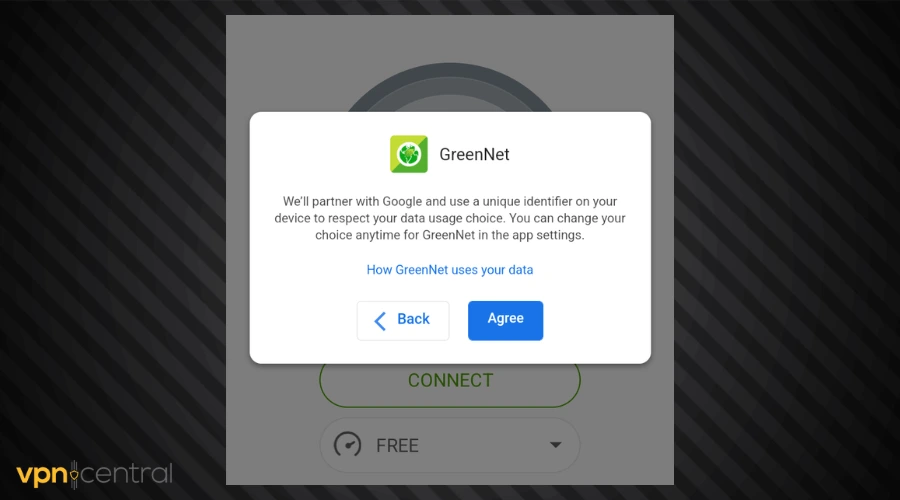 Does GreenNet VPN leak data?
No, the VPN service does not leak data.
In fact, we ran a series of WebRTC, DNS, and IPv4 leak tests both while connected to a GreenNet server and without any VPN connection.
We got different results and this is a sign that GrenNet VPN has no leaks.
To explain what we mean, we ran the first test without a VPN connection, so it revealed our actual IP address.
Then we connected to a server and ran the second test. This time, the results showed the VPN's IP address and DNS addresses.
This is proof that GreenNet VPN masked our IP address and made us appear as if we were in the country where the connected server is located.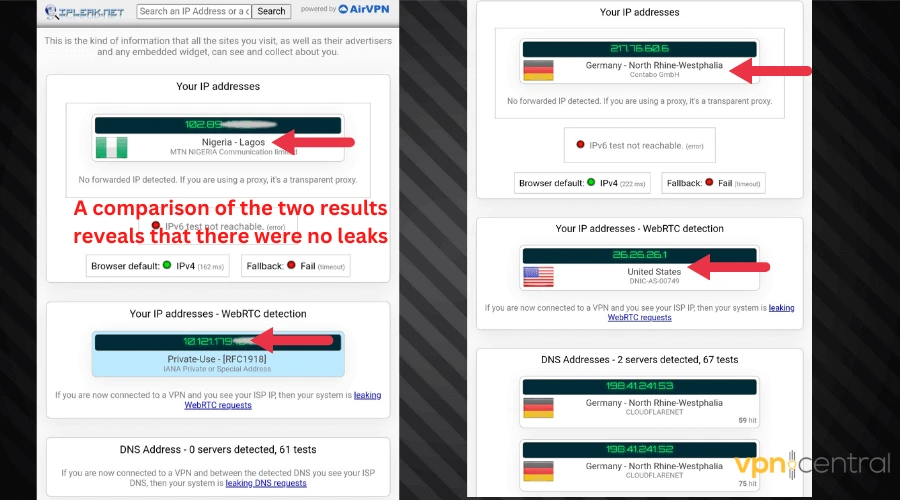 Is GreenNet good for streaming and torrenting?
All the app's features point to the fact that it is good for both streaming and torrenting.
Torrenting
A good torrenting VPN must have solid privacy and no-log policies so as to keep users anonymous while downloading torrents.
In addition, it must offer different server locations with unlimited bandwidth so that users in censored countries can unblock torrent sites with ease.
However, there is no information or actual evidence that the service has P2P servers or supports file sharing. Therefore, it may just be okay for torrenting.
Streaming
A good streaming VPN must have powerful unblocking capabilities so that it can help users evade geo-blocks on services like Netflix, Peacock, NBC, and BBC iPlayer, to mention a few.
It must also have speedy servers in multiple locations and unlimited bandwidth so that users can stay connected for as long as they want while enjoying a fast connection and zero buffers.
In addition, it must not have any form of leaks especially IP leaks and WebRTC leaks.
In this regard, GreenNet VPN excels as it passed all our tests and even unblocked Netflix US.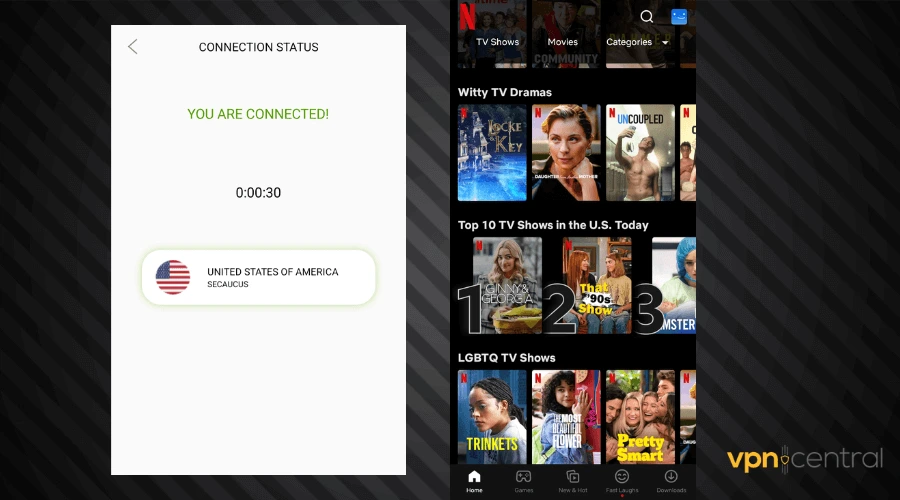 It also unblocked NBC live, which is normally only available in the US: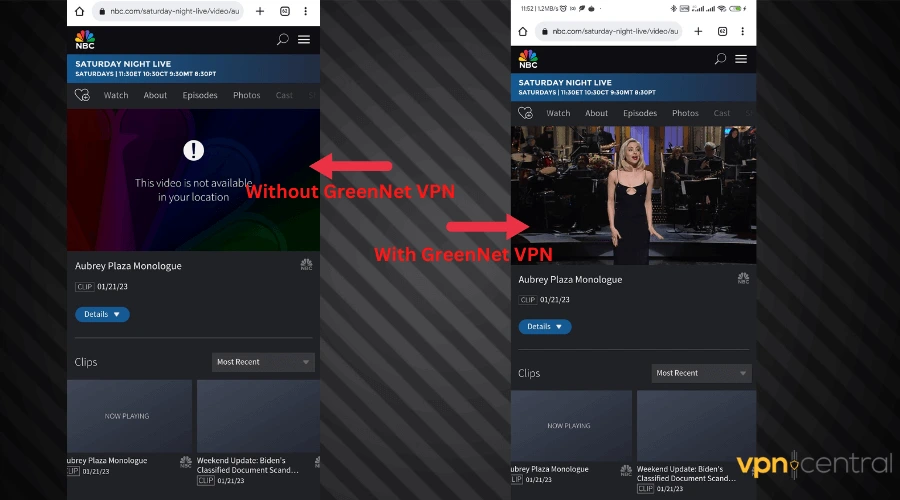 As mentioned, premium users get dedicated DNS servers for more reliable connections and those are ideal for streaming.
Is GreenNet VPN safe?
Yes, GreenNet VPN is safe.
Although GreenNet VPN won't blow your mind with its suite of features, even on the premium version, it does have some useful features for such a lightweight mobile VPN.
Its free servers are enough for most mobile users who only want to unblock streaming sites or use the internet anonymously.
However, the free version of the service is riddled with ads, which may affect user experience.
If you want to get rid of the ads and access more servers, you will have to get a premium subscription.
Even the premium service is cheap and affordable. However, there are VPN services such as Surfshark that have way more features and capabilities within the same price range.
In summary, if you have been skeptical about using the service, we hope this GreenNet VPN review has helped you make an informed decision.