Kayo Sports is a streaming platform that broadcasts exclusively in Australia, but you can access its content from anywhere using a VPN.
Still, this platform has advanced VPN detection technologies that can expose your actual location and block your IP address, resulting in an Access Denied Kayo error.
Fortunately, a VPN block is not the end of the road for you. You can fix Kayo Sports not working with VPN by clearing the browser cache, connecting to another server, and a few other tricks.
Read on to learn all of the methods to fix this problem.
Is Kayo Sports not working with VPN? Here is how to fix it!
Kayo Sports broadcasts exclusively in Australia. Therefore, you need a VPN to access its content from other regions of the world.
However, most streaming services detect and block VPN connections. And Kayo Sports is no exception.
If you have trouble watching Kayo Sports with a VPN, try these solutions:
1. Restart Your VPN
Sometimes all it takes to resolve Kayo Sports not working with VPN is a simple app restart:
Disconnect your VPN, close the app, and rerun it.
If you use a VPN extension, quit the browser and open it again.
2. Erase browser cookies
Cookies are small text your browser receives from the sites you visit.
They are designed to enhance your browsing experience by helping sites store information about your visits.
Although cookies facilitate revisiting different websites, they can expose your VPN connection and prevent you from accessing geo-restricted content.
If the location information stored in your browser cookies differs from your VPN server location, Kayo Sports can detect and block your VPN.
To resolve this, delete your browser cookies by following these steps:
Deleting cookies on Chrome:
Open Chrome and click the three dots icon at the top right.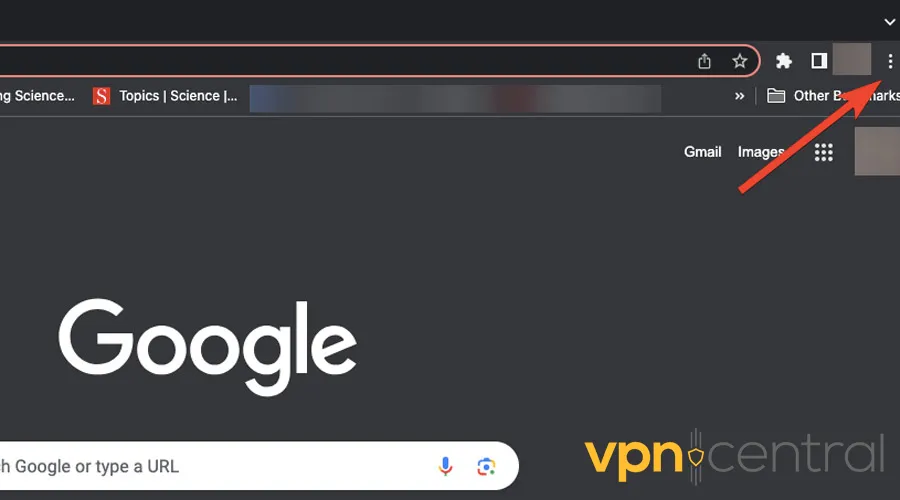 Select More Tools and click Clear Browsing Data.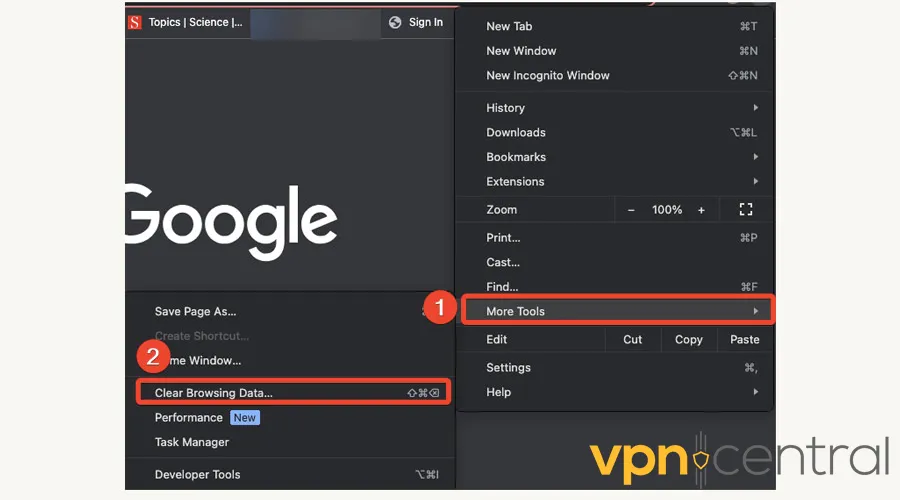 Set the time range to All Time and check the boxes for Cookies and other site data and Cached images and files. Then, click Clear data.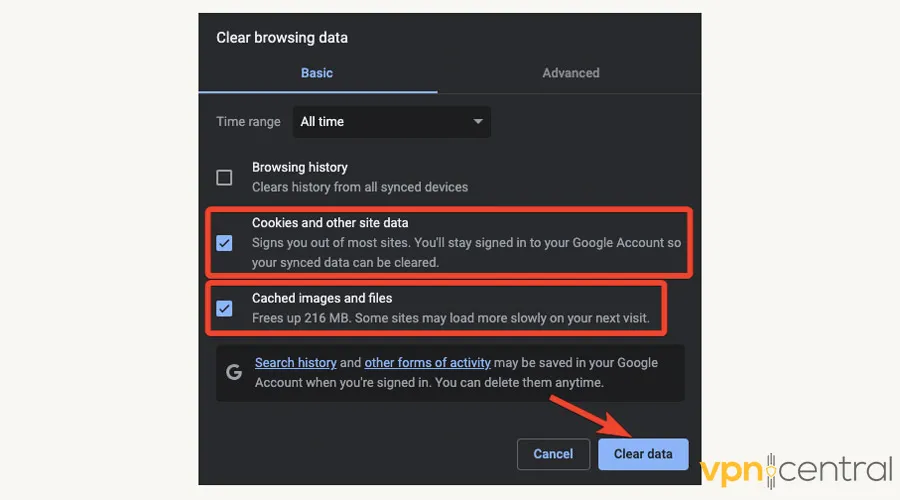 Erasing cookies on Firefox:
Run Firefox, and from the Firefox menu, open Settings.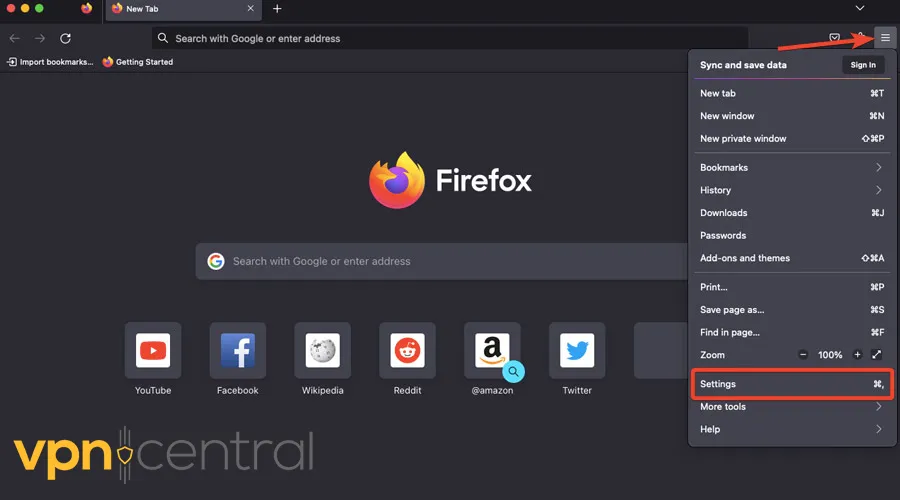 Head to Privacy & Security panel and scroll down to find Cookies and Site Data. Click Clear Data.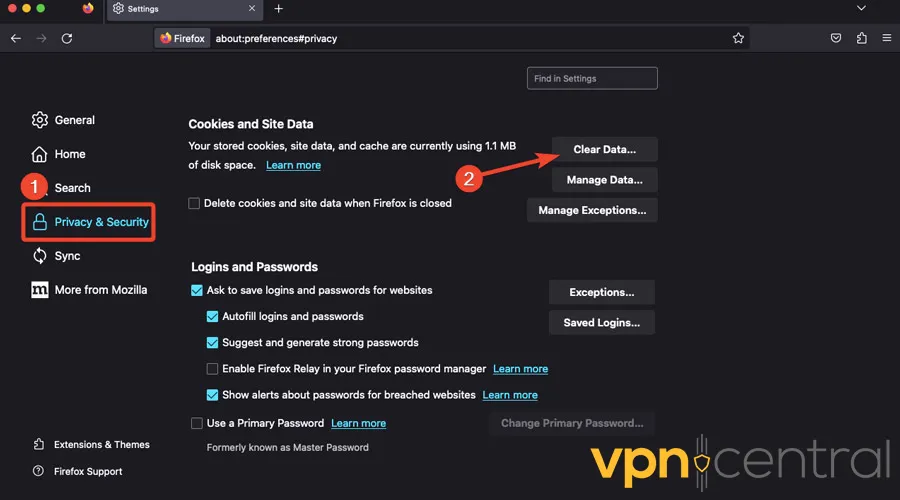 Check all the boxes and select Clear.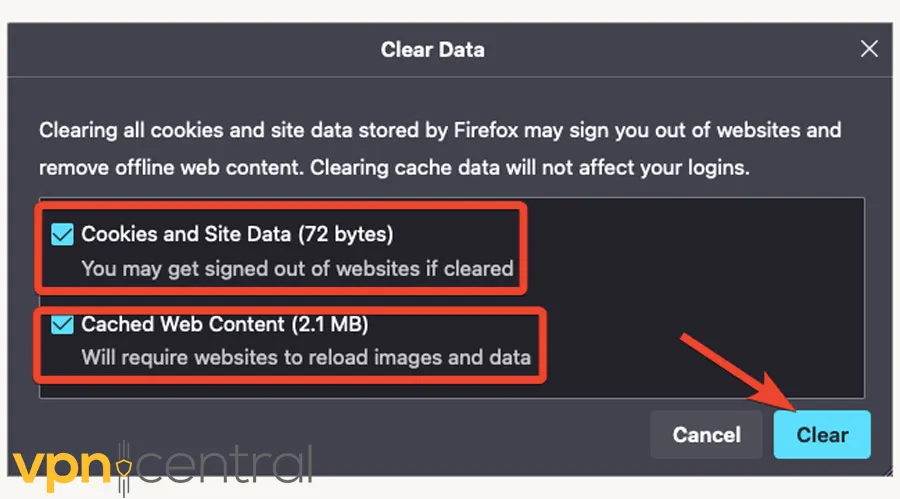 Deleting cookies on Safari:
Open Safari and click on it in the Menu bar at the top of the screen. Select Preferences.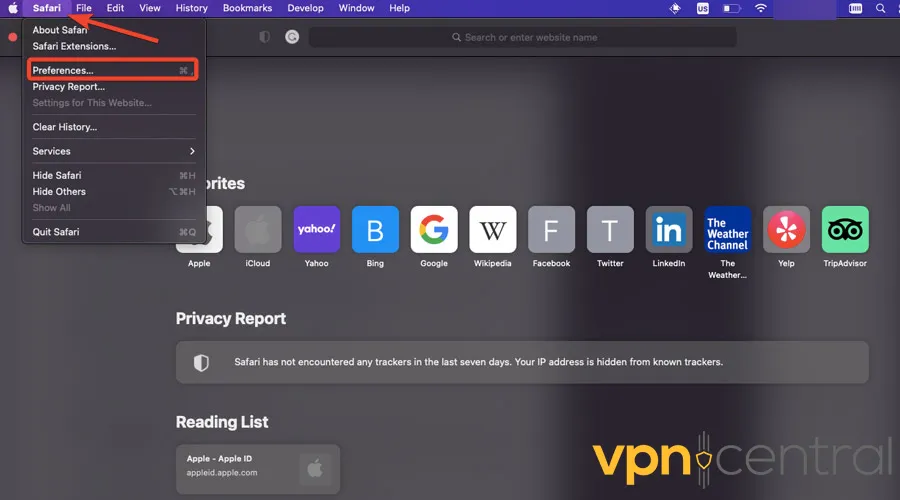 Open the Privacy tab and select Manage Website Data.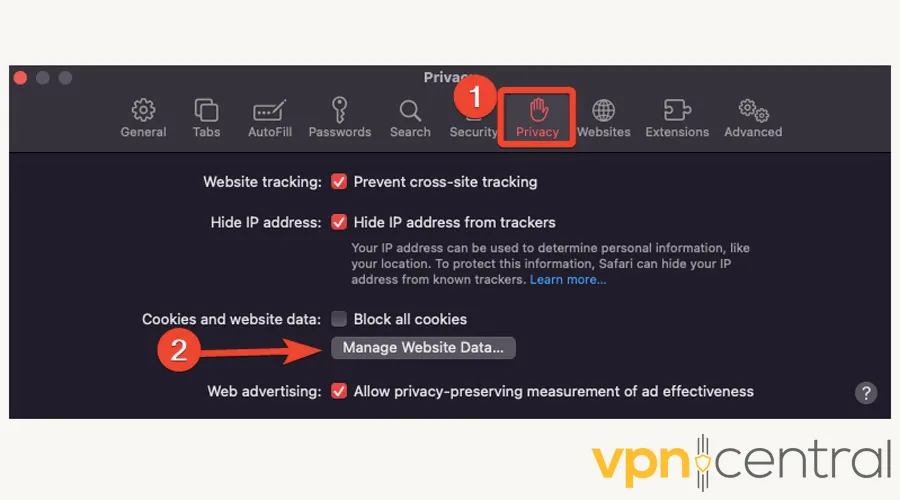 Click Remove All.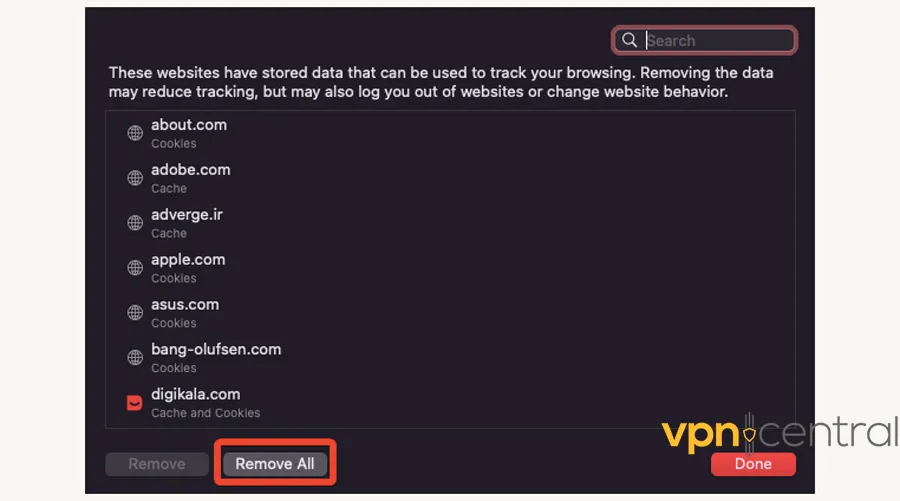 3. Change your VPN server
When Kayo Sports detects your VPN, it blocks the IP address of the server you are using, not your whole service.
Therefore, changing your server can give you access to Kayo Sports programs again.
Premium VPN service providers offer several servers for each country. If Kayo Sports is not working with VPN, try switching to another Australian server.
This usually resolves the issue. Here is how to do it (this guide is for ExpressVPN, but the process is similar for most services):
Run your VPN app and disconnect from your current server. Then, open the server menu.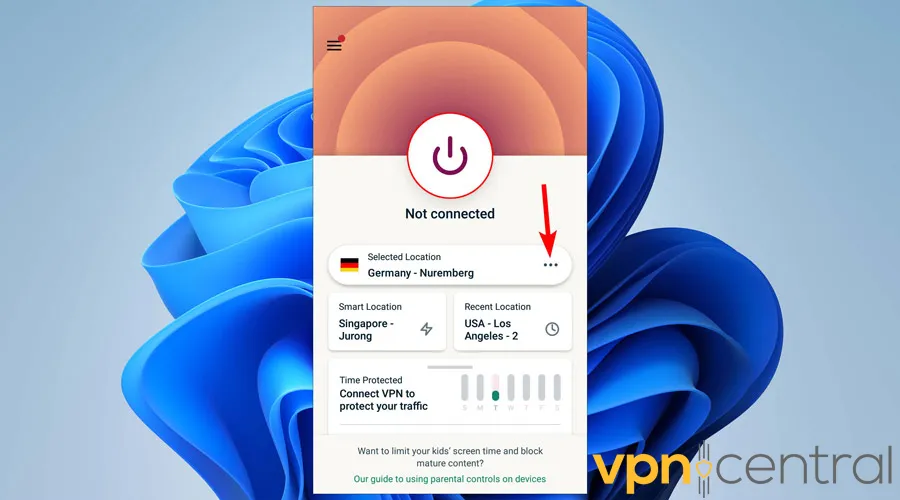 Look for Australian servers in All Locations. If your VPN has a search bar, type the server name and look for it. Select your desired Australian server and connect again.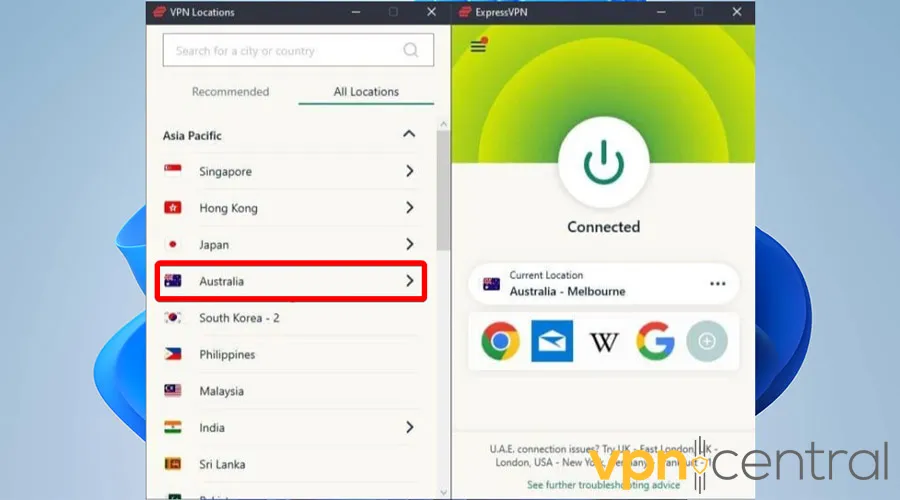 4. Change your VPN protocol
Sometimes the reason behind Kayo Sports blocking VPN is an incompatible protocol. Some tunnel types work better with particular streaming websites.
If Kayo Sports is not working with your VPN, switching to another protocol can help resolve your issue (we used ExpressVPN in this guide, but the process is the same for most services):
Go to ExpressVPN's dashboard and select VPN Options.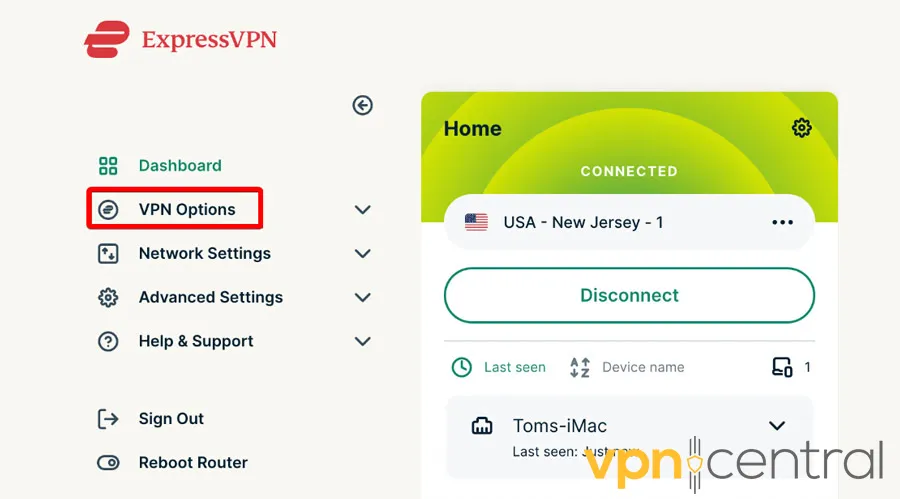 Open VPN Preferences.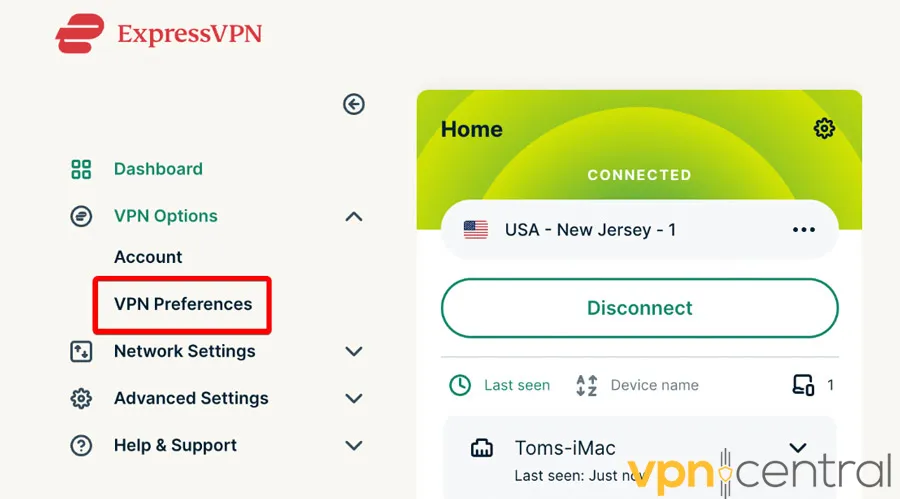 Choose your desired protocol and click Save. Try OpenVPN first.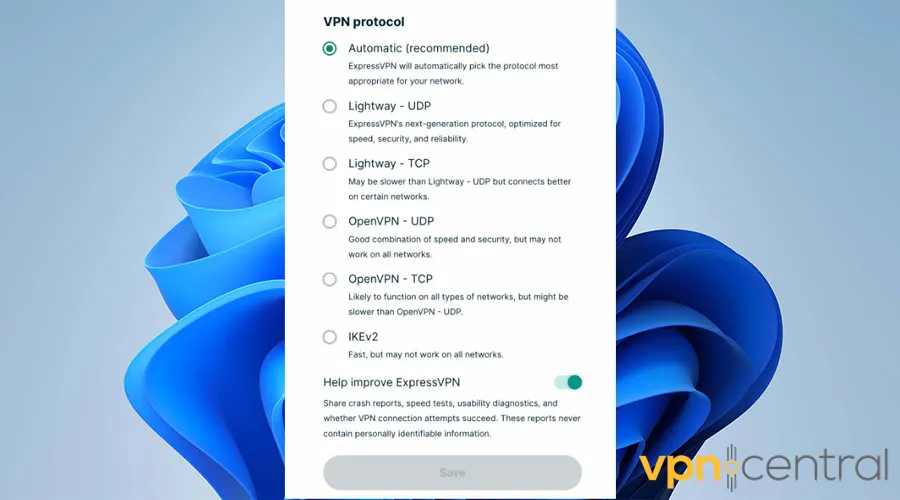 Note: You must restart your VPN connection to use the new protocol.
5. Update your VPN
Premium VPNs feature advanced technologies that prevent streaming services from detecting your connection.
With each update, VPN providers enhance these technologies and expand the list of restricted websites you can access hassle-free.
Therefore, updating your VPN can resolve Kayo Sports errors and software bugs.
Here's how to do it:
Right-click on the Start menu and select Apps and features.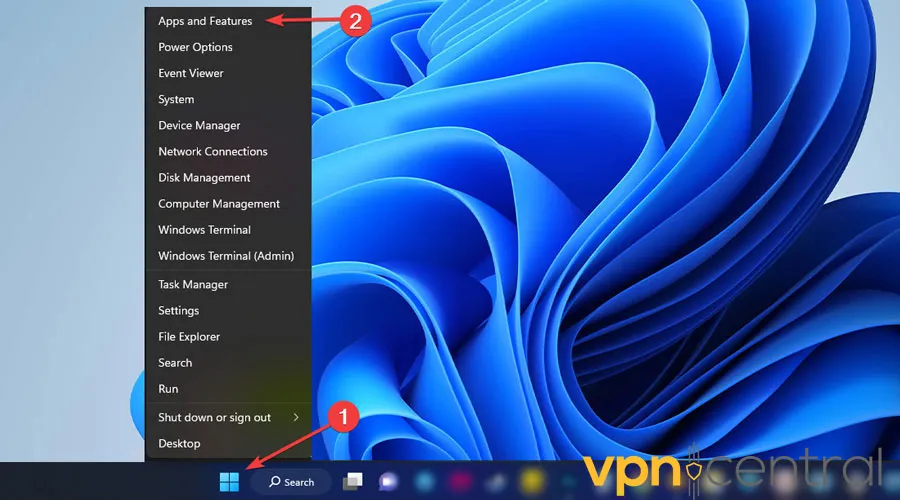 Uninstall your VPN app.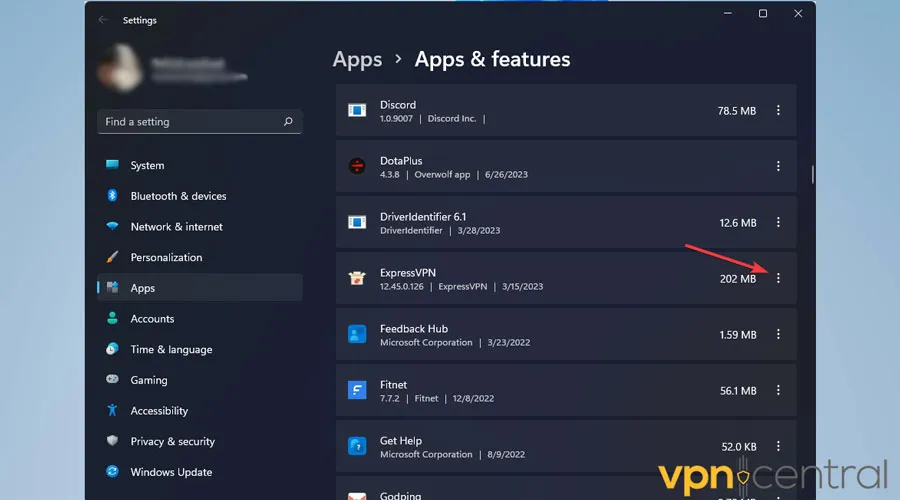 Then download the latest version from its official website
6. Change your VPN provider
If your problem still persists, your VPN might lack the technology to bypass Kayo Sports technologies for blocking VPNs.
You'll need a premium service with adequate server locations in Australia to prevent any Kayo VPN errors.
One of the best options for watching Kayo Sports from outside Australia is CyberGhost.
Setting up CyberGhost on your device can resolve Kayo Sports not working with VPN.
To do so, simply:
Visit CyberGhost's website and pick a subscription.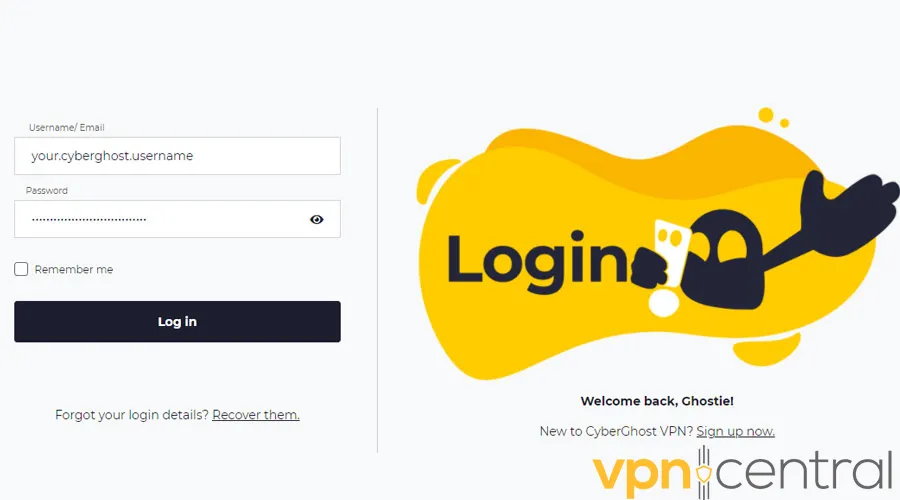 Download the relevant app for your device and install it.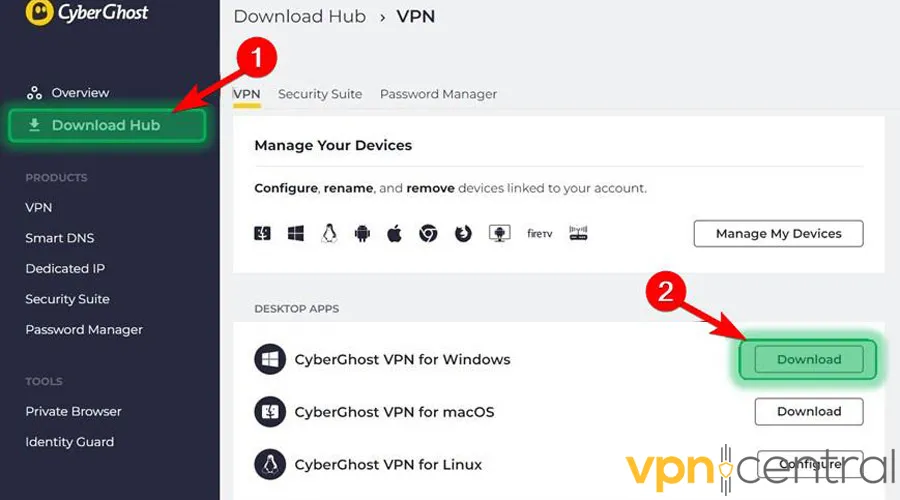 Enjoy unrestricted access to Kayo Sports.
Does Kayo Sports block VPN?
Yes, Kayo Sports blocks VPN usage. Due to licensing policies, programs on the platform are exclusive to Australia.
Therefore, many try to tune in to this streaming service outside the country using a VPN. To avoid this, Kayo Sports uses technologies that can block VPNs.
This task is done by Kayo Sports' video distribution service, AWS, which can detect and actively block suspicious connections.
If this platform intercepts your VPN connection, you'll receive an "Access Denied" Kayo VPN error explaining you don't have permission to access Kayo Sports.
How does Kayo Sports detect my VPN?
There are several ways that Kayo Sports can detect a VPN connection. Most free VPNs don't mask your location correctly.
As a result, this platform can easily identify and block your connection. Cookies and website cache are other culprits in Kayo Sports blocking VPN.
Although their only purpose is to enhance your browsing experience, the data stored as a cache on your browser can give up your location and result in a Kayo VPN error.
However, most of the credit for VPN detection goes to Kayo Sports' video distribution service, AWS.
AWS monitors the connected users' IP addresses and calculates the number of users connected to Kayo Sports servers via a similar IP.
VPNs share their IP addresses among numerous clients. Therefore, AWS finds multiple connections through a particular IP address suspicious and actively blocks them.
That's why premium VPN service providers known for unblocking restricted content assign each IP address to a limited number of users.
Does Kayo Sports work with a VPN?
If your VPN can bypass Kayo Sports' blocking technologies, you can watch the channel from anywhere outside Australia.
However, free or low-quality VPNs often struggle to do this and expose your location, as they have no countermeasures when Kayo Sports detects them.
On the other hand, premium VPNs such as Private Internet Access and ExpressVPN offer alternatives when your IP gets exposed.
Suppose Kayo Sports detects a connection through these VPNs.
In that case, your VPN will shut down the detected IP and open a new one, giving you a smooth, consecutive streaming experience regardless of your location.
Best VPNs for Kayo Sports
A quality VPN is all you need to watch Kayo Sports from outside Australia.
Here are our top VPN picks to access this channel: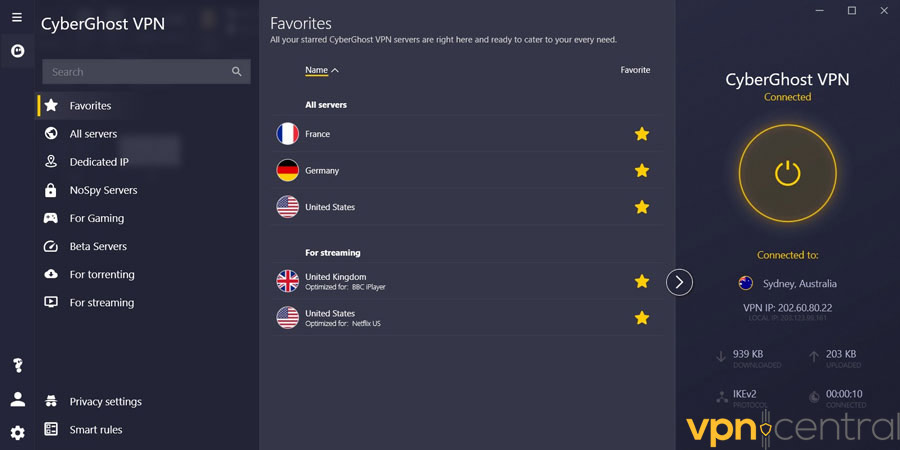 CyberGhost is the best VPN option for unlocking Kayo Sports and other Australian channels, thanks to its large pool of servers in the country.
It offers 213 server locations across Australia and over 9700 servers worldwide.
CyberGhost organizes its numerous servers in different categories, each optimized for a specific purpose, from streaming to NoSpy.
This VPN service supports all major protocols, giving you diverse options. It also lets you determine the encryption level of your connection.
Pros
Supports 7 simultaneous connections
Largest server pool in Australia
Protocol and encryption flexibility
Cons
Default VPN settings might not work for you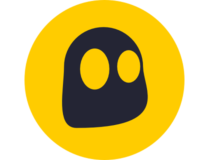 CyberGhost
Benefit from streaming-optimized servers and top-notch performance with CyberGhost.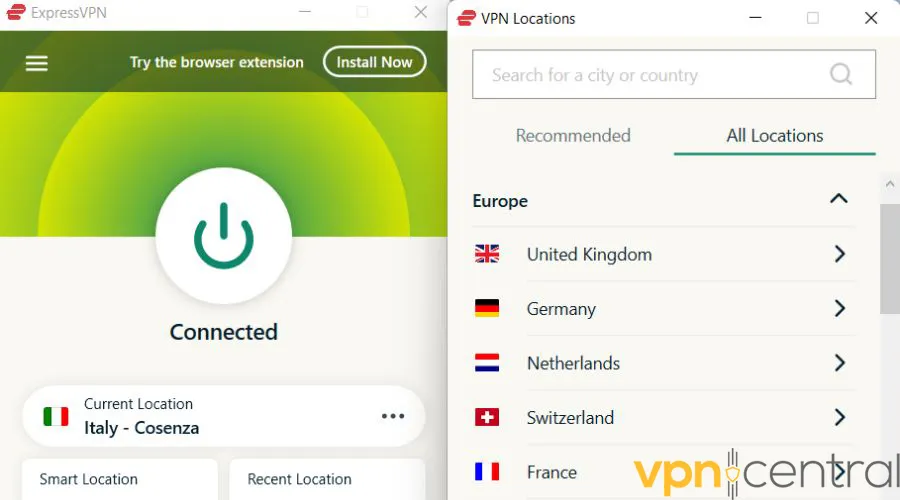 ExpressVPN is one of the best tools for streaming Australian channels, including Kayo Sports, SBS, Stan, and Foxtel.
Its fast and reliable servers across 7 major cities of Australia guarantee a smooth streaming experience without bandwidth limitations, with Brisbane servers being the most compatible for Kayo Sports.
ExpressVPN has high-end security features coupled with top-notch protocols, including OpenVPN and Lightway.
This VPN also offers one of the best customer support services compared to its peers.
Pros
Unlimited bandwidth for streaming
Supports up to 5 simultaneous connections
No-logs policy
24/7 live chat support
Cons
Doesn't specify exclusive servers for streaming

Expensive plans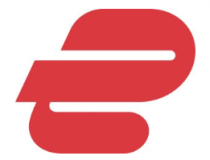 ExpressVPN
Enjoy the best combination of security and speed with this high-performing VPN.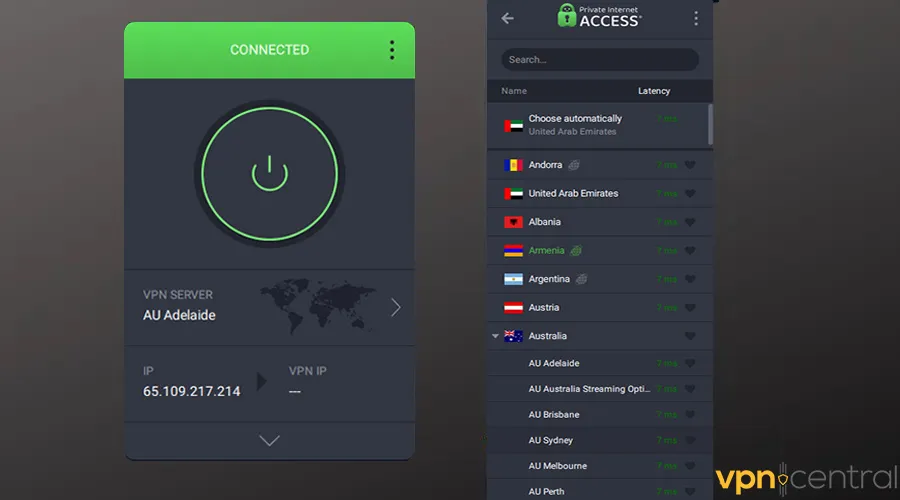 Private Internet Access (PIA) has the largest server pool globally, with over 35000 options across 84 countries.
This VPN has also proved reliable in unlocking geo-restricted content in different locations.
Moreover, PIA guarantees privacy and security. Its open-source apps vouch for its clear policies too.
In addition, this VPN supports OpenVPN and WireGuard protocols. These features make PIA one of the best options for streaming Kayo Sports.
Pros
Good variety of encryption options
Massive server pool

Supports up to 10 simultaneous connections

No-logs policy
Highly user-friendly
Cons
Doesn't support app exclusion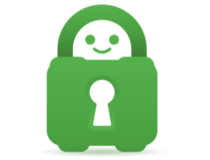 Private Internet Access
Have your pick of server locations and bypass any geo-restrictions with PIA.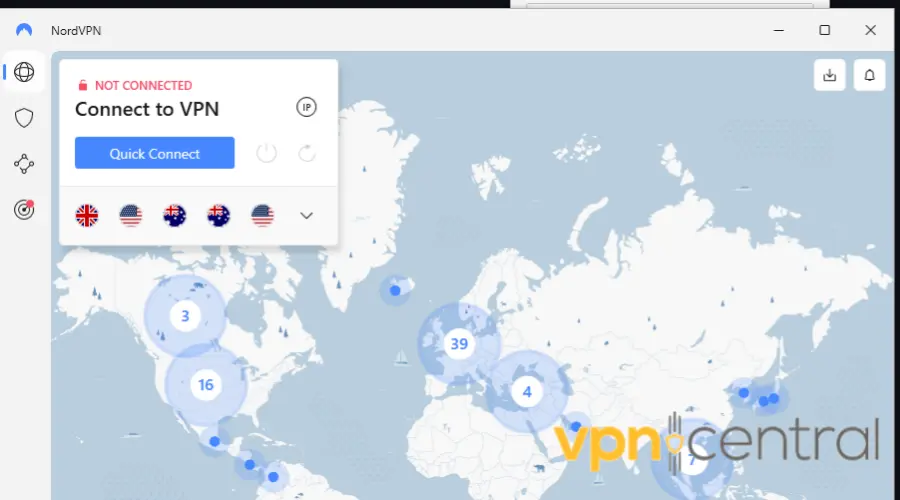 NordVPN is another great choice for streaming geo-restricted content.
With over 5700 fast and reliable servers across 60 countries, NordVPN is known to unlock many restricted streaming services from HBO Max and Hulu to BBC iPlayer.
Moreover, its DNS and IP protection features can prevent Kayo Sports from detecting your location.
NordVPN has over 190 server locations across 5 Australian cities and is excellent for unlocking Kayo Sports and other Australian TV channels such as Ten and Seven.
It features both OpenVPN protocol and a customized version of WireGuard, ensuring speed and accessibility.
Pros
Unlimited bandwidth for streaming
Kill switch

Advanced DNS and IP protection technologies

No-logs policy
Double VPN security feature
Cons
No port-forwarding

Slow desktop app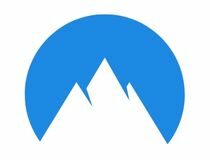 NordVPN
Benefit from advanced security features and solid performance with this high-level VPN.
Summary
This concludes our guide to resolving Kayo Sports blocking VPN and unlocking geo-restricted content.
Kayo Sports broadcasts exclusively in Australia, and if you attempt to access its content from outside the country using a VPN, it can detect and block your IP address.
This being said, regularly erasing your browser cookies can help hide your location from Kayo Sports. You can also change your server or protocol to resolve various Kayo errors.
However, going with one of the premium services we recommended above is the best way to fix Kayo Sports not working with VPN.
FAQ
Does Kayo work through a VPN?
Yes. Premium VPNs can mask your location well enough to bypass Kayo Sports' VPN-blocking technologies.
Why won't Kayo work with VPN?
If Kayo detects your location through your website cookies or the number of users sharing the same IP address with you, it blocks your connection, and your VPN stops working.
How to bypass Kayo VPN detection?
Keep your VPN up to date and delete your browser cookies regularly.

Changing the tunneling protocol or switching to a new server can help resolve Kayo VPN errors. Also, using a premium VPN lowers the chances of getting detected.
Why does Kayo say I am using a VPN?
This happens when your VPN fails to hide your location properly. Consider changing your server or upgrading to a premium service.
---