If you're a fan of Pokemon, chances are you're excited about every new release in the franchise.
With that said, you'll be happy to hear that the Red and Blue soundtrack is now available for streaming. But there's a catch.
The soundtrack is available through the Pokemon Sound Library website which comes with a geo-restriction.
While the site was available to the west before, this isn't the case at the moment and only users in Japan can access it.
If you're a western fan and you try to enter the Pokemon Sound Library, your request will be blocked and you'll see a 403 error message.
So, unless you reside in Japan, the only way you can access the soundtrack is by changing your location with a VPN.
Once you connect to a Japanese server, you'll be able to stream the soundtrack on the website and download it directly to your device.
Luckily, the majority of the top VPN providers offer servers in Japan. For example, ExpressVPN lets you choose between four locations in the country.
In our test, we connected to the Tokyo server and managed to download the soundtrack without any problems.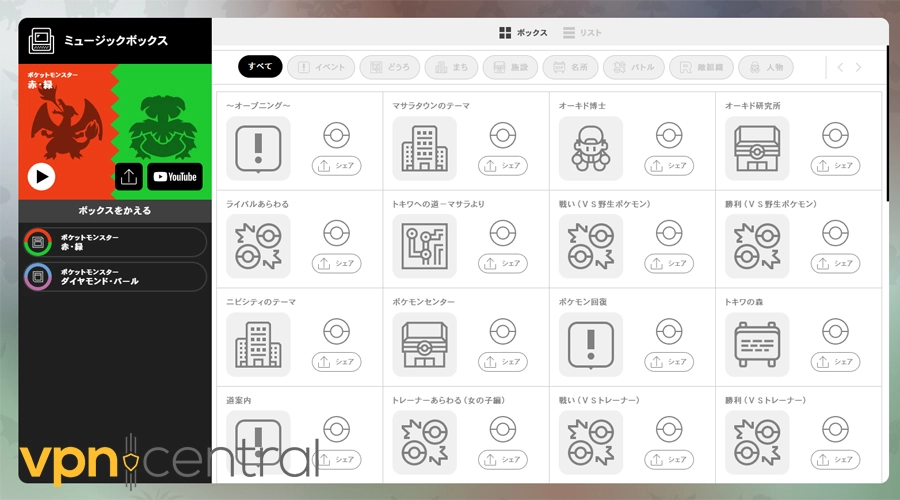 The history of Pokemon soundtrack releases
The Pokemon Company previously opened the Pokemon Diamond and Pearl sound library after the removal of numerous songs related to the franchise from YouTube.
However, it decided to shut the website down later in 2022.
Pokemon soundtracks have emerged as an important aspect of the game ever since the franchise's first release on the Game Boy. Pokemon Red and Blue even received a vinyl release in 2016.
Before the latest release, it was possible to play the complete Pokemon Red and Blue soundtrack on YouTube.
However, there was no way to access the audio file itself or download it on your device. Now, as long as you use a Japanese IP address, you can do both.