NordVPN is one of the most popular VPN services out there.
It provides secure and private access to the internet for millions of users worldwide.
But just how successful is NordVPN, and what kind of market share does it hold?
In this article, we'll dive deeply into the latest statistics and provide some interesting NordVPN facts and figures you might not know.
Important NordVPN stats
Over 14 million people use NordVPN worldwide.
NordVPN is most popular among people aged 25-34 and those aged 35-44.
NordSec Ltd. currently owns NordVPN.
NordVPN has a market cap of $4.4 billion as of 2021.
Its revenue for 2020 was over $276 million.
In 2020, NordVPN had an operating income of $60 million, making it a profitable company.
NordVPN is headquartered in Panama, a country known for its privacy-friendly laws.
General NordVPN stats and facts
NordVPN was established in 2012 and became one of the five founding members of the newly formed VPN Trust Initiative.
The project is promising to promote online security, more self-regulation, and transparency in the VPN industry.
You might want to ask, who owns NordVPN? Or how large, popular, and reliable is it?
Let's take a closer look at a few facts and statistics about the VPN provider:
1. User base: over 14 million worldwide
(Source: NordVPN)
As of September 2021, NordVPN boasts over 14 million users worldwide.
This user base has grown significantly compared to the 12 million recorded in 2020.
This growth can be attributed to the rising demand for online privacy and security and NordVPN's reputation as a trusted and reliable VPN provider.
2. Server network: over 5,600 servers in 60 countries
(Source: NordVPN)
NordVPN's server network is one of the largest in the VPN industry, with over 5,600 servers in 60 countries.
These allow users to connect to various locations, giving them access to geo-restricted content and ensuring fast and stable connections.
NordVPN also regularly updates and adds new ones to its network, ensuring that users always have a reliable and secure connection.
3. Nord Security, the owner of NordVPN, raises first-ever outside capital at $1.6B valuation
(Source: NordVPN, Nord Security)
On April 7, 2022, Nord Security raised $100 million in its first-ever external funding round, valued at $1.6 billion.
Novator Ventures, Burda Principal Investments, General Catalyst, and several prominent investors provided the financing.
Based in Lithuania, Nord Security is responsible for developing a suite of modern internet privacy and security solutions.
Its founders are Tom Okman, Eimantas Sabaliauskas, and Jonas Karklys.
4. NordVPN got no less than four awards from major tech sites in 2021.
(Source: NordVPN)
In 2021, The most influential tech websites and digital security experts acknowledge NordVPN as a top VPN provider.
This includes Best VPN from Forbes Advisor, Best VPN for Android by Android Central, The Best all-around VPN by Expert Reviews, and Editors' Choice award by PC Mag.
Also, in November 2022, the VPN got the recognition of TIME's 2022 Best Inventions award.
5. In 2020 NordVPN paid YouTube influencers over $11 million for promoting their services.
(Source: Neoreach)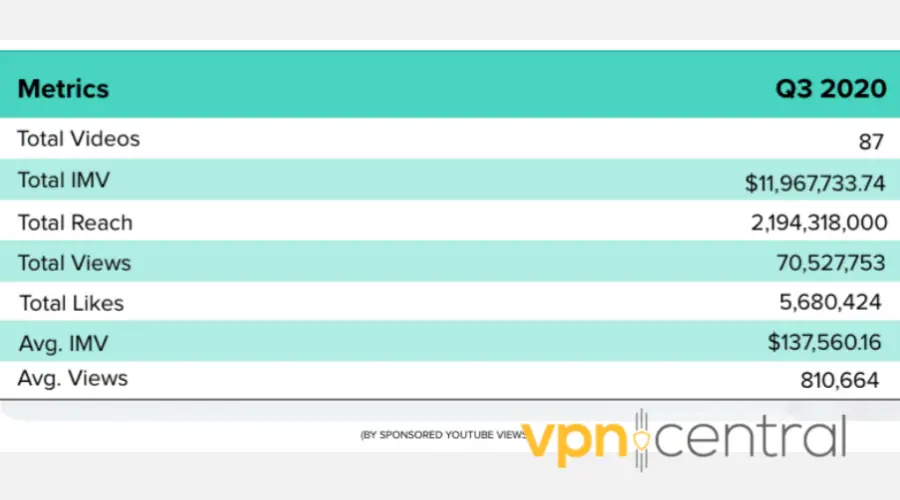 Between July and September 2020, NordVPN was the first among the top five brands that spent the most on YouTube advertising.
It worked with over 7 influencers to create 87 YouTube videos, generating a total of $11.97 million in Influencer Media Value.
These videos received over 70 million views with 5,680,424 viewer likes, over 50k comments, and over 2.194 billion reach.
In a weekly breakdown of YouTube's highest campaign spenders, NordVPN came out on top as the top spender in 5 out of 14 weeks.
Bang Energy spent the most in the first week of July at $5.8M, then NordVPN closely followed with $5.7M later in the month.
NordVPN user and demographic statistics
NordVPN has a significant user base, but who are these users, and where do they come from?
Let's take a closer look at the demographic statistics of NordVPN.
7. The United States has shown the highest interest over time.
(Source: SimilarWeb)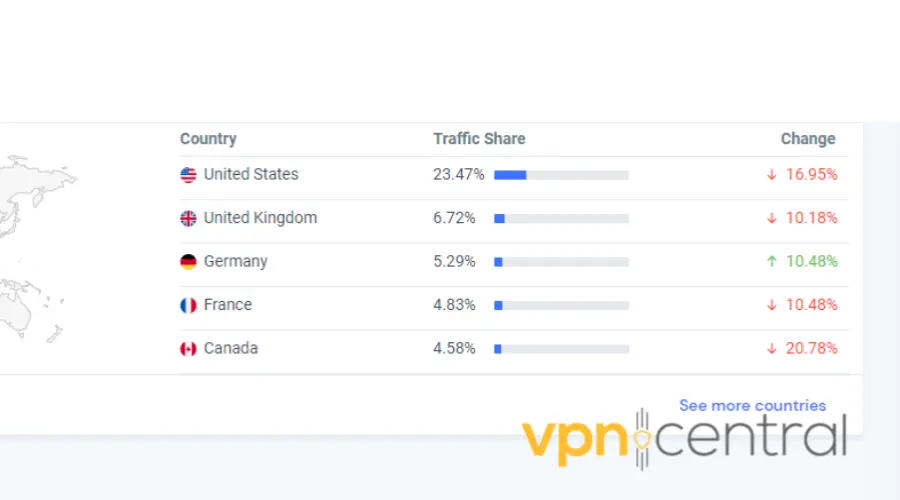 When accounting for all-time worldwide web searches, users in the US have shown the most interest in NordVPN.
They have a share of 23.47% of the total traffic across the world.
The United Kingdom followed with a share of 6.72% which is less than one-third of the US share.
Germany, France, and Canada have 5.29%, 4.83%, and 4.58% respectively.
8. NordVPN's website reached an average of 14.42 million visits between February and March 2023
(Source: SimilarWeb)
Similarweb puts NordVPN's traffic at 13.96 million monthly visits in April 2023. That translates to around 170 million visits a year and 3.5 million weekly.
That's a lot of traffic; obviously, NordVPN is popular.
However, the numbers have been unstable in recent months, with 15.32 million in March and 13.97 million in February.
9. NordVPN's site ranking is 4475 in the US and 5409 worldwide in April 2023.
(Source: SimilarWeb)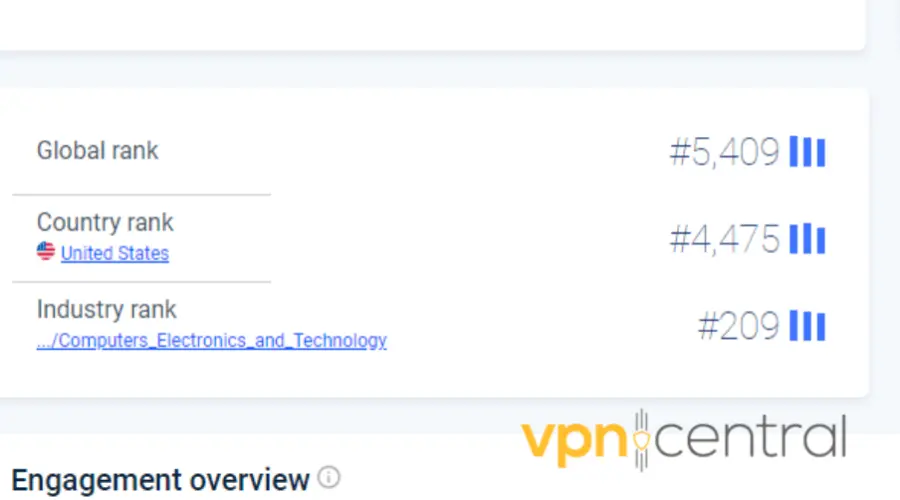 Based on worldwide traffic, NordVPN currently has an overall site ranking of 5409, making it only slightly less popular than the food delivery service Uber Eats!
In the US, the platform ranks 4475 behind SignUpGenius but above OfferUp.com.
10. 336,500+ of NordVPN's monthly visits come from the United States and the United Kingdom.
(Source: SEMRUSH)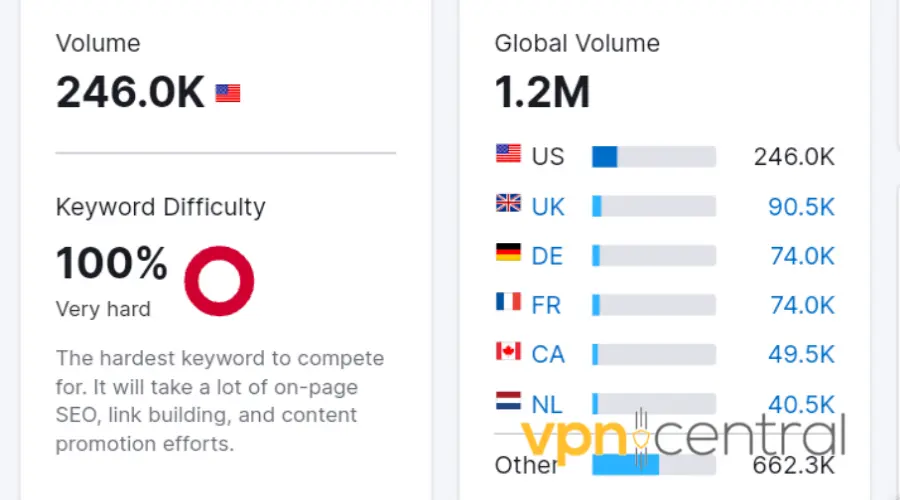 US stats are strong, with 246,000 visits in April, which is 18.9% of the total traffic share.
The United Kingdom and Germany come after, with 90.5k and 74k visits, respectively. This amounts to 6.69% and 5.69% of the total traffic, respectively.
11. NordVPN's largest age demographic is 25 to 34-year-olds.
(Source: SimilarWeb)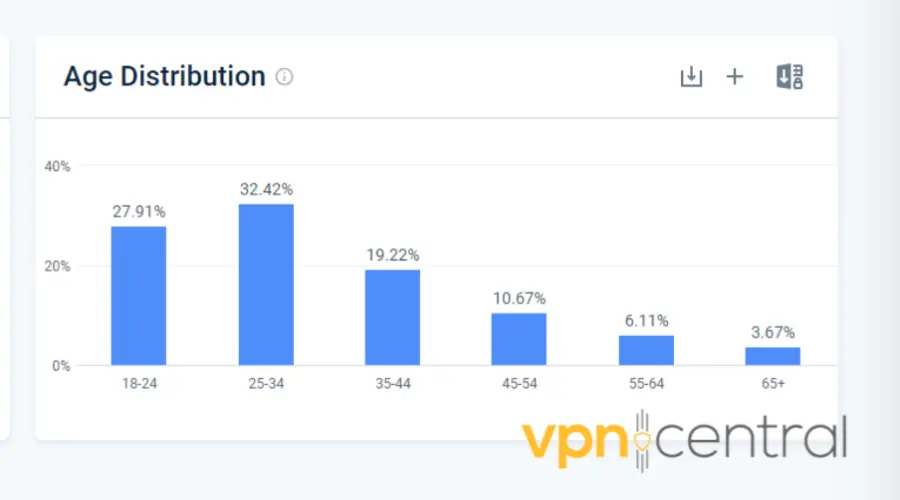 Audience composition can reveal a site's current market share across various audiences. nordvpn.com's largest audience age group is 25-34.
They are responsible for 32.42% of the traffic to NordVPN. The numbers trend downwards as users get older, dropping to:
19.22% for the 35 to 44 age group
10.67% for 45 to 54
6.11% for 55 to 64
3.67% for 65 and over
However, the 18 to 24 age group had the second highest contribution, about 27.91% of the total traffic.
12. Men make 75.67% of NordVPN's site audience.
(Source: SimilarWeb)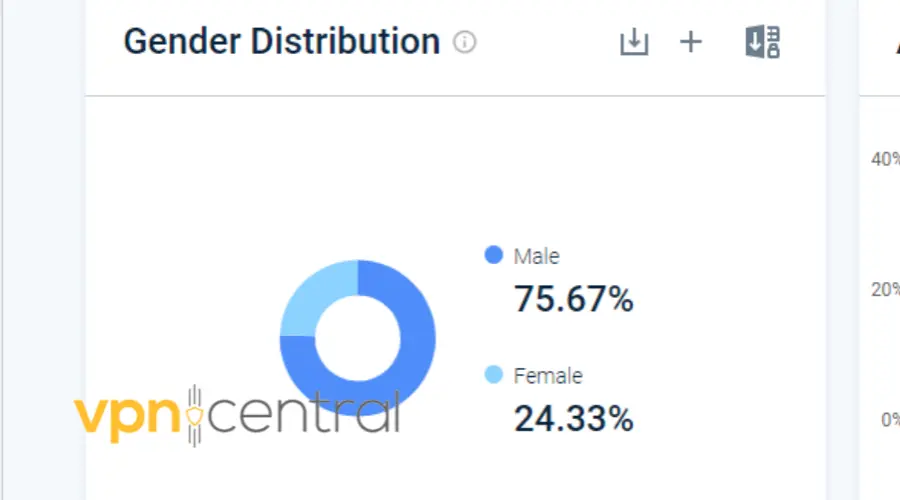 NordVPN statistics show the female audience, standing at 24.33%, is significantly smaller than the male.
Similar sites, like ExpressVPN, also report consistent male dominance.
13. Visitors stick around for an average of two minutes on the NordVPN website.
(Source: SimilarWeb)
These stats show that people spend a short time on the NordVPN website.
Interestingly, users also average two pages per visit.
However, visitors from the United States spend more time on the website, with an average visit duration of three minutes and 10 seconds.
14. Most of NordVPN's traffic is organic
(Source: SimilarWeb, SEMRUSH)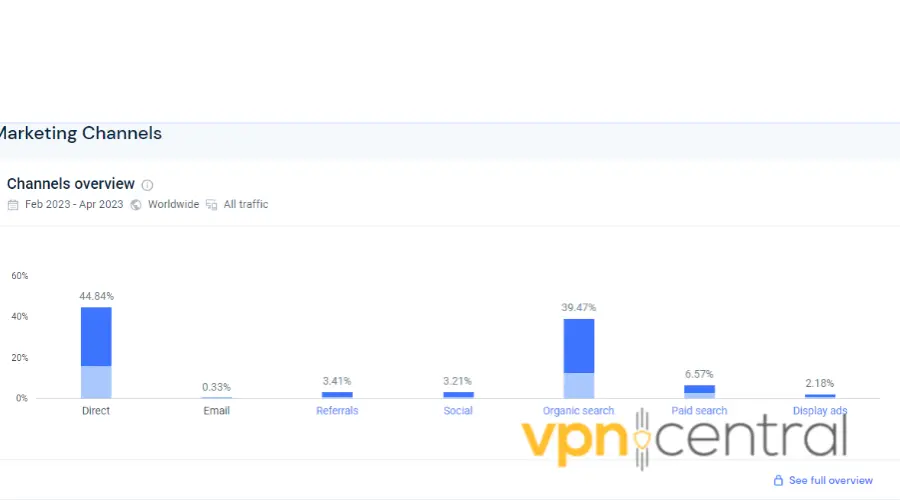 The company pays for search-related clicks, but does the traffic only come from there?
Let's take a look at the data breakdown from April 2023.
44.84% of traffic came from directly accessing the site.
39.47% came from organic search.
6.57% came from paid searches.
3.41% came from links from other sites (referrals).
3.21% came from social media.
Only 2.18% came from Display ads.
NordVPN search term facts and stats
The search terms used to find the platform give insight into its branding and competition.
Let's take a look at some more NordVPN site stats.
15. Two of the most popular NordVPN top organic keywords do not have the word Nord or VPN.
(Source: SEMRUSH)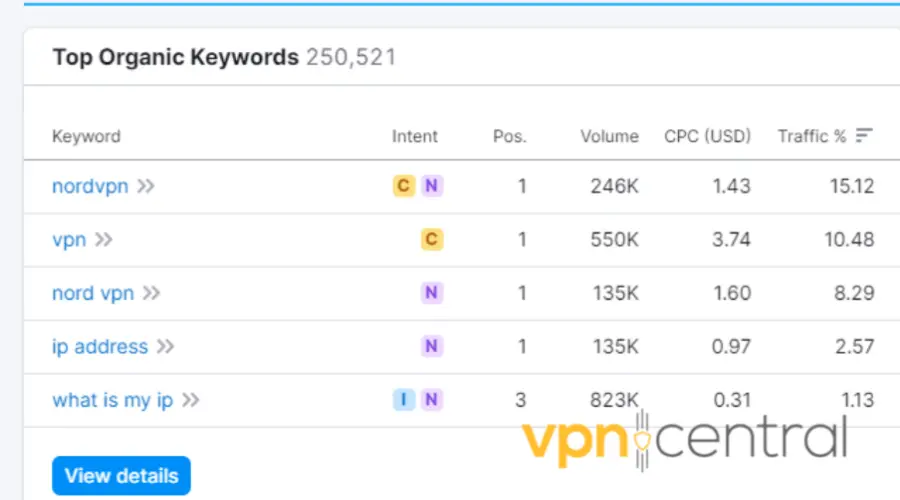 Since one of the significant functions of NordVPN is to mask your IP address, queries from the keyword have drawn so much traffic to nordvpn.com.
Consequently, two of its most common related searches by monthly volume are:
ip address: 135000
What is my ip: 823000
16. Is NordVPN free is NordVPN's 2nd highest-searched related query.
(Source: SEMRUSH)
According to SEMRUSH, people who search NordVPN also seek clarification if the VPN provider offers a free service.
The keyword question is nordvpn free has a monthly average volume of 2400.
17. The search term nordvpn login has 18,100 queries on a monthly average.
(Source: SEMRUSH)
To access the service or download the app, you must first sign in to their website.
This has made nordvpn login garner many such queries, making it the second largest query for NordVPN by volume.
NordVPN market share and revenue
NordVPN's market value is estimated in the tens of millions.
Here's more insight into its market share and revenue.
18. NordVPN is the most popular VPN provider in the world.
(Source: SimilarWeb)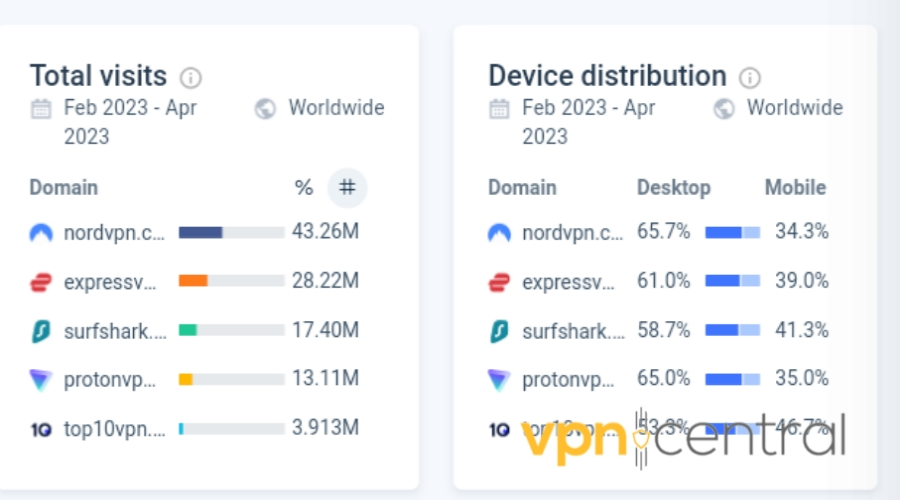 NordVPN is far from the success of other electronics and technology platforms like Zoom and AT&T.
However, it's dwarfing its direct competitors.
Between February and April 2023, NordVPN had a total visit of 43.16 million.
Here are the stats of visitors on other VPN provider's websites:
ExpressVPN has 28.22 million visits.
Shurfshark.com gets around 17.40 million visits.
Protonvpn.com has roughly 13.3 million visits.
It's 3.913 million for top10vpn.com
19. NordVPN's value is $95 million.
(Source: WorthOfTheWeb)
NordVPN is a private company and doesn't release revenue reports. Combining estimated daily, monthly, and annual revenue creates an overall NordVPN valuation of over $92.7 million.
Estimating traffic and ad revenue averages, the platform's revenue reaches at least:
$46,407 per day.
$1.39 million per month.
$16.7 million per year.
20. Youtube generates the highest number of social traffic for NordVPN
(Source: SimilarWeb)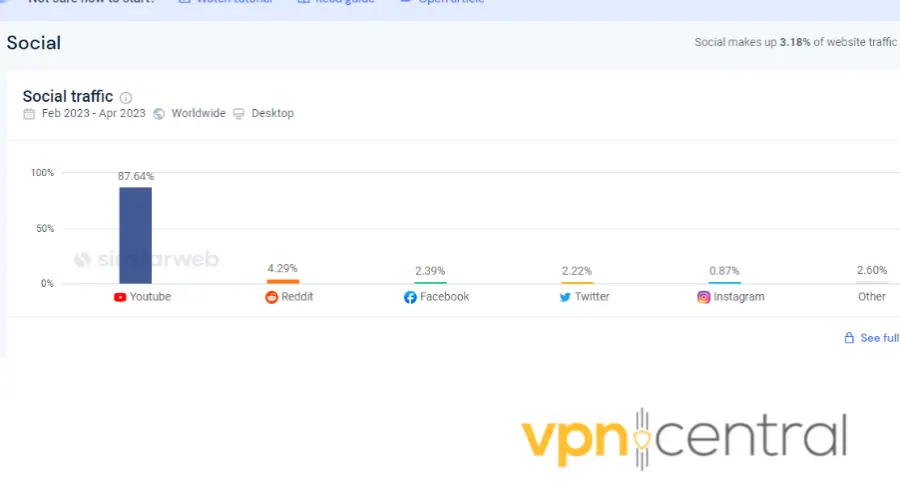 87.64% of social traffic between February and April 2023 comes from Youtube. Reddit had 4.29%, and 2.39% Facebook.
All other social media sites garnered 2.60% of the total estimated traffic within that period.
Youtube's high rate is due to the high-paid advert by NordVPN to Youtubers.
21. NordVPN has almost double the traffic of its closest competitor ExpressVPN
(Source: Google Trends, SEMRUSH, SimilarWeb)
ExpressVPN is NordVPN's closest like-for-like competitor.
The site launched in 2015 but didn't reach its stride until 2018 when its worldwide interest almost reached NordVPN's in April.
It has since followed a similar trajectory, with a sharp rise during the early days of COVID-19.
Nonetheless, NordVPN is still much more popular, with much more traffic over July, August, and September this year by more than ten times.
Wrap Up
NordVPN is one of the most popular VPN services in the world, with a significant market share and a growing user base.
Panama, where its headquarters is based, puts the provider outside the jurisdiction of Five Eyes and other surveillance alliances.
Furthermore, it has privacy-friendly policies, and this makes it a favorite among privacy-conscious users worldwide.
NordVPN is a profitable company, with significant revenue and market capitalization, making it one of the most successful VPN services in the world.
FAQ
How much is NordVPN worth?
NordVPN has a market cap of $4.4 billion as of 2021.
What is NordVPN's annual revenue?
NordVPN revenue for 2020 was over $276 million.
How much does NordVPN pay YouTubers?
NordVPN has paid YouTube influencers over $11,000,000 for promoting their services.
How many people use NordVPN?
Over 14 million people use NordVPN worldwide as of 2021.
Sources: