Through a new investigative report published by The Intercept, we now have every reason to worry about our privacy. The investigation found that AT&T, one of the world's largest and most powerful telecommunication agencies, collaborates with NSA in various surveillance programs.
The surveillance done by the NSA has been found to be carried out in 8 major centers. These centers are in Atlanta, Chicago, Dallas, Los Angeles, New York City, San Francisco, Seattle, and Washington D.C.
These eight centers are known as "backbone" and "peering" facilities. They are the facilities that process AT&T customer data, and also carry huge chunks of data from other internet providers.
Being the most powerful telecommunication company in the US, AT&T and the NSA have a relationship that goes way back. Actually, NSA terms AT&T as a trusted partner and a party with "extreme willingness to help."
They, therefore, have a collaboration that lets NSA run various NSA surveillance programs that have been in operation for years and monitor billions of emails, phone calls, and online chats passing across the U.S. territory.
Which begs the question:
How extensive is the NSA surveillance?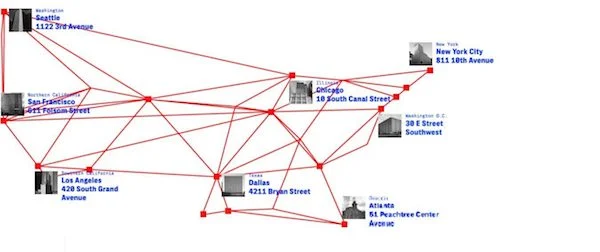 First, there is a reason why NSA uses AT&T and not just any other telecommunication company.
AT&T has a massive infrastructure that not only the company uses, but it also shares with other telecommunication companies. This means that NSA does not only survey AT&T users but also taps into the communication channels of other companies.
Companies in this group include:
American telecommunications giants Sprint
Cogent Communications
Level 3
There are also companies outside the US such as:
Sweden's Telia
Italy's Telecom Italia
India's Tata Communications
Germany's Deutsche Telekom
Actually, AT&T boasts 19,500 "points of presence" in 149 countries where internet traffic is exchanged.
All this data is at some point routed through the 8 AT&T buildings. This, in turn, leaves all the information bare for NSA surveillance.
Furthermore, the geographical location of the US (between Europe, the Middle East, and Asia) makes all our traffic even more susceptible.
Hundreds of giant fiber optic cables that pass beneath the oceans connect to the US. This gives the NSA an easier task to monitor ISP data from the whole world. Actually, the NSA terms this as a geographic fortune, and a "home field advantage."
One document stated that "A target's phone call, email, or chat will take the cheapest path, not the physically most direct path." It further noted that "your target's communications could easily be flowing into and through the U.S."
FAIRVIEW and SAGURO surveillance programs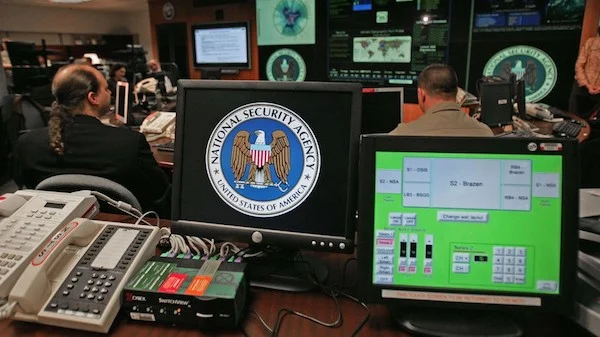 The eight AT&T facilities are part of an NSA surveillance program dubbed FAIRVIEW.
This NSA surveillance program launched way back in 1985 and involves tapping into international telecommunications cables, routers, and switches.
FAIRVIEW obtains internet information from all over the world through mass surveillance methods and then analyzes it using a keyword selection system.
On another NSA surveillance program called SAGURO, AT&T is said to have developed a strategy that helps the NSA to "electronically eavesdrop on internet data from the "peering circuits" at the eight sites, which were said to connect to the "common backbone," major data routes carrying internet traffic."
What does NSA surveillance mean for the average internet user?
The revelation of NSA surveillance is a great concern for us, and it should be for every other internet user. We believe that NSA surveillance pros and cons will never balance, with the weight being more on the cons.
Unfortunately, this doesn't look like it will stop any time soon, and internet privacy is quickly becoming a thing of the past.
Surveillance is only becoming more intense with every passing day. Almost all ISPs and governments are now spying on internet users for various purposes. The repeal of the Net Neutrality laws in the US only made this worse.
ISPs do not in any way work to promote your privacy when using their services. Actually, when questioned about this report, AT&T officials couldn't do any tangible defense.
Jim Greer, an AT&T spokesperson, said that the company was "required by law to provide information to government and law enforcement entities by complying with court orders, subpoenas, lawful discovery requests, and other legal requirements."
He added that the company provides "voluntary assistance to law enforcement when a person's life is in danger and in other immediate, emergency situations. In all cases, we ensure that requests for assistance are valid and that we act in compliance with the law."
An NSA spokesman could "neither confirm nor deny its role in alleged classified intelligence activities." He further added that the NSA "conducts its foreign signals intelligence mission under the legal authorities established by Congress and is bound by both policy and law to protect U.S. persons' privacy and civil liberties."
What all this means is that your privacy when sending emails, using social media, browsing, or streaming content depends solely on you. You, therefore, have to stand up and fight for the internet privacy you deserve.
How do you keep your data private and secure?
The best and the only way you can take your privacy back and curb NSA surveillance is through the use of a trusted VPN service like Private Internet Access.
When you connect to PIA, your data is encrypted using military-grade security and then securely tunneled to your chosen server.
This means that your internet traffic will no longer go through the ISP but through encrypted servers. Therefore all your data remain private and hidden from prying eyes, including the NSA's.
The service also maintains a strict zero-log policy.
Wrap up
We now have an answer to the question: Does the NSA spy on us?
It surely does and NSA can spy on the data of any Internet user both in the US and around the globe.
NSA surveillance and general internet spying will only get worse on the side of the internet user, with almost all emails we send now being screened through a keyword detection system.
It is high time that you stop leaving all your privacy matters to the ISP as they will forward your information whenever they are requested. Take your own privacy as well as that of your family as a personal responsibility, and keep your data private and secure.
---