Obfuscated and double VPNs are advanced features that provide greater privacy and protection.
Both options offer protection for online browsing and access to geo-restricted content. However, there are differences between these two features that set them apart.
This comparison will help you understand their specific features while deciding which option is best suited to your needs.
What is obfuscation?
Obfuscation is a technique used to make data or information difficult to understand or interpret.
VPN services use obfuscated servers to disguise their traffic and make it appear like a regular internet activity.
This technique makes it challenging for network administrators or internet service providers to detect the use of a VPN.
Obfuscated servers achieve this by disguising VPN traffic to look like other types of traffic, such as HTTPS traffic. Thereby allowing users to access restricted content and evade VPN blocks.
What is Double VPN?
Double VPN is a configuration that adds an extra layer of protection for online privacy and security by routing internet traffic through two VPN servers.
This process involves routing your internet traffic through two VPN servers, which adds an extra layer of encryption and anonymity.
Your data is encrypted and sent to the first VPN server, which then forwards it to a second one.
This means that your internet traffic is encrypted twice, with a higher level of privacy and security.
Simply put, double VPN is like using two locks on a door instead of one, making it much more difficult for hackers or other prying eyes to access your online activity.
Obfuscated vs Double VPN – which one is better?
When it comes to choosing between Obfuscated and Double VPN, it's important to consider the specific advantages and limitations of each. Here are some factors to consider:
⚡ 1. Speed
Generally, a double VPN is slower because it routes traffic through two servers and adds extra encryption and server routing, whereas obfuscated VPN has a smaller impact on speed.
Using NordVPN, we compared the download speeds of Obfuscated VPN and Double VPN to see how they perform. Here are the results we got:
Starting speed: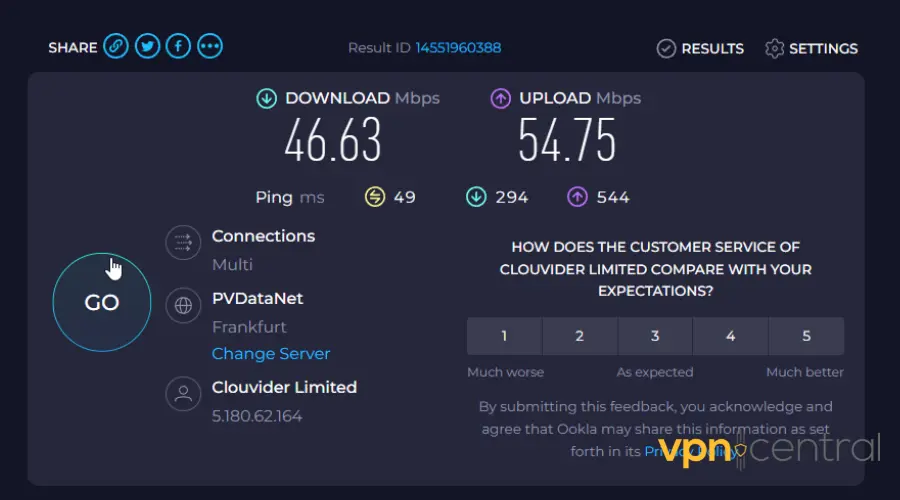 Obfuscated server: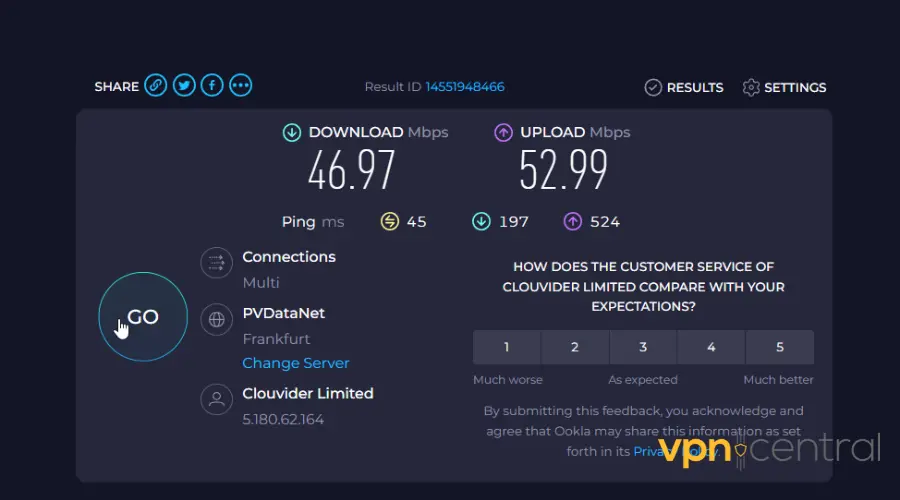 Double VPN: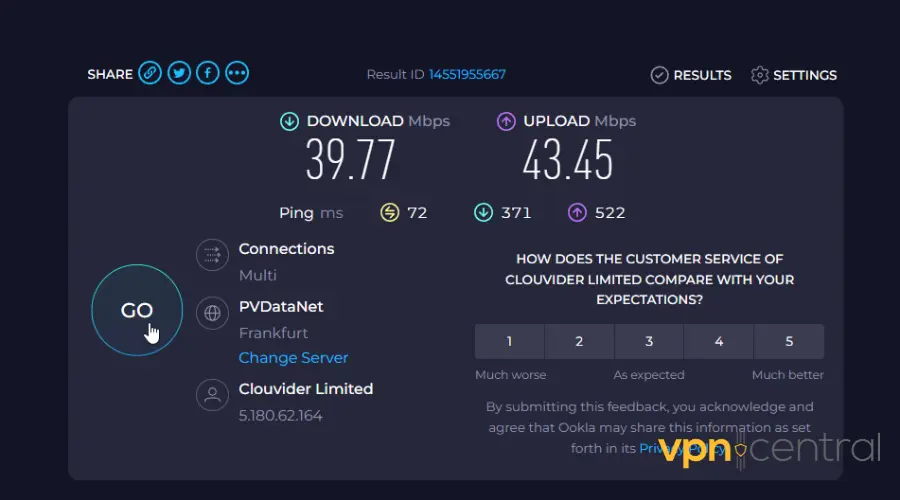 Based on our comparison, Obfuscated VPN showed a faster download speed of 46.93 Mbps vs Double VPN which had 39.77 Mbps.
Their speed varies because of factors, such as the location of the servers, the quality of the internet connection, and the level of encryption.
Obfuscated VPN would be useful when you need fast internet speeds, such as when streaming or downloading large files. They're also good for streaming because they can easily bypass firewalls.
Alternatively, a double VPN would be more suitable for activities where security and privacy are more important than speed, such as online banking or accessing confidential data.
However, to achieve faster speeds on obfuscated and double VPN, connect to servers closer to you, use high-speed internet, and choose protocols that balance security and speed.
👻 2. Anonymity
Both provide additional layers of anonymity to users.
→ Double VPN adds an extra layer of anonymity by routing your internet traffic through two servers.
It is not only difficult to track your online activities when using a double VPN, but it is also challenging to determine their origin.
If the first VPN server experiences a data leak, any information obtained would show the location of the intermediary server and would be encrypted by the second VPN server.
This makes it virtually impossible to trace back to your original IP address.
→ Alternatively, Obfuscated VPN focuses on making your VPN traffic appear as normal internet traffic.
With this, the technique improves anonymity and makes it hard for anyone trying to track your online activities won't even know that you're using a VPN.
Overall, obfuscated servers are suitable for strict internet censorship situations and heavily monitored VPN usage.
🌏 3. Bypassing restrictions
Obfuscated VPN is effective in evading internet censorship and restrictions, especially in countries like China, where the Great Firewall blocks access to many popular websites and services.
It distinguishes VPN traffic as regular internet activity, making it difficult for firewalls and DPIs to detect and block the traffic.
Double VPN, however, is best used for protecting sensitive data and online activities from spying eyes. It's more helpful in increasing privacy and security for sensitive online activities.
For instance, a journalist working on a sensitive story will need to access restricted websites and communicate with confidential sources while protecting their identity.
Therefore, routing traffic through two VPN servers adds an extra layer of encryption and anonymity.
Consequently this makes it more difficult for hackers and government agencies to track online activities or intercept communications.
Here is a table summarizing the differences:
| | | |
| --- | --- | --- |
| Feature | Obfuscated VPN | Double VPN |
| Speed | Faster | Slower |
| Anonymity | High | Higher |
| Bypassing restrictions | Better | Not as good |
| Increasing privacy and security | Not as good | Better |
If you are in a country with strict internet censorship, Obfuscated VPN would be a better choice as it can bypass blocks and censorship.
However, for sensitive online activities such as financial transactions or accessing confidential data, Double VPN is the better option as it adds an extra layer of encryption and anonymity.
Summary
While both options provide added security and privacy, Obfuscated VPN is better for accessing restricted content and bypassing VPN blocks.
However, if the primary concern is higher anonymity, a Double VPN is the better choice. Ultimately, choosing between obfuscated vs Double VPN will depend on your circumstances and preferences.
---