The UK Intellectual Property Office has just published its 12th wave of Online Copyright Infringement Tracker. One of the topics it discussed is the illegal streaming of live sports in 2022.
According to the report, live sports piracy in the country remains high with a 36% overall infringement rate.
This marks an increase from 2021 when the live sports infringement rate dropped to 29%. However, it remains on par with previous years.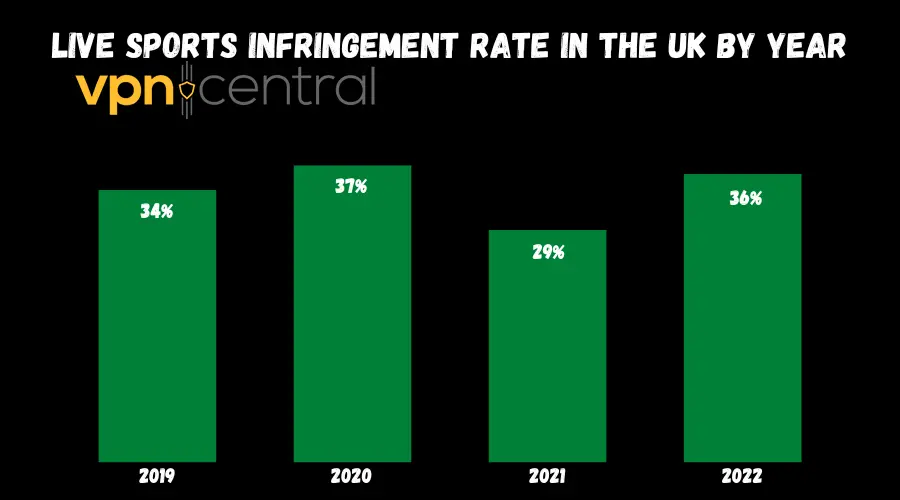 The numbers suggest the campaigns meant to protect copyrighted content failed to prevent 3.9 million people from streaming live sports illegally in the past 12 months.
The same research also showed that the number of people who consume live sports content legally dropped from 71% in 2021 to 64% in 2022.
It's hard to determine what caused all these increases, but recent price increases by some of the broadcasters in the UK certainly didn't help.
The UK Intellectual Property Office study also suggests that live sports have one of the highest proportions of viewers using only illegal sources.
The study also showed that infringement when using a VPN in the live sports category is 56%. That's more than it is with any other type of content.
In comparison, an infringement by use of a VPN stands at 55% for software, 53% for movies, and 48% for music.
Spoofing your real IP address with a VPN continues to be the go-to method for changing location and unlocking both legal and illegal live sports content from the UK.
People can use it for accessing popular sports hubs such as beIN Sports or Fox Sports.
Overall infringement rate went up
The latest edition of the Online Copyright Infringement Tracker also showed that the overall infringement rate also increased from 25% in 2021 to 32% in 2022.
However, the government has said that this figure should be looked at with caution due to new ways of illegal streaming emerging every year.
Movie piracy increased by 4%, reaching 24% in 2022, while TV piracy went up by 5%, now standing at 19%.
According to the report, music streaming is the category with the lowest infringement level, with 97% of people doing it through legal methods. 21% still download music exclusively illegally though.
Unsurprisingly, the report suggests that people in the UK viewed entertainment in 2022 as extremely valuable.
It helped many by distracting them from uncertainty around money and anxiety about going back into a world without social restrictions.
When they cannot afford it or simply view it as too expensive, they turn to illegal ways of engaging in content.