So, you're binge-streaming shows and downloading the latest torrents. Then all of a sudden, your internet speed becomes painfully slow.
Does that sound familiar? Well, it's commonly known as bandwidth throttling. It involves regulating connections by internet service providers (ISPs) to limit customer activities.
Using a virtual private network (VPN) can bypass it most of the time. That's because it spoofs your IP and encrypts your connection, making it hard for an ISP to track you. 
However, a VPN will cost you extra. But don't fuss yet – we'll show you how to stop ISP throttling without VPN.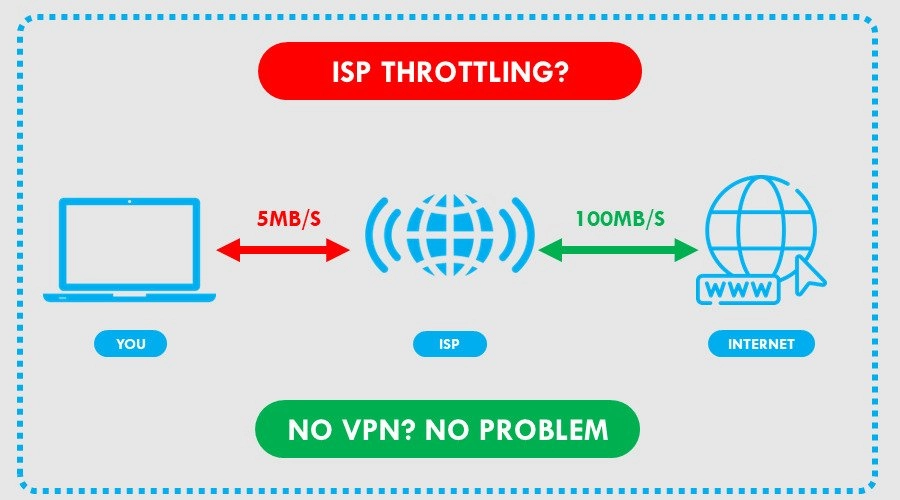 Ready? Let's hit the ground running.
How to find out if your ISP is throttling your Internet
ISPs hardly admit if they throttle internet speeds. Even if they do, you'll find such details hidden in the fine print.
Throttling mostly happens during peak periods and aims to reduce network congestion. Other times, the issue can be due to your own activities, which the ISP deems too bandwidth-intensive.
The good news?
It's not rocket science to determine if your connection is being throttled. Just follow these steps to diagnose the issue:
Check your internet plan
ISPs hide specifications about internet plans in volumes of terms and conditions. These mostly include the dos and don'ts of their services.
For example, your provider may impose limits on users who download torrents. Or, they can require you to move to a higher tier to enjoy such privileges.
ISPs also prioritize the services of business partners. As such, they throttle speeds for rivals as a way of forcing you to use their affiliates.
But there's more:
Check if your provider has data caps on your internet plan. The throttling usually kicks in when you exceed the set bandwidth allocation by the ISP.
For instance, your subscription may have a daily traffic limit of 100GB. Once you exceed it, your service provider will reduce the speeds without hesitation.
Monitor your connection
Monitoring your connection can help you determine whenever the ISP throttles your speeds. You can do this on autopilot using an application like Glasswire.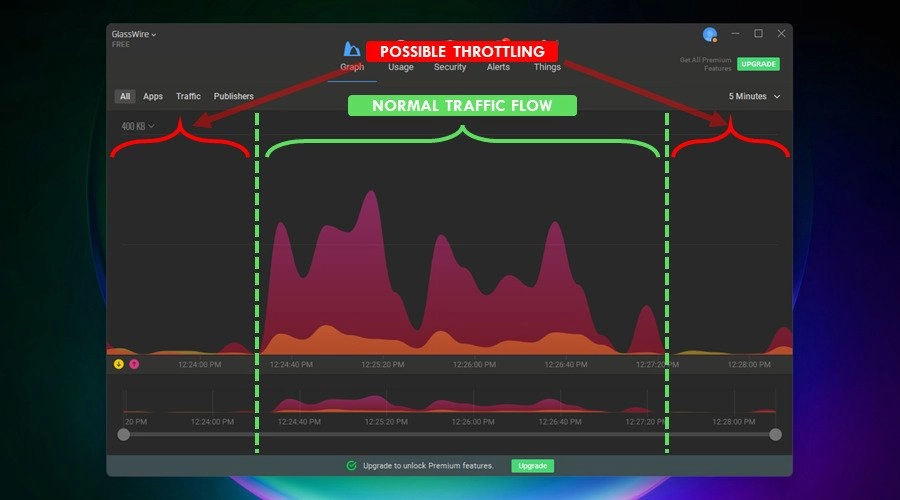 Its graphical interface displays traffic flow for the duration you're active on the web. Likewise, it includes a timeline to highlight the order of events.
You can pinpoint the times your connection fluctuates. From here, you need to revisit your activities to tell the ones responsible for the throttling.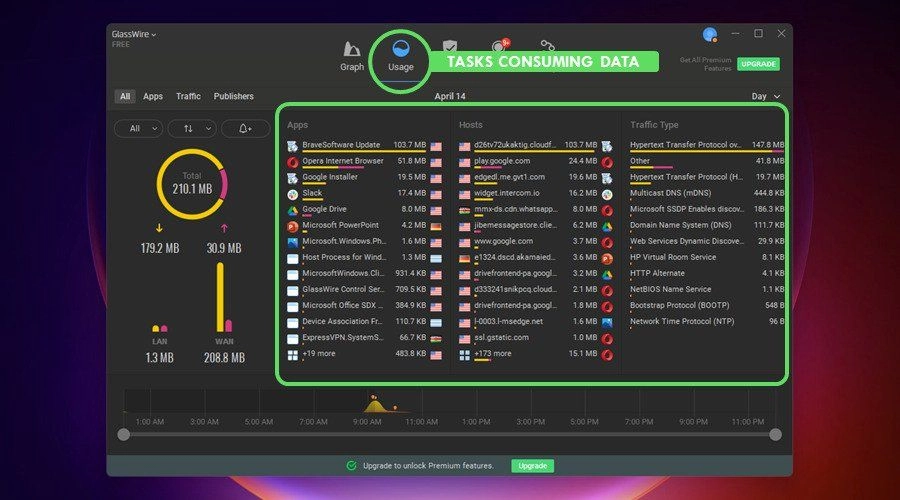 Glasswire can help here as well. Switch to the Usage tab and adjust the timeline to view the culprits. And guess what? It's free.
Test for speeds
You can do a speed test to check for throttling by your ISP. Popular online tools you can use include Ookla, Fast, and Opensignal.
Use the results you obtain to compare against what your provider guarantees. Any value below 50% of the promised figure should point to a possible capping.
A word of caution:
Some ISPs hardly throttle connection requests to speed testing tools. However, you'll know there's capping if your downloads are slower than the results you're getting.
How to improve your Internet connection speed
Here are some recommendations to turbocharge your connection:
Restart/reset router: Restarting your router reconfigures it to your network. Begin by unplugging it for around 30 minutes before powering it again. If necessary, perform a factory reset to clear the cache build-up that might be slowing it down.
Disable background processes: Reschedule or stop any non-priority tasks on your device. For example, software updates can wait while you multitask essential activities. This helps free up the necessary bandwidth for accelerating your internet.
Upgrade your hardware: Internet devices have different speed ratings. You may find some slow and others fast. Accordingly, upgrade to a newer version that can handle data-hungry tasks.
The above recommendations are pretty straightforward to implement. But if you love to get under the hood, jump to the next section.
Use alternative DNS servers
A domain name system (DNS) is a public address for the internet.
It works through DNS resolution that involves converting domains into IP addresses. That way, it enables devices to connect and communicate seamlessly.
But here's the problem:
ISPs are notorious for providing slow DNS services. Accordingly, using other alternatives can boost network performance and minimize throttling effects.
Good ones to choose from include Cloudflare, Google, OpenDNS, and more. Best of all, they're entirely free.
The following tips should help you broaden your options:
Research DNS alternatives: Research the available DNS addresses you can use. Take note of each and find details about pricing, speeds, uptime, etc.
Look for reviews: Check around for user reviews about the efficiency of the potential candidates. This will help you trim down your list to capable ones only.
Test the DNS addresses: Configure the DNS and test your internet speeds. Likewise, visit random websites to see how fast they open.
Check DNS benchmark platforms: DNS benchmark platforms like DNSPerf enable you to speed up your search.
Next is where things get interesting.
Use Quality of Service (QoS) settings
Quality of Service (QoS) is a feature for prioritizing bandwidth usage on routers. It ensures vital activities get the most out of your internet service.
Examples include tasks like video calls, streaming, online gaming, etc. In doing so, it limits other processes from clogging the connection.
Here's what you need to get it done:
Get a compatible router: You need a router that supports QoS. Consider upgrading if the feature is unavailable on your current device.
Determine priority apps: Identify apps that your router should prioritize.
Enable QoS settings: Open the QoS settings on the router and enable it.
Set priority levels: Set priority levels for each app you find vital. The process is simple on most devices. But others require you to check the user manual to get it right.
Reboot the router: Power your router off for the settings to take effect.
Using QoS prevents unwanted tasks from abusing your internet connection. Unfortunately, it can't help you evade bandwidth caps on your subscription.
Oh! Before we forget.
Bonus tips for stopping ISP throttling without a VPN
Below are extra workarounds to prevent ISP bandwidth capping without using a VPN:
Monitor your network: Use a network monitoring tool to observe your internet connection. Take note of tasks that trigger throttling and adjust your browsing habits.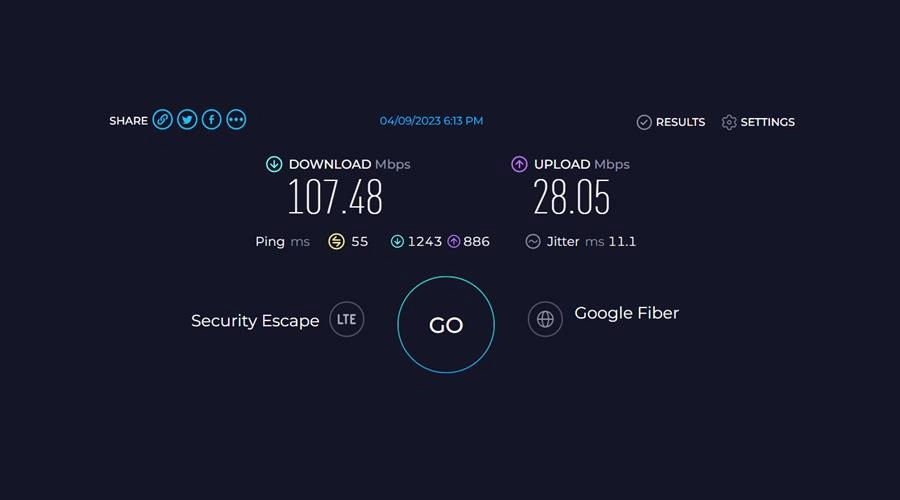 Throttle devices: Modern routers allow users to limit speeds for connected devices. This reduces the chances of abusing the set restrictions by your ISP.
Upgrade your plan: Consider going for higher tier plans if you have demanding data requirements.
Play by the rules: Check the terms on your internet plan and play by the rules. This is vital when you have no plans to upgrade your subscription. As uncomfortable as it looks, you get what you pay for.
Change ISPs: Don't hesitate to look for alternative service providers. Compare the plans and align them with your needs. And if something clicks, bid your ISP goodbye.
Summary
A VPN can help bypass ISP throttling, but it's not a must-have. The workarounds above are perfect substitutes and hardly require technical skills.
Regardless, we recommend cross-checking your internet plan's terms and sticking to the requirements. While it's cumbersome, you'll discover activities you need to avoid to prevent capping.
Also, don't rule out the possibility of upgrading your plan to unlock more privileges. Alternatively, you can switch ISPs to get better value for your money.
Enough said.
You now know how to stop ISP throttling without a VPN. All that remains is for you to take the necessary steps to supercharge your connection.