A VPN can enhance privacy and security while streaming your favorite movies and TV shows on TeaTV.
But what happens when your TeaTV is not working with VPN? Many users reportedly get a blank screen or cannot download movies while loading the app.
If you're one of them, this is probably because the VPN network is slow or the server you're connected to is malfunctioning.
But the bright side is you can always fix these issues, and we'll show you how. Moreover, we'll give you a quick rundown of the best VPNs for TeaTV, based on thorough testing.
Is TeaTV not working with VPN? Try this!
Upon testing several methods, we found that the ones below actually work. So go ahead and give them a try.
Change your server

Two things are involved, you may be connected to a VPN server location where TeaTV is not available. 
Or the one you're working on is having issues.
So, If TeaTV isn't working with your current server, try switching to a different one.
Here's how:
1. Disconnect from the current VPN server.

2. Choose another server location from your VPN provider's options.

3. Reconnect to the VPN using the new server.
4. Launch TeaTV and check if it is now functioning properly.

You may need to try several servers in different locations where TeaTV is available. 
However, it's best practice to select one closer to your location.
This provides faster speeds, lower latency, and improved stability, which ultimately leads to better access to region-restricted content.

Clear your TeaTV cache and data

Some streaming services use cookies to store information about your location. 
As a result, websites still identify your location as your home country, even with an active VPN.
However, clearing cookies and caches eliminates stored information, browsing history, and location data.
 To clear the TeaTV cache on your Android device, simply follow these steps:
1. On your Android device, go to Settings.

2. Scroll down to Apps & Notifications.
3. Search for the TeaTV app from the application lists and select it.

4. Click on the Storage option. 
5. Click on Clear cache.

6. Then launch the TeaTV app again and connect to VPN. At this point, it should work.


Change your DNS settings

Typically, your internet-connected device relies on your ISP's DNS servers to process requests.
However, if these DNS servers are slow or improperly configured for caching, it can lead to slower connections. 

Here's how to do that on Android.
1. Open Settings on the device.

2. Select WiFi.
3. Long press your current network, then select Modify network.
4. Change IP settings to Static.
5. In the DNS 1 and DNS 2 fields that appeared, enter the new DNS addresses. You can find several options online for free.

6. Press Save, disconnect from the network, and reconnect for the changes to take effect.
7. Try reconnecting to TeaTV.


Allow your VPN through the firewall

If firewall security settings block your VPN, it can prevent it from working properly. 
However, one solution is to allow your VPN through the built-in firewall.
Here's how to do that on Windows 10.
1. Open Windows Defender Security Center.

2. Click on Firewall & network protection.
3. Click the Allow an app through the firewall link.

4. Windows Defender Security Center firewall settings
5. Click the Change settings button.
6. Find your VPN from the list of programs/apps
7. Check Public or Private to select the network type to run your VPN on

8. Click Allow another app if your VPN isn't on the list
9. Select your VPN
10. Click Add and then click OK

11. Try launching your TeaTV app again.
Enabling your VPN app to bypass the firewall allows you to establish a connection to its network.
This ensures the VPN functions properly with all internet-dependent applications, including the TeaTV app.

Uninstall and reinstall the TeaTV app

Android users commonly experience blank screen issues while using the TeaTV app. This may indicate a possible app crash. 
To fix this problem, try uninstalling and reinstalling it.
Here are the steps on how to do that:
1. On your Android device, open the Settings app.
2. Tap on Apps & Notifications.
3. Tap on See all apps.
4. Scroll down and find the TeaTV app.
5. Tap on the TeaTV app.
6. Tap on Uninstall.
7. Tap on Uninstall again to confirm.
8. To reinstall the TeaTV app, follow these steps:
9. Go to your Android device's Settings.
10. Look for Security or Privacy settings.
11. Enable the option for Unknown Sources to allow the installation of apps from sources other than the Play Store.
12. Then visit the TeaTV website on your browser to download the app.
13. Install the TeaTV app. Follow the on-screen instructions to complete the installation.
14. Launch the TeaTV App
15. Connect to your VPN, open it, and watch your favorite movies and TV shows.

Switch to a better VPN

If you've tried everything else and TeaTV is not working with VPN still, your current provider may not be the right fit. 
So what's the way out?
Switch to a premium VPN compatible with TeaTV.  And then, you can enjoy your favorite shows again without any hassle.
One of the best we recommend is ExpressVPN. It offers lightning-fast speeds and excellent support for streaming.
Here's how to use it.
1. Subscribe to an ExpressVPN plan and download the software compatible with your device.

2. Install the ExpressVPN app on your computer and sign in with your credentials.

3. Search for a US server.

4. Select and connect.
5. Once connected to the server, open the TeaTV website and start streaming.
With robust encryption and a vast network of high-speed servers, ExpressVPN enables TeaTV users to bypass geo-restrictions and enjoy uninterrupted streaming from anywhere.
Does TeaTV block VPNs?
No, TeaTV does not block VPNs.
So, you're free to use one while streaming to safeguard your privacy and enhance security.
Nevertheless, it is important to note that using a VPN does not make TeaTV legal, and streaming pirated content on TeaTV may still expose you to legal consequences.
Does TeaTV work with a VPN?
Yes, TeaTV works smoothly with several VPNs, as we have tested them without encountering any issues.
However, choosing a compatible VPN service like ExpressVPN ($6.67 per month) or Private Internet Access ($2.03 per month) is essential.
These providers offer excellent features to ensure uninterrupted access to TeaTV.
Best VPNs for TeaTV
Looking for a VPN that works with TeaTV? Don't worry, we have researched and vetted some of the best.
Check them out!
1. ExpressVPN — top-notch encryption and leak protection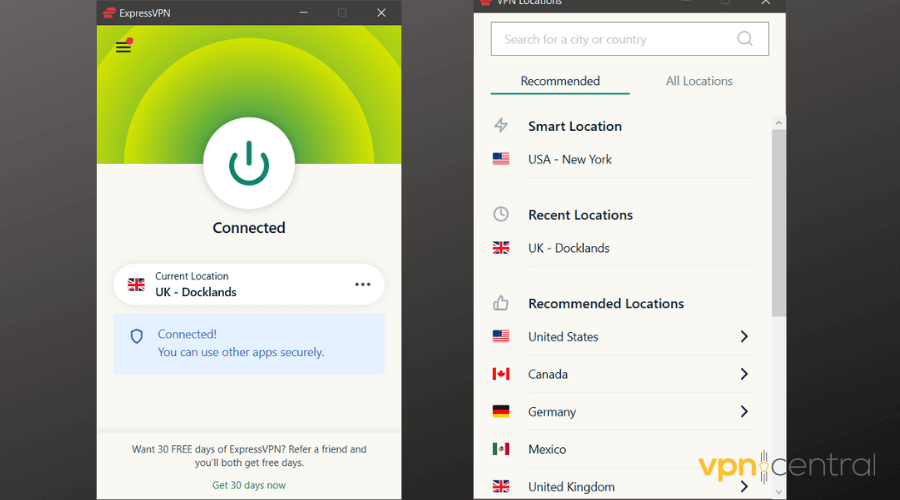 ExpressVPN provides a hassle-free streaming experience with TeaTV, allowing you to enjoy your favorite TV shows, anime, and movies without buffering.
With a vast network of over 3,000 servers spread across 160 locations in 94 countries, it offers plenty of options to switch between if one isn't working.
ExpressVPN prioritizes your security with top-notch encryption and advanced leak protection.
This ensures your streaming activities remain private and secure.
What's more, ExpressVPN works seamlessly on popular devices like Windows, Android, macOS, iOS, and Linux.
So you can stream on your preferred device without any compatibility issues.
Also, with its media streamer feature, you can connect devices that do not natively support VPN, expanding your streaming possibilities.
Whether you want to stream or download content on TeaTV, ExpressVPN has you covered with its reliable and secure protocols, including OpenVPN and the custom Lightway Protocol.
When it comes to pricing, while the month-to-month plan may be a bit more expensive, it's worth the investment.
Plus, if you want to test it on your mobile device, you can take advantage of the 7-day free trial.
With ExpressVPN, streaming TeaTV becomes a breeze, offering convenience and peace of mind.
✅ Pros:
Best leak protection on the market
Fast and reliable speeds
No-logs policy and kill switch
Apps for all conceivable devices
Strong encryption and security
Consistently fast and stable
❌ Cons:
One of the most expensive
Only five device connections at a time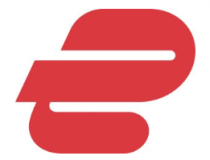 ExpressVPN
Easily unblock TeaTV with ExpressVPN's untraceable servers!
2. NordVPN – Best for online security and privacy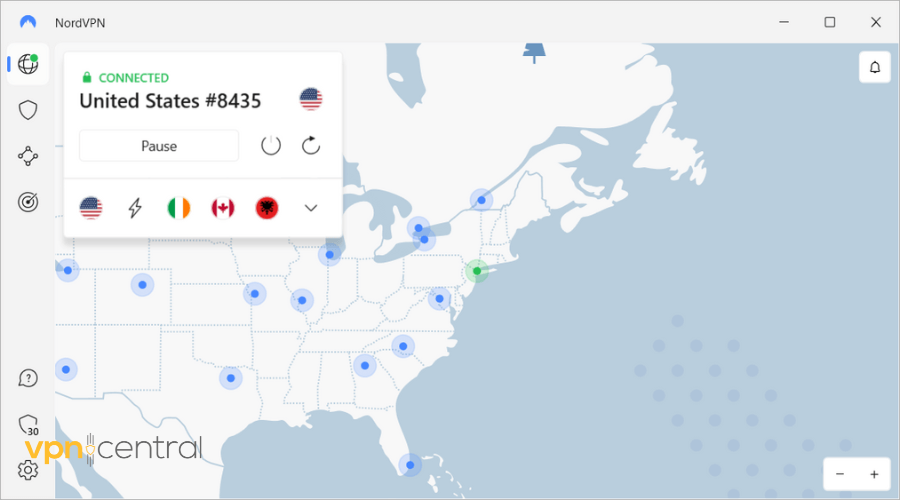 When it comes to TeaTV, NordV7PN ensures a smooth and uninterrupted streaming experience.
With a vast network of 5,200 servers across 60 countries, NordVPN guarantees that you can access streaming content from anywhere in the world.
Not only does NordVPN unlock content, but it also prioritizes your online security and privacy.
Features like a kill switch that instantly disconnects if the VPN drops provide essential protection.
This means your online activities will remain private, as it prevents unencrypted data from being exposed.
NordVPN goes the extra mile by eliminating web tracking, annoying ads, and malicious websites, keeping you safe and secure while enjoying your favorite TeaTV shows.
But that's not all! NordVPN also offers a comprehensive library of how-to pages and guides to help you set up everything correctly.
And if you ever need assistance, their 24/7 support network is always available to help you.
✅ Pros:
Strong encryption and security
No-logs policy and kill switch
Fast and stable speeds
Works with 1xbet and other streaming and gambling services
Supports up to 6 devices simultaneously
24/7 customer support
❌ Cons:
Some servers may be slow or crowded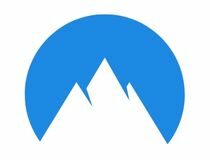 NordVPN
Use NordVPN to easily unlock TeaTV from anywhere!
3. SurfShark – Best for an uninterrupted streaming experience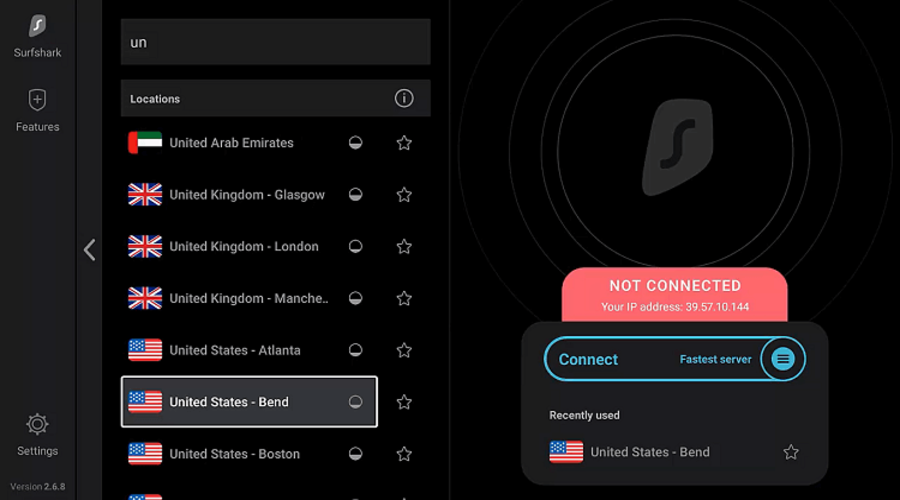 Surfshark promises you a delightful streaming experience on TeaTV.
With a vast server network of over 3200 spanning 100+ countries, you can access and enjoy your favorite anime series and movies regardless of location.
One of Surfshark's notable highlights is its robust security system, employing AES-256-bit encryption.
This way, your online activities are completely anonymous and untraceable for eavesdrops and hackers.
Additionally, Surfshark offers a remarkable CleanWeb feature that effectively blocks ads and access to malware-ridden sites.
However, this feature doesn't replace an anti-malware or antivirus tool.
But there's more! Surfshark takes your security to the next level with its kill switch.
This means if your VPN service got disconnected suddenly, this feature promptly halts all your internet traffic, ensuring no data leaks or risks.
Whether you prefer Windows, Mac, iOS, or Android, Surfshark has got you covered. You can enjoy TeaTV on your desired device without any hassles.
✅ Pros:
Connect unlimited devices
Excellent streaming speeds
Extra features like virus protection
❌ Cons:
Inconsistent P2P performance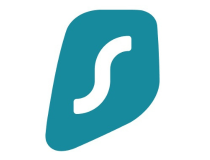 Surfshark
Watch TeaTV without restrictions with this reliable VPN!
4. PIA – Best for lightning-fast speeds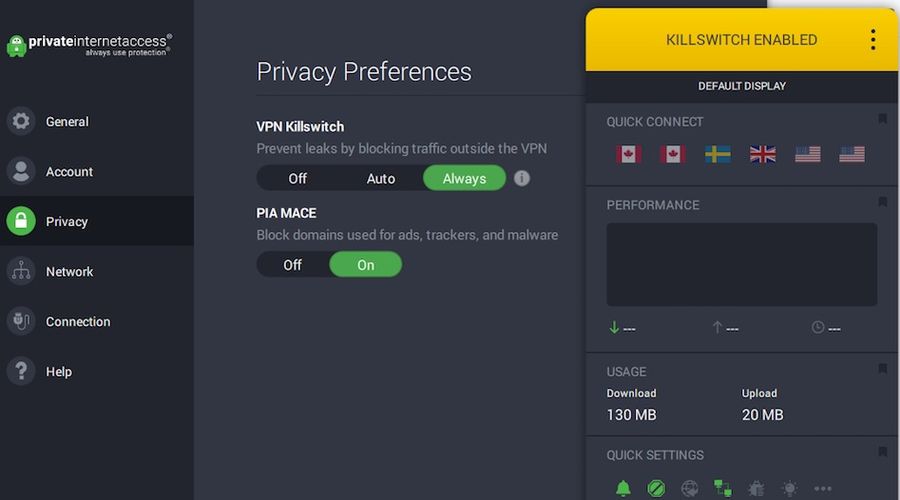 PIA offers lightning-fast speeds with its extensive network of 35,000+ servers in 78 countries.
This means you can always find one near you for quick and smooth connections on TeaTV.
Plus, you can choose from its specialized servers optimized for streaming to eliminate buffering and other issues.
Also, there are no data restrictions with PIA's unlimited bandwidth. Stream as much as you want without worrying about data caps or limitations on TeaTV.
The best part is that PIA employs robust encryption techniques to protect your data from preventing tracking by ISPs, governments, and third parties.
Ultimately, this ensures online privacy and security while streaming.
And you can even choose between 128-bit or 256-bit AES encryption ciphers for private and secure streaming.
✅ Pros
Large and diverse server network
Strong encryption and security
No-logs policy and kill switch
Works with 1xbet and other streaming services
Supports up to 10 devices simultaneously
❌ Cons:
Live chat isn't very responsive.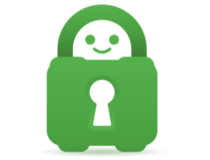 Private Internet Access
Use PIA for unrestricted access to TeaTV, regardless of where you are!
What can you watch on TeaTV from anywhere with a good VPN?
With TeaTV streaming application, you can watch and download movies and TV shows for free.
And the best part is that it has a large library of content in various genres and quality options.
Some of the most popular shows that are available on the service are:
Breaking Bad
Game of Thrones
Grey Anatomy
The Walking Dead
The Big Bang Theory
Friends
The Office
Sherlock
Black Mirror
The Mandalorian
These are just a few examples of shows you can watch on TeaTV from anywhere with a good VPN.
And you can get more by browsing different categories and genres on the app.
Also, if you are a sports fan, you can stream live sports events on TeaTV, including cricket, football, tennis, and basketball.
Just need to select the live TV option on the app and choose your preferred channel. Then, Enjoy!
Summary
When TeaTV is not working with your VPN, it can be frustrating to miss out on your favorite movies and TV shows.
However, you can overcome these issues by following the suggested fixes, such as changing servers, clearing the app cache, or considering a VPN provider known for compatibility.
Remember to experiment with different solutions until you find the one that works best for you. Happy streaming!
---