AT&T U-verse, also known as U-verse, is an American triple-play telecommunication service and a brand of the world's largest telecommunications company AT&T Inc.
The service was launched in 2006 and included broadband internet, IP telephony, and Internet Protocol Television (IPTV) services in 48 states across the USA.
Since 2017, the U-verse brand has no longer applied to its broadband internet and phone services. In the same year, AT&T U-verse split into three separate entities, namely, AT&T Internet (AT&T Fiber), AT&T Phone (AT&T Wireless and AT&T Prepaid), and U-verse TV.
AT&T also offers the possibility to connect to the Internet even if you are located in a remote, rural location. There are a few ways you can secure the so-called AT&T Fixed Wireless service with VPN as well.
In 2020, AT&T decided to no longer accept new online subscriptions to the U-verse TV IPTV service in an attempt to shift consumers towards the newer online TV service AT&T TV.
However, the new change didn't affect existing U-verse TV customers, and they continued to use the TV service to the fullest up until now.
The U-verse TV and AT&T TV services are only available in the United States. So if you're traveling abroad or live elsewhere and want to watch content offered by them, there will be a restriction.
Nonetheless, you can use a reliable VPN service in order to bypass geo-blocking and watch U-verse TV and AT&T TV from abroad, no matter your location. In addition, if you use AT&T Internet or AT&T Phone, you can protect your devices with a VPN when surfing the internet.
How to Setup VPN on AT&T Uverse Router
AT&T Uverse routers do not support VPNs, but you can configure your gateway and connect to a secondary router that supports VPN.
The gateway does not allow bridge mode, but there is a way you can set up an ISP passthrough and connect to another router:
Open your browser and enter your router IP in the address bar.
Enter your credentials and connect to the configuration panel. You can find the password at the bottom of your router.
Locate the settings panel and select LAN, then DHCP. Note that these menus may vary depending on your gateway model. You can also find it under Subnets & DHCP for certain gateways.
You now need to change your network range. Some gateways offer a premade network menu. In this case, pick 172.16.0.0. Otherwise, if you have to place a specific range, enter 172.16.0.1 – 172.31.255.255.
At this point, you will have to renew your DHCP lease. Type cmd in the taskbar to open the Command Prompt.
Enter the following commands: ipconfig /release > press enter > ipconfig/renew > press enter.
Now you can reconnect and start your secondary router.
Type 172.16.0.1 in your browser address bar and enter your credentials.
If you have not done so already, you can install a VPN to your secondary router and thus allow VPN passthrough for your AT&T U-verse connection.
Setting up a VPN connection directly on your router is fairly easy, as long as the device supports it. VPN services generally provide lists of compatible routers, so make sure to check your model.
Most of the VPN providers listed below offer comprehensive guides on how to set up a connection directly on your router.
What are the best VPNs for AT&T U-verse?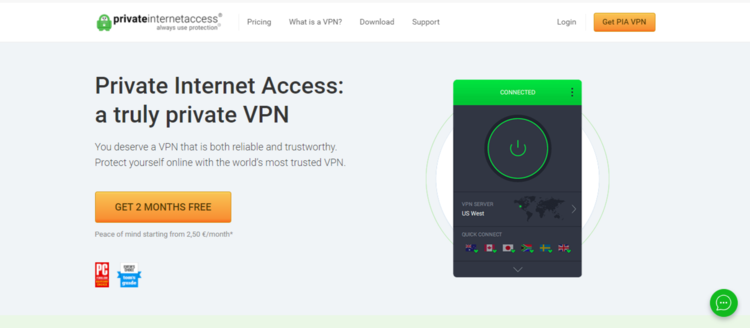 Private Internet Access (PIA) comes close on the second spot as a reliable and powerful VPN service. Many users worldwide trust it, so we think it's a good option for AT&T U-verse regardless of whether you want to get over geo-blocks or improve your online security.
We can tell you for sure that you can't go wrong with PIA when it comes to circumventing geo-restrictions because this VPN has more servers than any other rival. And they're also available across multiple locations and countries.
Therefore, if you're not currently living in the USA where U-verse TV and AT&T TV are available, you can simply connect to a PIA VPN server in the US, and you'll be able to watch your preferred content as if you were living there.
Moreover, you'll benefit from full online privacy and safety since PIA uses AES-128 (GCM) or AES-256 (GCM) military-grade encryption that will guarantee your data is continuously protected by routing it via a secure tunnel. Your online traffic is also anonymized, so no one can monitor you.
Private Internet Access uses the OpenVPN and WireGuard VPN protocols, the former being reliable, stable, and secure, with more than 18 years of open source development, whereas the latter is newer, more efficient, and has the potential for enhanced performance.

PIA has a user-friendly interface and is compatible with many devices and operating systems. Some of the awesome features you can enjoy are: a kill switch, PIA MACE anti-tracker, split tunneling, port forwarding, dedicated IPs, Shadowsocks and SOCKS5 proxies, P2P, and torrenting.
The kill switch blocks your internet connection when the VPN disconnects, and the PIA MACE blocks domains used for ads, trackers, and malware. Split tunneling allows you to choose which apps connect directly to the internet and which ones connect only when the VPN is on. With port forwarding, you can access remotely your home devices and can also increase torrent speeds.
Since PIA offers dedicated IPs, you can get and use your own IP address which can help you access restricted networks and configure your own IP-based security measures. Your privacy and security will stay unaffected, no matter if you use a shared or dedicated IP address.
More about PIA:
32,000+ servers in 101 locations across 78 countries.
No traffic or request logs.
Up to 10 simultaneous connections.
Risk-free 30-day money-back guarantee.
24/7 live chat customer support.
The PIA features speak for themselves, whether it's about security and privacy in order to prevent cyberattacks, tracking or spying, or simply about bypassing geo-restrictions in order to access streaming TV services like those offered by AT&T or other streaming platforms, sites, apps, etc.
If you're using any AT&T U-verse products such as U-verse TV, AT&T Fiber, or AT&T Phone, give Private Internet Access a try, and you'll get to stream online material while also securing all your internet-connected PC and mobile devices.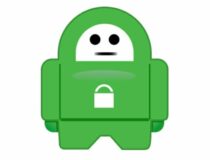 Private Internet Access
Connect to this developed VPN to gain full privacy and avoid any region limitations on the web.
2. NordVPN – Enhanced VPN security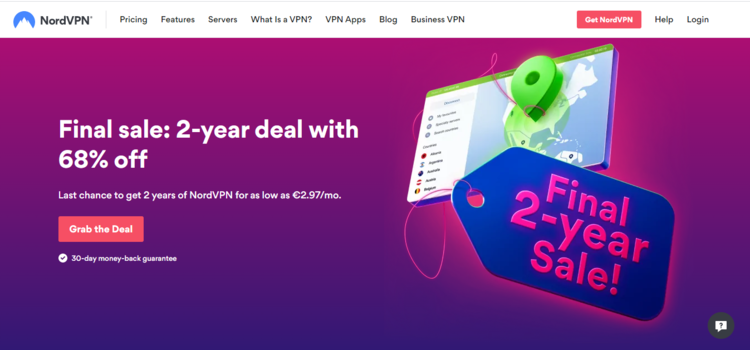 NordVPN is an incredible VPN service that distinguishes itself from other competitors by boasting a host of unique and useful features that will make your online experience smoother.
Geo-blocking barriers, trackers, advertisers, hackers, or other security threats will no longer represent something you should be concerned about if you decide to use NordVPN, as it will take care of everything for you. As such, we think this is the best VPN option for AT&T U-verse.
If you're living outside the USA, you'll be restricted when trying to watch U-verse TV or AT&T TV. NordVPN has a rich list of servers in multiple locations. All you need to do is pick a US server, connect to it, and you'll manage to unblock U-verse TV or AT&T TV right away.
Also, if you're using AT&T Internet (AT&T Fiber) or AT&T Phone (AT&T Prepaid or AT&T wireless), you should make sure to always protect your PC, laptop, phone, or tablet devices when connected to the internet since online threats are very common nowadays.
NordVPN encrypts all your data by using the AES with 256-bit keys encryption standard, which NASA, intelligence agencies, militaries, and governments also use. In order to encrypt your data, NordVPN uses the OpenVPN, IKEv2/IPsec, WireGuard, and NordLynx VPN protocols.
Among the features included we have a kill switch that disconnects you from the internet when the VPN connection drops, thus preventing your IP from leaking. There's also split tunneling that lets you route some of the applications and traffic via an encrypted tunnel while the others have direct access to the Internet, obfuscated servers and dedicated IPs.
Obfuscation is a unique feature that allows you to connect to the so-called obfuscated servers that hide the fact that you're using a VPN; therefore, you can bypass censorship and use a VPN in restricted environments.
NordVPN also offers a Double VPN feature – usually known as multi-hop – which encrypts your data twice, thus adding a double layer of security, and ads and malware blocker called NordVPN CyberSec, and also Onion Over VPN which routes your traffic via the Onion network.
More about NordVPN:
5,400+ servers in 59 countries.
Strict no-logs policy.
Up to 6 devices connected simultaneously.
30-day money-back guarantee.
24/7 live customer support.
As you can observe, NordVPN is very feature-rich and will be of great help by securing your online sensitive data in order to protect you from cyberattacks as well as anonymizing your traffic so that no one can spy on you or use your browsing habits for whatever reason without your consent.
In addition to protecting your PC and mobile devices, NordVPN will be very effective at helping you bypass geo-blocking, so if you wish to stream U-verse TV and AT&T TV content, you can do it easily – no matter where you are – by merely connecting to one of its US servers.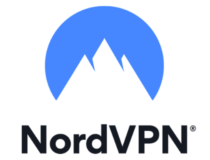 NordVPN
Pick this extensive server network VPN to bypass regional limitations every time you access the web.
3. Surfshark – Fast server network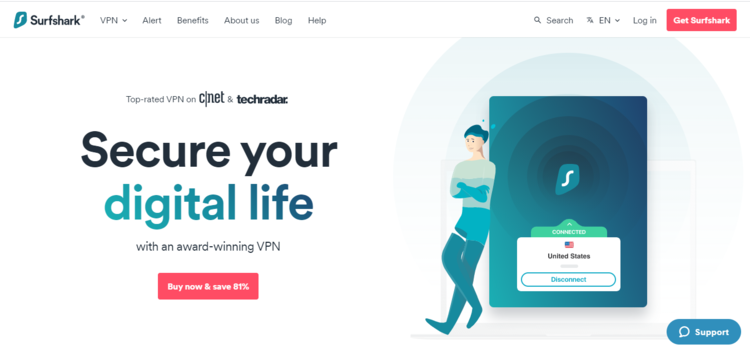 Surfshark is a VPN service that has a great overall performance, includes plenty of useful features, and charges very affordable prices for its plans, so you'll get a lot of bang for the buck.
If you want to watch U-verse TV or AT&T TV outside the USA, Surfshark might be the go-to solution for you. It's very effective at bypassing geo-blocks in general and successfully unblocks many popular streaming services such as Netflix, Amazon Prime Video, etc.
Surfshark has a decent list of reliable VPN servers and offers fast and constant speeds on most of them – based on multiple tests – which is great for HD streaming, online gaming, and torrenting.
This VPN service provides military-grade AES-256-bit encryption and employs the following VPN protocols: WireGuard, IKEv2, OpenVPN, and Shadowsocks. WireGuard is sleek, modern, and secure; IKEv2 is the best, fastest choice for mobile; OpenVPN is reliable and open-source; Shadowsocks is the top choice in restrictive countries and covers your browser traffic only.
Given all these security standards and features, it's obvious that Surfshark takes your online privacy and security very seriously, and therefore, you should rest assured that anytime you go online connected to a Surfshark server, you'll benefit from the highest protection and anonymity.
Some of the most important features Surfshark offers are: kill switch, whitelister, camouflage mode, multi-hop, NoBorders mode, CleanWeb (blocks ads and malware), private DNS, and leak protection, P2P, and torrenting support.
Some of these are common and already known VPN features, the only thing is they have a different name. For example, the whitelister is like split tunneling, while the camouflage mode is the same as obfuscation, namely, disguising your VPN connection as a regular internet connection.
The NoBorders mode allows you to use Surfshark in restrictive areas very easily. For example, if your Surfshark client detects any restrictions on your network, it will automatically enable the NoBorders Mode which gives you a list of servers that work best under restrictions.
More about SurfShark:
3200+ servers in 65 countries.
Strict no-logs policy.
Unlimited devices connected simultaneously.
30-day money-back guarantee.
24/7 friendly customer support team.
All in all, we decided to recommend you Surfshark because it has a lot to offer. The best thing you can do if you want to use it with AT&T U-verse products and services is to give it a shot, and you probably won't regret it.
As far as circumventing geo-blocking and other advanced security and privacy features are concerned, Surfshark will get you covered big time, so get a plan and start watching U-verse TV or AT&T TV from anywhere without worrying about restrictions, hackers, trackers, censorship, etc.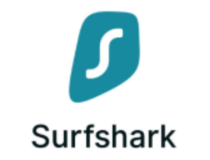 Surfshark
Benefit from high-speed servers for your WiFi connection using this reliable VPN software.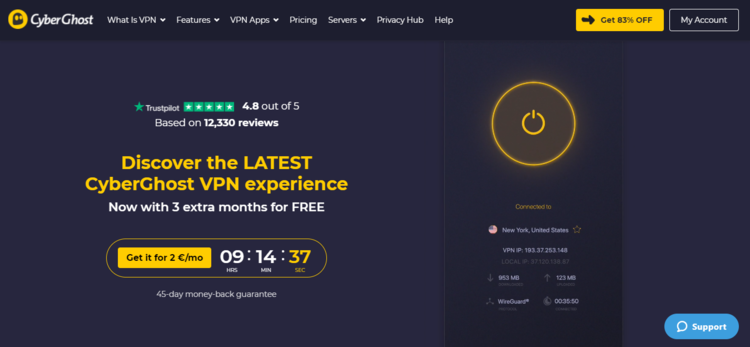 CyberGhost VPN is another household name on the VPN market and very often makes the list of top VPN services since it gets the job done very well, so more and more users rely on it.
We think CyberGhost VPN can be the real deal for you irrespective of whether you want to watch U-verse TV and AT&T TV or protect your devices that use AT&T Fiber or AT&T Wireless.
Its many servers spread across various locations in multiple countries will help you get over geo-barriers very effectively. For example, if you're not in the USA at the moment, don't worry about geo-blocks when trying to stream U-verse TV or AT&T TV, as you'll bypass this in no time.
In addition to circumventing geo-blocks, it's also very important to secure all your PC or mobile devices while connected to the internet, as you're facing potential security threats every day. You can do that very easily with CyberGhost VPN since it uses AES 256-bit military-grade encryption.
This encryption standard is top-notch. And when you combine it with the OpenVPN, IKEV2, WireGuard, and L2TP/IPSec VPN protocols, you can be sure that your private information, sensitive data, and anonymity will always be safe when using CyberGhost VPN.
CyberGhost has an easy-to-use interface and provides integration with various devices and operating systems. It comes with a kill switch, split tunneling, dedicated IPs, access to NoSpy servers, and support for P2P and torrenting.
This VPN service has a state-of-the-art global VPN server infrastructure located in Romania which is outside the jurisdiction of the Five Eyes or Fourteen Eyes intelligence alliances. The CyberGhost team built their NoSpy data center to keep its users safe from mass surveillance.
As such, the NoSpy servers are entirely operated, controlled and accessed by the CyberGhost team only, thus reducing the risk of exposure and interference from other external parties. Certainly, this is great since it helps to continuously maintain the highest security levels.
More about CyberGhost VPN:
7,200+ servers in 91 countries.
No-logs policy.
Up to 10 devices connected simultaneously.
45-day money-back guarantee.
24/7 email & live chat customer support.
All things considered, CyberGhost VPN was tested multiple times and did the job a VPN is supposed to do just fine. No matter if you're interested in circumventing geo-location barriers or just concerned about your online security and privacy, this VPN will get you covered to the fullest.
We think CyberGhost is an effective VPN solution for AT&T U-verse, so it's up to you to decide. It's worth mentioning, though, that CyberGhost VPN offers a full premium features free trial – which is pretty uncommon among other competitors – and therefore, you can try it out and see for yourself what it's like without losing a penny.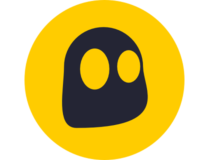 CyberGhost VPN
Take advantage of this complex privacy software to get through AT&T U-verse web restrictions.
5. ExpressVPN – Vast server locations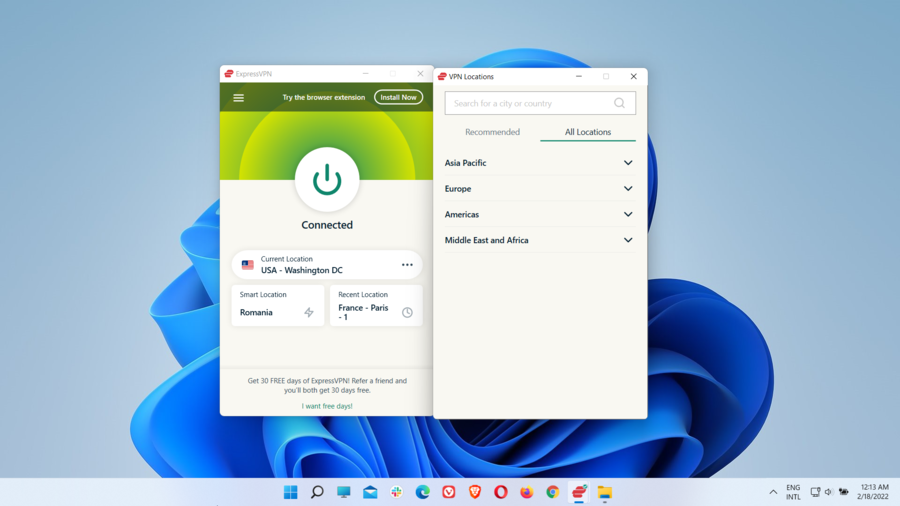 Next up we have another VPN that is popular amongst users, and for good reason. ExpressVPN has large server coverage in 94 countries and several privacy-oriented features to ensure you can access geo-restricted content.
ExpressVPN gives users full browsing anonymity. It masks your IP and traffic data, so your ISP will not be able to place any restrictions. Users will be able to browse as much as they want without worrying about ISP throttling.
Moreover, the VPN services do not keep any logs regarding your browsing activity: no traffic data, no queries, no personal information.
It is also important to note that this VPN uses AES-256 bit encryption. This encryption standard is supported by notable cybersecurity experts, being practically unbreakable.
ExpressVPN also focuses on performance. It implements its own pioneering VPN protocol that goes under the name of Lightway – designed to be light and fast. It promises a faster connection, allowing users to access a VPN server in a fraction of a second.
Another key benefit that makes ExpressVPN a good choice for AT&T U-verse is that it promises unlimited bandwidth. This means that your data transfer is not monitored, and you can use as much data as you want, with no restrictions.
This means that you can enjoy as much browsing and online content as you like, and it can also have a positive impact on the overall loading speeds of web pages.
You can also prioritize your traffic and select which apps you want to connect to a VPN and which one you want to use local traffic by using the Split Tunneling feature.
More about ExpressVPN:
Installable directly on your router
Wide range of payment options
Optimized for better gaming
Supports 5 devices simultaneously
Public Wi-Fi safety
The ExpressVPN applications incorporate the Threat Manager feature, designed to block trackers and malicious websites. The tool uses threat databases and stops any activity coming from apps or websites that are on the so-called blocklist.
As mentioned, ExpressVPN covers a wide range of server locations. It is also important to note that it fights geo-blocking by automatically connecting users to the best server available in case the streaming platforms block them.
Some platforms may detect that you use a VPN and block access. ExpressVPN strives to hide your activity altogether. But in case your server gets blocked, you will be able to continue enjoying restricted content from a different server in just a few seconds.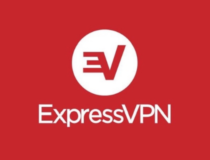 ExpressVPN
Try this cutting-edge VPN software and bypass AT&T service restrictions with secured servers worldwide.
6. VyprVPN – Strong VPN protocols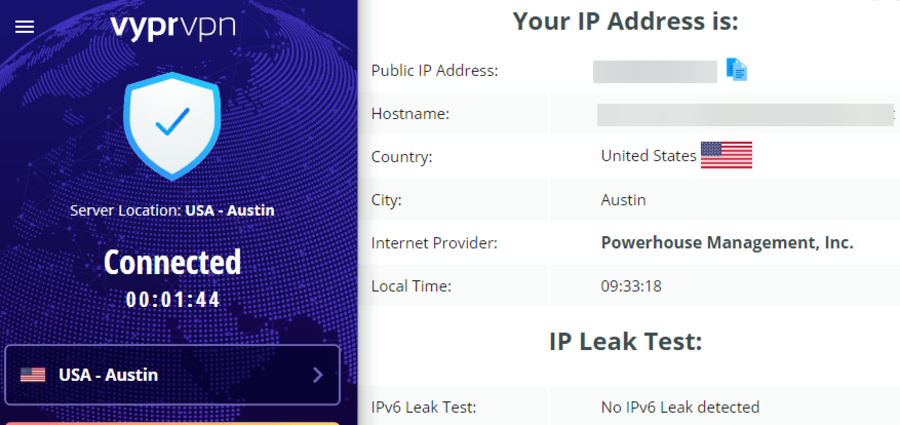 VyprVPN is a well-rounded VPN service that has improved considerably lately and now is a serious contender on the list of best VPNs. It offers a lot of unique features, some of which are absent in other competitors.
If you use VyprVPN with AT&T U-verse, you'll benefit from high-end security and privacy features that are of paramount importance when going online. In addition, the service has proven to work well with popular streaming services, so U-verse TV and AT&T TV should make no exception.
VyprVPN's servers are available across various locations, so you'll have plenty of options to choose from. Especially if you're not in the USA and want to watch U-verse TV or AT&T TV. The US, for example, is the country with the most VyprVPN servers.
In order to protect your data and mask your online identity, VyprVPN uses the best encryption standard currently existent, namely, 256-bit AES and NAT firewall. The Network Address Translation (NAT) Firewall adds an additional layer of security to all your devices connected to VyprVPN.
Your unprotected devices are vulnerable to bots and hackers who scan the internet in order to exploit them for identity theft and spamming. These bots and hackers can access your system via open internet connections and then install malware and steal your personal information. The NAT firewall blocks unrequested inbound traffic and prevents those scans from reaching your devices.
VyprVPN uses the WireGuard, IPSec (L2TP and IKEv2), OpenVPN, and Chameleon VPN protocols in order to encrypt your traffic. The first three are already known, whereas Chameleon is VyprVPN's proprietary protocol which was developed to allow users to bypass censorship in restrictive areas.
Some of the features you can enjoy are a kill switch, Connection Per App which functions like split tunneling, VyprDNS which offers DNS protection by keeping your network safe, and VyprVPN Cloud which adds extra security whenever you're accessing your cloud servers.
VyprVPN also provides IP address protection and public WiFi protection by automatically connecting to the VPN whenever you access an unknown Wi-Fi network. It also offers high speeds – one of the fastest actually – which are great for streaming, as well as P2P and torrenting support.
More about VyprVPN:
700+ servers in 70+ locations.
Audited no-log VPN.
Allows up to 30 simultaneous connections.
30-day money-back guarantee.
24/7 email & live chat support.
Now that you've already seen what VyprVPN has to offer, it's your turn to check its capabilities and features by yourself. As to AT&T U-verse, we believe VyprVPN will help you better enjoy their services without restrictions while also protecting your devices.
If you care enough about privacy and security – and you definitely should – and want by all means to watch U-verse TV and AT&T TV, no matter where you're currently located, then look no further than VyprVPN.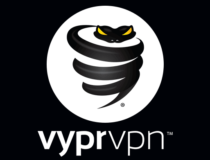 VyprVPN
If you need advanced VPN protocols and free content anywhere in the world, this VPN is for you.
7. IPVanish – Ideal for stoping geo-blocking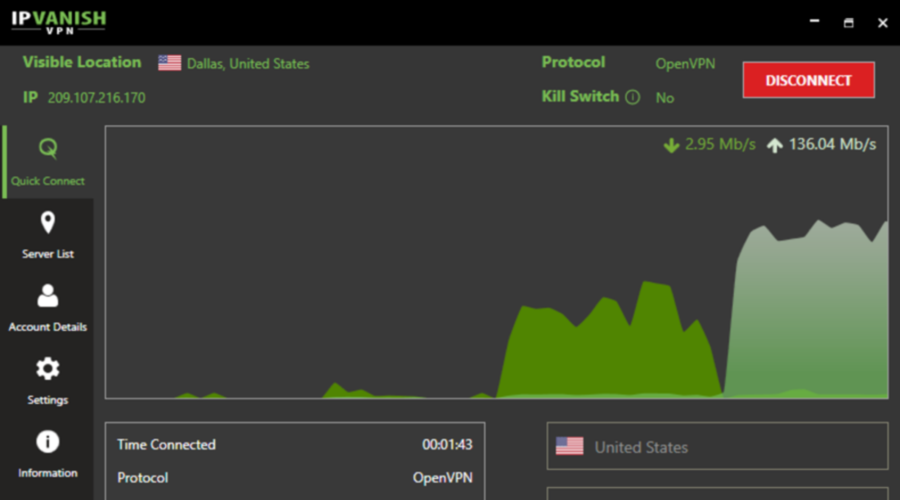 IPVanish is an expert VPN tool that offers security and online freedom for any subscribers of AT&T service. You can forget about geo-blocked websites or network throttling from your Internet provider due to advanced security tools.
Using this practical software will bring you the privacy for any online activities, plus improving your Internet speed due to its advanced servers and anti-censorship tools.
With this VPN, you can rest assured about limited web content due to shared IP addresses that mask your digital traces and location no matter where you live.
You have great VPN support with 2,000 VPN servers present in 75+ countries spread all over the globe. So this offers you full control over sensitive information stored online.
Moreover, it's possible to block geographical targeting and avoid region limitations for your streaming videos, gaming, and any restricted web content.
IPVanish also offers advanced functionalities to help you increase network speed like SOCKS5 proxy encryption, split tunneling to filter VPN traffic, kill switch tool, or DNS leaking protection.
In addition, you should know about the server location map with high web encryption that will help you improve the connection speed in a few clicks.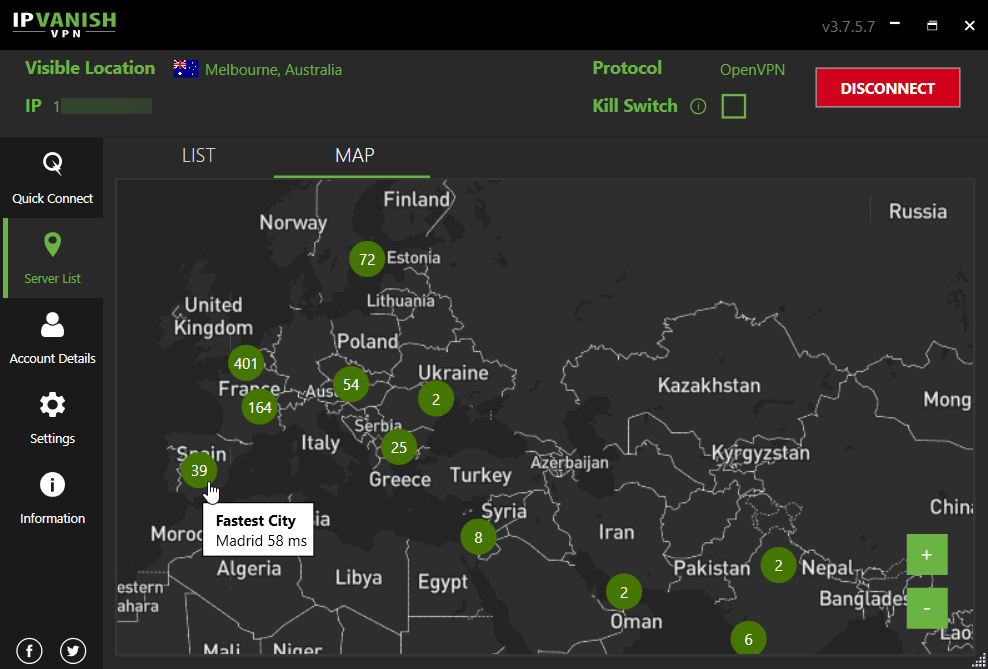 In addition to that, you have strict rules against log data stored by the VPN. That means the company doesn't track you, so your information is fully private.
You have an unmetered connection to use secured VPN servers everywhere you are, no matter the number of connections or devices.
It's possible to get the VPN on every major platform or device, thus connecting to private IP addresses on multiple devices in your entire household.
More about IPVanish:
40,000 shared IP addresses
Protected media access across the web
Speedy browser navigation
Automatic start on traffic detection
Bypass all online censorship
Cutting-edge server technology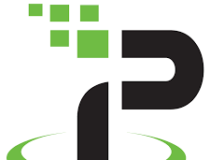 IPVanish
Eliminate any AT&T U-verse attempt of geo-restrictions using this secured VPN without Internet limitations.
What should I consider when choosing a VPN for AT&T U-verse?
In general, it's not easy to find the best VPN that works great with everything, as some services are good for x, whereas others are good for y. While there are VPN products that can cover a great range of areas, finding them might not be an easy task for the common user.
The same is true in our case with AT&T U-verse. Although we provided you with a list of the best VPNs, we actually took into consideration many factors and run some tests.
So, our recommendations are based on real facts instead of being biased toward a certain product.
For example, if you want to watch U-verse TV or AT&T TV content – which is only available in the USA – from outside the country, you need to look for a VPN service that is very effective at bypassing geo-restrictions, that is, unblocking streaming TV services to be more specific.
Many streaming platforms implemented strong technology which detects users who use VPNs and block them from accessing their service. However, some reliable VPN products managed to keep up and also perfected their technology in order to circumvent those blocks.
When you connect to a VPN server, you share the same IP address with other connected users. Those IPs come from the same location and are susceptible to being identified by the streaming providers. When this happens, you will be denied access to their services.
As a result, VPN servers are a key factor when considering a VPN for AT&T U-verse, namely, how many the VPN providers offer, how they are distributed, and also how frequently they're updated.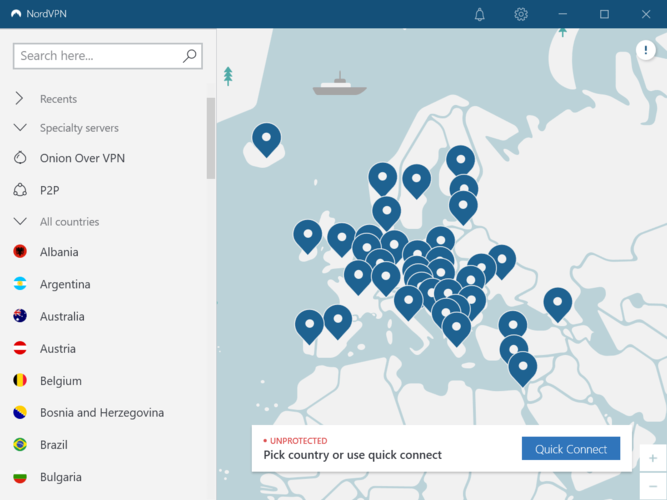 Top-notch VPN providers like the ones we recommended usually offer an inclusive list of VPN servers that are distributed across multiple locations and countries.
Two important aspects that need to be taken into account when picking a VPN for AT&T U-verse are security and privacy. Whether you use the internet from AT&T Fiber or AT&T Wireless, you have to make sure that your PCs, laptops, smartphones, and tablets are always protected.
You already know that a VPN encrypts your traffic and data by routing them via a secure tunnel, which is done through encryption and protocols. As such, you should look for VPN services that use the best encryption standards and the most secure VPN protocols.
Why is U-verse TV no longer available for new customers?
When you go to the AT&T website U-verse TV page, you'll get a message like the one from above informing you that the service is no longer available for new customers. Currently, the page is devoted to selling the newly-launched AT&T TV service.
In 2019 AT&T lost more than 3.4 million subscribers, of which 945,000 only in the fourth quarter. Those were subscribers that used U-verse TV and DirectTV.
Consequently, AT&T decided to stop selling U-verse TV online subscriptions in markets where the new AT&T TV is available because they wanted to focus mainly on the newer AT&T TV.
By doing so, they are trying to push new potential subscribers to purchase subscriptions offered by AT&T TV instead. Also, the company guaranteed that current U-verse TV subscribers will continue to experience the same great service.
What is AT&T TV, the successor of U-verse TV?
AT&T TV is an over-the-top multichannel pay television service that came out nationally in March 2020. From 2016 to 2019 the service was known as DirectTV Now, and from 2019 to 2021 it was known as AT&T TV now.
Now AT&T TV is the company's main national pay television service. It is set to succeed U-verse TV which is no longer offered to new customers.
AT&T TV offers three top-tier TV packages with no mandatory annual contract, including an entertainment package, a choice package, and an ultimate package. These packages include a great variety of live TV channels such as news and sports networks.
The service pretends to be the feature of entertainment by combining live TV and sports, on-demand movies and shows, and access to premium channels such as HBO, Cinemax, etc.
Does AT&T allow VPN?
AT&T offers various Internet and mobile communication services, and the short answer is that it does not allow VPN usage.
The household internet service provided by AT&T comes with its own router that does not support VPN. However, you can connect to a VPN if you install it on your PC or add an additional router behind the AT&T gateway.
In terms of AT&T's streaming services, these are only available inside the US, but you can surpass geo-restrictions if you install a VPN.
Some users report that the service blocks VPN servers when detected. However, VPNs have evolved to surpass this issue and implemented advanced privacy features that let users connect to private servers while avoiding detection.
Certainly, there are other specific VPN features that are important too, but as far as AT&T U-verse is concerned, we think that you should first consider how effective the VPN is at bypassing geo-blocking and what security and privacy capabilities it offers.
In conclusion, we do hope that our list of best VPNs for AT&T U-verse as well as the other related info will enlighten you in order to make the right decision when selecting a VPN.
Please bear in mind that we compiled this list and based our suggestions on research and various tests, and therefore, you can be confident that the information is relevant and to the point.