CS:GO online gamers may experience problems when connecting to game servers and lag connected to the gameplay. These lag problems can disrupt your gameplay and limit your gaming experience.
High ping is a common issue in online games, and CS:GO is no exception. Ping in online video games is an abbreviation for internet latency.
It is the amount of time required for your connection to register a command with the game's server.
Can VPN reduce ping in CS:GO?
When you connect and play with others from different servers around the world, CS:GO ping spikes are common.
There's also ISP throttling, which increases the time it takes for traffic to pass through their servers and reach your PC.
A VPN bypasses CS:GO all these internet traffic issues, through split tunneling and optimized servers for gaming, so it's okay to use one to increase traffic speed and reduce ping in games.
Hence using a fast and secure VPN (Virtual Private Network) is the solution to your problem.
You have efficient VPNs that increase internet speed and hide users' system IP addresses from the ISP. VPN also prevents malware and DDoS attacks from hackers and rival players.
Is CS:GO region locked?
According to our research, Steam has simply region locked the most common locations that sell gift copies purchased with stolen credit cards or back-charged cheques.
It is worth noting that Central and South America have region lock, but Mexico does not. Many countries can make gifts to Mexico, but Mexico does not have a region lock.
We believe that creating a region lock for Mexico would be extremely difficult due to the large number of people who travel between the two countries on a daily basis.
You will be able to play the game normally if you use a VPN solely to resolve your network issue because the region lock here is merely an activation lock to prevent cross-region gift trading.
Which VPN is best for CS:GO?
1. ExpressVPN – Best to boost connections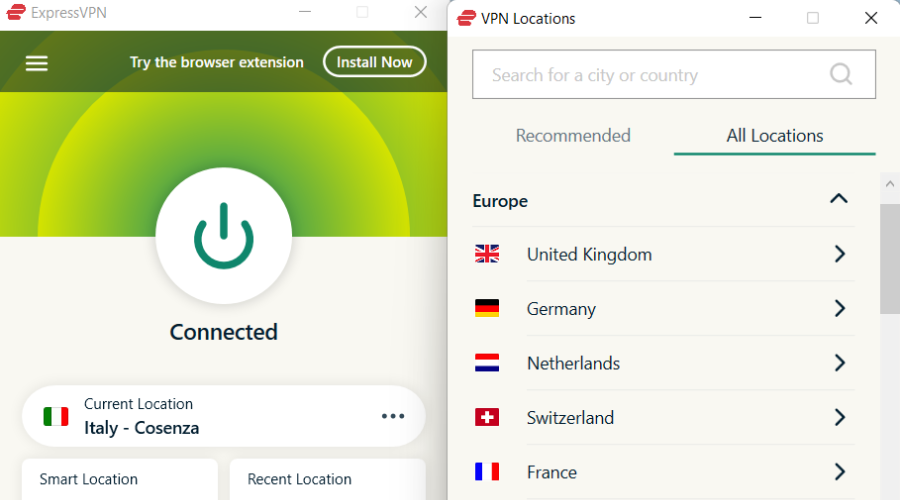 ExpressVPN is a popular VPN service developed by ExpressVPN International Ltd., and it is known for its reliable connection and quality services.
It offers numerous servers located in strategic places which give CS: GO gamers many options to connect to counterstrike servers.
In addition, this VPN for CS: GO gives users a secure connection with its military-grade encryption and other security features like the DNS leak protection feature.
You can have up to 5 active connections on a single subscription and their servers offer fast speeds.
ExpressVPN supports IP adress masking. This feature is highly important if you connect to gaming platforms, as users with malicious intentions will not be able to identify or track you down.
When it comes to performance, we must mention that it supports split tunneling. If you want to only connect your Counter-Strike application to the VPN servers and browser locally otherwise, you can do so by accessing the split tunneling panel.
ExpressVPN places private DNS encryption on each of its servers, allowing them to be both highly secure and fast. We also have to note that ExpressVPN has a strict no-logs policy and uses AES-256 encryption.
Other key features of ExpressVPN include:
Has its own Lightway protocol
Blocks trackers and malicious websites
Public Wi-fi safety
Unlimited bandwidth
In addition, it is compatible with all major devices, and you can also install it directly on your router. It is available under multiple subscription plans, each with a 30-day money-back guarantee.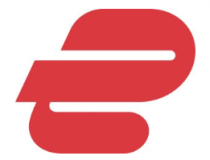 ExpressVPN
Secure your connection and lower your ping in CS:GO rapidly with this optimized VPN.
2. NordVPN – Most extensive server coverage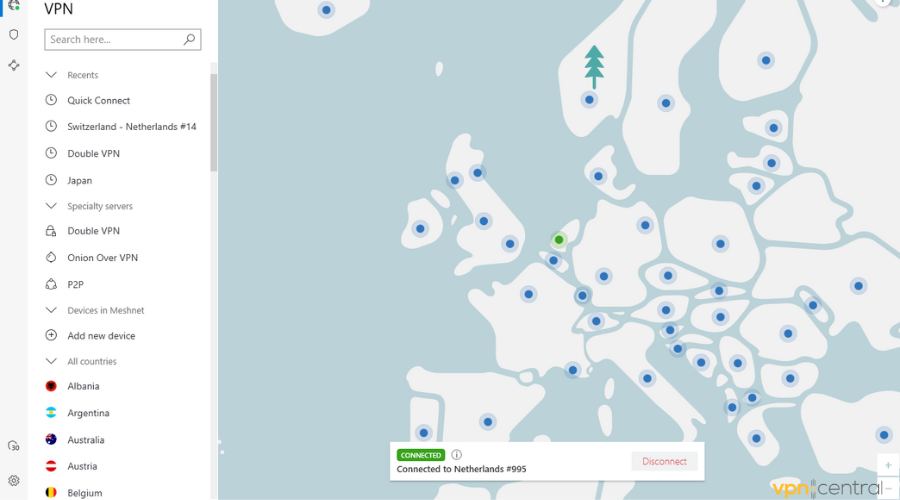 NordVPN is known for its secured connections and the many server options it offers. The VPN service developed by Tefincom & Co., S.A. offer over 2500 servers in over 70 countries.
It has a clean user interface that ensures tools are arranged properly for easy access.
Meanwhile, NordVPN uses 256-bit encryption to secure their connections, and gamers can enjoy counterstrike with the knowledge that their information is secure. The DNS leak protection feature prevents your computer from DDoS attacks while playing Counter-Strike: Global Offensive game.
It does not log any of your data and uses a set o features to protect it from any prying third parties. Plus, by hiding your IP and traffic usage activity, your ISP won't be able to place any limit on your traffic either.
What's more, is that NordVPN uses obfuscated servers to hide the fact that you use a VPN to reroute your traffic. This can help connect from very restricted areas.
NordVPN supports split tunneling so you will be able to connect to the VPN and to your local server at the same time.
The software is available for all major platforms and is very easy to use. You can connect to a VPN server with just one click.
Other key features of NordVPN include:
Live 24/7 support
Private DNS
Ad and malware blocker
Browser Extensions
IP masking
NordVPN is a premium-level VPN with three major plans available. Each plan comes with a 30-day money-back guarantee.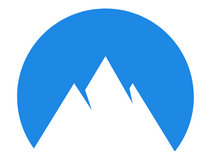 NordVPN
NordVPN can keep your privacy safe and lower your CS:GO ping in one swift move.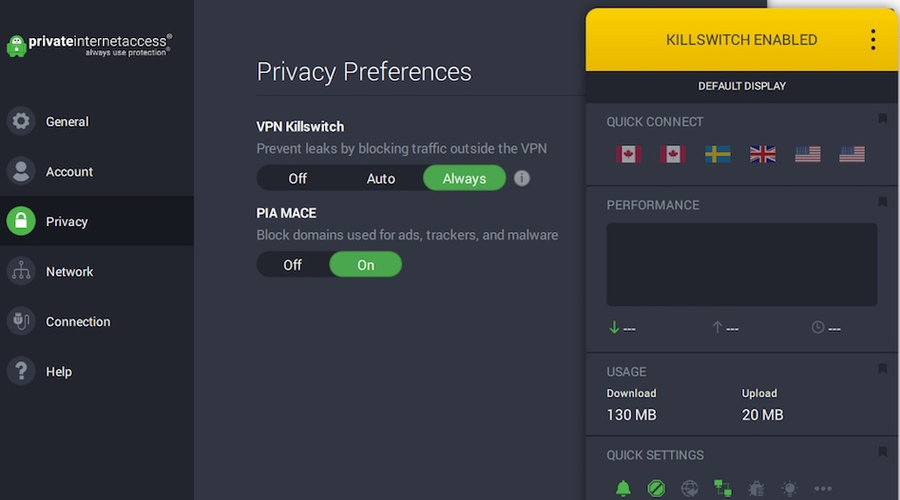 FPS games, in general, have always been known to be where true skill and a good Internet connection shine above all else.
Thus, if you plan on using a VPN to play CS: GO, then you will need one that will not hinder your bandwidth and speed at all, and Private Internet Access is one such service.
Developed by Kape Technologies, this VPN service is not only the best for CS: GO, but it is also one of the best VPNs that you could use for online gaming in general.
This is thanks to the expanded network of over 3200 servers located in 46 countries that allows you to mask your location and connect to any CS: GO server in the world.
More so, your connectivity is secured to the point where not even your ISP will know what you are up to.
If that isn't enough, know that a single subscription will get you to support for 10 different devices, so you and your CS: GO mates can focus on frags and not on lag.
Here are some of the key features of Private Internet Access:
Block ads, trackers, and malware

Encrypted Wi-FiUnlimited Bandwidth
No traffic logs
Easy to use and easy setup
Multiple VPN gateways
PIA is compatible with Windows, macOS, and Linux computers. As for mobile devices, you can install them on Android and iOS. It is a subscription-based service with a 30-day money-back guarantee.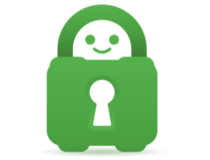 Private Internet Access
Need a sturdy VPN to lower ping in CS:GO? Private Internet Access could be just what you're looking for.
4. Surfshark – Fastest server connectivity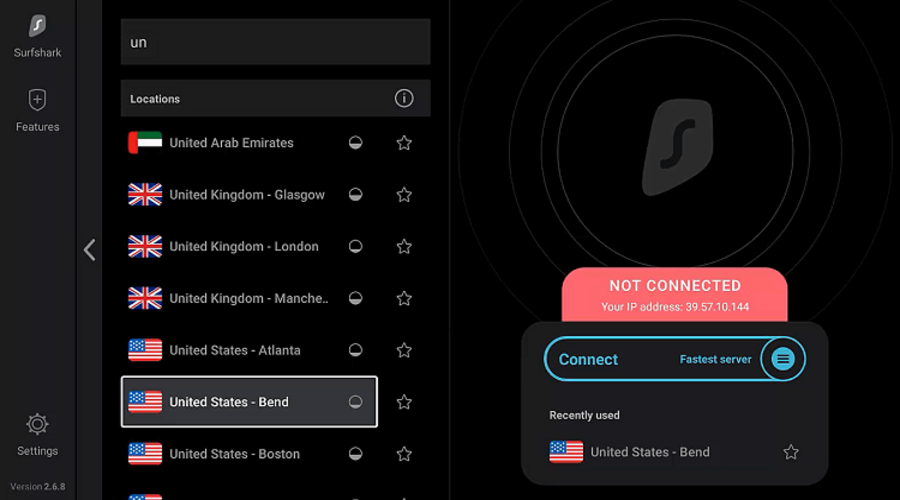 If you want a VPN service with a large server coverage and well-implemented security features, consider Surfshark.
This VPN will help you hide your IP which will protect your identity when you connect to gaming platforms.
Along with that, it has over 3,000 servers across the globe and it is able to connect you to the best server location for your configuration.
This way lag and other latency issues will be minimized or completely reduced so you will be able to play Counter-Strike without any problem.
Surfshark also has a split tunneling feature which you can use to only connect specific apps to VPN traffic, while others will connect normally.
This means that you can prioritize traffic toward Counter-Strike and still be able to navigate locally at the same time. It can help boost speed rates as well.
Other key features of Surfshark include:
Strict no logs policy
Private DNS and leak protection
Kill switch in case the connection drops
OpenVPN
Compatible with all platforms
Surfshark lets you connect to an unlimited number of devices, so you can get a secure connection all the time. It is subscription-based, but you can try it out for free for 7 days.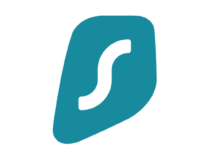 Surfshark
Enjoy seamless and secure gameplay by connecting to the best servers across the globe!
5. VyprVPN – Optimized server connection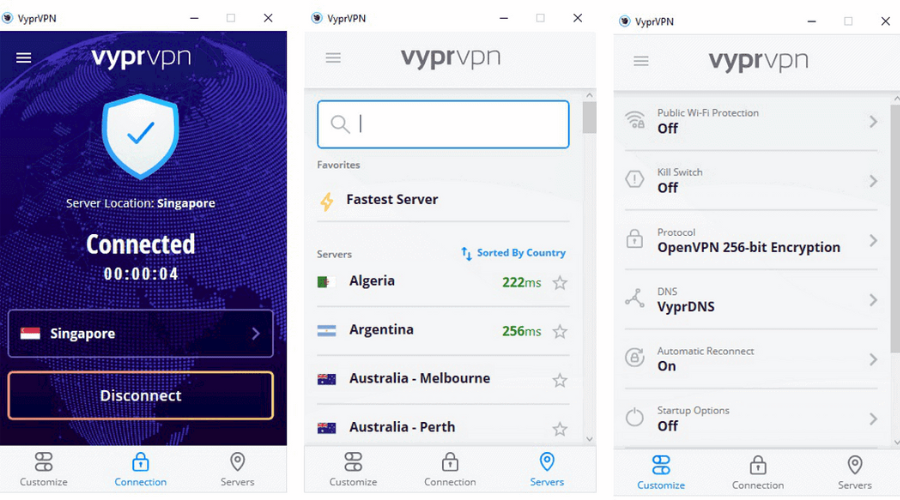 Vypr VPN is the ideal software that will help you decrease lag in CS:GO and speed up your connection to guarantee victory for your team.
This software includes all the privacy needs required to secure your online activities or gaming sessions on various servers.
With server clusters worldwide, Vypr delivers an encrypted connection to access web services and games without risks.
More exactly, you have complete security from privacy to user without any third-party actors. You can pick from 300,000 IP addresses and hide your locations in seconds.
There are dynamic servers present in over 70 locations worldwide that help you switch your locations to avoid overcrowded servers.
By doing so, you can increase your game speeds by choosing optimized servers with high-speed traffic.
Besides that, you have advanced features that strengthen your network due to DNS leak protection or split tunneling tools.
Other key features of Vypr VPN include:
Strong public Wi-Fi security
Kill switch protection
Prevents ISP throttling
Bypass government or website content restrictions
Shield for P2P sharing files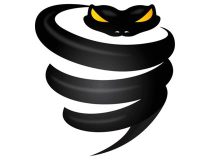 Vypr VPN
Connect to this fastest VPN with dynamic servers to speed up your CS:GO game sessions and eliminate lag.
6. CyberGhost – Best to use to generate IPs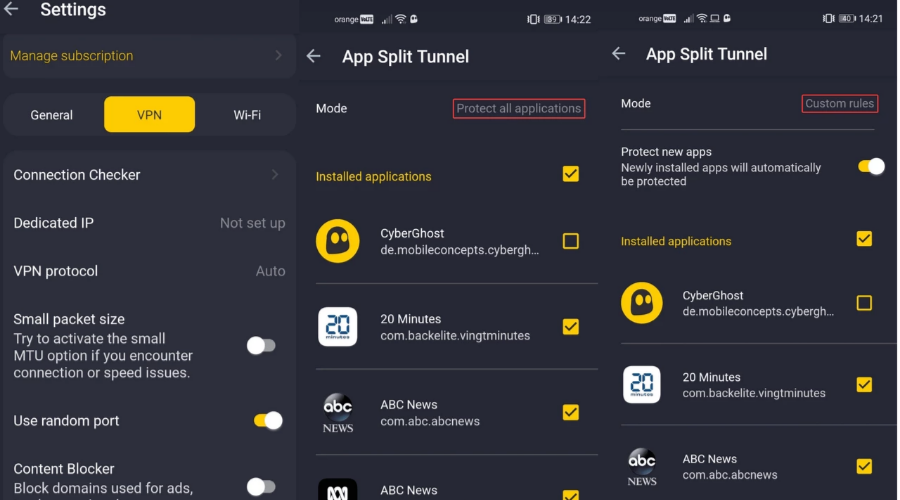 CyberGhost is an excellent VPN service provider known for its excellent and secure services. The Israeli-based companies offer over 1000 servers located in 60 countries which gives you a large reach to access Counter-Strike servers from remote regions.
In addition, it gives many features which are arranged in a user-friendly interface, which enables gamers to connect to desired servers with a single click.
Their servers are fast and rerouted which gives your increased connection performance and reliability. Also, CyberGhost has killswitch and DNS leak protection features that secure your computer from snooping and hacks
Cyberghost lets you connect to up to 7 devices at the same time. It is compatible with all major platforms, both desktop, and mobile.
It is very easy to set up and configure. You can connect in just one click and Cyberghost will determine the best server for your configuration.
You can also manually select your location if you have any personal preferences. Cyberghost has specific server locations that are optimized for gaming, so you should encounter no issues and get the best Counter-Strike server connection.
Other key features of Cyberghost VPN include:
Public Wi-Fi safety
Powerful AES 256-bit encryption
Unlimited bandwidth
Cyberghost is a subscription-based service with monthly and yearly plans available. The yearly plan has a 45-day money-back guarantee, whereas the monthly plan has a 14-day money-back guarantee.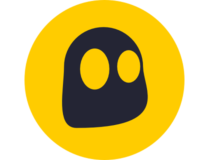 CyberGhost
Experiencing high latency in CS:GO? You should give CyberGhost VPN a try.
7. Hide.me VPN – Gaming mode servers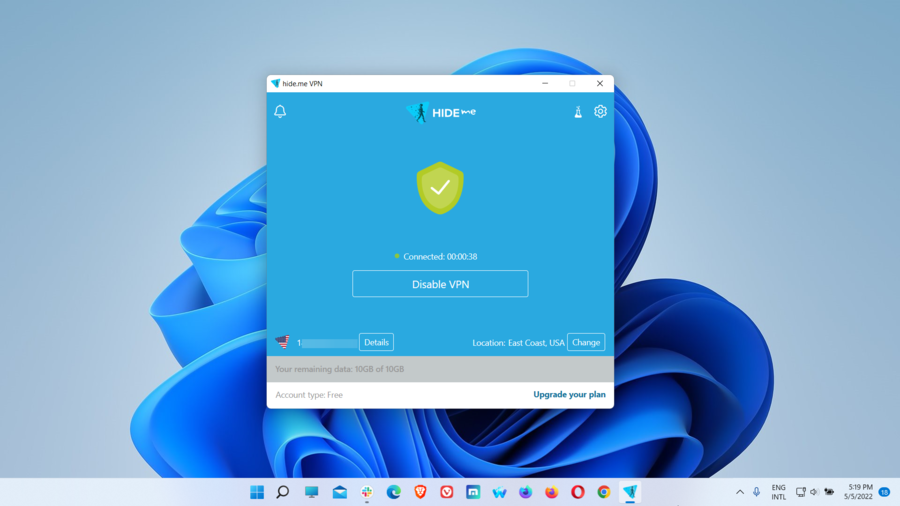 Hide.me is a top-secured VPN software that offers a reliable connection for gaming purposes and stops game latency on CS:GO due to fast-paced servers worldwide.
Using this solution is the most efficient way to lower your ping by connecting to near servers with high speeds and encrypting all your data online.
You have the necessary tools for high game performance due to unlimited bandwidth and efficient security against ISP throttling.
Therefore, you have all the instruments needed to speed up your game performance and enjoy dynamic matches with your friends.
Plus, with innovative features such as multi-hop and split tunneling, you can connect to different servers at once to get a faster connection no matter your location.
You should know that Hide.me software gives you access to numerous servers in 75+ regions globally, so you pick unrestricted servers that can fix lag on CS:GO.
It is worth mentioning that you benefit from DDoS shield with the latest encryption, IP leak protection, and WireGuard protocol that give you extra digital security.
Other key features of Hide.me VPN include:
Public Wi-Fi and hotspot security
Access to multiple devices (Windows, PS4, Xbox, or Mac)
Gaming servers for unavailable editions or maps
No log for user data
Private DNS
Fastest proxy – Bolt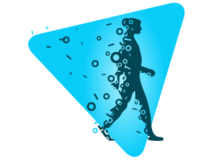 Hide.me
Reduce gaming latency for any game you're playing and enjoy lightning-fast CS:GO graphics.
How do I lower my ping in CS: GO?
Prevent your ISP from slowing down your connection. Because data cannot be inspected through a VPN, your bandwidth will not be throttled, reducing lag spikes in CS: GO and improving the overall gaming experience.
Before setting up your VPN, we recommend closing all CS: GO tasks and apps in the background.
Sign up for a subscription to a VPN of your choice from the list below. (We tested ExpressVPN)
Download and install the VPN for your PC.
Sign in to your VPN account with your credentials.
Open the desktop app and chose a location. We recommend connecting to a server close to you.
Open CS:GO and enjoy faster network speed.
Can you get banned for using a VPN on CS:GO?
The correct answer to this concern is that it depends on the reason you're using the VPN. It's not forbidden to use a VPN to play CS:GO for better performance, but you might be suspended for different reasons.
VAC (Valve Anti-Cheat) can ban your account if it detects cheat attempts from your PC, so it's not recommended to break their rules using a VPN connection.
How do I find my CS:GO server region?
When you log into Steam, the program detects your location and places you in the same matchmaking pool as people from your region.
Using a VPN is a double-edged sword, but there will be times when you need to change your region to improve your gaming.
Using a VPN is the most straightforward way to change your server in CS:GO. This replaces your IP address with one from the country of your choice, making it appear as if you're connecting from somewhere other than your home country.
How do I play a specific region in CS:GO?
You cannot select the region, but you can set a maximum acceptable ping value using options or the mm_dedicated_search_maxping console command.
Matchmaking server pickers usually work on the same principle, blocking the IP addresses of servers you don't want to play on.
They effectively force CS:GO to place you in a match in the region of your choice by preventing you from playing on any other server.
Because it is nearly impossible to collect all of the IP addresses in the CS:GO region, you may be connected to a server near you by accident.
Select the servers you want to play on using your matchmaking server picker's UI, then launch your game to join the queue. Check the status of the server you just connected to by typing status into your device without quotation marks.
In conclusion, using any of the VPN services listed above will improve your Counter-Strike: Global Offensive gameplay activity.
Furthermore, you can benefit from any of the VPNs we mentioned to access online gaming websites, government-censored websites, and geo-restricted sites like Netflix.