ExpressVPN
Best VPN we have tested for:
Gaming
Streaming
Privacy
Unblocking
Surf the internet anonymously now at a super offer!
ExpressVPN offers 3 months free for any 1-year plan. Get it now and benefit from:
Best privacy protocols and military-grade encryption
Geo-restriction bypassing for streaming services and websites
Access to dedicated gaming servers
Unlimited number of connections to different locations
Looking for a VPN that can be used on Nintendo Switch? It is recommended to use a solution that provides powerful encryption features and we're going to show you a list of the best you can try.
If you're here, you probably know how important it is to improve your overall gaming experience on Nintendo Switch and the best way to do it is by getting a compatible VPN.
Nintendo does a pretty good job with privacy and security, but wouldn't be great to improve them?
In today's article, you can check out the best VPNs for Nintendo Switch. We rated them by security, speed, reliability, and value for money.
🎮 Does Nintendo Switch have a VPN?
Unfortunately, Nintendo Switch doesn't have native support for VPN client mode. Plus, there is no available app that could install on it.
However, you can get a VPN on your Wi-Fi router and enjoy an encrypted connection on your Nintendo Switch.
Now, let's see how to set up a VPN for Nintendo Switch and what solution you can try to get a smooth experience.
🛡️ Why do I need a VPN for Nintendo Switch?
If you still wondering why you need a VPN for Nintendo Switch, keep in mind that it can improve your overall gaming experience, but it is not the only valuable reason you should consider.
First of all, a VPN is able to reduce lag in multiplayer games, so you and your friends will always enjoy smooth activities, without being afraid of high latency.
Using a virtual private network is a great idea to get exclusive game deals available in other regions than your current location.
Plus, if you choose a premium VPN, DDoS attacks won't ever give you headaches. A solution like this will always defend your PC.
Another amazing reason for using a VPN is that you're able to protect your online identity. A VPN will hide your IP address, adding layers of anonymity to your outgoing Internet traffic.
In addition, it will always encrypt your connection, so no dangerous cyber-criminal will track your online activity.
Can I use a VPN for Nintendo Switch?
Unfortunately, no. You can't literally install VPN software on your device because its operating system doesn't support this task.
However, it's possible to configure a VPN connection that will allow you to protect the gaming gadget. As mentioned above, you're able to get a Nintendo Switch local wireless VPN that connects to the Wi-Fi router.
This way, it's possible to secure your Switch device from various troubles and enjoy unlimited gaming content from other places.
How do I set up a VPN for Nintendo Switch?
1. Choose a good VPN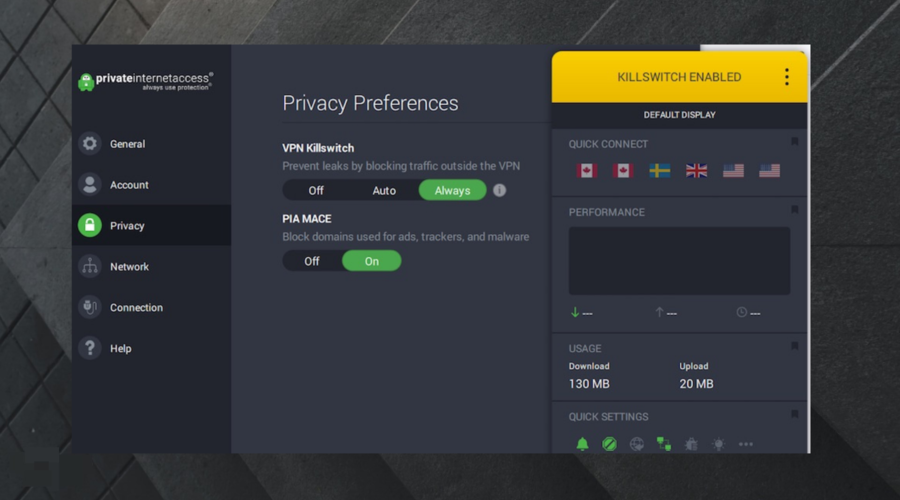 Made by Kape Technologies, Private Internet Access (PIA) is the best VPN for Nintendo Switch.
It features a network of more than 3,300 VPN servers in 48 countries, together with private DNS and DNS leak protection.
Furthermore, you can use this VPN to reduce ping while gaming. It hides your IP address, encrypts your data traffic, and prevents your ISP from limiting your bandwidth.
It's also possible to host game servers for you and your friends, thanks to the fact that PIA supports native port forwarding.
It also comes with a kill switch, and split-tunneling mode, along with static and dynamic IP addresses.
More about PIA:
10 simultaneous connections
No logs or leaks
24/7 live chat support
30-day money-back guarantee (no free trial)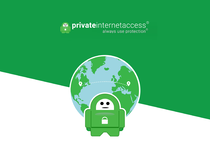 Private Internet Access
Significantly improve your Nintendo Switch gaming using this fast and reliable VPN.
1.2 NordVPN – Great security for all devices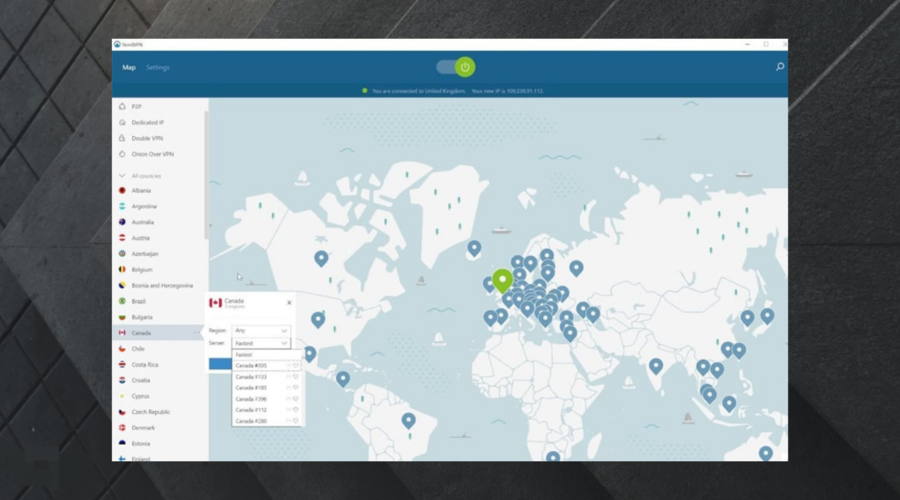 If you're looking for the best VPN security for your Nintendo Switch, NordVPN is what you want.
Designed by Tefincom & Co., this service covers over 5,100 VPN servers in 59 countries.
You can secure your data traffic using OpenVPN with 256-bit encryption, cloak your VPN traffic using obfuscation mode, redirect your VPN traffic to another VPN server using Double VPN, or join the Tor anonymous network using Onion-over-VPN.
Moreover, NordVPN has Smart DNS servers if you want to access geo-blocked content on your Nintendo Switch without hiding your IP or using encryption. It also has an ad and malware blocker, as well as a kill switch.
More about NordVPN:
6 simultaneous connections
No logs or leaks
24/7 live chat support
30-day money-back guarantee (no free trial)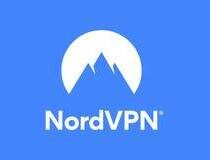 NordVPN
Protect your Nintendo Switch from DDoS attacks by turning to this trustworthy VPN.
1.3 SurfShark – Unlimited VPN connection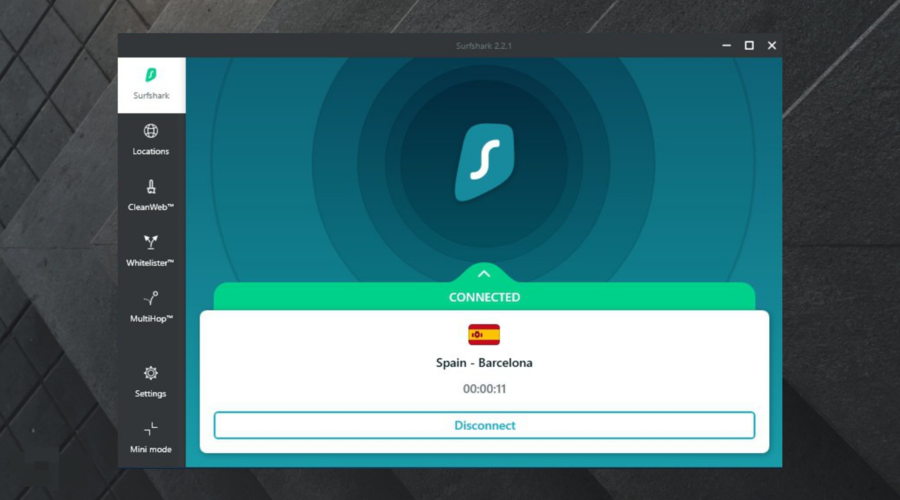 Created by Surfshark LTD, Surfshark is a top VPN for Nintendo Switch users looking for an affordable product that can secure the devices of their entire household.
It includes more than 1,700 VPN servers in over 63 countries. So, you'll always find an option that suits all of your needs.
What's more, Surfshark is the only VPN that can change your GPS location. It comes with OpenVPN and WireGuard, Smart DNS proxy, Shadowsocks, split tunneling, multi-hop VPN connections, and a kill switch.
In case you encounter any related problems, keep in mind that manufacturers offer 24/7 live chat and email support.
More about Surfshark:
Unlimited simultaneous connections
No logs or leaks
24/7 live chat and email support
30-day money-back guarantee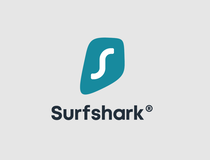 SurfShark
Use this budget-friendly VPN to improve the security of your Nintendo Switch and all household devices.
1.4 CyberGhost – Advanced privacy engine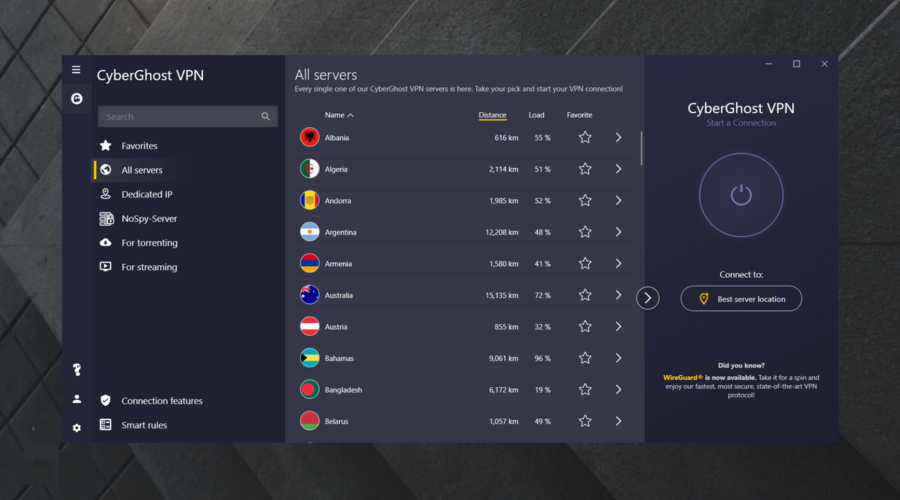 Also made by Kape Technologies, CyberGhost VPN is the best free VPN for Nintendo Switch, thanks to the fact that it offers a limited free trial, although it's a premium service.
Moreover, it has Smart DNS proxy settings specially made for smart TVs and gaming consoles that don't have native support for VPN clients, including Nintendo Switch.
CyberGhost VPN is one of the easiest VPNs for casual users. More so, it has the most impressive server coverage on this list: over 6,500 in 89 countries.
It has DNS leak protection, split-tunneling mode, a kill switch, and trusted Wi-Fi networks.
Plus, it allows you to create 7 simultaneous connections, feel free to share the experience with your family or friends.
More about CyberGhost VPN:
No logs or leaks

24/7 live chat support
Up to 45-day money-back guarantee
1-day free trial for Windows and macOS and 7-day free trial for Android and iOS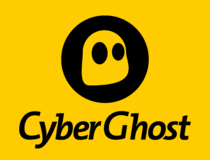 CyberGhost
Enjoy faster gaming on your Nintendo Switch, thanks to this dependable VPN.
1.5 ExpressVPN – Extensive server locations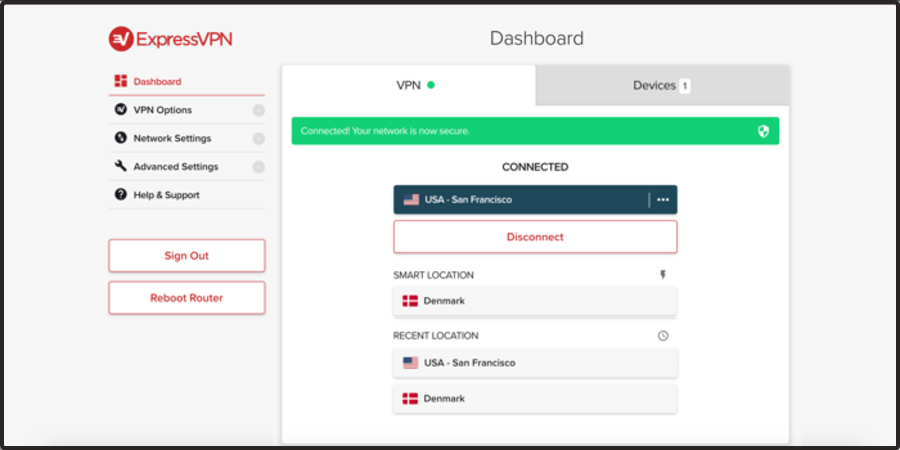 Designed by Express VPN International LTD, ExpressVPN has a great reputation in the VPN industry, thanks to high-speed VPN servers, top-notch security features, and the fact that it's really easy to use.
ExpressVPN has over 3,000 VPN servers in 160 locations and 94 countries. It has a Smart DNS feature called MediaStreamer, which you can use to unblock media content on devices that don't have native VPN support.
Additionally, ExpressVPN works in China. It supports OpenVPN and IP leak protection, a kill switch, and a split-tunneling mode.
Because this VPN allows you to create 5 simultaneous connections, do not hesitate to share the experience with your Nintendo Switch friends.
More about ExpressVPN:
No logs or leaks

24/7 live chat support
30-day money-back guarantee
7-day free trial for Android and iOS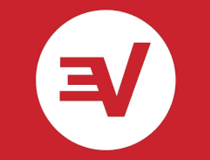 ExpressVPN
Set up this VPN for Nintendo Switch to lower your ping and protect your device from hackers.
2. Check if your PC supports hosted networks
Hit the Windows key, type cmd, then right-click on the first result and choose to Run as administrator.
In the pop-up window, click on Yes.
Now, in the Command Pormpt opened window, input the following command, then hit Enter: netsh wlan show drivers
Hosted network supported: Yes means that you can create and start a hosted network.
Hosted network supported: No means that your Wi-Fi card or adapter is obsolete and must be replaced with a newer model.
No wireless interface found means that you don't have Wi-Fi or your USB port isn't working properly.
If your displayed answer was Yes, make sure you follow the above steps.
3. Create and start a hosted network
In the opened CMD, paste the following code (don't hit Enter yet): netsh wlan set hostednetwork mode=allow ssid=ConnectionName key=Password
Replace ConnectionName with a preferred VPN connection name.
Replace Password with the key that will be required for VPN client connections (minimum 8 characters).
4. Share the VPN connection
Select Change adapter options.
Switch to the Sharing tab, then enable Allow other network users to connect through this computer's Internet connection.
Set Home networking connection to the network connection that was auto-created by Microsoft Hosted Network Virtual Adapter.
Click on OK.
Launch yout VPN and connect to one of its severs.
5. Connect Nintendo Switch to the Wi-Fi network
Open Nintendo Switch, then go to the HOME menu.
Select the hosted network from the list.
Entre the password associated with the hosted network.
6. Configure Smart DNS servers on Nintendo Switch
Sign up for a VPN subscription plan.
Log in to your account.
Add your IP address to the Smart DNS whitelist.
Copy the preferred and alternate DNS servers.
On Nintendo Switch, open the HOME menu.
Select your home Wi-Fi network and click Change Settings.
Scroll down and select DNS Settings.
Set Primary DNS and Secondary DNS to the VPN DNS servers.
Press Save.
7. Install the VPN client on your router
Sign up for a VPN subscription plan.
Check if your router supports VPN client mode.
Locate the VPN client section.
Enter the PIA account credentials.
On Nintendo Switch, open the HOME menu.
Select your home Wi-Fi network and connect.
Will using a VPN with Nintendo Switch impact my gaming?
As many users were questioning, we consider properly letting you know whether or not a VPN will impact your gaming while using it with Nintendo Switch.
While a VPN can be a powerful tool in order to secure your Internet connection, keep in mind that even the best virtual private networks might sometimes interfere with your connectivity.
This can happen right in the main action of your favorite Nintendo Switch game. It can become laggy, so this kind of situation can be extremely annoying.
Plus, in worst cases, some games may even block you from using a VPN. Thus, it is important to make the right choice.
If we were in your shoes, we would go for Private Internet Access, as it offers the most powerful features you can find on the market.
Is there any good VPN for Nintendo?
There are multiple choices you can make to install a VPN for this device like ExpressVPN, NordVPN, or PIA.
You can decide by checking more VPNs and seeing which can boost your games' performance best. We suggest ExpressVPN due to its reliable and fast server connection, plus advanced privacy technology.
Does Nintendo ban VPN usage?
There's no reason you should get banned on Nintendo because you're using a VPN connection. It's possible to change your region on Nintendo at any time if you need to.
According to some users, you will not get banned due to VPN usage and you can safely connect Nintendo Switch to a VPN without concerns.
We don't have the official statement from Nintendo regarding VPN support, but you can use it and not worry about out-of-the-blue bans.
To summarize, you can use a VPN for Nintendo Switch even if the gaming console doesn't have built-in support for VPN client connections. Instead, you can use one of the three workarounds above.
However, not all VPNs are the right fit for Switch devices, so make sure to carefully examine all your options before deciding what's the best VPN for you. Afterward, you can start playing the best online games for Nintendo Switch.
For any additional questions, do not forget to leave a comment in the section below.