Satellite internet providers, like HughesNet, are the primary choice among many as they don't require cables or any infrastructure to function.
However, latency can be an issue, as the data must reach satellites in space and return to your internet setup to provide a connection.
The distance causes an average delay of 600ms, while a standard cable internet keeps it at around 20-30ms.
Although insignificant to most, the issue kicks in when you use a VPN service and face a massive drop in performance.
So, let's see what causes this and how to fix it:
Does HughesNet block VPN services?
No, HughesNet doesn't block VPN services, but it doesn't support them either, leading to several errors and the frustration of many users.
VPN services encrypt your data by tunneling your traffic through a virtual server in a different location. This causes additional delay on top of the one you're already experiencing from your satellite internet provider.
So, when the second lag from a VPN connection sits on top of the original latency from satellite internet, it simply becomes unbearable.
Keep reading to learn how to minimize the delay and fix your VPN if it's not working with HughesNet:
VPN not working with HughesNet: Fixes
The key approach to fixing the massive delay from a VPN on HughesNet is to opt for a premium VPN provider over a free one.
Doing so gives you access to thousands of supercharged servers worldwide that minimize your overall lag and offer excellent performance.
However, there are various other factors at play.
So let's check out the best ways to fix VPN-related errors and bugs on HughesNet:
Change your VPN server.


Changing the VPN server can benefit you for two primary reasons when dealing with HughesNet errors.

Firstly, it allows you to pick a closer location to avoid additional latency. And secondly, it lets you switch to faster servers that are less occupied.

Here's how to change your VPN server on NordVPN:

1. Open NordVPN.



2. Use the arrow icon to access NordVPN's list of countries and pick a different virtual location.



3. Enjoy an error-free experience with HughesNet.

While doing so, remember to pick 10Gbps servers that actively raise the bar for speed and performance on NordVPN.

Clear browser cookies and cache


Website cookies and cached data aim to provide an enhanced, more personalized user experience by collecting browser data.

However, when they pile up, they could significantly impact how your browser behaves, leading to performance issues.

Follow these steps to clear browser cache and cookies on Chrome:

1. Open Chrome.



2. Now, click on the Ellipsis icon from the top-right corner of your screen.



3. Move over to More Tools and choose Clear browsing data.



4. Pick the desired Time range, check the box beside Cookies and other site data, and select Clear data.



5. Reboot your device.



6. Enjoy an error-free experience with HughesNet.

Change your VPN protocol


VPN protocols determine how the service encrypts your network traffic and directly impacts your web performance and security.

For the best performance when using satellite internet, opt for WireGuard rather than OpenVPN or other protocols.

Here's how to change your VPN protocol on NordVPN:

1. Open NordVPN.



2. Once the software loads, select the Gear icon from the bottom left corner and open the Connection section.



3. Expand the drop-down next to the VPN protocol and choose a different protocol.



4. Enjoy an error-free experience with HughesNet.

Although WireGaurd is an excellent encryption protocol, you can try other choices to find the one that works best with your network.

Update your VPN


All security tools, including VPN services, require constant updates to compete with the latest threats and stay ahead of the game.

Outdated software could lead to security breaches, performance issues, and data leakage, jeopardizing your safety and comfort.

Here's how to update NordVPN on Windows:

1. Go to the NordVPN download page and hit Download App.



2. Launch the software and follow the on-screen guidelines to install it.



3. Enjoy an error-free experience with HughesNet.

To go one step further, check for OS updates on your device and ensure your computer uses the latest software available.

Change your VPN provider


If all else fails, it's time to switch to a more reliable VPN service.

Free ones often lack the necessary security features and have poor speed and performance, making them unsuitable for satellite internet users.

For the best results, we recommend going with NordVPN. It's a highly reputable provider with lightning-fast speeds and advanced security features.

Read on to learn how to set it up properly:
How to use a VPN on HughesNet?
There are several premium VPN services that will give you excellent results with HughesNet.
But having tested all reputable providers, we can confidently say that NordVPN's secure and high-speed connections make it the optimal choice for satellite internet users.
Follow these steps to get it up and running:
Visit NordVPN's website.
Pick the preferred subscription period and the security package among Standard, Plus, and Complete.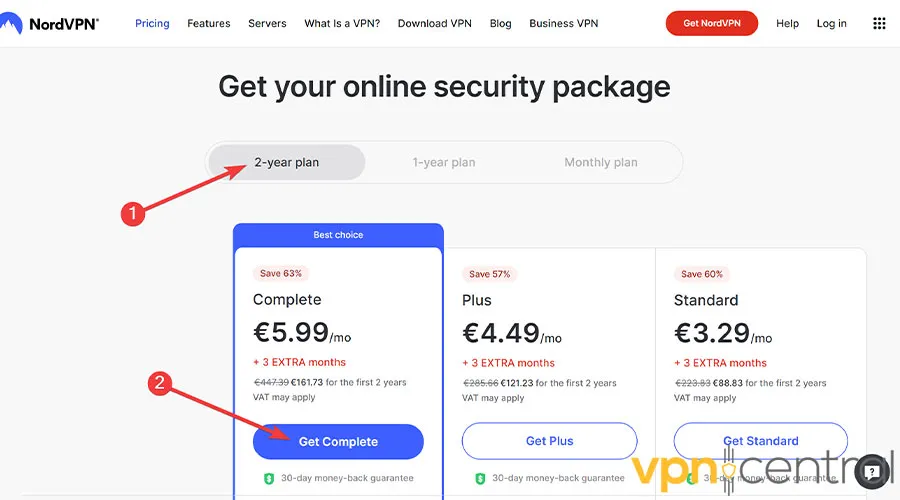 Choose a payment method and click Continue to buy the license.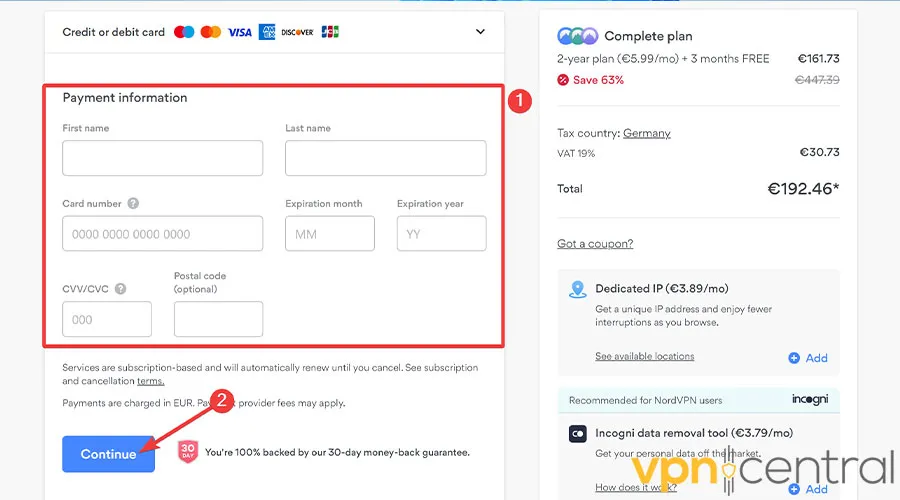 Download the relevant app for your device.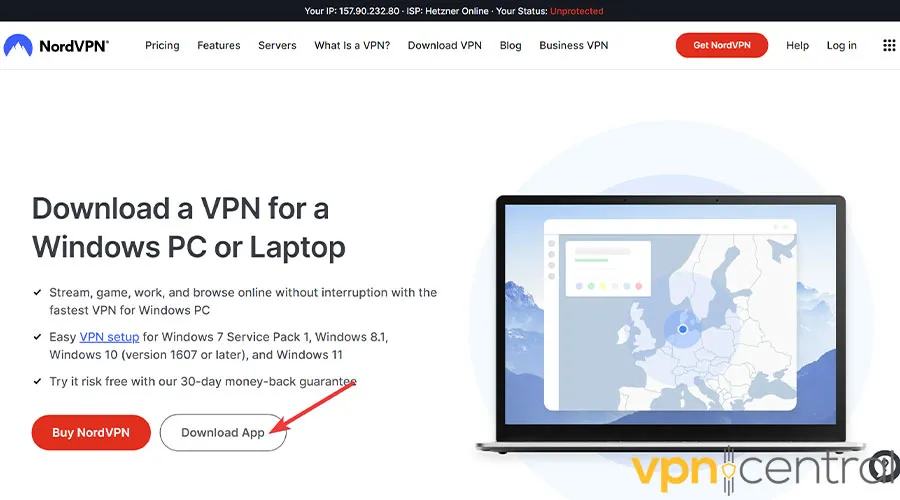 Launch the software and follow the on-screen guideline to install it.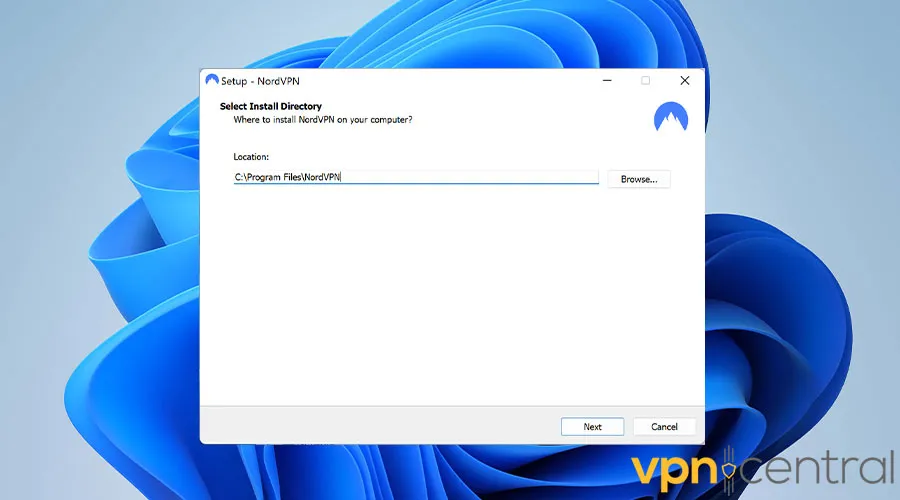 When the program boots, click Quick Connect and enjoy an error-free experience with HughesNet.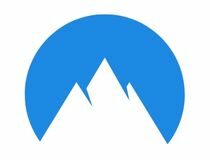 NordVPN
Enjoy a fast and stable HughesNet connection with this high-performing VPN.
Wrap up
Satellite internet remains the first choice among many users due to convenient accessibility in places without cable infrastructure.
However, you'll often massive packet delay as the data must travel to space and return to your setup to maintain a network connection.
Accordingly, when you try a VPN service for the first time, you encounter an even larger delay due to the added security layer.
So, if your VPN is not working with HughesNet, try opting for a premium provider to access the fastest servers possible.
---