Internet shutdowns and app blocking in Senegal have escalated in recent months.
After the recent mobile internet restriction and TikTok ban, VPN usage in the country has increased significantly.
Recent events in Senegal
Following recent protests over the sentencing of the opposition leader Ousmane Sonko, the government has employed partial and total bans on internet access.
Domestic media reports this isn't the first time authorities have been using this tactic. They say they did the same during elections and social upheavals. The government sometimes targets certain platforms, regions, and even the entire country.
On August 2, Senegal suspended TikTok until further notice due to the hateful videos users are supposedly sharing.
Two days earlier, the government cut off mobile internet access for the same reason.
People in the country and online communities have argued that suspending all online speech doesn't achieve its intended purpose.
Amnesty International condemned the move for not respecting human rights and rights to freedom of expression and information.
Access Now and the #KeepItOn coalition have issued a demand to the government to stop shutting down the internet. They also turned to the international community to condemn these actions.
The most recent demonstrations broke out on July 31. At least six people died in the riots, two of them in a bus fire in Dakar.
The death toll in an earlier wave of protests in June was 15.
The country was once seen as the beacon of democracy in West Africa.
VPN usage in Senegal has increased
The people of Senegal are now turning to VPNs to hide their traffic from the government in unprecedented numbers.
One of the popular providers, ProtonVPN, said its sign-ups went up by 2,800% since July 31.
Tools like this are now indispensable for Senegalese if they want to have open access to the internet.
In the last ten days, Google queries in the country for VPN-related terms have exploded.
The graphic below shows the increase of general interest for the term VPN in Senegal in the past 30 days.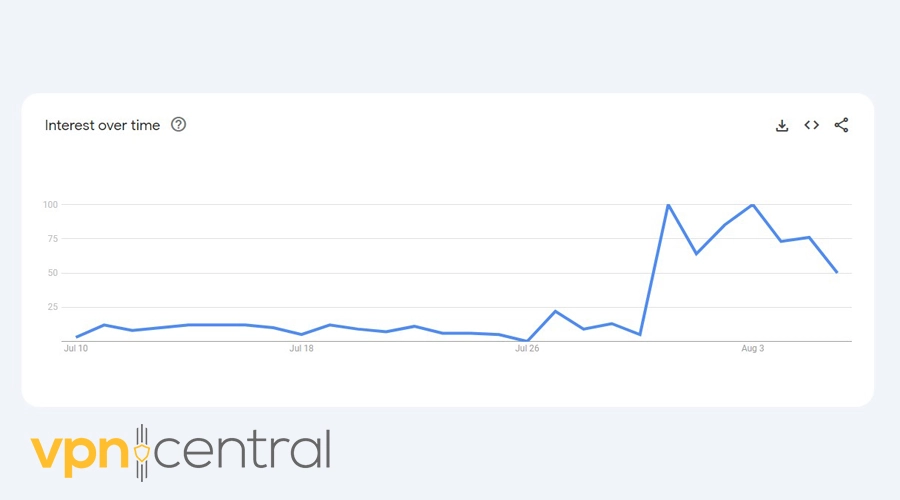 Internet users in the country have also searched for:
ma tunnel vpn
1111 vpn apk
vpn gratuit iphone
3x vpn
warp vpn
The use of VPN apps allows them to access platforms such as Facebook, Instagram, Twitter, and YouTube, all of which the government has banned at some point.
While VPNs don't help during the complete internet shutdowns Senegal occasionally imposes, it helps people bypass geo-blocking and engage in the news on what's going on.
---