VyprVPN is one of the most popular VPN services out there.
It provides secure and private access to the internet for millions of users worldwide.
But just how successful is VyprVPN, and what kind of market share does it hold?
In this article, we'll dive deeply into the latest statistics and provide some interesting VyprVPN facts and figures you might not know.
Important VyprVPN stats
VyprVPN has 300,000+ IP addresses from 700+ Servers in 63+ countries.
About 51.93% of VyprVPN's website traffic comes from organic search
VyprVPN is most popular among people aged 25-34 and those aged 18-24.
The provider supports five different protocols that help with bypassing censorship.
The US sent the most traffic to VyprVPN.com, accounting for 15.89% of the total traffic.
VyprVPN.com's global ranking decreased from 122,356 to 111,917 between March and May 2023.
General VyprVPN statistics and facts
In 2009, VyprVPN came into existence and quickly strove to be one of the consumer VPNs with the best deals accessible to anyone.
In fact, it made a point to prioritize its user interface to be friendly and easy to use from the start. We learned that firsthand as we've tested its performance for different purposes.
But here, let's focus on the numbers.
The VPN provider focuses on championing online security, advocating for self-regulation, and fostering transparency in the VPN industry.
Now, you may be curious about who actually owns the VPN provider and how impressive it is in terms of traffic size, popularity, and reliability.
Well, let's delve into some fascinating facts and statistics about VyprVPN:
1. Server network: over 700 servers in 63 countries
(Source: VyprVPN)
VyprVPN's server network is not as extensive as other competitors in the industry.
However, its over 700 servers cover a vast number of IP addresses.
Its 300,000 available IP addresses are accessible in 70+ server locations around the world.
These allow users to connect to various locations, giving them access to geo-restricted content and preventing overloaded or unavailable VPN servers.
VyprVPN also regularly updates and adds new servers to its network, ensuring that users always have a reliable and secure connection.
It also offers dynamic and easy server switching on its desktop and mobile VPN apps.
2. Users can get a VyprVPN subscription for as low as $5 per month
(Source: VyprVPN)
VyprVPN offers flexible pricing plans to suit different user preferences. These include monthly, yearly, or 2-year commitments.
Here are the details of their pricing plans:
Monthly Plan: Priced at $10 per month.
Yearly Plan: Available at $5 per month, billed at $60 every 12 months, offering a savings of 50%.
Additionally, VyprVPN provides a 30-day money-back guarantee for users on their yearly plans.
This allows them to try out the service without any commitment and ensure it meets their expectations.
3. In 2018, VyprVPN published its first security audit by a third party
(Source: VyprVPN)
VyprVPN stands as the pioneer among VPN services, being the first to undergo a public audit and establish itself as a trustworthy provider with a strict no-logs policy.
However, before the audit in November 2018, the provider kept its customer's log for 30 days.
The logs included the customer's source and assigned IP addresses, connection time stamps, and total number of bytes used.
After several feedbacks and reviews from customers, VyprVPN hired Leviathan Security to perform an independent audit and ensure they don't collect any Personally Identifiable Information (PII).
4. Workforce: As of 2022/2023, VyprVPN has 53 employees.
(Source: Growjo)
At VyprVPN, every aspect of operations receives dedicated human resources.
From customer support to software development, marketing, and critical functions, they've got it covered.
And here's the exciting part: their employee count has surged by a whopping 39% between 2022 and 2023!
This remarkable growth translates into a greater capacity to handle tasks, deliver top-notch services, and provide adequate support to their expanding user base.
5. VyprVPN VPN app has over 5 million downloads on Google Play
(Source: AppBrain, Google Play)
Golden Frog, GmbH introduced their app on October 10, 2012, and it has garnered over 5,000,000 downloads since its launch.
The VyprVPN app has received a substantial number of ratings, with a count of 64,300, resulting in an average rating of 4.6.
Most of the reviews came from Smartphone users, who contributed 60,400 reviews.
Tablet users followed with 3,770 reviews, while Chromebook users provided 129 reviews. In comparison, there were only 9 reviews from Android TV users.
This distribution indicates that Smartphone users have most widely utilized and reviewed the app, highlighting their prominence among the user base.
6. On the App Store, the VyprVPN app has a 4.7 out of 5 rating
(Source: App Store)
VyprVPN has gained recognition and trust from iOS users looking for a VPN solution that helps bypass geo-restrictions and supports their online privacy needs.
With an impressive 19,300 rating and an outstanding average score of 4.7, this VPN provider has earned the trust and admiration of its users.
What's more, VyprVPN is available in an impressive selection of 12 languages, including English, Arabic, French, Turkish, Spanish, and more.
It allows users to access and utilize the app's features without language barriers, fostering a sense of inclusiveness regardless of their linguistic background.
7. VyprVPN silently changed ownership in May 2023
(Source: VyprVPN support page, VPN Compare)
VyprVPN was formerly owned by Golden Frog, a company incorporated in Meggen, Switzerland, and has offices in Austin, Texas.
However, on its support page, I noticed that the VPN now has a brand-new parent company that most users are not aware of.
VyprVPN's new parent company is known as Certida.
Certida has been closely collaborating with and sharing the same visionary goals as Golden Frog, the founder of VyprVPN, for many years.
Therefore, it now oversees the VPN's operations, support, enhancement, and privacy features to ensure a seamless experience for all customers.
As a result, the jurisdiction governing VyprVPN's operations has transitioned from Swiss law to US law.
This change signifies that VyprVPN is now subject to the legal framework and regulations of the United States.
VyprVPN user and demographic statistics
VyprVPN has a significant user base, but who are these users, and where do they come from?
Let's take a closer look at the demographic statistics of VyprVPN.
8. Chile has shown the highest interest over time
(Source: SimilarWeb)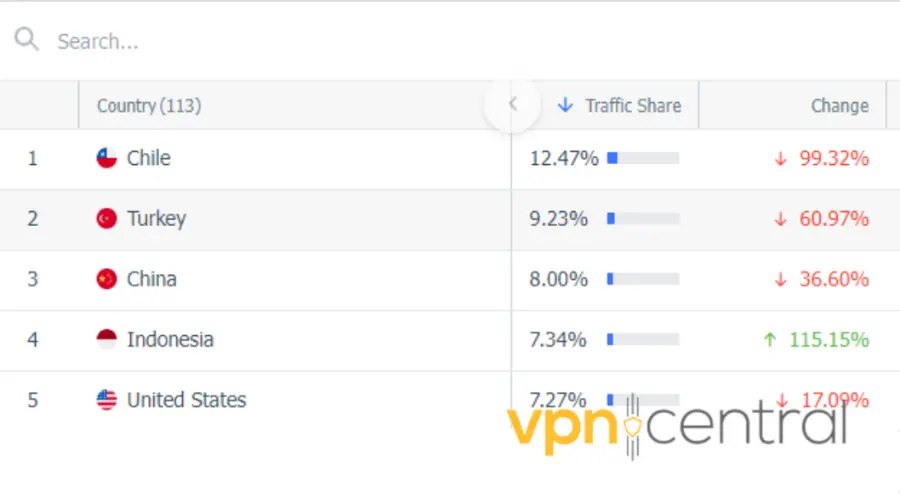 When analyzing worldwide web search trends, it is interesting to note users' preferences in different countries for VyprVPN.
Among all the countries, Chile shows the most enthusiasm for VyprVPN, accounting for a significant share of 12.47% of the total global web traffic.
Turkey follows closely behind with a share of 9.23%, which is more than two-thirds of Chile's share, indicating a considerable user base in that country as well.
Notably, China, Indonesia, and the United States also display considerable interest in VyprVPN, with respective shares of 8.00%, 7.34%, and 7.27%.
Citizens from these nations seek VPNs to bypass the prevalent internet censorship in their region.
9. VyprVPN's website reached an average of 1.367 million between March and May 2023
(Source: SimilarWeb)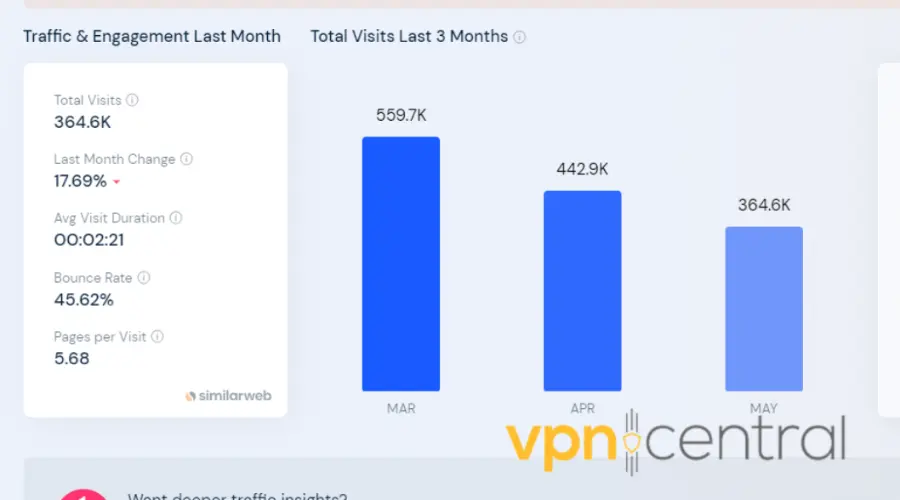 Similarweb puts VyprVPN's traffic at 364.6K monthly visits in May 2023. That translates to around 4.375 million visits a year and 84,138 weekly.
That's fairly a lot of traffic; obviously, VyprVPN is somewhat popular.
However, its numbers reduced drastically from the previous months, with 559,700 in March and 442,900 in April.
10 . VyprVPN's site ranking was 166,624 in the US and 111,917 worldwide in May 2023
(Source: SimilarWeb)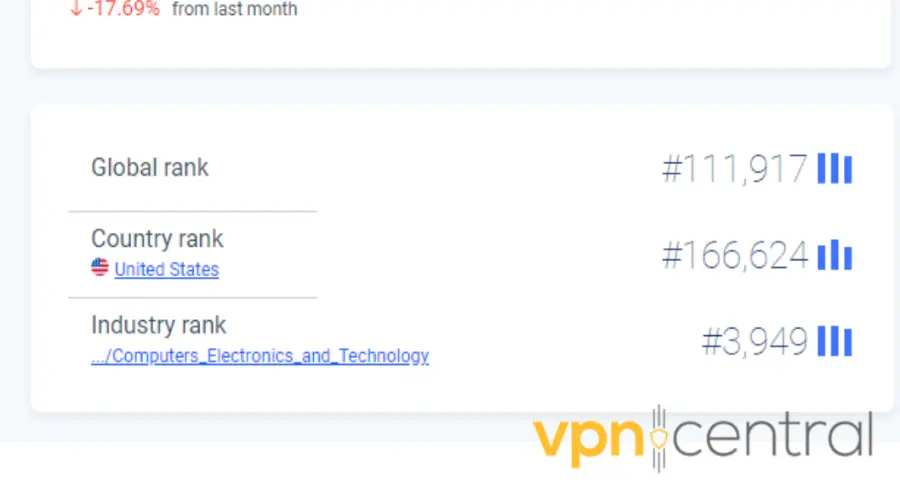 In 2023, during the period spanning from March to May, vyprvpn.com experienced a significant decrease in its global ranking.
Its ranking dropped from 101,478 in April to 111,917 in May, indicating a noticeable decline in popularity and overall online visibility.
The cause of this decrease remains a mystery, as I have not identified any specific reason for that.
A similar thing happened in the website's ranking within the United States.
In March 2023, it held a rank of 152,299. However, there was a positive turn of events in April when its ranking improved to 123,966, positioning it higher among other websites in the country.
This suggests a temporary resurgence in its popularity during that period.
When considering vyprvpn.com's performance within the Computer and Electronics industry ranking, it secured the 3949th position in May 2023.
This ranking provides context within its specific sector, highlighting its relative standing compared to other websites in the same industry.
11. VyprVPN's largest age demographic is 25 to 34-year-olds
(Source: SimilarWeb)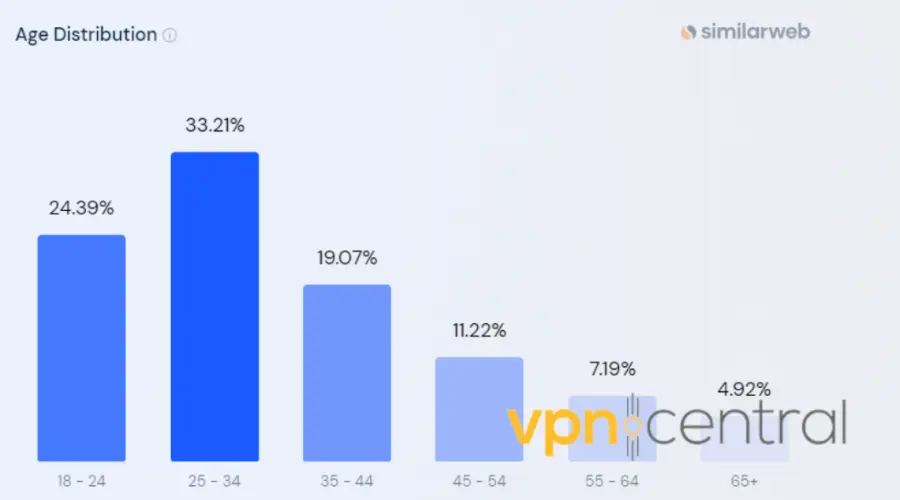 Analyzing a website's audience composition can provide valuable insights into its current market share among different demographic groups.
In the case of VyprVPN.com, the largest age group of visitors falls within the 25 to 34-year-old category, accounting for a significant share of 33.21% of the total traffic to the website.
As users get older, the numbers gradually decrease, with the following age groups contributing to the traffic as follows:
35 to 44 age group: 19.07%
45 to 54 age group: 11.22%
55 to 64 age group: 7.19%
65 and over age group: 4.92%
Interestingly, the 18 to 24 age group, representing a younger demographic, contributes significantly to the website's traffic, holding the second-highest share of approximately 24.39% of the total traffic.
These statistics provide valuable insights into the age distribution of VyprVPN.com's user base and highlight the varying levels of engagement across different age groups.
12. Men are the dominant gender, with 70.46% of VyprVPN's site audience
(Source: SimilarWeb)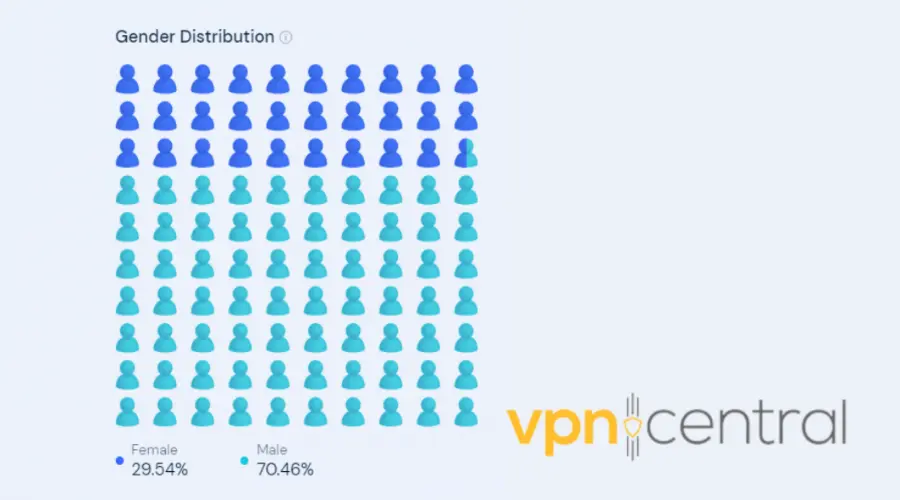 According to Similarweb's VyprVPN statistics, the female audience comprises only 29.54% of the total user base, indicating a significant gender disparity with the male audience.
Moreover, similar sites in the same industry, such as IPVanish, also report a consistent pattern of male dominance in their user demographics.
13. Visitors stick around for an average of two minutes on the VyprVPN website.
(Source: SimilarWeb)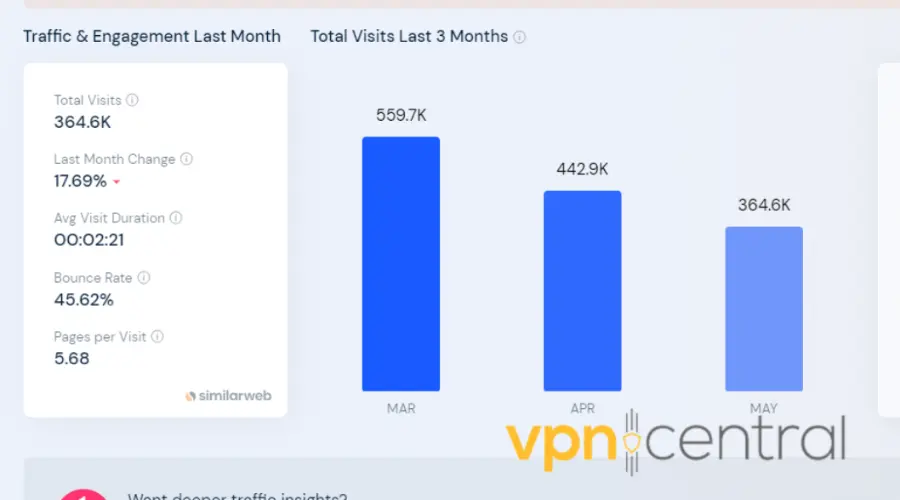 This stat shows that people spend a short time, approximately 2 minutes and 21 seconds, on the VyprVPN website.
However, users interestingly access an average of five pages per visit.
Also, the bounce rate is 45.62%.
Bounce rate refers to the percentage of visitors who leave the website after viewing only one page, without interacting with any other pages or taking further actions.
In this case, 45.62% of the visitors to vyprvpn.com leave the website without exploring additional pages.
VyprVPN search term facts
The search terms used to find the platform give insight into its branding and competition.
Let's take a look at some more VyprVPN site statistics.
14. Most of the VyprVPN traffic is organic
(Source: SimilarWeb, SEMRUSH)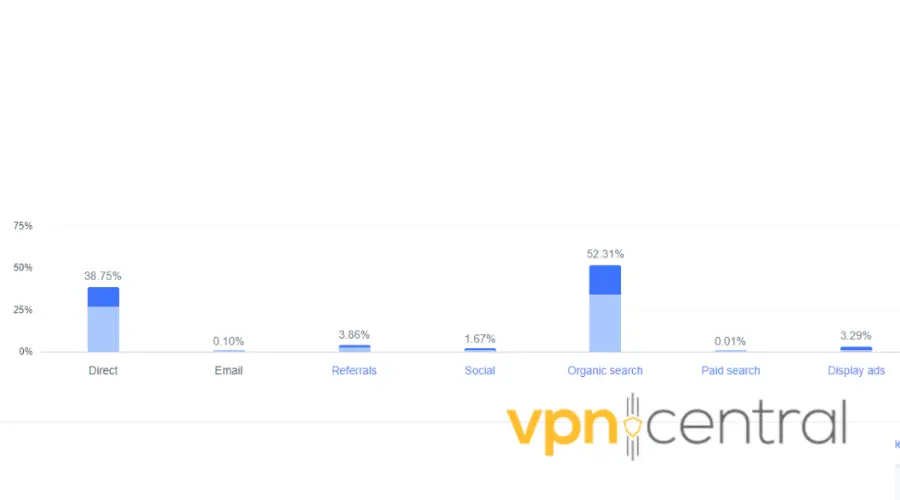 The last paid traffic to the VyprVPN website was in December 2022, when it had 568 paid traffic counts.
Therefore, where does the traffic come from if the company doesn't pay for search-related clicks?
Let's take a look at the data breakdown from May 2023. 38.75% of traffic came from directly accessing the site. 52.31% came from organic search. 3.86% came from links from other sites. Only 1.67% came from social media.
15. One of the most popular VyprVPN top Organic keywords comes from a misspelling of the provider's name
(Source: SEMRUSH)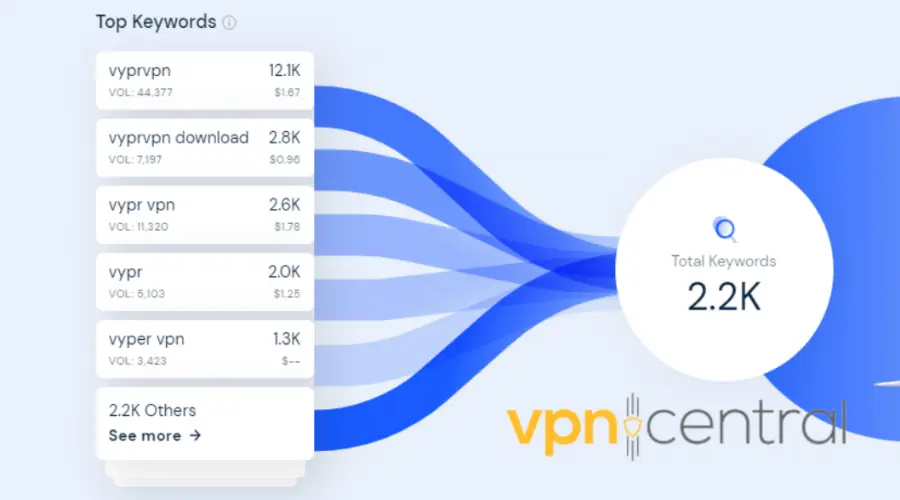 If you're wondering how to write Vypr, you wouldn't be the first.
Spelling it from memory also seems to be an issue in the US, as one of the top related keywords, vyper vpn is a misspelling with a volume of 1,300 counts.
The misspelling results from the pronunciation of the VPN's name.
16. Does vyprvpn keep logs is one of VyprVPN's highest-searched related queries
(Source: SEMRUSH)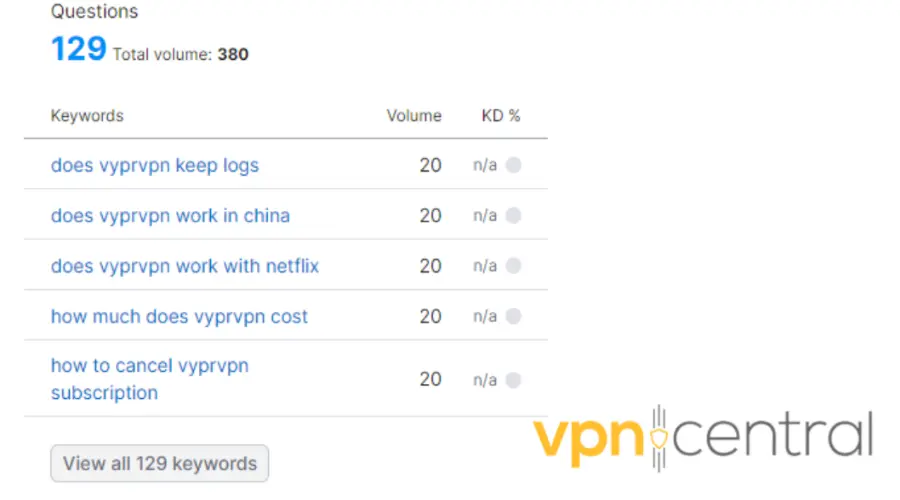 According to SEMRUSH, people who search VyprVPN also seek clarification if the VPN provider keeps logs.
The keyword question – does VyprVPN keep logs has a monthly average of 5.26% of the volume of the total questions?
Other most searched queries are: does VyprVPN work in China, does VyprVPN work with Netflix, and how much does VyprVPN cost?
17. The search term VyprVPN has 6,600 queries on a monthly average
(Source: SEMRUSH)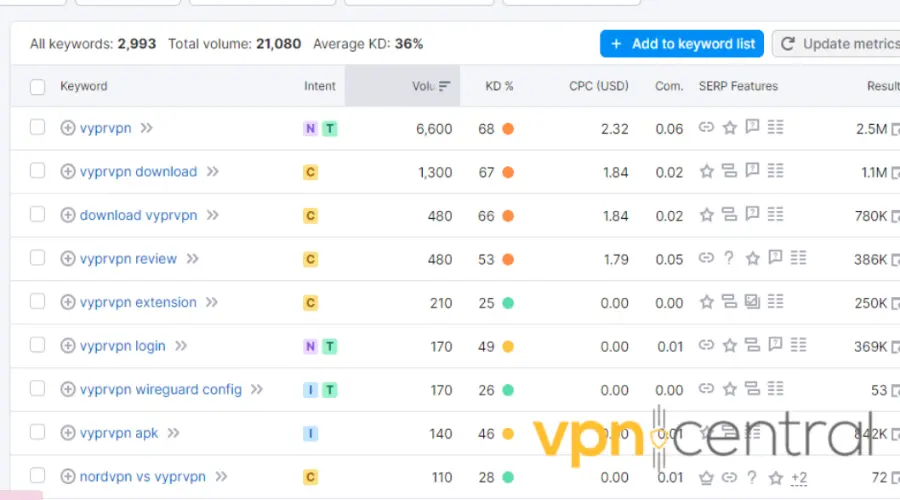 To access the service, you must download the app after subscribing to its website.
However, some users who may need to use the app on another device using their login details tend to search for a direct link to download the app without going through the subscription stage.
Therefore, this has made VyprVPN download garner many such queries, making it the second-largest search query by volume.
VyprVPN statistics on market share and revenue
VyprVPN market share statistics place it conservatively estimated in the hundreds of thousands. Meanwhile, it ranks highly popular among VPNs used in Chile.
Here's more insight into its market share and revenue.
18. VyprVPN's value is estimated at $143,200
(Source: WorthOfTheWeb)
As a private company, VyprVPN does not publicly release revenue reports.
However, by combining estimates of its daily, monthly, and annual revenue figures, the overall valuation for VyprVPN amounts to over $143,200.
In terms of revenue generation, VyprVPN primarily relies on subscription fees paid by users to access their VPN service.
This subscription-based model forms a significant portion of their income.
Additionally, VyprVPN also generates revenue from the traffic generated to their website. This may include advertising revenue, partnerships, or other monetization strategies related to website traffic.
While the estimated figures suggest that VyprVPN's revenue could reach at least $247 per day, $7,410 per month, and $88,920 per year, it's important to note that these values are based on estimations and may not reflect the actual financial performance of the company.
19. YouTube generates the highest number of social traffic for VyprVPN
(Source: SimilarWeb)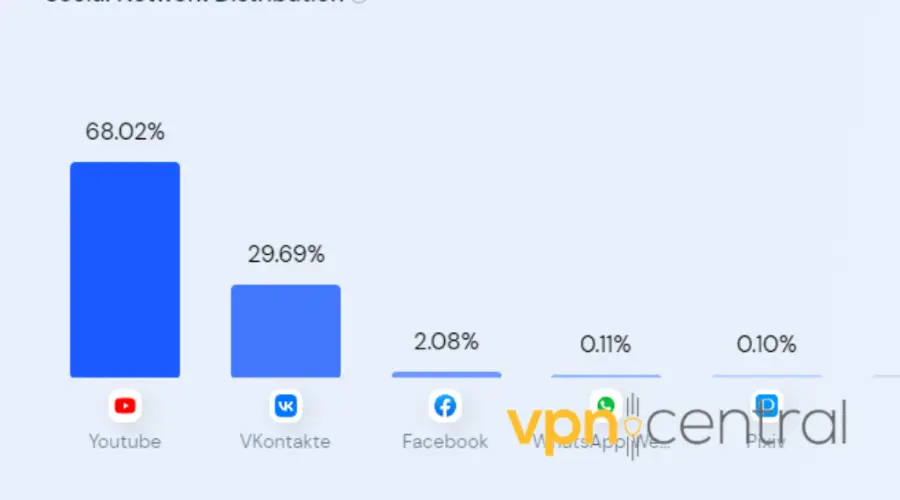 Between March and May 2023, most social traffic, precisely 68.02%, originated from YouTube.
This percentage surpasses the combined social traffic from all other platforms.
VKontakte, a Russian online social media and social networking service, accounted for 29.69% of the social traffic, while Facebook contributed 2.08%.
All other social media sites collectively garnered a mere 0.21% of the total estimated traffic during that period.
YouTube's dominance in social traffic can be attributed to several factors.
Firstly, the platform benefits from advertising by popular YouTubers, which drives traffic to the site.
Additionally, YouTube enjoys widespread popularity among internet users, further contributing to its high rate of social traffic.
This highlights the dominance and effectiveness of YouTube as a marketing channel for VyprVPN, driven by strategic advertising efforts and the platform's broad appeal to internet users.
Wrap Up
VyprVPN is one of the most popular VPN services in the world, with a significant market share and a growing user base.
Furthermore, it has privacy-friendly policies, making it a favorite among privacy-conscious users worldwide.
VyprVPN statistics highlight the user base, staff strength, and profitability of the company, which can help users with inadequate decision-making.
FAQ
Who owns VyprVPN?
Previously owned by Goldern Frog, VyprVPN is now owned by a US-based technology company called Certida. The company also runs two of the world's best-known Usenet resources, Giganews and Supernews.
How many servers does VyprVPN have?
VyprVPN has over 700 servers in more than 63 countries across six continents of the world.
Where is VyprVPN based?
VyprVPN has its base in Texas, United States.
Sources:
---