Australian Survivor is already nine seasons down, gaining a large audience.
Unfortunately, it's locked outside Australia despite having fans all over the world, especially in the US and Canada.
Luckily, a VPN can change your location. It does this by concealing your original IP address and displaying the IP of the VPN server you connect to instead.
Continue reading to know how to watch Australian Survivor from Canada by using a reliable VPN.
In this article:
Why do you need a VPN to watch Survivor outside of Australia?
Initially, the show aired on Nine Network. Afterward, In 2006, it appeared dominantly on Seven Network, a free-to-air TV in Australia.
It is now broadcasted permanently on 10Play, which only streams in Australia.
It is no longer available for US and Canadian citizens to watch on Paramount Plus due to licensing agreements and distribution rights.
How do geo-restrictions of Australian Survivor work?
If you attempt to play the show on 10Play from Canada, you'll be greeted with the error message: 'Sorry 10Play is only available for Australian users' or 'access is blocked'.
When you attempt to watch Australian Survivor, the streaming service or website you use will first check your IP address.
If your IP shows that you are in a restricted country, the website will block your access.
How can a VPN bypass the block?
A VPN is important if you want to circumvent geographical restrictions covering the show.
When you connect to a VPN, your traffic is first sent to the VPN server, which then forwards it to the final destination.
This makes it appear as if your connection is coming from the location of the VPN server.
Thereby, you'll be able to get past the error message and actually watch Australian Survivor.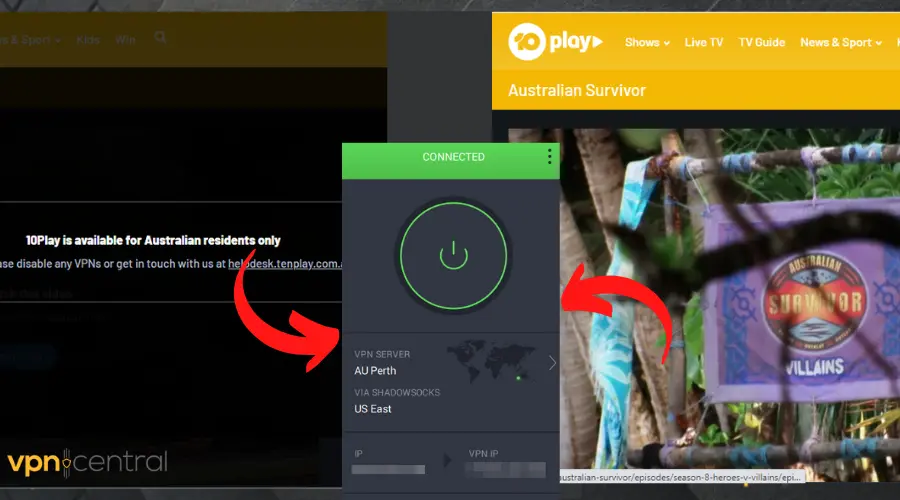 VPNs also encrypt your traffic. This feature is beneficial if you don't want your ISP to throttle your internet connection while streaming.
Now let's see the steps you need to take to watch Australian Survivor with a VPN.
How to watch Australian Survivor in Canada
First and foremost, you'll have to choose a reliable VPN service. We'll give you a rundown of our top picks below.
One of the best options on the market is Private Internet Access:
Subscribe to Private Internet Access and download the VPN app.
Launch the app and log in.
Choose a server located in Australia.
Go to 10 Play and browse for Australian Survivor. At this point, you should be able to open the platform hitch-free.
Best VPN services for watching Australian Survivor in Canada
It is not every VPN service in the market that can unblock Australian Survivor. The few that can achieve this and still provide you with a secure connection come with a fee.
Nevertheless, this should not be a problem as all of these VPNs offer money-back guarantees, in case you're not satisfied with their services.
Now, let's explore the best VPN services for watching Australian Survivor in Canada:
1. PIA – servers in Melbourne, Perth, and Sydney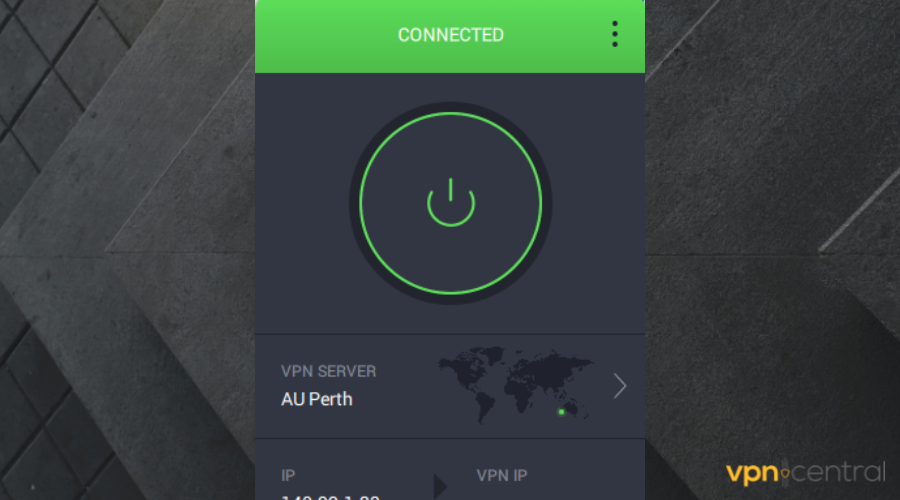 PIA, a VPN provider owned by Kape technologies has gained a spot as one of the top-ranking VPNs. It is mostly a result of its huge library of more than 35,000 servers in 84 countries worldwide.
Not only can you find a server in any region you want, but these servers are also extremely fast. Recently, PIA upgraded to servers that reach up to 10Gps which is a plus if you want to stream Australian Survivor.
For Australia, the only country to air the show, PIA has servers in Melbourne, Sydney, and Perth. So, you can rotate between these server locations if there is ever an issue of server overload.
On top of that, PIA uses AES 256-bit encryption to scramble your traffic, thereby preventing the government or a third party from reading your information.
PIA replaces your original IP address with one linked to the server you are connected to. This makes it seem as though you are in a different region, therefore, allowing you to bypass geo-block.
This VPN respects users' privacy, which makes them maintain a strict no-log policy. So don't worry about them collecting or selling your information for any reason.
Key features
Secure kill switch
Dedicated IP
Advanced Split tunneling
Built-in Ad blocker
WireGuard and OpenVPN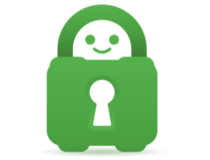 Private Internet Access
Connect to PIA to easily watch Australian Survivor from any part of the world, including Canada!
2. NordVPN – advanced servers for obfuscation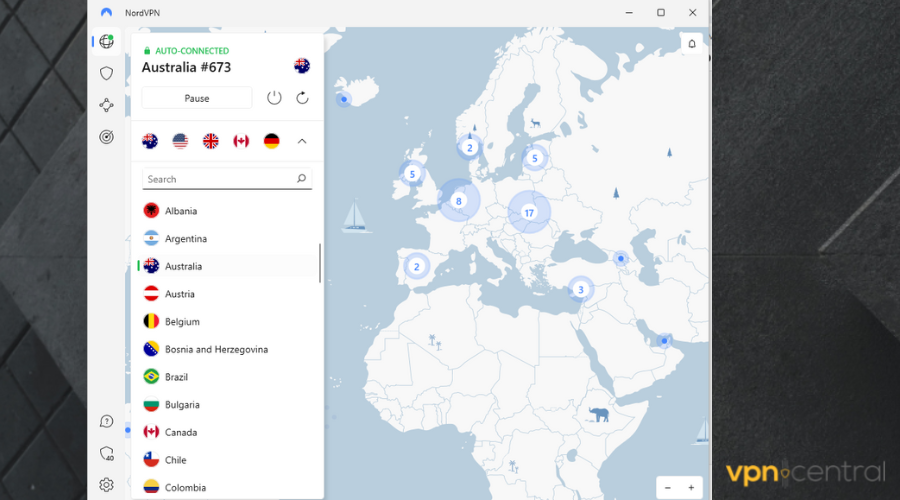 NordVPN has a vast network of servers, with over 5000 servers in 60 countries, including Australia.
This VPN uses AES-256 encryption which is considered one of the most secure encryption algorithms. With this, it protects users' online activities and data from prying eyes and trackers.
It offers a double-VPN feature that ensures your data is fully secured by routing your traffic through multiple servers.
In addition to its security features, NordVPN also offers obfuscated servers, which are designed to conceal the fact that you are using a VPN.
NordVPN also places a strong emphasis on speed, ensuring that users can enjoy fast and seamless streaming without buffering or lags. A useful feature for when you want to play Australian Survivor.
Additionally, the VPN uses the latest protocols, including OpenVPN, IKEv2/IPSec, and NordLynx, which provide users with fast and reliable connections.
Lastly, NordVPN has a strict no-logging policy, meaning it does not store any information about users' online activities. This is more realistic as the company is based outside data-sharing jurisdictions.
Key features
Double VPN
Obfuscated servers
Threat protection
Split tunneling
DNS protection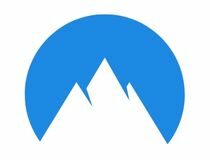 NordVPN
Remove geo-blocks and enjoy Australian Survivor from anywhere in the world!
3. ExpressVPN – streaming-optimized servers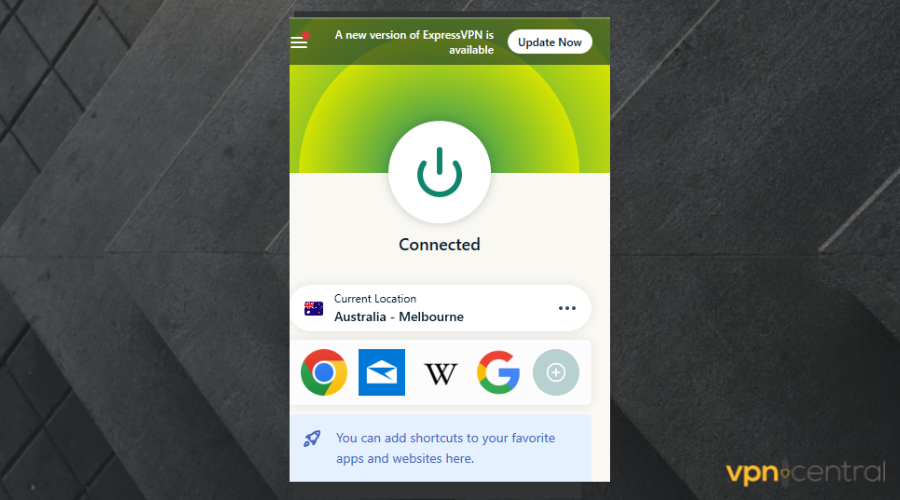 ExpressVPN has an extensive server network, which consists of more than 3,000 servers. It covers several cities in Australia, including Melbourne, Woolloomooloo, Sydney, Perth, Brisbane, and Adelaide.
By connecting to a server in Australia, Canadian users can access the Australian Survivor.
This VPN also boasts high-speed connections, making it possible for users to stream content in high definition without interruptions.
Additionally, ExpressVPN uses the latest encryption protocols, including AES-256 to ensure that users' online activities and personal information are protected from cyber threats.
Privacy is of utmost importance to ExpressVPN, and it takes several measures to ensure that users' data is protected. This, therefore, makes them sustain a strict no-logs policy.
In addition to these, it uses an automatic kill switch, which disconnects the user's internet connection if the VPN connection is lost, ensuring that their data is not exposed.
ExpressVPN is available for a wide range of devices and operating systems including iOS, Android, macOS, and Windows. You can even connect to six devices simultaneously.
Finally, ExpressVPN offers users a 30-day money-back guarantee and a free trial. It also accepts all forms of payment including Bitcoin, Ethereum, and credit or debit cards.
Key features
Split tunneling
Zero log policy
LightWay protocol
Automatic kill switch
DNS leak protection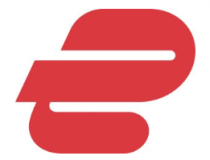 ExpressVPN
Enjoy buffer-free and unrestricted streaming of the Australian Survivor regardless of your location!
Conclusion
Due to copyrights and licensing agreements, Australian Survivor is restricted to countries like the United States of America and Canada.
Therefore, to gain access to the content, you need to use a VPN.
Moreover, by connecting to a VPN server from Australia, you'll be able to bypass blocks on other region-locked content like The Voice Australia.
A VPN conceals your original IP address and assigns an IP of the server location you choose, to you. With the help of this feature, you will be able to watch Australian Survivor in Canada through a secure connection.