Are you a fan of Dutch television visiting or now living in the United States but still long for local TV shows in the Netherlands?
Geo-restrictions might be annoying but do not worry, I have the perfect solution for you!
In this article, I'll explain how to use a VPN to watch Dutch TV in the USA and offer some great solutions to simplify the process.
How to watch Dutch TV in the USA?
To watch Dutch TV in the USA, you'll need a VPN, without which you'll be blocked from accessing local content.
Come to think of it, how will NPO, RTL, or KIJK know you're connecting to their platform from the US?
Simple! Each time you visit a website or platform, your IP address, which carries information about your location, will be visible to the host.
In this case, a VPN will replace yours with one from the Netherlands. So you'll appear to browse from the country and be able to access its TV channels without restrictions.
I'll recommend CyberGhost because of its streaming-optimized servers around the world.
Follow these simple steps to unlock Dutch TV in the USA:
Visit the CyberGhost website and subscribe to a plan.

Download and Install the software compatible with your device.
Log in with your credentials.

Search for a Netherlands server and connect.

Go to the Dutch TV you want to stream from. Here, I streamed How to Lose a Guy in 10 Days on KIJK.
Why do you need a VPN to watch Dutch TV abroad?
You need a VPN to watch Dutch TV abroad because most channels are only available to viewers within the Netherlands.
Due to licensing agreements and copyright laws, geo-restricted content is typically inaccessible outside its country of origin.
Therefore, if you try to access shows, movies, or other content on a Dutch TV like KIJK from, let's say, the United States where you are or other places, you'll get an error.
The message, which reads: We see that you are currently visiting KIJK outside the Netherlands. Many of our programs can only be seen in the Netherlands. pops up when you access the website.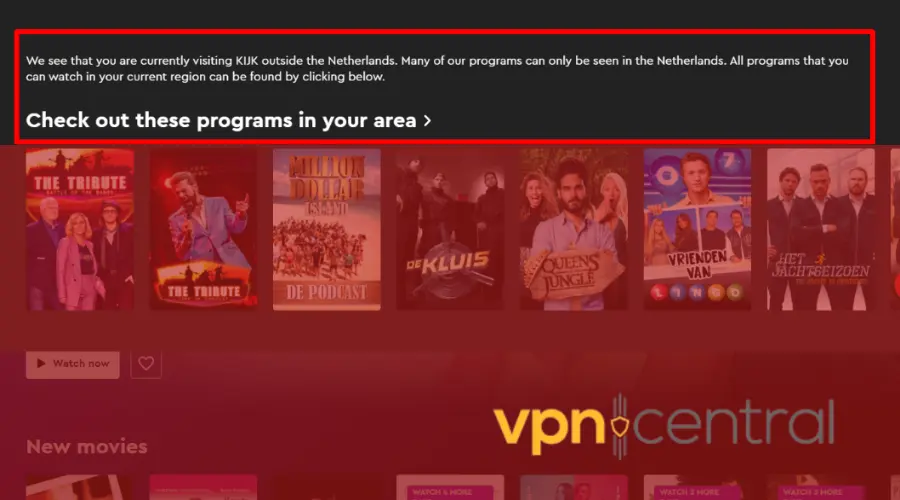 Also, the moment you click to watch geo-restricted content, you'll get an error message stating: This video is not available at your current location.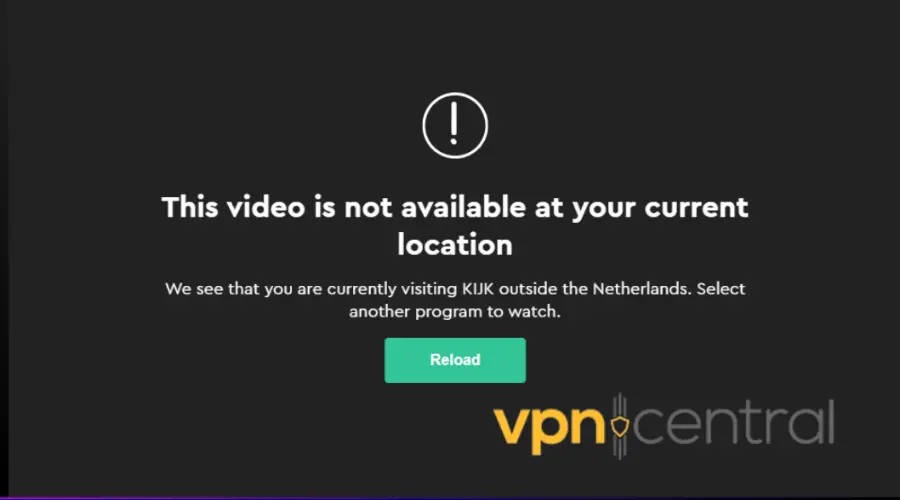 However, a VPN can help you overcome these barriers. It masks your IP address and connects you to a Dutch server through the VPN.
This will make it appear as if you're accessing the content from within the Netherlands, thus tricking the platforms and granting you access to your favorite Dutch TV channels.
Other reasons:
Apart from unblocking Dutch TV, using a VPN for streaming offers several other benefits:
Enhanced Privacy and Security: A VPN encrypts your internet connection, ensuring that your online activities and data remain private and secure from potential cyber threats, such as hackers, identity thieves, or malicious entities trying to monitor your online behavior.
Bypass ISP Throttling: ISPs sometimes throttle or slow down internet speeds for specific activities like streaming. With a VPN, your traffic is encrypted, making it challenging for ISPs to detect your streaming activities and apply throttling.
Protection on Public Wi-Fi: Your data is vulnerable to interception when using public Wi-Fi networks. A VPN creates a secure tunnel between your device and the server, protecting your sensitive information from prying eyes on public Wi-Fi hotspots.
Bypass Censorship and Firewalls: If you happen to travel to China or other countries with strict internet censorship or face workplace or school network restrictions, a VPN can help you bypass these barriers and access your favorite streaming platforms and websites.
Buffer-free Streaming: A reliable VPN can improve your streaming experience by reducing buffering and lag, as it helps create a more direct and stable connection to the streaming servers.
Best VPNs for Dutch TV
There are several VPNs with Netherlands-based servers, but it does not imply they can all be used to access the country's most widely used streaming services.
To be of assistance, I've tested and reviewed some of the most popular VPNs based on their performance, unblocking abilities, features, and customer service.
Here are the best five:
1. CyberGhost – overall best for seamless streaming on Dutch TV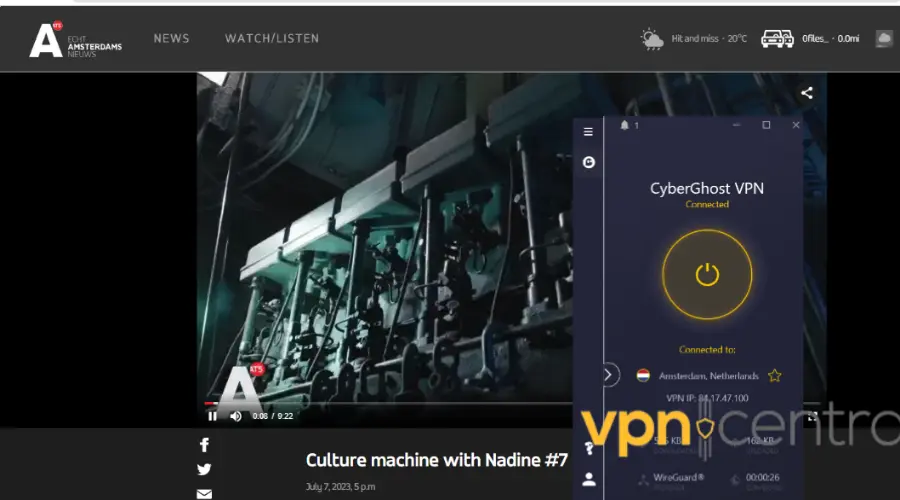 CyberGhost is a rapidly growing VPN service equipped with 9438 servers spread across 91 countries, including 327 servers in Amsterdam.
With its high-speed servers and unlimited bandwidth, you can enjoy lag-free streaming of Dutch TV channels like Canvas and RTL 5.
Additionally, it offers the convenience of securing up to seven devices simultaneously, making it suitable for the entire family. Its user-friendly apps make connecting a breeze.
Regarding privacy, CyberGhost takes the lead by providing 256-bit AES encryption, DNS & IPv6 leak protection, and an automatic kill switch to safeguard your data in case of internet connection loss.
With its No-logs policy, you can rest assured about your anonymity.
The compatibility of CyberGhost spans various platforms, including Windows, MacOS, Linux, Android, iOS, Amazon Fire TV, and Android TV. 
Additionally, you can find browser extensions available for Chrome and Firefox.
With its robust features, CyberGhost is your reliable choice for confidently streaming Dutch TV.
Pros:
24/7 support via live chat and email.
Cryptocurrency payment option.
Several add-ons, including antivirus.
Cons:
The privacy policy isn't clear enough.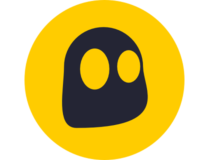 CyberGhost
Unblock all Dutch channels easily by connecting to CyberGhost VPN!
2. ExpressVPN – high-speed connection to Dutch TV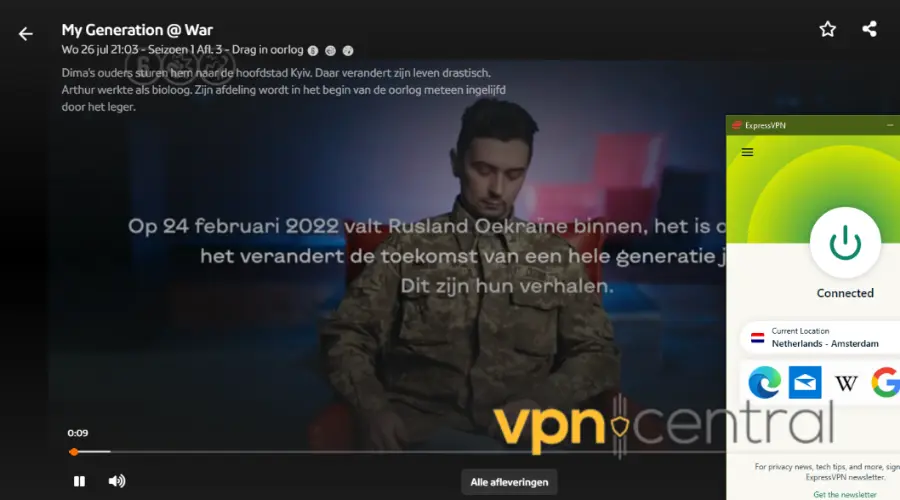 ExpressVPN offers an extensive server base in Amsterdam, Rotterdam, and the Hague, delivering a flawless streaming experience with Dutch TV channels like RTL 4.
Also, it allows you to enjoy buffer-free streaming with ease.
With military-grade encryption and advanced leak protection, ExpressVPN ensures your online security.
It works effortlessly on various devices, including Windows, Android, macOS, iOS, and Linux.
Additionally, browser extensions are available for Chrome, Firefox, and Edge.
The outstanding media streamer feature lets you connect VPN-incompatible devices, expanding your streaming options.
Therefore, you can confidently access other restricted content, knowing it will work seamlessly.
ExpressVPN also supports streaming platforms like KIJK with highly secure protocols like OpenVPN and its self-developed Lightway Protocol.
While the month-to-month commitment may be a bit pricey, longer-term subscriptions offer attractive discounts.
Nevertheless, be rest assured, it's worth the investment for the excellent service you receive.
Pros:
Best leak protection on the market
Consistently fast and stable
Apps for all conceivable devices
Cons:
Slightly higher price
Only five device connections at a time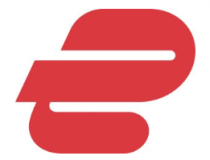 ExpressVPN
Keep watching your Dutch channels, even from abroad with this reliable VPN!
3. PIA – robust features for a secure streaming experience on Dutch TV
PIA, a premium VPN service, offers an extensive network of over 35,000 servers in 84 countries worldwide, including the Netherlands.
Enhancing online security and privacy, PIA blocks pop-up ads to prevent tracking cookies and malware.
This feature gave me a good and secure streaming experience on KIJK.
In addition, users can also adjust encryption levels for faster speeds during high-bandwidth activities.
PIA provides an extra layer of security by offering an additional hop to route data through two locations simultaneously.
In addition to its security features, it grants access to other popular streaming platforms not accessible in the USA, such as UKTV Play, Channel 4, Disney+, Stan TV, and more.
Also, users can enjoy unlimited device coverage for protection at home and while traveling.
PIA's versatility extends to compatibility with Amazon Fire TV, Chrome, Windows, and various routers.
Try PIA risk-free with its 30-day money-back guarantee if you need further clarification on using its services.
Pros:
Supports anonymous payment methods
Offers a full-fledged Linux app
Provides a 30-day money-back guarantee
Cons:
Based in a 5-Eyes country, which could raise privacy concerns for some users
Speeds are average compared to some other VPN providers.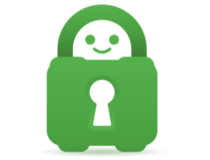 Private Internet Access
Easily unblock all your favorite Dutch channels with PIA's fast, streaming optimized servers!
4. NordVPN – vast Netherland server network for unblocking Dutch TV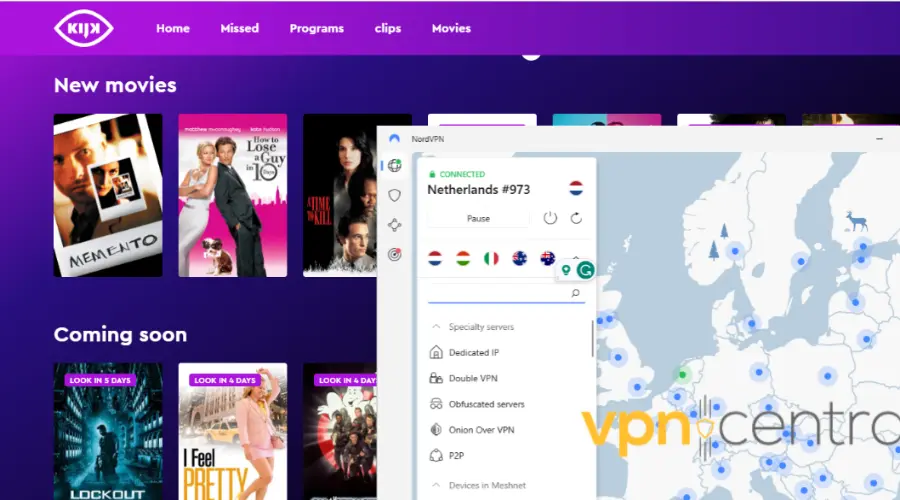 NordVPN is a popular choice for unblocking content, offering a vast server network for smooth streaming.
With 5782 ultra-fast servers in 60 countries, including 200+ in the Netherlands, it's an excellent option for unblocking Dutch TV and ensuring a seamless viewing experience.
You can also enjoy the flexibility of changing your IP address, bypassing restrictions, and gaining uninterrupted access to your desired shows.
NordVPN goes beyond content unblocking; it prioritizes your online security and privacy.
Essential features like split tunneling, which directs traffic to a private network, and a kill switch, which instantly disconnects if the VPN drops, enhance your protection.
To improve your experience, NordVPN provides an extensive library of how-to pages and guides, ensuring you have all the necessary resources to set everything up correctly.
If you ever need assistance, their 24/7 support network is always available to lend a helping hand. Count on NordVPN to provide the support you need whenever you need it.
Pros:
Affordable monthly price
A high number of servers
Apps for Fire Stick and Android TV
Cons:
Complicated when using router setup
Apps can sometimes be sluggish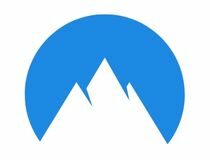 NordVPN
Say goodbye to geo blocks & stream Dutch TV in the US with NordVPN!
5. Surfshark – budget friendly for unblocking Dutch TV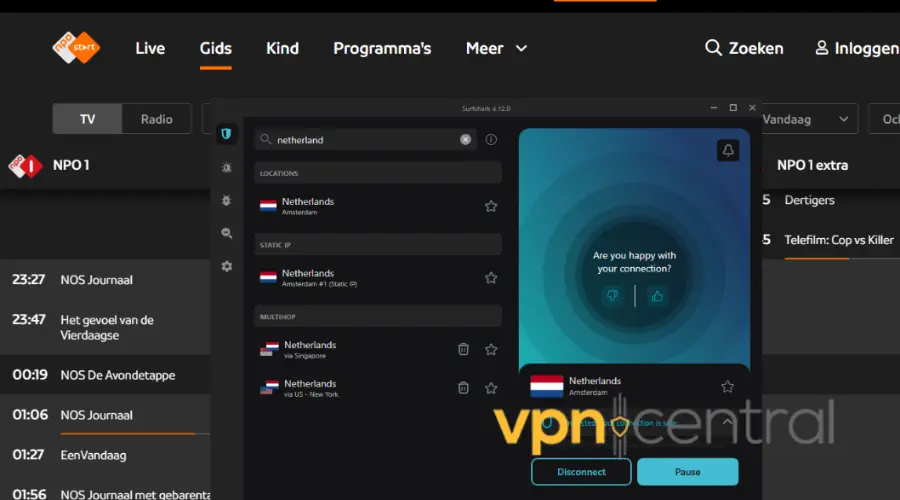 With over 3200 servers spread across 100+ countries, including the Netherlands, you can access the shows you love on Dutch TV.
One of its standout features is its rock-solid security – AES-256-bit encryption.
It ensures your online activities remain completely anonymous and untraceable—no need to worry about your traffic data falling into the wrong hands.
But that's not all! Surfshark goes the extra mile by including a built-in kill switch.
Picture this: your VPN connection drops unexpectedly, and just like that, all your internet traffic is halted. No data leaks, no risks.
This budget-friendly VPN allows unlimited simultaneous connections and is perfect for multi-device streaming.
With this VPN, the world of streaming is at your fingertips. I was able to stream NPO without issues using this VPN.
Therefore, with Surfshark, you can bypass geo-restrictions and enjoy endless sports entertainment no matter where you are.
Pros:
Connect unlimited devices
Excellent streaming speeds
Extra features like virus protection
Cons: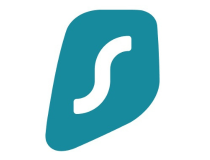 Surfshark
Enjoy Dutch TV from anywhere, with no limitations by connecting to Surfshark!
Which Dutch channels can I watch for free?
Unlock the following geo-restricted Dutch channels with a VPN and indulge in some of the most popular shows from the Netherlands:
NPO Start (NPO 1, NPO 2, NPO 3): NPO Start is the official streaming service of the Netherlands Public Broadcasting (NPO). Accessing NPO Start with a VPN allows you to watch prominent Dutch programs like De Wereld Draait Door, a renowned talk show covering current affairs, and Boer Zoekt Vrouw, a beloved dating reality show connecting farmers with potential partners.
RTL XL (RTL 4, RTL 5, RTL 7, RTL 8): RTL XL is the streaming platform of RTL Nederland, offering a plethora of Dutch content. With a VPN, you can catch up on highly acclaimed shows like Goede Tijden, Slechte Tijden, a long-running soap opera, and The Voice of Holland, the Dutch version of the internationally acclaimed singing competition.
KIJK (SBS6, Net5, Veronica): KIJK provides access to popular Dutch channels like SBS6, Net5, and Veronica. On these channels, you can enjoy series such as Utopia, a reality show where contestants create their own society, and Hart van Nederland, a daily news program covering local and national events.
With the help of a VPN, you can bypass geo-restrictions and immerse yourself in the world of Dutch entertainment, savoring these top-notch channels and their captivating shows from the US. Happy streaming!
Is it legal to watch Dutch TV in the USA with a VPN?
If you're in the USA and considering using a VPN to access Dutch TV, you'll be glad to know that, in general, it is legal.
US law doesn't expressly prohibit VPNs to bypass TV or streaming geo-restrictions.
However, some Dutch TV channels might have terms and conditions that forbid using VPNs or other methods to bypass their geo-restrictions.
To stay safe and avoid any potential legal issues, I strongly recommend thoroughly reviewing the terms and conditions of the Dutch TV channels you want to watch before using a VPN.
Furthermore, it's crucial to be mindful of copyright and licensing regulations when using a VPN to access Dutch TV content.
For a secure and worry-free streaming experience, opt for a reputable VPN service that follows a strict no-logs policy and doesn't share your personal information with third parties.
This way, you can enjoy Dutch TV content while respecting the channels' terms and conditions, ensuring a smooth and legal streaming experience.
Summary
Don't let geo-restrictions stop you from enjoying the best Dutch TV shows.
Using a reliable VPN like CyberGhost, ExpressVPN, or PIA, you can watch Dutch TV in the USA without hassle.
Simply follow the easy steps to set up your VPN, connect to a server in the Netherlands, and immerse yourself in the vibrant world of Dutch entertainment.
Happy streaming!
---