Your options can seem limited if you want to watch US Open Tennis live in Australia. There is only one official broadcaster for the tournament, and you need to get a TV package subscription.
Luckily for you, there are some other platforms that offer access to US Open live broadcasts. Our guide will show you how to access them and what tools can help you in doing so.
As the tennis season swings into high gear, fans around the world are gearing up to watch their favorite players in action.
If you're looking to watch US Open Tennis live in Australia, be sure to check out the options available here, beginning with using a VPN that can change your location.
We are going to make it easy for you to get started and have a great time watching some of the best athletes in the world competition.
Is US Open geo-locked in Australia?
ESPN International does broadcast the US Open Tennis Tournaments in the countries of Oceania, including Australia. For that, you need to have a cable plan that includes ESPN International.
There is no other official US Open broadcaster for Australia, but there are other ways around it. There are some online streaming services that offer access to US Open live streams free of charge.
These services are however geo-locked and not available in Australia. When it comes to geo-blocking, a VPN service is awlays a reliable solution that will allow you to bypass geo-blocking, so that you can unblock your favorite restricted content.
There are ways to circumvent your traffic and bypass these restrictions, so be sure you'll stick with the guidelines below.
How to watch US Open Tennis live in Australia
Luckily for you, there are multiple different methods you can use to bypass the geo-locks and watch the US Open Tennis Tournament in Australia:
We made sure to include both budget-friendly or completely free options (that might not be able to provide the best live stream quality) as well as premium solutions.
1. Unblock US Open Tennis with a VPN
The most recommended and easiest solution is to use a VPN. We recommend you to use Private Internet Access (PIA) VPN because of its strong security protocols and fast servers.
Private Internet Access is one of the most popular VPN clients, with thousands of dedicated US servers. You can use it to watch US Open Tennis live as if you were present there.
Here's how to watch US Open Tennis using Private Internet Access:
Firstly, you need to download the PIA VPN from the official site as you can see in the below picture.
After downloading, try to log in to your account if you already purchased a package from them. Otherwise, get a subscription that suits your needs.
Then select a location and you are good to go to watch your favorite show. For the US Open, you want to pick a server located in the United States:
Private Internet Access is a user-friendly VPN, with a simple setup even for those that have never used a VPN before. It's also very cost-efficient, being one of the VPNs with the lowest one-month subscription plans.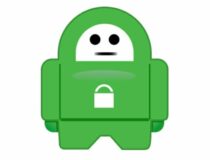 Private Internet Access
Watch US Open from anywhere in the world with dedicated streaming servers!
2. Use a Proxy server
A proxy is able to disguise your location, similarly to a VPN. Is nowhere near as secure as a VPN as it does not encrypt your data, but it is a good option if to bypass geographical restrictions.
This means that you can use a proxy to unblock US Open Tennis, but your connection will not be as secure as it would be with a VPN.
In addition, proxies are often slower than VPNs because they only encrypt web traffic. You can enable a proxy for free, most devices come with a built-in proxy server option.
If you are interested in learning more, check this quick guide that shows how to set up different types of proxies on Windows 10/11.
Smart DNS is a service that can be used to unblock geo-restricted content. Unlike a VPN, Smart DNS does not encrypt your traffic.
This means that you will not have the same level of security as you would with a VPN. However, Smart DNS is often faster than a VPN because it does not encrypt your traffic.
You can try it for free for 14 days without having to submit any credit information.
4. Use Tor Browser
Tor is an open-source and free browser that can be used to access the internet anonymously. When you use Tor, your traffic is routed through a network of volunteer servers.
This makes it difficult to track your online activity. In addition, Tor encrypts your traffic by default and you can easily watch US Open Tennis with Tor.
5. Contact your ISP and Get a US IP Address
If you live in Australia, your ISP will automatically assign you an Australian IP address.
This can be changed by contacting your ISP and asking for a US IP address. Once you get a US IP address, you will be able to watch US Open Tennis as if you were located in the United States.
Note that not all ISP does include this option, and they are generally included in pricier plans that are dedicated for companies, and not necessarily for personal use.
6. Watch on SBS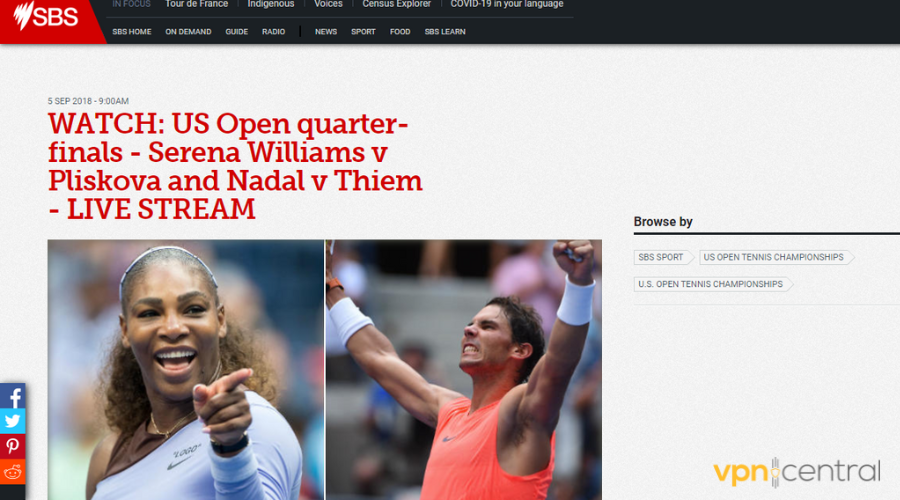 SBS will always broadcast the biggest matches of the US Open free of charge. They can be viewed life or on-demand through SBS On-Demand. All men's and women's singles quarterfinals, semifinals, and finals will be broadcast on the network.
Keep in mind that for the best experience on SBS, you will need to use a VPN or proxy server when connecting to it. Take a look at the above-mentioned solutions to learn how to correctly configure VPNs and proxies.
After you connected to a VPN or proxy server and it appears as if you are browsing from the US, open the SBS website and search for the US Open Tournament live stream.
7. Watch on Foxtel Now
Foxtel will also be broadcasting the US Open Tennis matches in Australia. You can watch it by subscribing to their sports package.
This will give you access to Fox Sports, which is where all of the action will be taking place. You can get a free 10-day trial too to test out the service.
Conclusion
These were some of the best and easy methods which you can use to watch US Open Tennis in Australia. If you have any questions or suggestions feel free to ask us in the comments section below.