People use a VPN when accessing Abema TV, as the service is only available in Japan.
However, some individuals encounter the Not available in your region error, preventing access to the platform even when connected to a VPN.
This indicates your VPN fails to hide your real location.
Nevertheless, don't worry; we are here to assist.
We'll look into the potential causes of this problem and offer efficient fixes so you can quickly resume watching your favorite shows.
Why can't you access Abema TV with your VPN?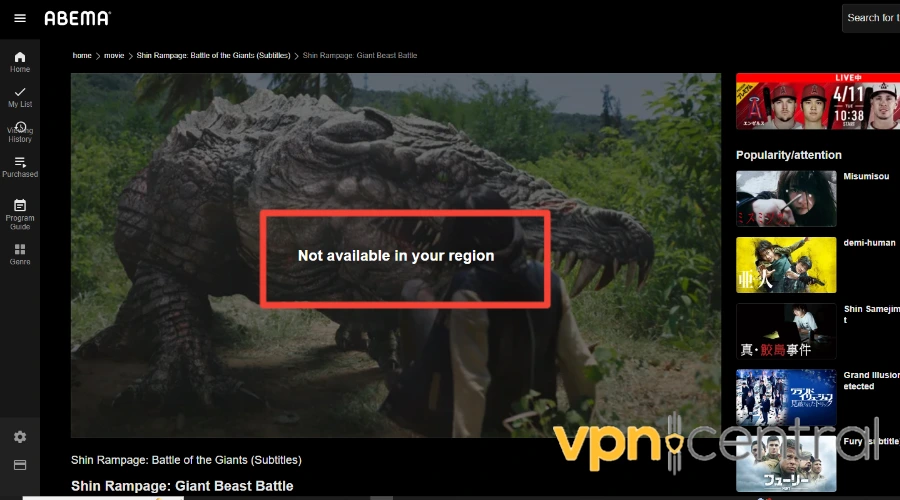 AbemaTV attempts to stop users outside of Japan from using its service since it is a Japanese streaming service only accessible in that country.
Therefore, it blocks known VPN servers to prevent people from accessing restricted content outside Japan.
In addition, there are other reasons why you might encounter an error that hinders you from accessing the platform with your VPN, including:
If you previously used Abema without a VPN, stored browser cookies may reveal your real location.
You use a VPN server outside Japan.
Using outdated tunneling protocols, such as PPTP, may reveal your actual data.
An unstable or slow internet connection will make you unable to connect to the server and access Abema.
Despite these challenges, bypassing Abema's restrictions using a reliable VPN and configuring it appropriately is still possible.
What to do if Abema is not working with a VPN?
If you're experiencing issues with Abema TV not working with VPN, there are a few things you can try to resolve the issue:
1. Change server location
Abema TV might not function with some VPN servers due to IP prohibitions, too many people connected, or IP leaks.
Therefore, if your VPN has stopped working with AbemaTV, it's possible that the streaming service has blocked the IP address your VPN is using.
Here is how to change to another server location on your VPN:
Launch your VPN app.

Disconnect from the current server.
Expand the server list, search for, and select another Japanese server in the search box.

Connect to the server.

And continue to enjoy content on Abema TV.
AbemaTV cannot block the entire VPN, only its specific IP addresses.
So, to address this issue, you may want to try switching to a different Japanese server on your VPN.
By doing so, you will be assigned a different Japanese IP address, and if AbemaTV hasn't blocked it, you should be able to access the streaming service with your VPN again.
2. Clear the cookies and the cache
To troubleshoot AbemaTV not working with VPN, delete your cookies.
Cookies are small files that your device uses to optimize your online experience, but they can interfere with VPN usage because they store location data.
Access your browser's settings by clicking on the three dots or lines in the top-right corner of your screen.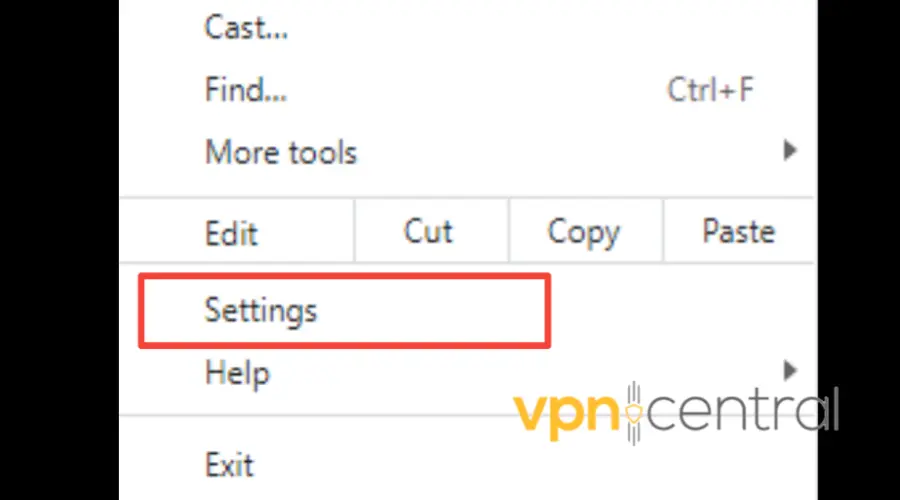 Click on Privacy & Security.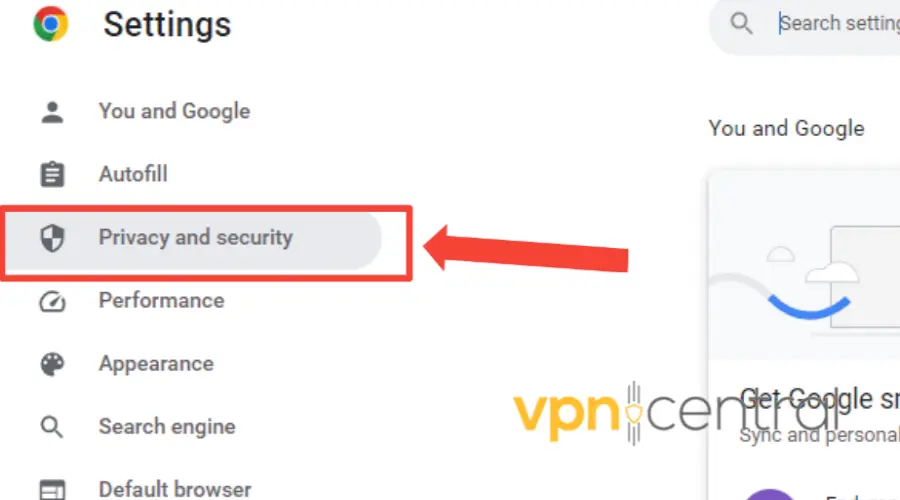 Select Clear Browsing Data.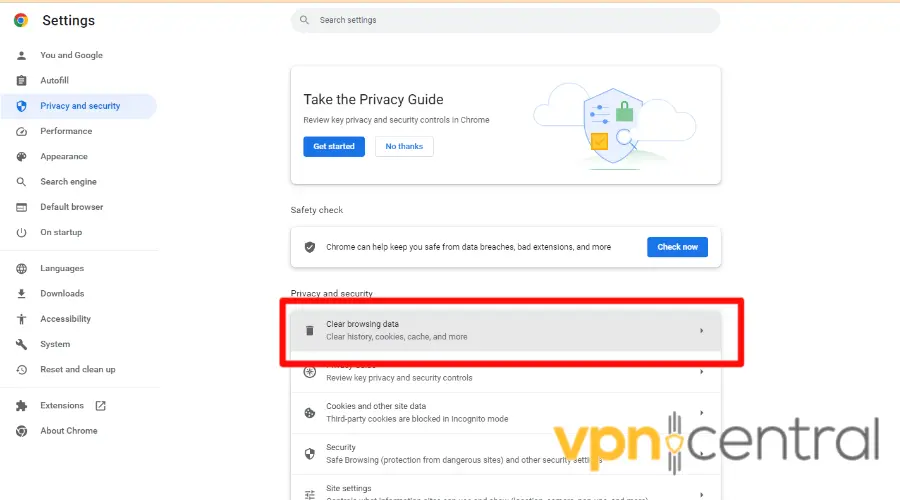 Choose the option to See all site data and permissions.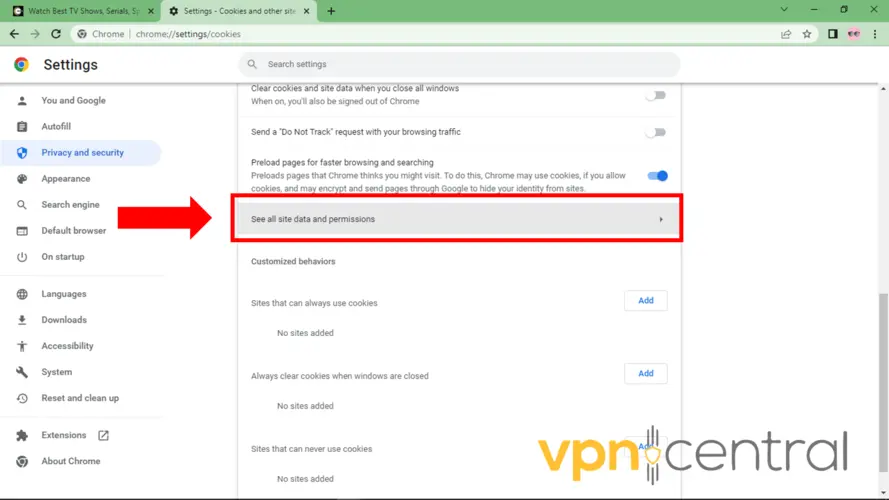 Search for Abema and select the delete icon.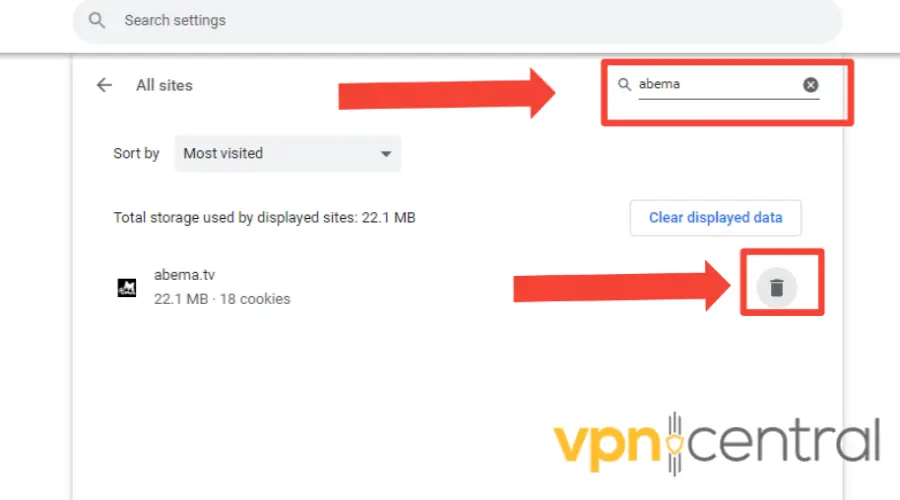 Click Clear and reopen Abema TV.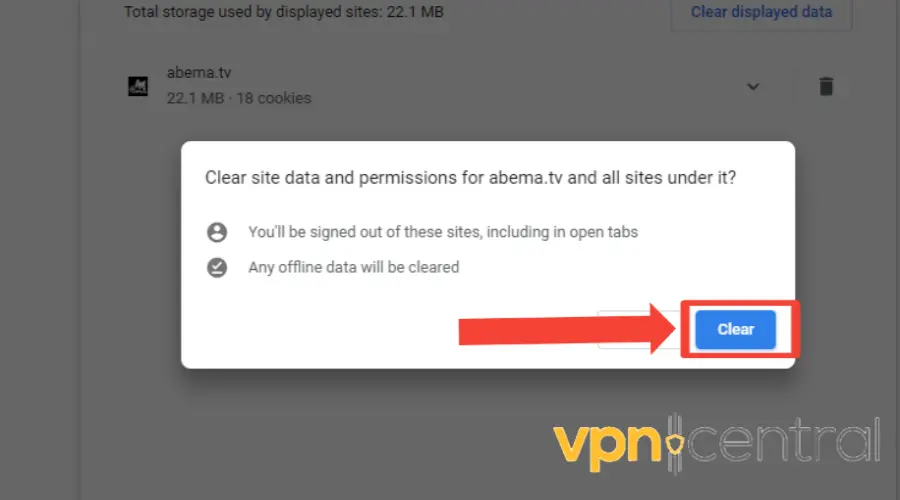 If the location data is stored by cookies, you'll automatically be directed to Abema TV based on that information.
Browsers don't store location info every time you connect, so even with VPN on, they may still use a previously logged location. However, clearing cookies will fix all that.
In addition, clearing your cookies can improve your browsing speed and protect your privacy online.
While we used Chrome as an example because of its popularity, it is worth noting that this method can work on any browser, such as Opera, Edge, or Firefox.
The steps required to clear cookies on these browsers are also similar.
3. Change your VPN provider
Abema will know where you are if your VPN doesn't conceal your location because of weak protocols, downtime, or DNS leaks, rendering the VPN worthless.
Hence, if your VPN keeps giving you problems, it's time to switch to a better provider.
If none of the above-mentioned alternatives work, consider using a reliable option like NordVPN.
Here is how to stream on Abema TV using NordVPN:
Subscribe to a NordVPN plan and download the software.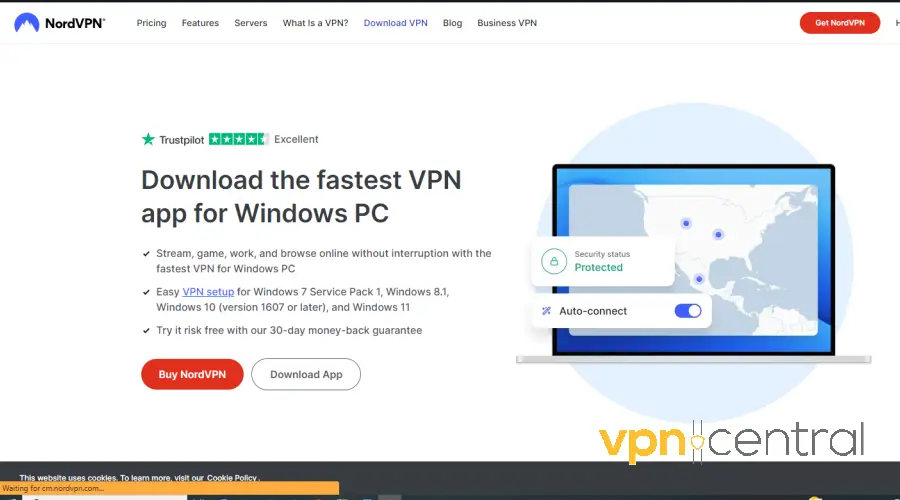 Install the app and log in with your credentials.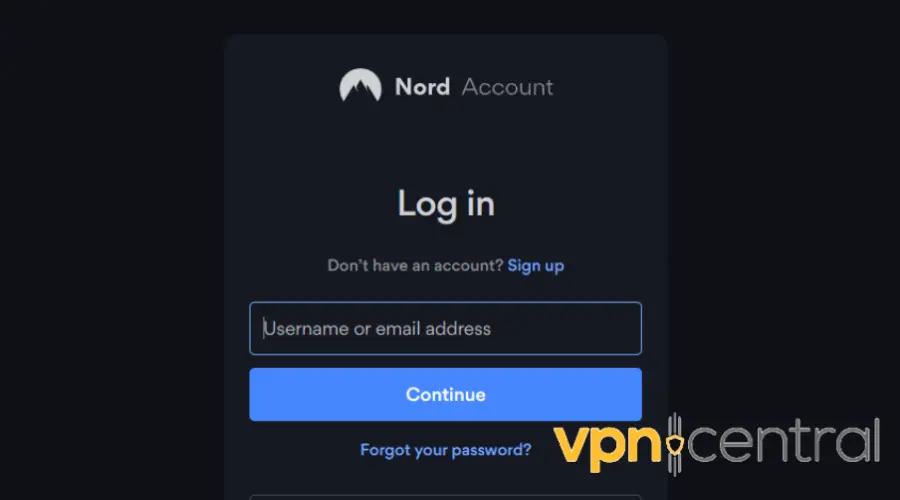 Browse the server list and select a Japanese server.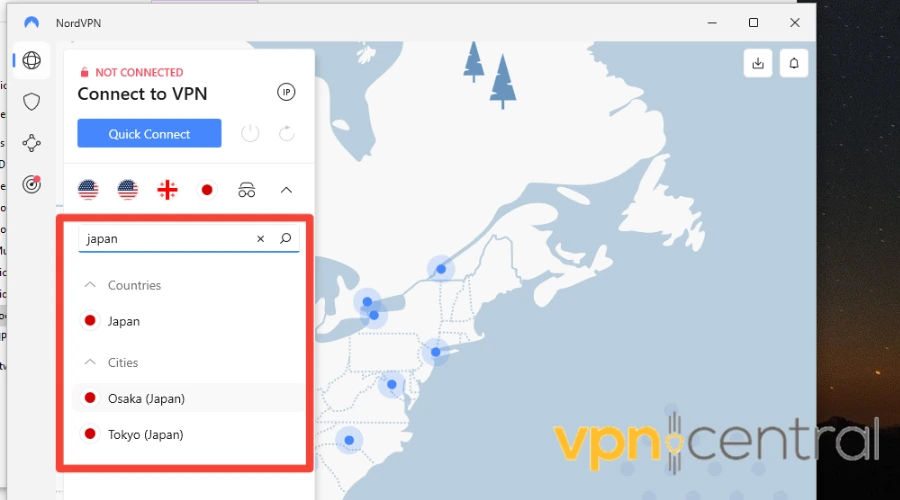 Connect and enjoy unlimited access to Abema's content.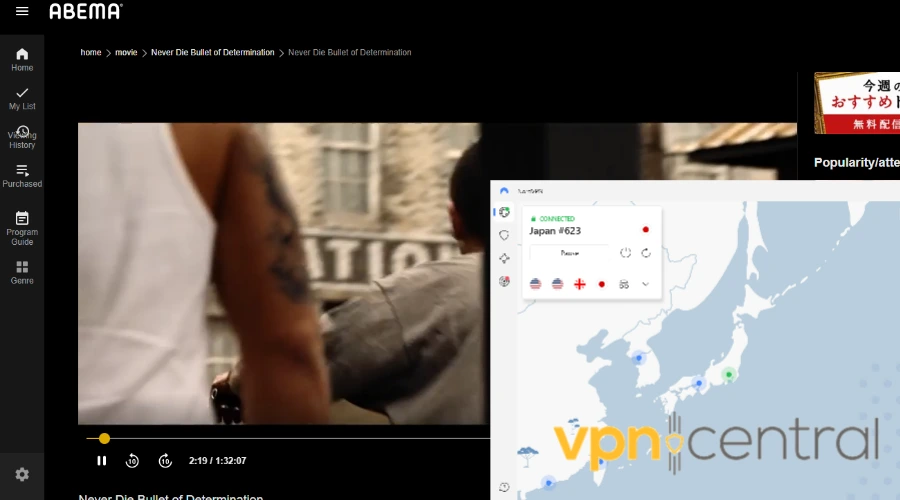 NordVPN has 5600 servers worldwide, with over 130 servers in Japan. It can unblock restricted websites like Abema, Hulu, Viki, and other Japanese TV.
In addition, this VPN contains 256-bit encryption, a kill switch, and ad-blocking for a smooth streaming experience on Abema.
You can simultaneously connect up to six devices. This makes it a fantastic all-arounder that is perfect for most household consumers.
NordVPN offers a no-logs policy, allowing you to broadcast privately without concern that others may learn about your online actions.
With its generous 30-day money-back guarantee, it is highly recommended for testing.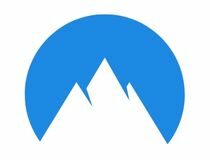 NordVPN
Unblock Abema to enjoy unrestricted Japanese TV from anywhere in the world!
Does Abema TV block VPNs?
Yes, AbemaTV blocks VPNs.
They ban known VPN IPs from accessing the platforms and try to detect them.
Therefore, because VPN users share IPs, Abema TV can eventually identify and block them if multiple customers seem to share the same IP.
However, to stop this detection, ensure you use a reliable VPN provider with multiple Japanese servers.
Summary
AbemaTV blocks IP addresses outside Japan to prevent users from accessing its services.
However, using an outdated VPN protocol, slow internet speed, or browser cookies can also cause Abema TV not to work with VPN.
Therefore, changing to a different VPN server location, clearing cookies and cache, or switching to a better VPN provider like CyberGhost will give unrestricted access to Abema's content.