Your VPN's location spoofing can be used to get lower prices on many services — even other VPNs.
We put it to the test, and it worked better than expected.
Read on to find out how to get the best deals for premium providers!
Can you use a VPN to buy another VPN cheaper?
VPN services calculate their price based on your IP address.
If you're accessing the provider's website from a higher-income country, chances are the prices will reflect that.
On the other hand, purchasing from a different place can get you a nice discount. You can use a free VPN like hide.me or TunnelBear for that job.
We tested this on NordVPN!
Below, you can see the price for US customers — $161.73 for the first two years.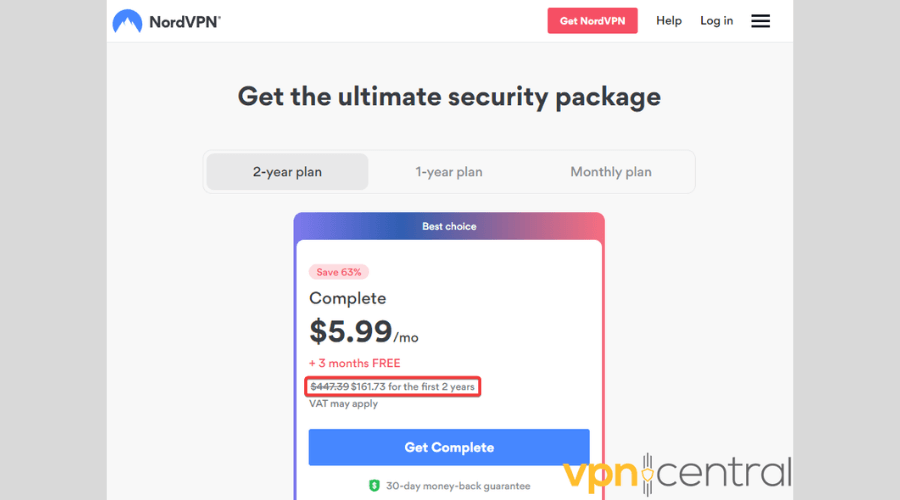 Connecting to an Indian server brought the price down to $142.83.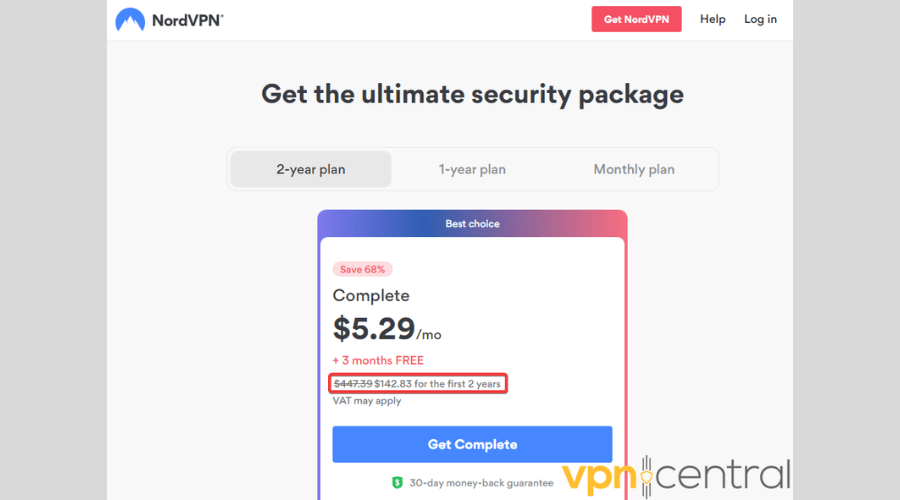 Both hide.me and TunnelBear have free plans and features that work great for this purpose.
hide.me has a generous 10GB bandwidth but fewer locations.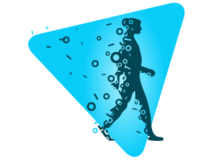 hide.me
hide.me can ensure you get all your subscriptions at the best possible price.
Meanwhile, TunnelBear has a 500MB bandwidth with a better server distribution.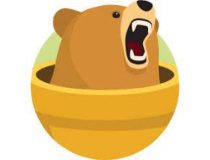 TunnelBear
This service will help you get bargain prices on anything you want to purchase online.
How much money can you save using a VPN?
It's time to do some calculations! But don't worry, we'll keep it brief.
Let's go back to our example with NordVPN.
Without using a VPN, the Complete plan was $5.99/month. That's $161.73 for the first two years, including three months for free.
But, by switching our location to India, the offer was $5.29/month or $142.83 in total.
You can save $18.90 this way.
What's more, you can make an even bigger difference with VAT. Let us explain!
NordVPN will calculate the expense based on your country, state, or zip code.
So, if you're in the UK, you'll have to pay 20% VAT on top of your subscription.
That brings the price up to $194.08.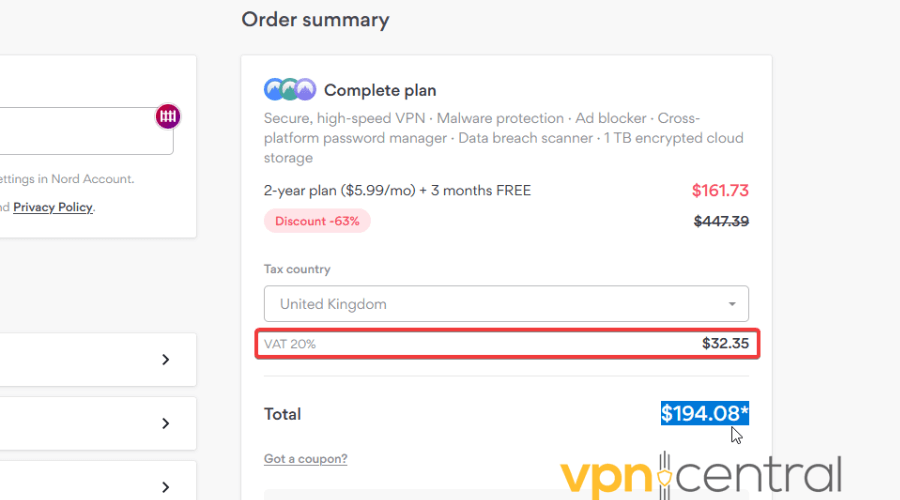 However, you can use a VPN to connect to a country with lower tax rates or where VAT doesn't apply. That way, you can bring down the price even further.
For example, Kenya's VAT is 0%, so it doesn't affect the total.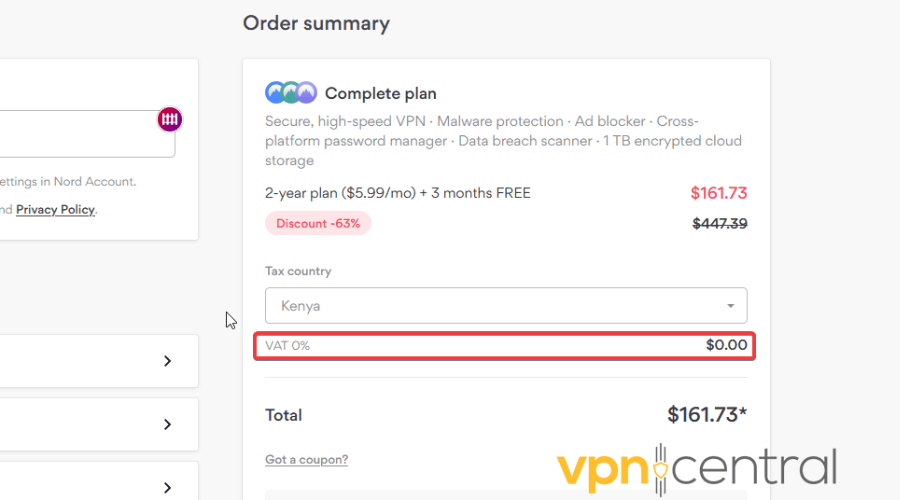 That will save you at least $32.35.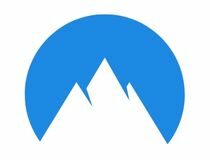 NordVPN
Secure your online identity and maintain excellent speeds with this top-notch VPN service.
Other than that, you can use a VPN to get discounts on:
Plane tickets — Airlines also calculate prices based on your location. You can save up hundreds of dollars by trying out different servers.
Hotel bookings — Booking sites use your IP address and cookies to tailor their offers. Longer stays will be much more affordable with a VPN.
Steam games — Another thing you can access that way is foreign Steam marketplaces and buy games at lower prices.
Software — You can get discounts on monthly subscriptions and one-time software purchases.
Streaming services — Netflix, Amazon Prime Video, and similar platforms are more affordable in particular countries.
Wrap up
Using a free VPN to buy a cheaper premium service might sound too good to be true. But it actually works!
We recommend hide.me and TunnelBear for the job. A quick trip to their server locations list will grant you discounts and lower VAT rates.
Give it a try, and let us know how it went.