Kiwi is a Chromium-based Android browser that doesn't have an integrated VPN but has the unique feature of supporting Chrome web extensions on mobile. So you can go ahead and install whichever VPN you want.
Although Kiwi has inbuilt anti-tracking, it lacks encryption, and many users are concerned about the privacy provided by the browser. You can fix all that by adding a VPN extension.
We learned that not just any extension works great on this browser, but we found the best options. Check our rundown to see what our top picks are and what they offer.
Why do I need a VPN for the Kiwi browser?
Privacy and security – VPN encryption algorithms protect all your traffic info from Kiwi & the IP masking ensures you are untraceable, not even your ISP can monitor your activity.
Bypass restrictions – change your virtual location with a VPN to bypass geo-blocks.
Which is the best VPN extension for the Kiwi browser?
1. Surfshark – best feature set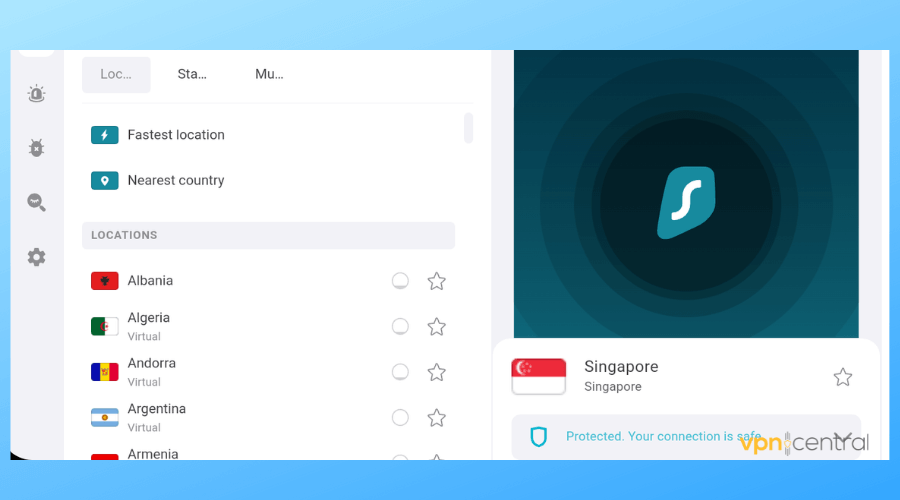 Surfshark is a premium VPN client with overall great privacy features, and its browser extension doesn't disappoint.
It is very similar to the dedicated app, including a lot of features and access to all the VPN servers offered by the service.
You can access its Chrome Webstore listing directly from Kiwi and select Add to Chrome. Then just login with your credentials and you're all set.
Just like the VPN app, the extension has a quick-connect feature. Basically, it picks the fastest VPN server available, based on your connection.
Along with that, it also offers you the possibility to manually pick whichever location you like.
The extension also includes the Multi-Hop (double VPN) feature. It routes your traffic through two servers so your activity remains undetected even when you access highly monitored websites or are in a very restrictive location.
Surfshark has servers located in over 100 countries and the extension lets you access all of them. These will allow you to pass over any regional restrictions and access any website you want from your Android device.
We must also mention that Surfshark encrypts all traffic with military-grade AES-256-bit encryption, ensuring that everything you do online will not be tracked by your network admin or ISP.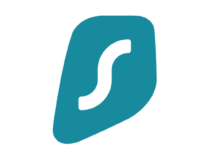 Surfshark
Stay untraceable when browsing on Kiwi thanks to Surfshark's unbreakable encryption!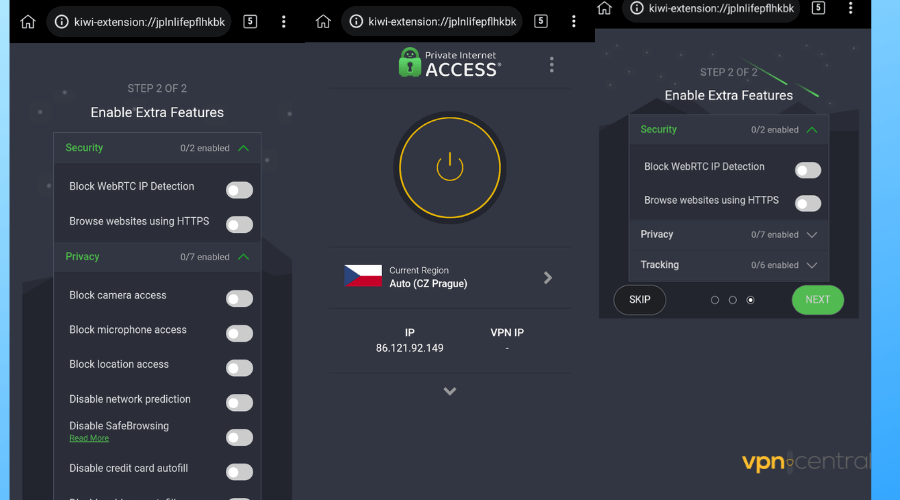 The PIA VPN extension is a powerful plugin for the Kiwi browser. It offers most of the benefits included in the dedicated app, encrypting all your traffic using the AES-256-bit algorithm.
It is lightweight and easy to install directly from the Google Webstore.
The extension integrates useful privacy features such as blocking camera access, disabling network prediction, blocking webRTC IP detection, and more.
Just like the desktop and mobile apps, the PIA VPN browser extension allows you to quickly connect in just one tap.
You get to pick from a generous server list and can switch between servers as much as you want.
That being said, the VPN extension does not offer access to all the PIA server locations. For that, you will have to use the dedicated app instead.
If you want more configuration options and access to all the features and the 35 000 servers, then the app is your best bet. You can install it on your Android and connect to a server whenever you use Kiwi.
Keep in mind that this extension is included in the Private Internet Access subscription plan, so you'll need to sign up for a premium account to be able to add it to the Kiwi browser.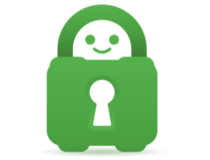 Private Internet Access
Add PIA to your Kiwi browser to access any webpage and protect all your traffic information!
3. CyberGhost – best free VPN extension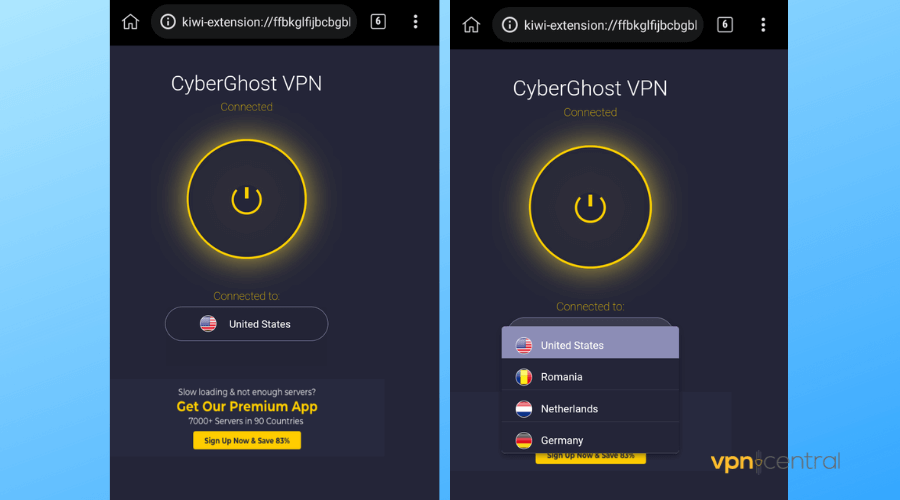 CyberGhost offers a free VPN extension that you can add to your Kiwi browser from the Chrome Webstore. You can find it under the listing Stay Secure with CyberGhost.
As opposed to most free VPNs/proxies on the market, CyberGhost offers unlimited traffic. You can connect to it each time you use Kiwi and keep all your traffic encrypted.
It uses AES-256-bit military-grade encryption which is one of the best in the industry. Your traffic stays encrypted and remains untraceable even in highly monitored locations.
That being said, the CyberGhost developing team alerts users that this free extension doesn't secure their data when accessing flash content and cannot protect against webRTC leaks.
The VPN is able to bypass geo-blocks without being detected. However, the server base is limited to only 4 locations, in the US, Romania, Netherlands, and Germany.
You'll only be able to unlock content from these locations.
To get access to the entire CyberGhost server base ( 8000+), you'll need to sign up for a subscription and install the dedicated Android app.
The premium version of this VPN also includes advanced features like a secure killswitch, multiple VPN protocols, and support for up to 7 simultaneous connections.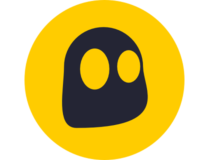 CyberGhost
Bypass regional blocks and encrypt your traffic on Kiwi with CyberGhost!
Wrap Up
Adding a VPN extension to the Kiwi browser will offer you better online privacy and allow you to browse around freely without restrictions.
They're quick and easy to set up alternatives to VPN apps, but most of them are limited. If you need to mask your IP and encrypt traffic, extensions should be enough.
However, installing the dedicated app for Android will protect your entire online activity, not just the Kiwi browser, so we recommend giving them a shot.
All the VPNs we recommend here have free trials, so you can test them out yourself.