If you're familiar with VPNs, chances are that you've already used such a service. Otherwise, you may want to start using one, as it comes with many benefits.
A VPN masks your original IP address by replacing it with a new one based on the location of the VPN server.
By concealing your real IP and location, you can circumvent geo-blocking since it's based on your geography, and you can also surf the Internet anonymously.
With a VPN, you can connect to many locations across different countries, which will allow you to access websites, streaming services, apps, and games unavailable in your area with a few clicks.
In addition, a VPN also encrypts your traffic by rerouting it via a secure VPN tunnel. This will keep your data and activity protected at all times, thus preventing any third-party interference.
VPNs come in the form of applications that can be downloaded and installed on your devices, and also as browser extensions that can be added to your browser.
VPN apps work system-wide, which means that all of your traffic will go through the VPN tunnel when you're connected to the app.
VPN browser extensions, on the other hand, only route traffic going into and out of a specific browser.
In this guide, we'll show you how the two compare by describing how they perform on the whole, what features each offer, and also whether you should use one or the other depending on your particular needs.
What is the difference between a VPN and a browser VPN add-on extension?
As you'll go through the information presented below, you will get a solid grasp of the most important differences between a VPN app and a VPN browser extension, from the user interface to servers and speed to security and privacy.
VPN app: full-featured VPN version working system-wide
➡Interface & design
VPN providers usually have native clients for multiple operating systems and devices, including Windows, macOS, Linux, Android, and iOS.
This means that you can use them regardless of whether you have a PC, laptop, smartphone, or tablet.
All you need to do is download the appropriate VPN app for your operating system and device, and you'll have the VPN up and running immediately.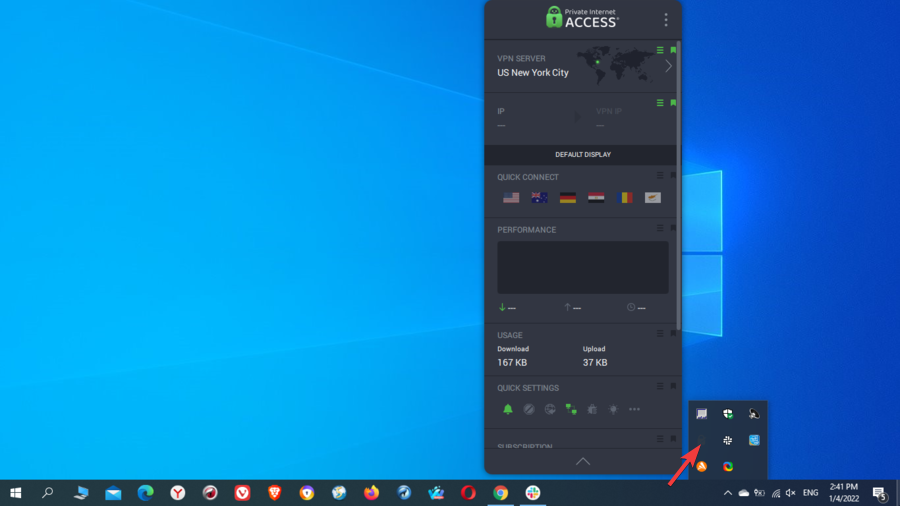 Most VPN services have user-friendly apps, which means that they can be easily set up and used by common users that are neither tech-savvy nor have any kind of VPN expertise.
If you've never used a VPN before, we'll show you later an example of how you can configure a VPN client on your device. Our example is particular, but the steps are pretty general.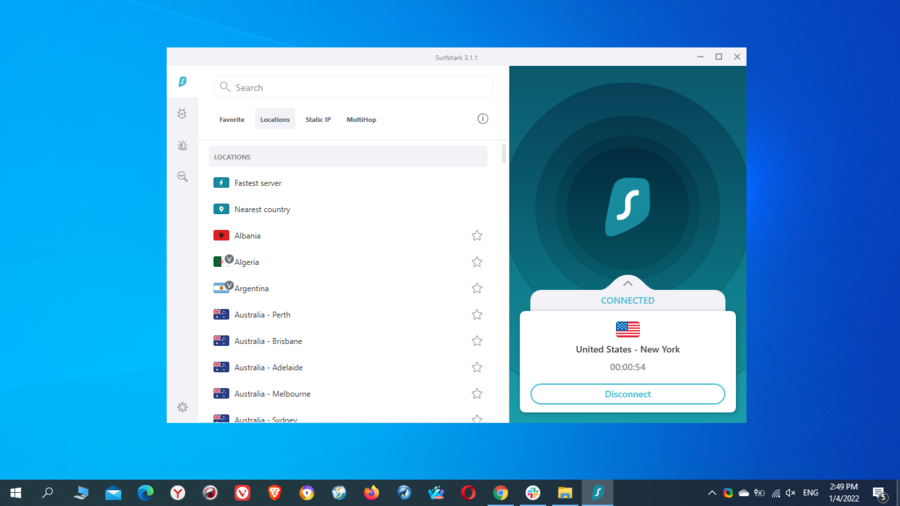 While VPN apps differ in terms of design, interface, settings, and features from provider to provider, they also differ depending on the platform for which they were built.
For example, VPN apps for mobile devices have a more minimalist appearance, allowing you to connect to the VPN quicker. Also, they have fewer settings and features, compared to PC apps.
Here, you can see the simplicity of different VPN apps for Android devices as compared to the previous two for Windows.
➡Servers
You already know that a VPN masks your current IP address and replaces it with a new one to make it look like you're connected to the Internet from a different location.
VPN servers are the ones that allow you to get different IP addresses, which in turn will allow you to get around geo-restrictions depending on the location of the VPN server to which you connect.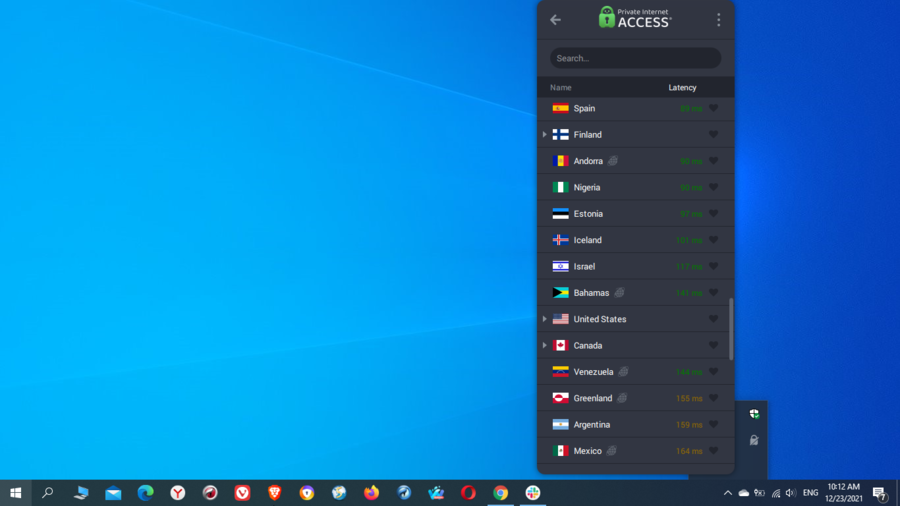 The number of VPN servers offered by a VPN provider is probably the most eye-catching thing at first glance, and that shouldn't come as a surprise at all.
While other features are equally or even more important, VPN servers are particularly essential for bypassing geo-blocking as well as for the overall performance of the VPN.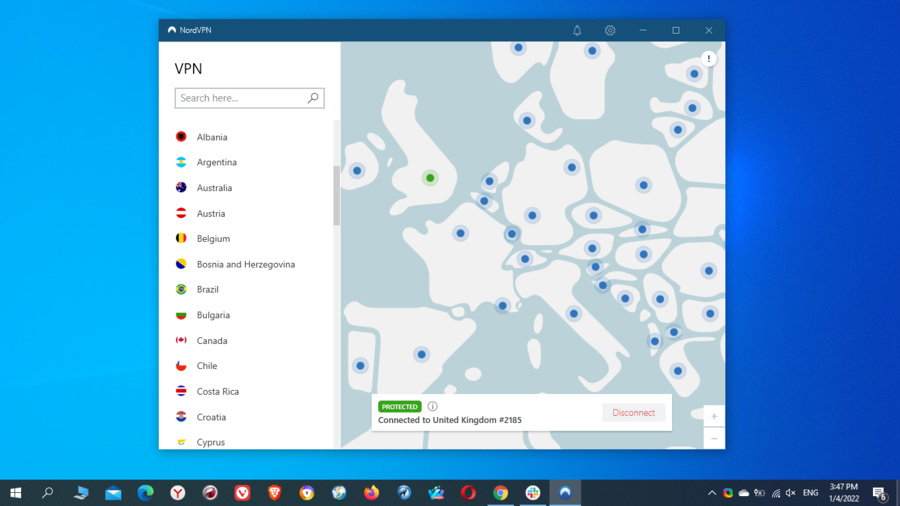 The more VPN server locations available, the more options you have to connect from multiple areas. Their distribution is also very important when it comes to geo-restrictions.
VPNs that include large networks of servers spread across multiple continents, countries, and cities significantly increase your chances of bypassing geo-blocks from everywhere.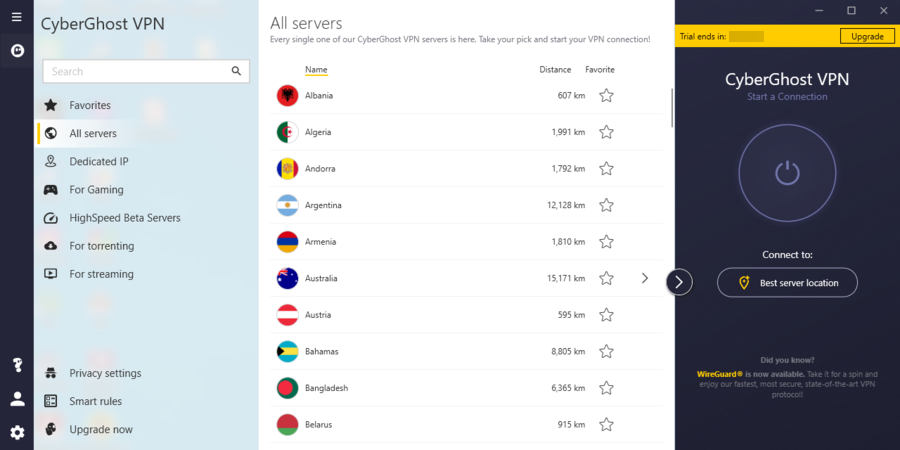 Some VPN services provide specialized servers that are specifically optimized for streaming, gaming, or torrenting.
The quality of the VPN servers depends on their infrastructure, on how they are operated by the VPN provider, how frequently they are updated, and also on how reliable, secure, and fast they are.
➡Speed
Speed is certainly an important aspect to look at when using a VPN service. Since a VPN uses encryption to secure your traffic, you will notice a significant or slight decrease in speed.
The difference in speed is also influenced by factors such as the quality of the VPN service or the distance between your physical location and that of the VPN server. The closest you are to the VPN server, the smaller the speed decrease will be.
In the examples below, we run three different speed tests while connected to the Private Internet Access (PIA) VPN app. In doing so, we used different performance metrics analysis tools, including Speedtest.net/Speedtest by Ookla, SpeedOf.Me, and Fast.com.
For each test, we used a different tool and connected to a different VPN server in Germany, the USA, and Australia to see how the speeds compare. The metrics being analyzed were download speed, upload speed, ping, latency (loaded and unloaded).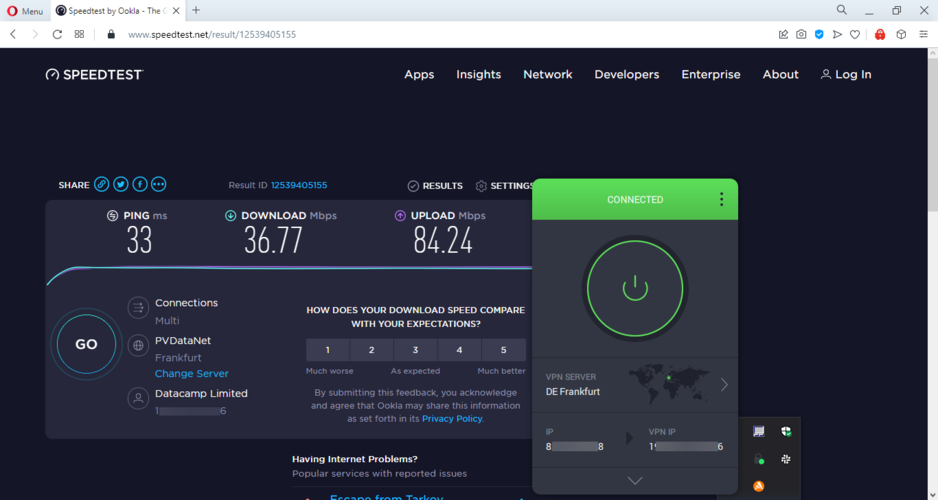 When running the above tests, we were connected to the Internet from the same location in Alba county, Romania. As you can see, we got faster speeds when we connected to the VPN server in Germany and slower ones for the US and Australia servers, as these countries are farther away.
➡Features
In addition to concealing your online identity to circumvent geo-blocking and surf anonymously, premium VPNs also come bundled with many other security, privacy, and anti-censorship features that are available with their native apps.
✅Encryption
Unlike other online circumvention tools like proxy servers or smart DNS services, which can help you bypass geo-restrictions and also surf anonymously in the case of proxies, a VPN is far more advanced in that it also provides complete online privacy and security.
These couldn't be ensured without strong encryption that is used by VPNs to route all of your incoming and outgoing traffic via a secure VPN tunnel.
Encryption is a method used to encode a message or file so it can only be read by certain persons. To do so, it uses an algorithm that takes readable plaintext and scrambles it to unreadable ciphertext that can't be decrypted by the receiving party without an encryption key.
VPN encryption works similarly and is aimed at securing the data within the VPN client – VPN server tunnel to make sure it can't be intercepted by anyone.
Therefore, when you connect to a VPN server, your connection requests are encrypted before being sent to the server. Then, they are decrypted by the server and forwarded to the Internet.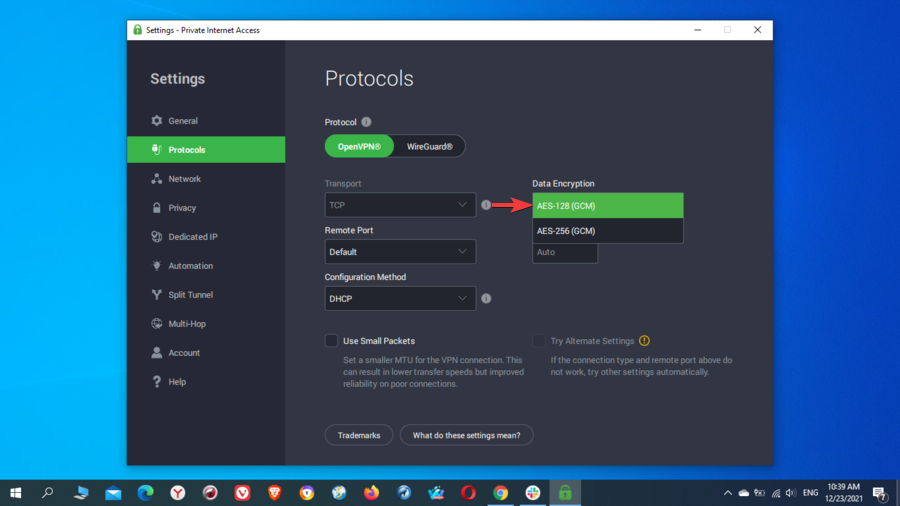 After the VPN server receives the requested data, it will encrypt it once more before sending it back to your device. Once received, the data is decrypted by the VPN client so you can view it.
Encryption includes the following key elements:
Encryption algorithm – a formula or process used to turn ordinary data or plaintext into a secret coded message known as ciphertext. In other words, it's the mathematical method by which data is encrypted and decrypted.
Encryption keys – are random strings of bits created explicitly for scrambling and unscrambling data. They work like a typical password and are required to access or decipher the encrypted data.
Key length – the number of bits in an encryption algorithm's key. The longer the key length, the harder it is for someone to crack it. For example, 256-bit encryption is much stronger than 128-bit.
High-performance VPN products usually use AES-256 encryption, which has a key length of 256 bits. This encryption supports the largest bit size and is practically unbreakable by brute force.
AES encryption refers to the process of concealing electronic data using an approved 128-bit, 192-bit, or 256-bit symmetric encryption algorithm from the Advanced Encryption Standard (AES).
It represents the industry standard and is also referred to as military-grade or bank-grade encryption. It is also used by intelligence agencies, militaries, and governments worldwide.
Consequently, you should aim for a VPN service that uses AES-256-bit encryption, as this will guarantee complete online anonymity, privacy, and security to shield you from hackers, snoopers, ISP monitoring, or government surveillance.
✅Protocols
A VPN creates a secure tunnel to reroute the traffic between your device and the VPN server. In doing so, it uses different security protocols to determine how that tunnel is created.
VPN protocols determine how data is routed through a connection. They have different specifications, namely, some prioritize data throughput speed, while others focus on masking or encrypting data packets for privacy and security.
Among the functions VPN protocols generally perform, the most important are authentication and encryption. Authentication ensures your device is communicating with a trusted VPN server, whereas encryption makes the communication unreadable to outsiders.
Different encryption standards and authentication methods lead to different levels of speed and security. VPN protocols also have different rules on how to handle potential errors; thus, they can influence stability and reliability.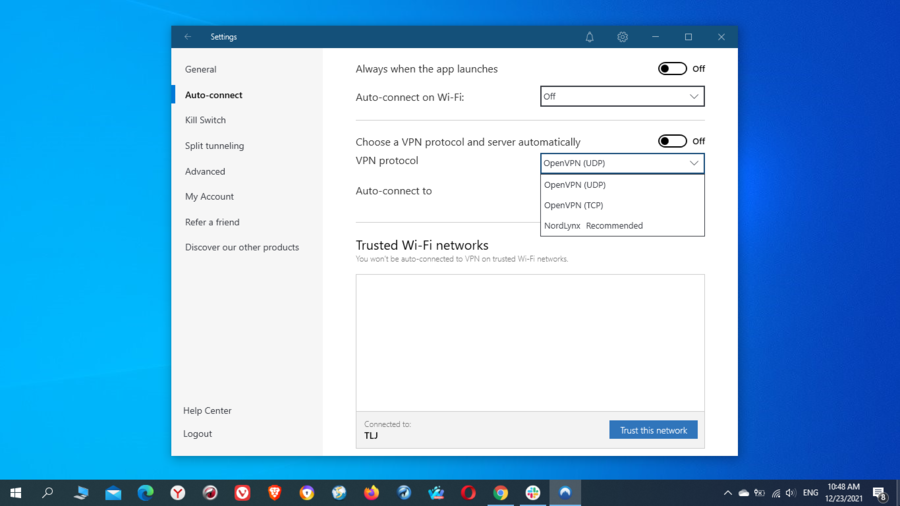 Consequently, VPN protocols constitute an integral part of the overall performance of the VPN service. Because of that, top VPN providers use strong and reliable VPN protocols that ensure the best in terms of privacy, security, speed, and connection stability.
Some of the most popular VPN protocols are:
OpenVPN (TCP and UDP)
PPTP (Point-to-Point Tunneling Protocol)
SSTP (Secure Socket Tunneling Protocol)
L2TP/IPSec (Layer 2 Tunneling Protocol)
KEv2 (Internet Key Exchange version 2)
WireGuard (newest addition on the market)
SoftEther (relatively new VPN protocol)
NordLynx (NordVPN's proprietary protocol)
Lightway (ExpressVPN's proprietary protocol)
OpenVPN is an open-source VPN protocol that is very reliable, secure, and stable, being used by many VPN providers. It can be easily configured and is available free for all major platforms.
It uses AES-256-bit encryption and is difficult to block because its traffic is extremely difficult to distinguish from HTTPS/SSL traffic.
OpenVPN can run on any port and can be used both with UDP (User Datagram Protocol) and TCP (Transmission Control Protocol) connection protocols.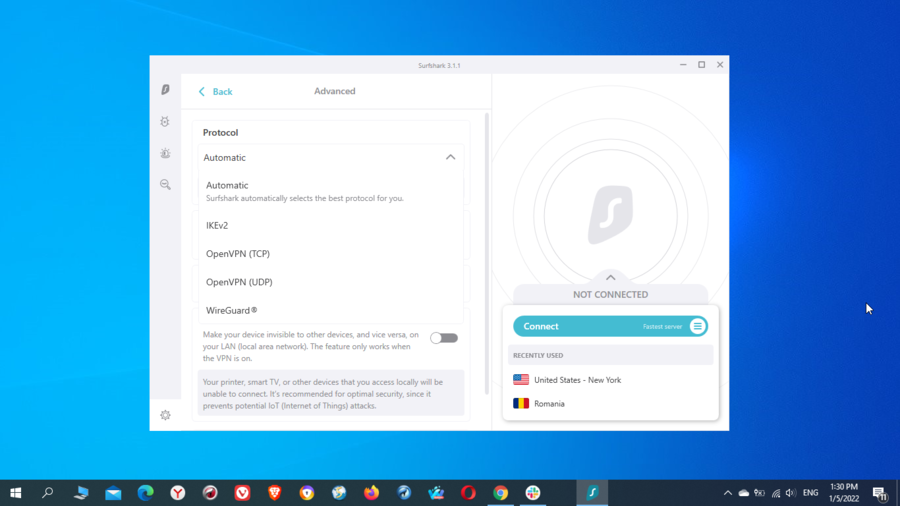 IKeV2, which stands for Internet Key Exchange version 2, is sometimes referred to as IKeV2/IPsec because it is paired with IPsec (Internet Protocol security) for encryption and authentication, together forming a tunneling protocol.
It is one of the newest VPN protocols and is widely used by VPN providers. It is more stable and lightweight than OpenVPN. It provides enhanced security, stability, and speed.
KEv2/IPsec uses powerful cryptographic algorithms and keys, which are unbreakable by supercomputers. It is only available over UDP, which can be blocked by some firewalls.
WireGuard is a free and open-source VPN protocol that has a much lighter codebase compared to other protocols. It was made available in 2018, being the newest VPN protocol on the market.
It soon became very popular and many VPN providers have started adopting it lately. WireGuard uses modern cryptographic algorithms and provides enhanced security.
Being highly efficient and lightweight due to performance-optimized code, WireGuard is also more reliable and faster than other protocols and is rapidly becoming an alternative to them.
✅Kill switch
Have you ever wondered what happens when your VPN connection drops unexpectedly or when you disconnect the VPN accidentally?
Well, obviously, during that short or long time, your traffic is no longer encrypted, leaving your sensitive data and devices unprotected. It only takes a split-second for your data to leak to the open Internet, making you susceptible to cyberattacks and monitoring.
A kill switch is an automatic security VPN feature that prevents your device from establishing unprotected connections, thus preventing your data from accidental exposure.
When enabled, the VPN kill switch actively monitors your VPN connection, so when it drops, the kill switch will shut down the Internet connection for your entire device or certain apps.
Depending on the VPN service you're using, you can disable the Internet entirely when the VPN connection drops or you can select specific apps to be denied access to the Internet in case you disconnect from VPN by mistake.
Your system-wide or app-level Internet connection will be restored only after the VPN connection is restored, or after you disable the VPN kill switch.
✅Ad blocker
Some VPN services also include an ad and malware blocker feature which is found under different names. For example, PIA MACE, NordVPN CyberSec, and CleanWeb are the names for the ad blockers offered by Private Internet Access, NordVPN, and Surfshark, respectively.
VPN ad blockers significantly enhance your online security and privacy by blocking websites and apps that are known for hosting malware and phishing scams.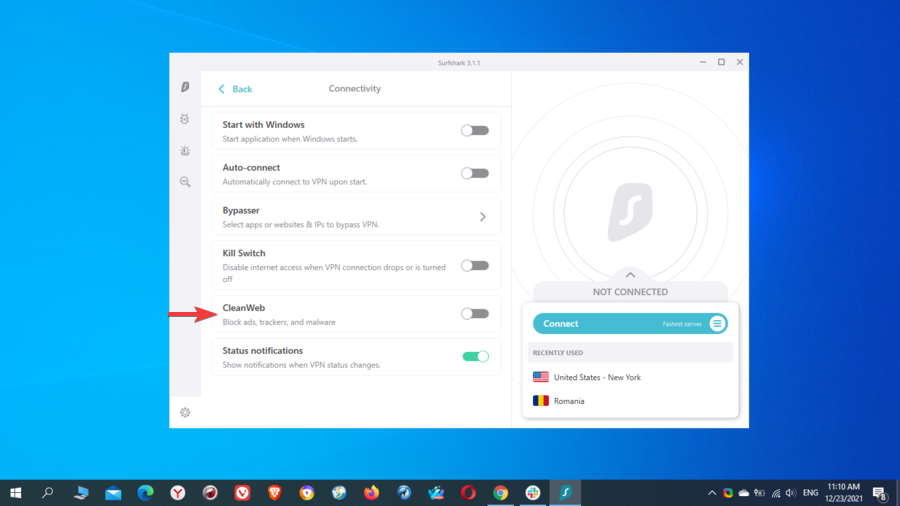 For example, when you visit a certain website, the ad blocker will compare its address against a database of blacklisted websites. Thus, if a website is known for hosting malware, spyware, or other malicious software, the malware blocker will block it.
In addition to protecting you from phishing scams and cyber threats, VPN ad blockers also block ads, banners, unwanted pop-ups, autoplay videos, and other advertising material, thus allowing you to enjoy the content you're looking for at faster speeds and carefree.
✅Split tunneling
Split tunneling is a VPN capability that allows you to direct some parts of your Internet traffic through the VPN tunnel, whereas the rest will have direct access to the open network.
With split tunneling, you can maintain control of your traffic by choosing which parts of it you want to encrypt. Also, you'll manage to use two different IPs at the same time and keep your original speed on the traffic you don't want to encrypt.
Since VPN use may slow your connection because of encryption, certain apps requiring faster speeds to run smoothly might run slowly with the VPN. Thus, with split tunneling, you can set rules to exclude those apps from using the VPN connection.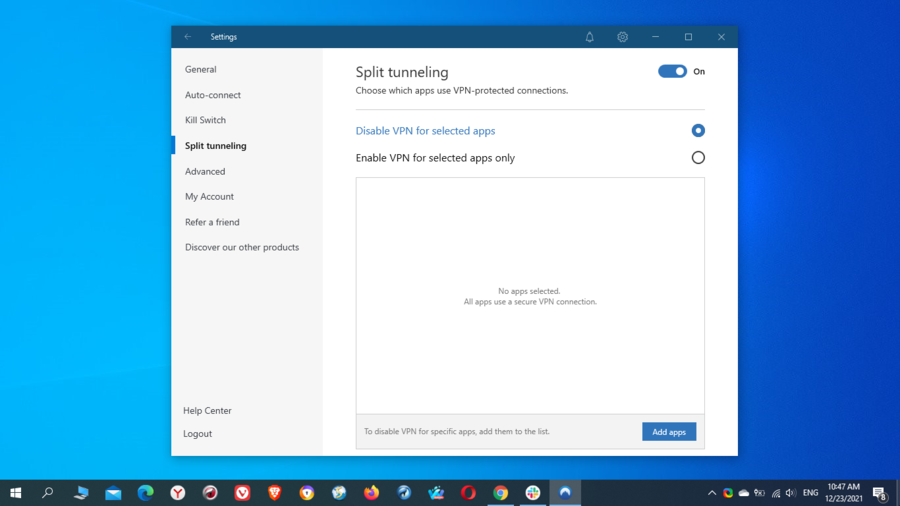 Depending on the VPN service you're using, you can choose to disable or enable the VPN for the selected apps. Also, since you can use different IP addresses, you will be able to bypass geo-blocking when connected to a VPN server while also having access to local content.
Although split tunneling can be very useful in certain situations, make sure to only use it with the apps and websites that need faster speeds and don't pose security threats. Websites and apps that are added to the exclusion list will no longer benefit from encryption and privacy protection.
✅Port forwarding
In general terms, port forwarding is a way of configuring your router to move data more directly, namely, you instruct it to send some data directly to a specific device on your network.
While this can increase your speeds and provide certain benefits, it also comes with some risks since it bypasses security protocols, such as the NAT firewall.
Port forwarding can be used when you want to make a direct connection between a device in your home network and a remote device.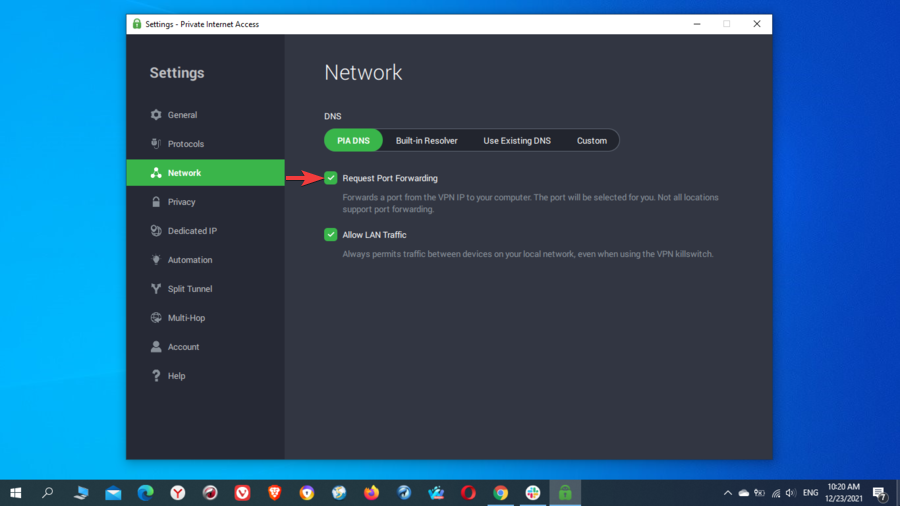 For example, you can watch a security camera when you're away from home, connect to your home server remotely, use remote desktop software to access your home computer, connect to IoT devices on your home network, or establish a direct connection to a gaming server.
Port forwarding works with VPNs as well, and certain providers support it. Since VPN port forwarding allows incoming data to bypass the NAT firewall, this can result in faster speeds.
VPN port forwarding can also be useful if you're torrenting since it can increase speeds. Also, as with regular port forwarding, it lets you remotely access your computer when you're not at home or create a direct connection with a gaming server.
✅Multi-hop
Multi-hop or double VPN – as it is also found under this name – is a feature that adds double security and privacy through double encryption.
This means that, when you enable this feature, your traffic will be routed through two VPN servers instead of one, encrypting your data twice.
With double encryption, it would be twice as hard for cybercriminals to intercept and decipher your data, as well as for ISPs, governments, or other parties to monitor your online activity.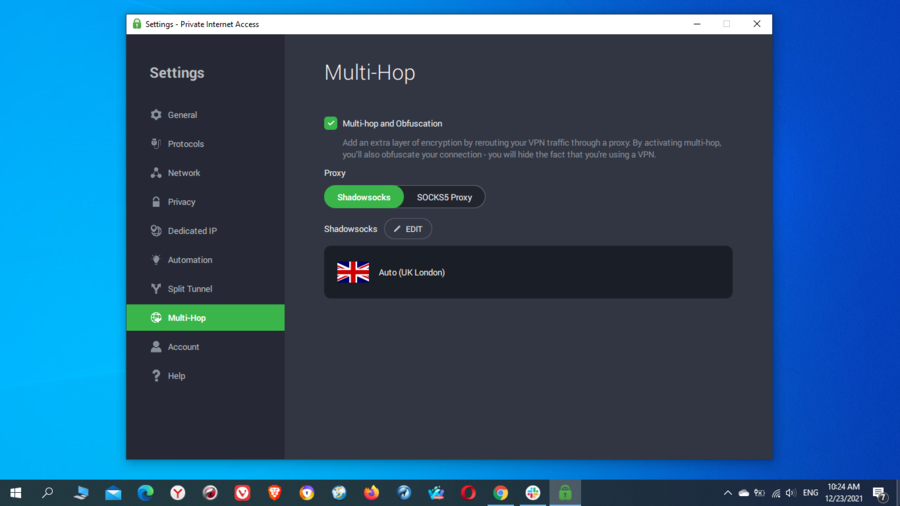 Multi-hop also ensures enhanced IP protection. Since your real IP address was changed by the first VPN server, the second server will not have any information about you.
Although it may slow down your speed because of double encryption, a multi-hop or double VPN can turn out extremely useful when you need a higher level of online privacy and security.
For example, if you're a journalist or political activist, you may be exposed to certain threats and risks; thus, you need to take precautionary measures to protect yourself. As such, with multi-hop, you can access information securely and report it without fearing being monitored.
Also, this feature can help you evade government surveillance in countries with high restrictions and censorship. With double encryption, it will be twice as hard for snoopers to surveil you.
✅Obfuscation
You already know that, when you connect to a VPN server, your IP and physical location are spoofed, and your online traffic is encrypted. Thus, no one can see what you do or where you go online, not even your ISP.
Nonetheless, ISPs and governments can detect the fact that you're using a VPN service via deep packet inspection (DPI). They won't be able to intercept your activity, but they can see that you're using a VPN to reroute your traffic from the way your data looks.
Thus, what obfuscation does is hide your VPN traffic by making it look like regular HTTPS traffic. This way, you will be able to bypass VPN-blocking firewalls since the VPN provider will remove all information related to the VPN by changing your data packets.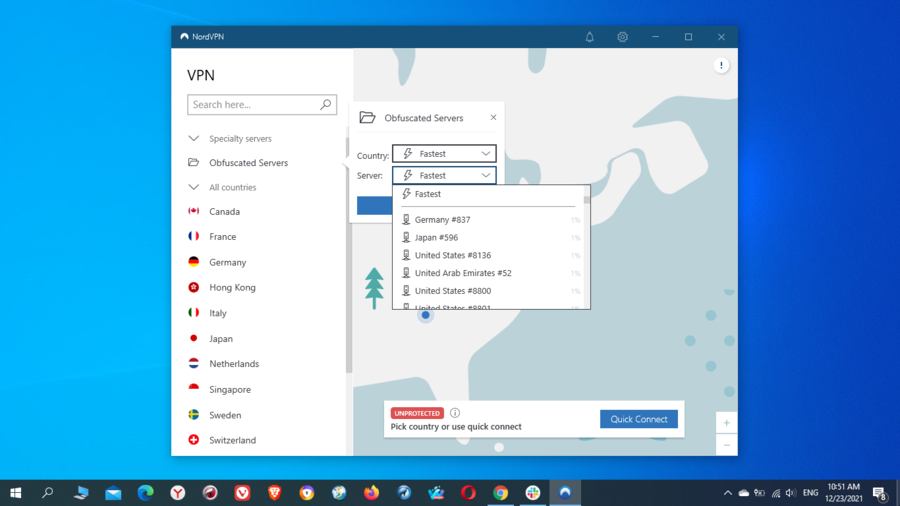 Obfuscated servers are specialized VPN servers that add an extra layer of stealth to your VPN connection by allowing you to circumvent VPN blocks in heavily-restricted environments.
Many countries enacted a full or partial ban on the use of VPNs, and they can use detection methods to prevent VPN use. However, when you enable obfuscation mode, you'll manage to get around these blocks and use a VPN in regions with strong online censorship.
Obfuscation is a very unique feature that is only provided by a select few VPN services on the market. Also, it's not free, so if you want to enjoy it, you'll need to get a premium subscription.
✅Dedicated IP
Whenever you connect to a different VPN server, your real IP address is masked and replaced with a new one. However, since many other users are connected to the same server, you will share the VPN IP with them.
Some VPN services give you the option to get a dedicated IP that – unlike a shared one – will be used by you exclusively. Having a dedicated IP address comes with certain benefits.
First off, with a dedicated IP, you can gain secure access to business servers. For example, server administrators may designate a list of authorized IP addresses that will be whitelisted. Thus, if your dedicated IP address is on that list, you will manage to log in to the corporate system.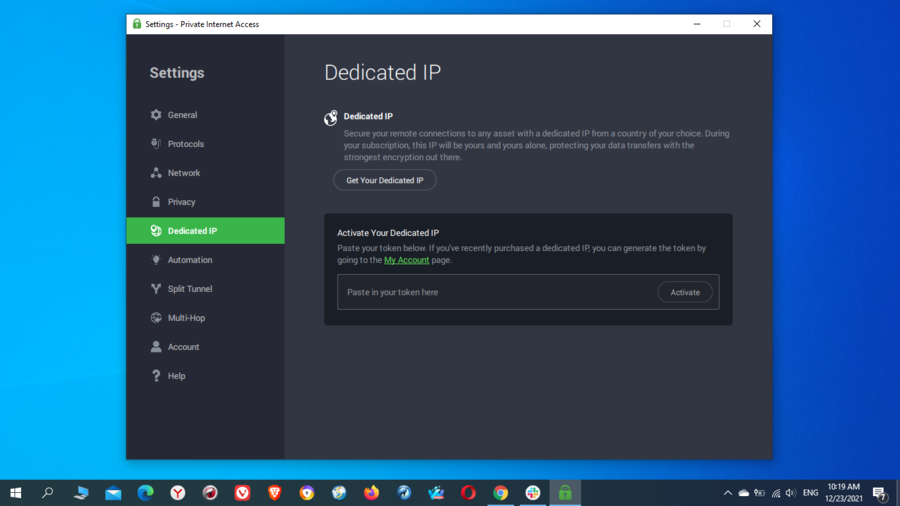 In other words, a dedicated IP address is a great solution for accessing corporate remote access systems or private servers in a very secure manner.
Dedicated IPs are also ideal for secure online payments. If you use online or mobile banking services along with a VPN to secure your transactions, you may face the risk of being locked out of your account. This is because your IP changes anytime you connect to a different virtual location.
Therefore, banks may perceive this as suspicious activity and lock you out of your account. But, when you use a static dedicated IP, you will prevent this since you'll avoid repetitive verification.
A dedicated IP can also help you avoid blacklists when certain users with the same IP address like you have bad online behavior. Moreover, with a dedicated IP, you will see fewer annoying CAPTCHAs that are triggered when multiple persons use the same IP.
How to use a VPN app?
Upon deciding which VPN service you want to choose, there are a few steps you should pursue to configure the VPN app on your device.
The VPN client may differ in terms of design, user interface, and features, depending on the platform and operating system for which it was built.
Well-reputed VPN providers offer native apps that support integration with all major devices and operating systems, including Windows, macOS, Android, and iOS.
The setup process for the VPN client is an easy one, without requiring sophisticated VPN or tech knowledge. With slight variations, you should generally follow the steps shown below, in which we provided an example on how to set up Private Internet Access (PIA) on a Windows device.
Get a subscription and download the VPN client.
Install the client and log in with your credentials.
Go to the list of available servers.
Select a server and click on it to connect.
Start surfing the web securely and privately.
Now, you should be ready to start using the VPN app on your specific device and enjoy the many benefits your VPN provider offers.
If you find it difficult to choose a VPN service, we would like to recommend you Private Internet Access (PIA) – a very reliable and powerful VPN solution that works perfectly.
It provides more VPN servers, which are distributed all over the world, than any other VPN rival on the market. Also, it is very effective at getting around geo-blocks and works smoothly with all major streaming platforms, such as Netflix, Amazon Prime Video, Hulu, HBO Max, etc.
As far as privacy and security are concerned, PIA uses bank-grade encryption to protect your sensitive data and online activity from cybercriminals, monitoring, tracking, and surveillance.
In addition to providing apps for all major operating systems and devices, PIA also offers browser extensions for Chrome, Firefox, and Opera.
More about PIA:
32,000+ servers in 101 locations across 78 countries.
No traffic or request logs.
Up to 10 simultaneous connections.
Risk-free 30-day money-back guarantee.
24/7 live chat customer support.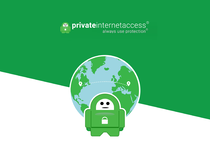 Private Internet Access
If you want to easily circumvent geo-blocking while also browsing privately and safely, look no further than PIA.
VPN browser extension: lightweight VPN version working on the browser level
➡Interface & design
VPN browser extensions also have a very easy-to-use interface. So, with just a few clicks, you'll manage to connect to the VPN and secure your browser right away.
Top premium VPN providers come with extensions for the most popular and well-reputed browsers on the market, including Chrome, Firefox, Opera, Microsoft Edge, etc.
Depending on the browser you want to use the VPN extension with, there may be minor differences in the configuration process, but rest assured since there's nothing to worry about.
As with setting up the VPN app on your device, we also came to your help with the VPN browser extension by providing you with an example in which you'll see a bit later how to add and use a VPN extension in your browser.
Given that VPN browser extensions work only on the browser level, they have a less sophisticated user interface compared to regular VPN apps.
They have fewer settings and configuration options and also fewer features, making it easier and quicker for you to navigate through them.
➡Servers
Some VPN providers offer the same number of VPN servers for the browser extensions as they do for the VPN apps. Others provide fewer server locations in certain countries for the browser extensions.
Although VPN extensions come with fewer features and functionalities compared to traditional apps, the good news is that they provide enough VPN servers from which you can choose as long as you get a premium subscription.
If the VPN you're using offers encryption for its browser extensions as well, then the VPN servers available in those extensions will provide the same level o security and privacy – with very few exceptions – as the ones in the VPN apps.
Top-notch VPNs use the same level of encryption to reroute your traffic via a secure tunnel, regardless of whether you connect to a VPN server in the app or the browser extension.
As far as how fast VPN servers in the extension are, you may be surprised to see that in many instances they are faster than those from the VPN apps. The results of the speed tests we run can attest to that.
All in all, if you use a premium VPN service that offers browser extensions too, you will have plenty of fast VPN servers to connect to circumvent geo-blocks and secure the traffic and sensitive data traveling through your browser.
➡Speed
As with the VPN app, we used the same tools – Speedtest.net, SpeedOf.Me, and Fast.com to run the speed tests, as well as the same VPN server locations – Frankfurt, New York City, and Sydney, respectively.
We also used the same VPN service, namely Private Internet Access (PIA), since it provides VPN extensions for Chrome, Firefox, Opera. In the examples below, we used the Opera VPN extension to run the speed tests.
Besides encryption and the distance to the VPN server, the browser itself can also influence speed since some browsers are faster than others.
When we run the speed tests for the VPN browser extension, we were connected to the Internet from the same location in Alba county, Romania.
If you compare the above results with the ones obtained with the VPN app, you will observe that the speeds were faster when we were connected to the VPN with the browser extension.
For a better comparison, we provided a table under the performance section below, in which we compiled all the results from all the speed tests. This way, you can see the difference more easily.
➡Features
VPN browser extensions have fewer features compared to VPN apps. This can be understandable given that they are lightweight versions working on the browser level only.
✅Encryption
We've already described encryption in-depth before, so now the question is whether VPN browser extensions use it in the same way as VPN desktop and mobile apps do.
The good news is that VPN browser extensions use encryption too. However, not all of them, that's for sure. Free VPN extensions, from which you should probably stay away if you care enough about digital privacy and security, don't use encryption.
There are even premium VPN services that provide very lightweight versions for the browser extensions that don't offer encryption either.
Many extensions, especially the free ones, are mere proxy servers that can help you bypass geo-blocking but which do not ensure online protection and privacy.
It's worth mentioning that sometimes even the best and well-reputed premium VPN extensions do not provide the same level of security and privacy as the full-fledged VPN apps.
Unfortunately, VPN browser extensions do not allow you to switch between different VPN protocols as regular apps do. Instead, they will use specific protocols by default.
✅Ad blocker
VPN services that offer an ad-blocking feature usually add it to their VPN browser extensions as well. All the premium VPNs we tested also included this feature in their VPN extensions.
We all understand how annoying ads can be, and that is for good reason. You might have used an ad-blocking extension for your browser already. However, these ad blockers only block ads, banners, and pop-ups, without adding any level of security and privacy.
A VPN ad-blocker, on the other hand, not only blocks annoying ads showing in your browser, but it also blocks adware, malware, and phishing attempts that can put your device at risk.
Some websites are known for hosting malware and phishing scams, so the VPN ad-blocker will take care of all of them, thus making your browser secure from online threats.
✅WebRTC blocker
WebRTC (Web Real-Time Communication) is a technology that allows real-time media communications (voice, video, text) between browsers and devices.
This technology allows users to share data and perform P2P teleconferencing, without needing to install plug-ins or any other third-party software.
For example, when you use Google Meet or Google Hangouts to hold a video conference or even Facebook Messenger or Discord to make video calls, you are using WebRTC. In other words, whenever you make voice or video calls from your browser, you will use WebRTC.
Although WebRTC comes with many benefits, unfortunately, it also leaks your IP address. Thus, if you enabled WebRTC in your browser and are visiting a website that uses it, your IP will be visible. There are no other ways to prevent WebRTC leaks rather than by disabling it or using a VPN.
Manually disabling WebRTC might not be easy for some since it's different for each browser and you may mess things up if you don't know what you're doing; thus, you can turn to third-party add-ons or extensions to disable it automatically.
Some VPNs, whether it be an app or VPN browser extension, won't protect you from WebRTC leaks. But, some reliable VPN services offer WebRTC leak protection, including VPN browser extensions.
All you need to do is toggle on the block WebRTC feature in the VPN extension, and you'll be able to keep your online identity anonymous.
✅Cookie popup blocker
There's no way you haven't been bombarded with cookies at least a few times when visiting various websites during a browsing session.
Cookies are small files that websites send to your browser, which are then used by those websites to monitor you and remember certain things about you.
They are stored in your browser and can help you visit sites easier by allowing them to remember certain details about you, such as your preferred language. However, there's a downside to this, as you need to accept them anytime you visit a website, which can irritate you a lot.
Ever since the General Data Protection Regulation (GDPR) was enacted, websites have been forced to use consent pop-up cookies. These can be very annoying, as they appear on each website that collects data from users inside the EU.
Some VPNs added a cookie pop-up blocker to their VPN browser extensions. When enabled, this feature will remove all cookies consent pop-ups from the websites you visit, thus making your browsing experience less bothersome.
✅Split tunneling
The split tunneling feature provided by VPN browser extensions is usually called bypass list or bypasser. This option is similar to the split tunneling found in VPN apps, except that it only applies to websites you access from your browser.
You can use this feature when you want to exclude certain websites from using the VPN connection in your browser. For example, if certain websites are secure enough to be trusted, then you may choose to add them to the bypass list.
Also, since the VPN extension changes your IP address when you connect to it, you can add websites to this list when you want to access local content.
The VPN may also slow down your connection. Given that certain streaming and gaming websites may require faster speeds, you can add them to the bypass list as well.
However, make sure to always take security and privacy into consideration when using this feature, as your traffic will no longer be shielded from snoopers.
✅Smart location
With smart location, you can designate rules on how to use the VPN connection for certain websites. More specifically, you will manage to use multiple IP addresses at the same time.
You might be tempted to think that this feature is similar to split tunneling or the bypass list; however, it is not since it never lets parts of your browser traffic unprotected.
What it does is allow you to access websites with different VPN IPs. For example, you can use YouTube while connected to a VPN server in Australia and watch Netflix while connected to a US server. Since the VPN is always on, your protection and privacy are guaranteed.
This feature works automatically, so you don't need to switch between VPN servers by constantly connecting and disconnecting. All you have to do is add a smart location and the specific website that will use it, and you'll be all set. You can add as many as you wish from the available list.
Smart location is a useful feature when you want to access geo-restricted content from your favorite websites without having to manually change VPN servers.
✅Multi-hop
As with VPN apps that offer multi-hop, some VPN browser extensions also include this security feature, which sometimes is also called double VPN.
This feature adds an extra layer of security and privacy to the traffic flowing through your browser, as it routes it via two VPN servers at the same time.
If the VPN service offering this feature encrypts your traffic as well, then you'll benefit from double encryption, which means that no one will be able to penetrate your browser to track your activity or steal your sensitive information.
Unfortunately, only a few VPN providers offer this feature for their VPN apps, and even fewer include it in their browser extensions as well.
How to use a VPN browser extension?
As with a VPN app, a VPN browser extension is not difficult to use either; thus, you should be able to add it to your browser and use it in no time.
Keep in mind that not all VPN services offer browser extensions. With the ones that do provide VPN extensions in their subscription packages, only certain browsers are included. Among them are widely-used browsers such as Chrome, Firefox, Opera, and Microsoft Edge.
Consequently, if your browser is not included, you might want to try a different one for which an extension is provided. Some browsers come with a built-in VPN extension that you can use for free, Opera being one of them.
In the first example below, we show you how to add the Private Internet Access (PIA) extension to Chrome. The steps are pretty similar with other browsers as well. In the second one, we show you how to enable the built-in VPN extension in Opera.
Add a VPN extension to Chrome
Go to the Chrome Web Store extensions.
Type the VPN name in the search bar, then click on the extension.
Click on Add to Chrome.
Click on Add extension.
Go to the menu, click on More tools, then click on Extensions.
Find the extension and make sure it is enabled.
Click on it and log in with your VPN credentials.
Go to the list of available servers.
Select a server and click on it to connect.
Now you should be connected to the chosen server.
Enable the built-in VPN in Opera
Launch Opera, go to the Menu and click on Settings.
Go to Advanced, click on Features, then toggle on Enable VPN.
Go to the address bar to locate the VPN extension.
Turn on the VPN. This will connect you to the optimal location.
Alternatively, you can select a different location from under Virtual location.
VPN app vs VPN browser extension – overall performance
Taking all the above information into account, now you can have a clear grasp of the overall performance of a VPN app and a VPN browser extension.
As far as speed is concerned, the browser extension was faster based on our tests. You can notice the differences below. Download and upload speeds were higher in each instance.
Ping, which was only provided by Speedtest.net, was lower with the VPN app than with the extension, meaning that it's better, as lower ping times are always desired.
| | | | | | | |
| --- | --- | --- | --- | --- | --- | --- |
| Tool | VPN | Server | Download (Mbps) | Upload (Mbps) | Ping (ms) | Latency (ms) |
| Speedtest.net | App | Frankfurt | 36.77 | 84.24 | 33 | N/A |
| Speedtest.net | Extension | Frankfurt | 58.28 | 92.37 | 38 | N/A |
| SpeedOf.Me | App | New York | 6.49 | 22.83 | N/A | 134 |
| SpeedOf.Me | Extension | New York | 12.85 | 40.33 | N/A | 1073 |
| Fast.com | App | Sydney | 19 | 26 | N/A | 279/284 |
| Fast.com | Extension | Sydney | 26 | 55 | N/A | 275/280 |
Performance metrics results provided by the speed tests we run
SpeedOf.Me and Fast.com provided results for latency instead, with Fast.com measuring latency both for unloaded and loaded connections. In every instance, latency was lower with the VPN browser extension.
Since high latency implies many delays, lower latency is required for a smoother connection. Thus, as with ping, the VPN app showed better results for latency, which makes it the winner in this area too.
All in all, except for a few instances, the differences in speed, ping, and latency were not very big between the VPN app and the browser extension is given that we need to account for several factors when running these tests, including a certain degree of inaccuracy.
Therefore, these results may differ depending on the actual speed of your Internet connection, the VPN service and browser you're using, the distance between your actual location and that of the VPN server, and also the tool you use to analyze these performance metrics.
If you use a powerful premium VPN, there won't be differences when it comes to security and privacy, as top-tier premium VPN services will employ the same security and privacy standards both for their VPN apps and browser extensions.
Although you can't change encryption type or protocols in the VPN browser extension, the best combination of encryption and protocols will be used to ensure your full anonymity, privacy, and security while surfing the web with a certain browser.
As to the VPN servers available, top VPN services like the ones we tested and included in our examples provide the same number of countries and almost the same number of server locations for the browser extensions as they do for the VPN apps.
This means that you will manage to bypass geo-blocking by connecting to VPN servers from various locations worldwide regardless of which option you're using.
For premium VPNs, the big difference between a VPN app and a VPN browser extension is in terms of features offered, but this does not necessarily have to do with the overall performance of the service.
However, certain features such as the kill switch and obfuscation are only found in the native VPN applications. Since they add extra security and privacy and can also help you bypass online censorship, they can make a difference.
Should I use a VPN app or a VPN browser extension?
Depending on what you want to do online, you can use either a VPN app or a VPN browser extension. However, the former works system-wide, whereas the latter only at the browser level.
This means that, while you can benefit from the major advantages a VPN offers with both options, some of them will be limited when you connect to the VPN from the browser extension.
If you want to circumvent geo-restrictions when accessing websites or certain online services unavailable in your area from your browser, a VPN extension can be enough.
But, if you want to bypass these restrictions to watch streaming services or play games on gaming platforms via their dedicated apps, then you will need to connect to the VPN app instead.
For example, popular streaming services like Netflix, HBO Max, Prime Video, and Hulu allow you to stream their content both from your browser as well as their dedicated apps.
However, if you want to play games on digital distribution platforms such as Steam and Origin, then you will need to install those clients on your device first, and only thereafter will you be able to download the games.
As such, if you want to purchase games unavailable in your region and install them on your device from the gaming platform's client, then you need to connect to a VPN server in the VPN app.
Did you know that you can also lower game prices with a VPN? Take a look at our 5 best VPNs to buy cheaper games to find out how you can do it.
If all you want to do is surf the web anonymously, privately, and securely, both the VPN app and browser extension will help you easily achieve this since both mask your IP address and secure your traffic and data through encryption.
However, chances are that you're also using different apps either on your PC or mobile devices. While you can access many services from your browser, apps make it easier for you to use these services.
Online banking apps, for example, allow you to easily access your balance, make online transfers, or payments at POS terminals using your smartphone. Since they use an Internet connection, your valuable data and info might get into the hands of cybercriminals unless you encrypt your traffic.
Thus, if you want to use mobile banking apps or messaging apps, then you need to use a VPN app instead of a browser extension to protect your sensitive info and stay away from prying eyes.
If price is of main concern to you, there are many free VPN extensions available out there, but many of them are unreliable and very lightweight, providing limited features, very few servers, and weak unblocking capabilities.
Therefore, if you want high performance and security, you should better get a premium VPN that provides both VPN apps and reliable browser extensions.
VPN app vs VPN browser extension – concluding statements
To sum everything up, using a VPN service is a smart choice since it comes with plenty of great benefits, from bypassing geo-blocks to surfing the Internet privately and securely.
When choosing a VPN, it's important to take into account some important aspects before making a decision. Make sure to only use reliable and tested products that have a good reputation.
Also, if possible, you should always opt for a premium service since free solutions come with many limitations and lack the level of performance you expect.
As far as VPN extensions go, some can be found for free, but as with any free item, if something sounds too good to be true, it probably is.
Top-tier VPN services like Private Internet Access (PIA) also provide VPN extensions for the most popular browsers, including Chrome, Firefox, and Opera.
Regardless of whether you plan to use this service or another, we hope that the information presented here will help you easily understand the difference between a VPN app and a VPN browser extension.
Now, you should know when to use one instead of the other depending on your specific need. While both can provide you with the same level of protection and privacy, you should keep in mind that the browser extension has some limitations.
If you need full protection and privacy for your device, make sure to always turn on the VPN app whenever you use the Internet outside of the browser in which you use the VPN extension.