Steam is one of the world's top gaming distribution platforms. It offers a very large gaming catalog and attracts millions of active gamers every month.
Unfortunately, some games are only available in certain geographical regions and have different prices depending on your country's location.
This happens because Steam has in place strict geo-blocking measures for various reasons (e.g. smaller prices for poorer countries) in order to prevent gamers from abusing their service.
However, we do resonate with ardent players like you who simply want to buy and enjoy their favorite Steam games without limitations but oftentimes get the message This item is currently unavailable in your region.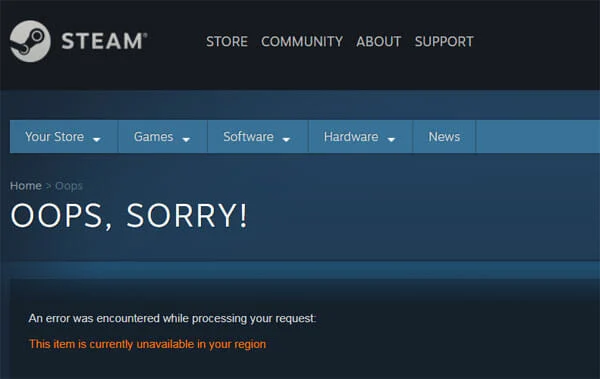 Nonetheless, you can circumvent this barrier by using a VPN service. It will assign you another IP address and will trick Steam into thinking you're located in a different location from your current one.
You should also consider that Steam is not VPN-friendly at all. Instead, it has a subscriber agreement by which you agree to abide by their rules and not use IP proxying or other methods to bypass geo-blocking.
As such, you need to proceed with caution if you want to use a VPN service to bypass geo-blocking, purchase games at lower prices, or play upcoming titles earlier.
Can I buy games on Steam with VPN?
Steam VPN rules allow private network connections to some degree. A VPN can increase online security and protect your identity when you connect to online games.

However, some games in their store do ban Steam VPN users, if detected. It's mostly so players won't be able to create multiple accounts and cheat.

This may result in temporary bans on that specific game. But the platform can also ban you and prevent you from buying steam keys from that account.

If you want to use a reliable VPN for Steam, make sure you get a premium service that can mask the fact that you use a VPN in the first place. In this regard, we recommend:
Which country has the cheapest Steam games?
The cheapest game prices for the Steam platform are officially in Argentina, followed by Turkey and Kazakhstan.
As demonstrated in this SteamDB report, Argentina is the country with the cheapest game deals according to converted price.
Thus, if you need more affordable prices for Steam games you only have to connect to Argentina servers on your VPN.
Can I use a VPN to buy Steam games cheaper?
Yes. A VPN can help you access the Steam marketplace from another country where games are cheaper than on your own.
However, some users advise also using a payment method registered in the same country as the VPN server you choose to connect from. Otherwise, you risk getting an IP ban.
You can try setting up a virtual credit card for that location and convert it to the country's currency.
How can I use a VPN to buy Steam games?
1. Set up the VPN service
Pick a VPN service and get a subscription plan (We used & recommend Private Internet Access) .

Install and launch the VPN client on your device.

Select a server in a country from which you want to buy Steam games.

Connect to that server.

Enjoy the best gaming deals and start playing.
If possible – for the best gaming experience – you should opt for a top premium VPN service. That's because free plans usually offer only a limited number of servers to which you can connect. And they also give you a limited and small amount of bandwidth.
In the above example, we showed you how you can set up Private Internet Access (PIA), as we consider this VPN service to be very reliable and a great option for the price-performance ratio.
With a PIA premium plan, you can enjoy the following features:
35,000+ servers in 101 locations across 80+countries
Up to ten devices connected simultaneously
No traffic or request logs
Dedicated IPs, private DNS servers, and SOCKS5 Proxy
Port forwarding, split tunneling, and kill switch
OpenVPN and WireGuard VPN protocols
24/7 live chat support and a 30-day money-back guarantee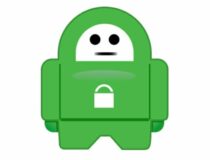 Private Internet Access
Take the most used VPN software for blazing-speed servers and advanced anonymity on the web.
2. Change your Steam store country
Open Steam and go to the menu.
Click on Account details, then go to Update store country.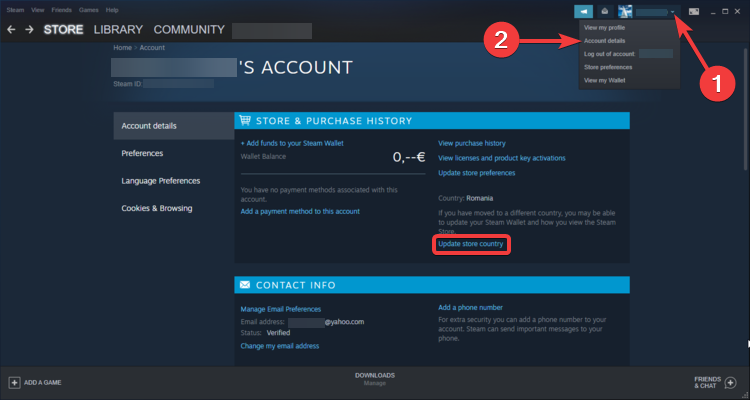 As you can see below, Steam no longer supports manual country store change.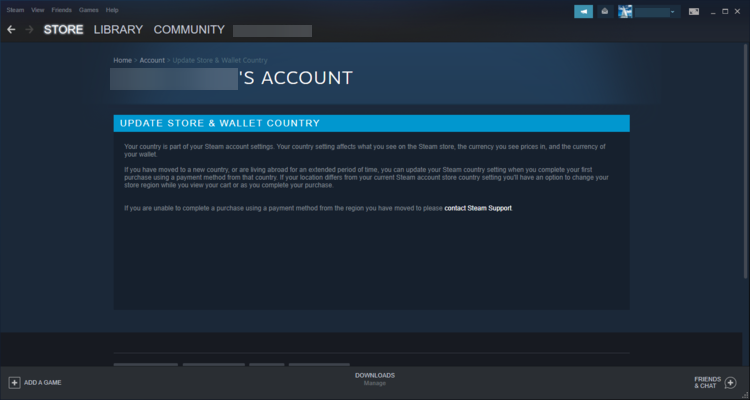 Go to the STORE, pick a game, add it to your cart and click on Purchase for myself.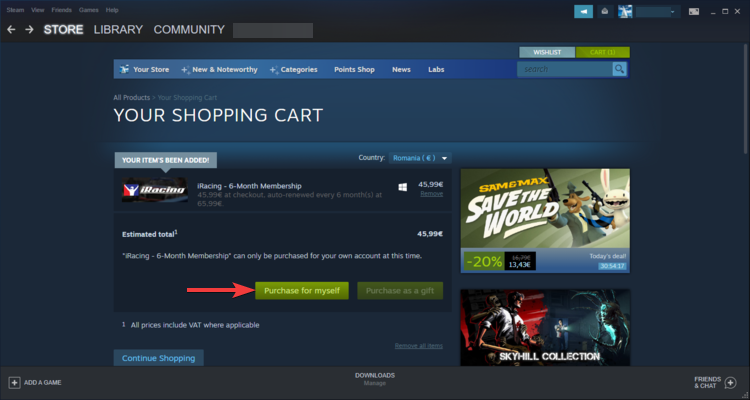 Select a PAYMENT METHOD and click Continue.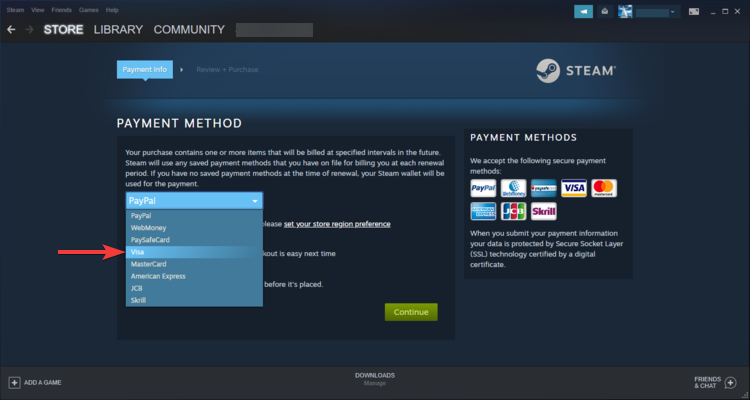 Complete the payment and billing info by using a payment method issued in the new country.
Select the new Country.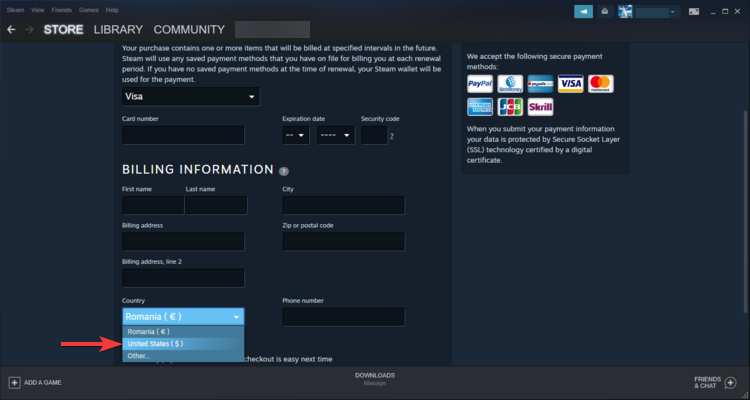 Confirm your new country.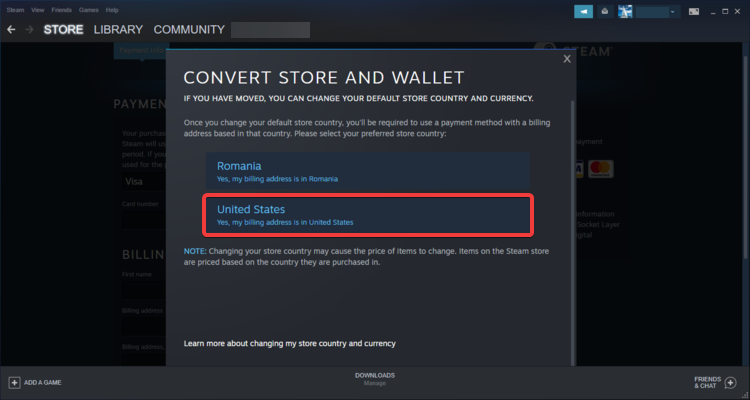 As you've already seen above, you now need to first make a purchase from the Steam store by using a payment method registered in the country you want to switch your store to in order to be able to change your country.
It's not mandatory to be physically located in another country, as the platform might imply. As long as you're able to provide a payment method issued in the new country, you should be fine.
In case you recently moved to a new country but don't have a payment method yet, you can contact Steam Support and ask them to manually change the store region for you after you prove that you moved indeed to a new country.
Make sure to be properly connected to a VPN server in your country of choice. Оtherwise, the Steam platform won't give you the option to switch countries since that is based on your IP address, which will be changed by connecting to a VPN server.
You can also use Steam gift cards instead of a traditional payment method. But unfortunately, they can only be activated/redeemed on Steam accounts with the same currency.
All things considered, we understand how much you want to play your favorite Steam games without restrictions regardless of where you're located at the moment.
Unfortunately, Steam's new regulations which strictly enforce its subscriber agreement will definitely make it harder for many to benefit from Steam's regional pricing system which offers lower prices in countries with underdeveloped economies.
At the same time, we advise you to pay close attention to and be aware of the risk (account permanently suspended) you're taking when using Steam on a VPN connection.
Moreover, we recommend – as a precautionary measure – that you create another Steam account to use with a VPN so that you won't lose all your games in case you get banned.
We do hope, nonetheless, that there will be plenty of you out there who will be able to both successfully buy cheaper Steam games and play for free geo-restricted ones by using a VPN service, especially after applying the information presented here.