If you're like most gamers, you probably purchase games on Steam quite often. While adding new titles to your library means more fun, it could also be detrimental to your wallet.
But what if there was a way to buy games at much lower prices than what your client shows?
And no, we're not talking about waiting for the store's summer and winter sales to hit.
Since the prices of most games vary by country, spoofing your location to a cheaper region can help you cut some corners.
So, which country has the cheapest Steam games? And how exactly do you add titles to your library from it?
We explain it all below.
What's the cheapest Steam games country?
Argentina is the country with the cheapest Steam games. The prices typically vary by nation due to exchange rates and other factors.
Thanks to Argentina's weak currency, you can grab most titles for very little once you choose it as your Steam country.
SteamDB is the best place to check game prices in different countries. When you look up different titles, you'll see that you can save money on most of them by changing your location to Argentina.
Let's look at a few examples:
Dicey Dungeons' price on Steam currently sits at $14.99 since the game isn't on sale. By taking a quick look at SteamDB, we found its price in Argentina to be ARS$ 179.99, which translates to just $0.64.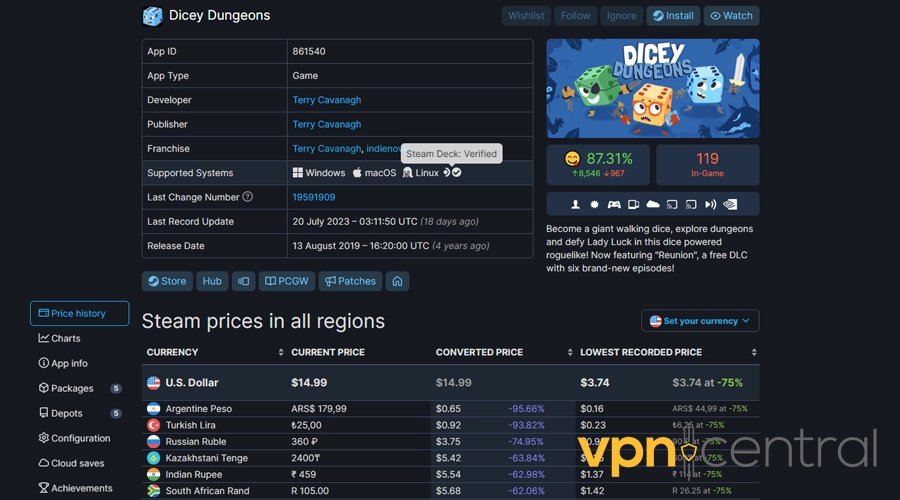 Without changing your location, you can grab Hunt: Showdown for $15.99. But if you were purchasing it from Argentina, you'd be able to get it for ARS$ 439,60 – equal to $1.58.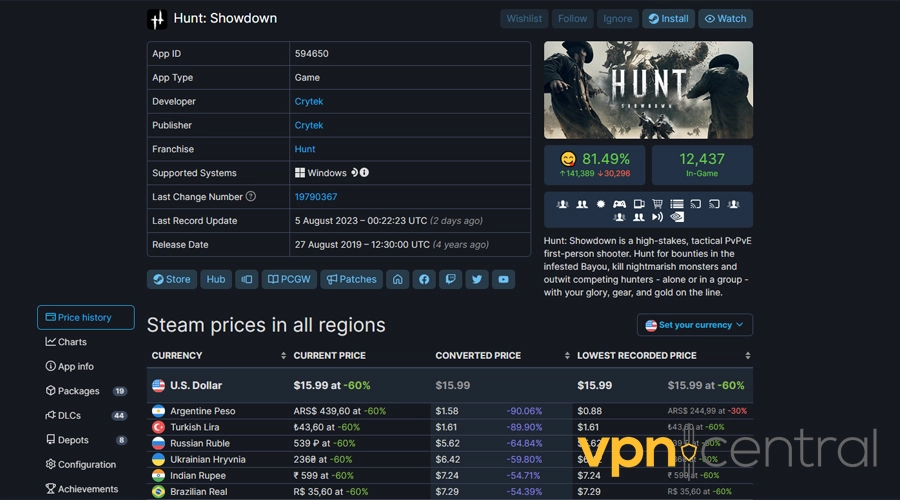 These are just some of the titles that prove Argentina is the cheapest country for Steam games. We looked at dozens of other games and found it to be the best location for purchasing many of them.
Other places, such as Turkey and Russia, are right behind. However, we found the prices in Argentina to be consistently lower than those in the rest of the world.
With that said, let's take a look at where other countries stand.
If you want to purchase your next title from the cheapest Steam game country, these ten locations are usually your best option:
Argentina
Turkey
Russia
India
South Africa
Ukraine
Philippines
Brazil
Thailand
China
On the other hand, the countries in the table below usually have the highest Steam store prices:
Switzerland
Mexico
Norway
UAE
New Zealand
Poland
Israel
UK
Qatar
Saudi Arabia
Now, let us show you how to take advantage of the countries in the first table:
How to get Steam games cheaper
Since we've confirmed that Argentina is the cheapest country for purchasing games on Steam, it's time to explain how to do it.
Don't worry, you don't actually have to fly to Buenos Aires just to add a few more titles to your Steam library.
Instead, you can use a VPN to buy Steam games for cheaper. With an Argentinian IP address, you'll find many of them at significantly lower prices.
Here's a step-by-step guide on how to do it:
Set up your VPN


First, you have to set up your VPN and connect to a server in Argentina.

For this particular purpose, we recommend going with ExpressVPN. It has numerous high-speed servers in the country and it also proved to work flawlessly with Steam during our tests.

Here's how to get it up and running:

1. Start by visiting ExpressVPN's website and purchasing a subscription.



2. Download and install the relevant app for your device.



3. Open it, and log in using your username and password.



4. Select a server in Argentina and connect to it.



Now that that's all settled, it's time to move on to Steam:

Change your Steam country


As we mentioned above, it's not enough to have an Argentinian IP address to buy Steam games for less money.

It takes a few more steps before you can actually add the game you want to your collection.

Once you change your location, you also have to add your new country on Steam. Since the process isn't as easy as it was before, you also have to make one purchase from the new location to confirm the change.

Here's how to do that: 

1. Launch Steam.

2. Click on your username in the top right corner and select Account details.



3. Click Update store country.



4. Once you click it you'll see this message.



5. Go to the Store and find the game you want to buy. Add it to your cart and click Purchase for myself.



6. Select your payment method and your new country.



7. Confirm your new country.


This leads us to the final piece of the puzzle:
How to pay for Steam games in Argentina
Since many users move to different countries, Steam keeps all the games in your collection intact after changing regions.
That's the case when you spoof your location to Argentina too.
However, there are some things to be aware of if you plan to do it.
To make a purchase from the cheapest Steam games country, you have to choose a payment method in Argentina. This serves as proof to Steam that you're really there and not just taking advantage of low prices.
Ideally, you'll have someone in Argentina who will share their credit card information with you. If you input their card number and address, the payment will go through easily.
But what to do if you don't have someone to help you out?
Luckily, there are Steam gift cards. In case you have one for Argentina, you can use it and avoid having to enter the country's credit card information.
If you don't have a gift card, obtaining it shouldn't be a problem. You can easily grab one on Eneba and use it instead of paying with a credit card.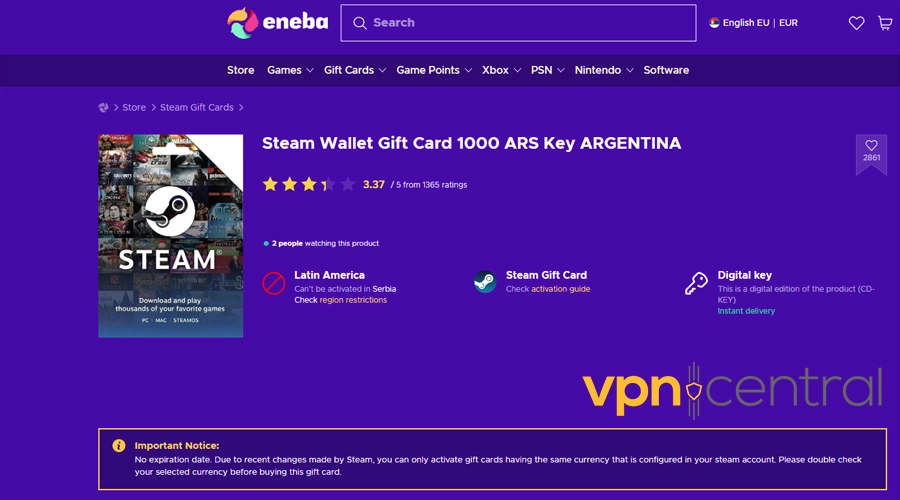 There's one more thing to keep in mind though.
As you can imagine, Steam isn't necessarily thrilled about the idea of its customers buying games for less money.
While it's unlikely to ban you for using a VPN, Steam may try a few methods to prevent you from doing it again. For example, it may ban the VPN IP address you're using, forcing you to connect to a different server.
And to prevent users from exploiting this option, Steam also only allows one country change per three months.
While it's possible to reach out to its customer support team and request a country change, keep in mind that the agents may ask for proof of you moving before granting it.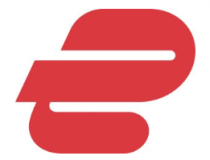 ExpressVPN
Easily gain access to the cheapest Steam countries and enjoy a fast and secure connection with ExpressVPN.
Wrap up
By analyzing the prices of dozens of titles on SteamDB, we found Argentina to be the cheapest Steam games country.
Now you know that all you have to do to save money on games is change your IP address to one in this country and switch your Steam region.
Luckily, doing so isn't difficult. Just follow the steps we listed above and you'll fill your library in no time!
---