Based on where you live, you may be paying more or less than other Xbox Game Pass gamers for the same service. That's not fair.
But here's the kicker, you can also get a subscription for a cheaper price using a VPN.
Now the question is, what is the cheapest country for an Xbox Game Pass? I've done the research, and you'll know in a jiffy. Plus, I'll show you how to get it cheaper with a VPN.
Let's get started!
What's the cheapest country for Xbox Game Pass?
After comparing Xbox Game Pass membership rates across dozens of regions, Turkey stands out as the cheapest country for Xbox Game Pass.
A subscription in Turkey costs around 79.99 TRY per month. At the current exchange rate, that works out to just 2.97 USD — an absolute steal!
Now, here is a table with the top 10 cheapest countries for Xbox Game Pass Ultimate, based on the current exchange rates:
| | |
| --- | --- |
| Country | Price (USD) |
| Turkey | $2.97 |
| Argentina | $4.34 |
| India | $4.59 |
| South Africa | $4.63 |
| Colombia | $5.52 |
| Japan | $6.55 |
| South Korea | $6.55 |
| Brazil | $6.88 |
| Taiwan | $6.92 |
| Chile | $7.12 |
And for comparison, here are the 10 most expensive countries for Xbox Game Pass:
| | |
| --- | --- |
| Country | Price (USD) |
| Switzerland | $13.70 |
| Czechia | $12.34 |
| Germany | $12.07 |
| UK | $11.47 |
| USA | $10.99 |
| Poland | $10.61 |
| Sweden | $9.90 |
| Canada | $9.76 |
| Norway | $9.68 |
| Mexico | $9.39 |
As you can see, an Xbox Game Pass membership costs nearly 6 times more in certain countries versus subscribing in Turkey.
Read on to learn how you can gain access to Turkey's ultra-low Game Pass price no matter where you live.
How to get an Xbox Game Pass subscription cheaper?
One way to get an Xbox Game Pass subscription cheaper is to use a VPN (Virtual Private Network) to change your location and access the Microsoft Store from another country.
A VPN is a service that encrypts your internet traffic and routes it through a server in a different country, making it appear as if you are browsing from there.
Ultimately, this tricks the platform into believing you are getting a subscription from Turkey —-the cheapest place to buy Xbox game Pass Ultimate plan.
I recommend ExpressVPN, which has great server coverage in Turkey.
Plus it offers fast speeds for gaming, strong security, and excellent customer support.
Here's how to use it to get an Xbox Game Pass subscription cheaper.
Choose a VPN provider that has servers in the country you want to switch to. Subscribe to a suitable plan.

As mentioned, I highly recommend ExpressVPN because it has a vast server network, is fast and has really stable connections.

Download and install the VPN app on your device (PC, console, or smartphone).

Connect to a server in the country with the lowest price for Xbox Game Pass. For example, I connected to a Turkish VPN server.

Go to the Microsoft Store and choose the Xbox Game Pass plan that suits you best (Ultimate, Console Games, or PC).

Sign in with your Microsoft account or create a new one if you don't have one already.

Complete the payment process with your preferred method (credit card, PayPal, gift card, etc.).

Go to the Xbox website or app and purchase your Game Pass subscription. The billing will now go through at the lower Turkish price.

You can keep your VPN connection active when playing games online. Just be sure to choose a VPN server located near you so as not to increase lag.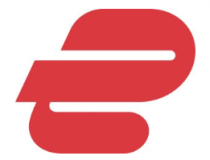 ExpressVPN
Play smart, and pay less! Use ExpressVPN to access Xbox Game Pass for a fraction of the cost!
Following these steps allows you to maintain a Turkish Game Pass subscription for around $3 per month rather than the $10-$13 price in most other countries – a 50%+ saving!
How to pay for an Xbox Game Pass in Turkey
To pay for an Xbox Game Pass in Turkey, you will need to provide a valid payment method and address for that region.
Although you can use a valid credit card, PayPal, or a gift card to pay for your subscription, you may need to change some settings on your account to make it work.
Also, you cannot use another country card to pay for Xbox Game Pass in Turkey. You need to use a payment method or details that matches your region.
For example, you will need to enter Turkish card details, billing address, and phone number.
You will also need to change the country on your Microsoft account to match Turkey or create a new account entirely.
Here's how to pay for an Xbox Game Pass in Turkey:
Go to your Microsoft account page.
Click on Your info.
Find and Select the Country. You may need to confirm your action by reentering your password.
Select Turkey from the list and Click on save.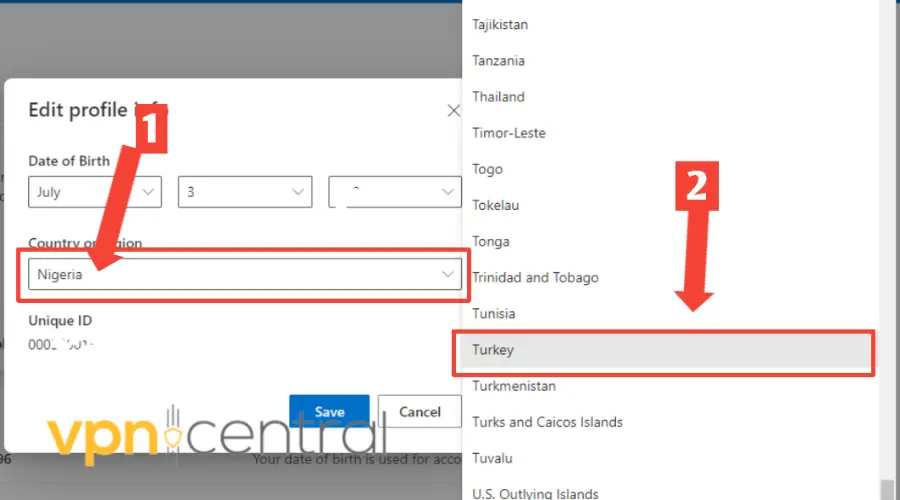 Ensure you're connected to a Turkey server using a VPN, as described above.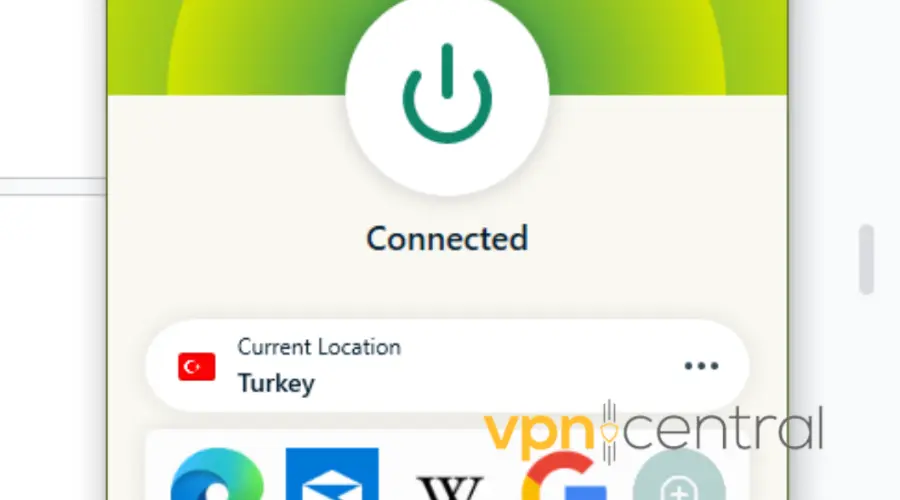 Get a prepaid bank card linked to an institution in Turkey. You can find these online, or you can ask someone in Turkey to help you.
Enter the card details and pay.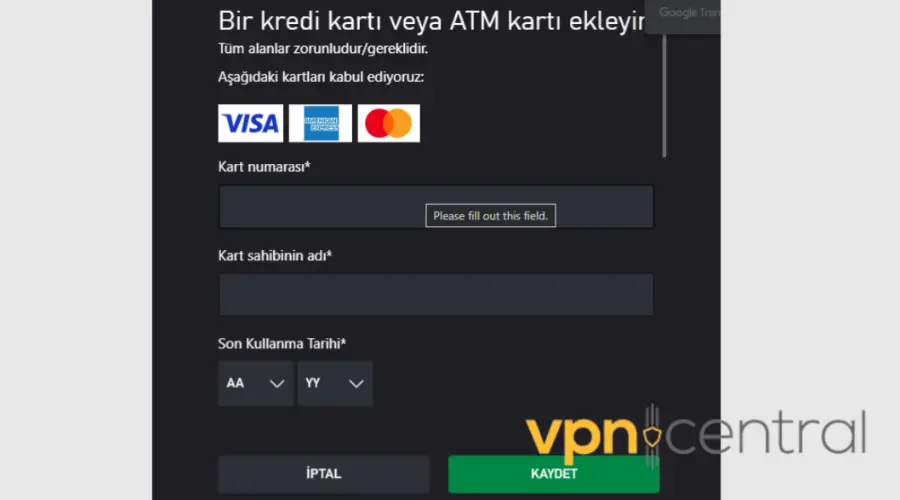 Enjoy your gaming experience at a lower cost!
If you use a gift card, you will need to buy a Turkish Xbox gift card from an online retailer like G2A.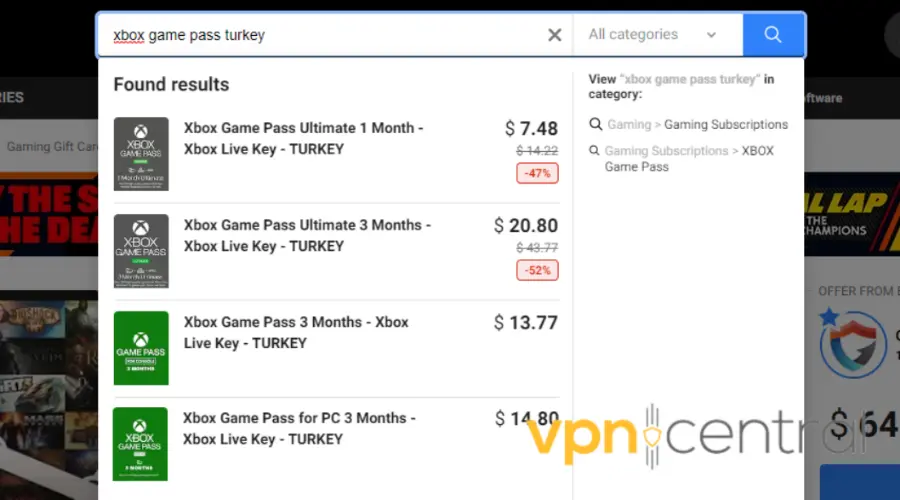 You can then redeem the gift card on your Microsoft account by going to this page and entering the code.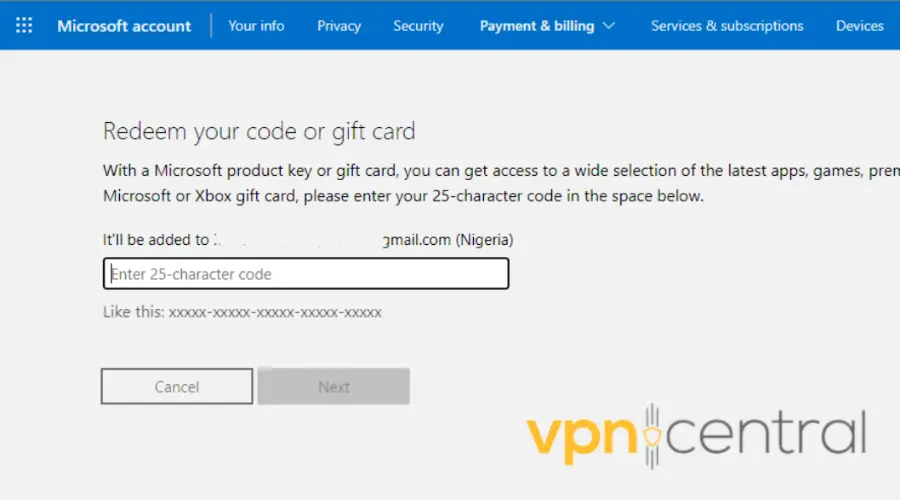 You will also need to change your region and language settings on your Microsoft account to match Turkey, as explained above.
What countries is Xbox Game Pass available in?
Xbox Game Pass has expanded to over 40 countries worldwide, with more being added regularly.
Here is a list of the major countries with access to Xbox Game Pass:
| | |
| --- | --- |
| Region | Countries |
| North America | United States, Canada, Mexico |
| Europe | Austria, Belgium, Czech Republic, Denmark, Finland, France, Germany, Greece, Hungary, Ireland, Italy, Netherlands, Norway, Poland, Portugal, Russia, Slovakia, Spain, Sweden, Switzerland, Turkey, UK |
| Asia Pacific | Australia, Hong Kong, Indonesia, Japan, Malaysia, New Zealand, Philippines, Singapore, South Korea, Taiwan, Thailand |
| South America | Argentina, Brazil, Chile, Colombia |
| Middle East | Israel, Qatar, Saudi Arabia, United Arab Emirates |
| Africa | South Africa |
Some notable countries where Xbox Game Pass is not yet available include:
Hopefully, Xbox Game Pass will expand into these untapped markets soon so more gamers can enjoy the service.
In the meantime, using a VPN provides a workaround to access Game Pass from restricted countries.
Wrap up
For Xbox gamers looking to maximize their budget, subscribing to Xbox Game Pass in Turkey is by far the most affordable option. It is by far the cheapest country Xbox for games.
At just about $3 per month, Turkey's Game Pass Ultimate plan is an incredible deal.
Using a VPN gives you the ability to subscribe at Turkey's cheap rate no matter where you live.
While Xbox Game Pass has launched in most major gaming markets, it is still unavailable in populous countries like China.
And VPNs remain the best way for gamers in these restricted regions to access Game Pass.
By following the tips in this guide, you can gain cheaper and broader access to Microsoft's "Netflix for games" service.
---