With hundreds of millions of users, Kik is among the most popular free messaging apps. It supports regular text-based messages, as well as audio and video calls.
It's also one of the few to allow basic email registration, without having to confirm your phone number or identity. Because of that, it's often used for anonymity.
However, it surprisingly doesn't have end-to-end encryption and logs all users' IP addresses.
If you're concerned about privacy or want to unblock Kik on a restricted network, a VPN is the way to go.
What are the best VPNs for Kik?
We put the leading VPN providers to the test to see which perform the best with Kik and what other benefits they offer.
Here are our top 3 choices:
1. ExpressVPN – best overall performance with Kik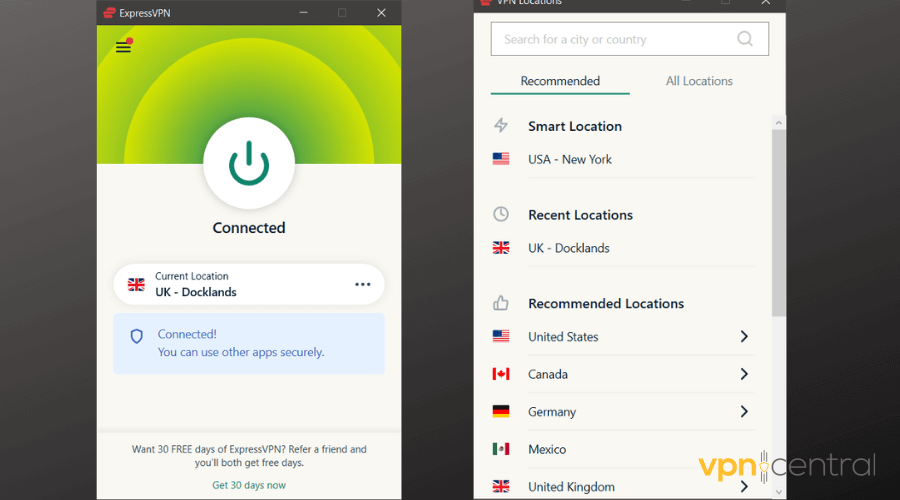 ExpressVPN ticks all the boxes when it comes to Kik and general VPN use. Firstly, it's one of the fastest, with speeds pushing 500Mbps.
You'll never have trouble with call drops or video quality, even if there are other heavy users on your network.
Secondly, it ranks high in DNS, IPv6, and WebRTC leak prevention. Once connected, you can rest assured that your traffic is encrypted and your location hidden. The kill switch feature pauses traffic if connection to the VPN is ever lost.
ExpressVPN is also exceptionally easy to set up on iOS and Android. Just download the app and quick-connect to the fastest server.
Key features:
Private DNS for all servers
Advanced leak prevention
Split tunneling support
7-day free trial on mobile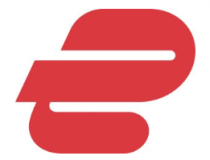 ExpressVPN
Bypass any and all Kik restrictions and enjoy the best speeds with ExpressVPN.
2. PIA – largest server network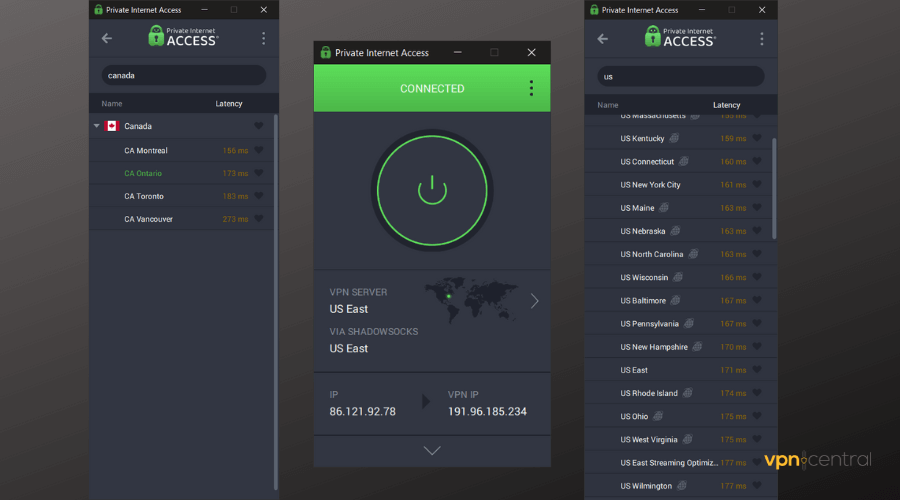 Private Internet Access (PIA) has the largest fleet on the market with 35,000 servers in 84 countries.
Encrypting your traffic for Kik is easy thanks to its dedicated apps for Android and iOS. It also has split tunneling so you can protect Kik but allow other apps through.
This is useful for online gaming or streaming, where you want to benefit from your full internet speed and encryption isn't that important.
Nonetheless, with average speeds of well over 100Mbps, PIA is fast enough to handle all types of traffic. You can also have up to 10 simultaneous device connections, so it's suitable for busy networks.
Key features:
Dedicated IP address
Unlimited bandwidth
Strict no-logging policy
30-day money-back guarantee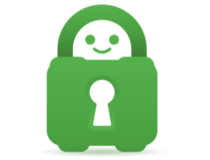 Private Internet Access
Have your pick of secure servers and boost your privacy on Kik with PIA.
3. CyberGhost – obfuscated servers
CyberGhost is the best VPN for Kik when you're on a restricted network at school or work or facing heavy government censorship.
It lets you take advantage of obfuscated servers when using Kik or other apps.
Not only does it encrypt your internet activity, but also makes it appear like you're using regular web traffic. This way, network admins, ISPs, or the government won't suspect anything.
It also has strong leak prevention, a kill switch, and some of the fastest speeds on the market.
Key features:
9700+ servers in 91 countries
Up to 7 simultaneous device connections
AES 256-bit encryption
45-day money-back guarantee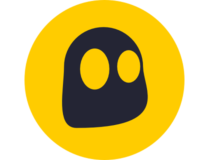 CyberGhost
Bypass Kik bans and restrictions with CyberGhost's advanced obfuscation features.
Why should you use Kik with a VPN?
While Kik doesn't block users based on location, there are many other reasons why you might use a VPN with it:
🔐Privacy and security – A VPN is an excellent tool for encrypting traffic and preventing snooping. Even though Kik promotes anonymity, the app still logs your IP address.
🚫Restricted networks – A VPN can bypass restrictions imposed by workplaces and schools, which might block messaging and conferencing traffic. Thanks to various encryption and obfuscation features, the network admin won't be differentiate your activity from normal web traffic. As a result, they won't be able to use automated ban filters.
🕵🏻‍♂️Government censorship – Kik is open to anyone, but some governments mass block messaging and social media apps. If you live or travel to countries such as China or Saudi Arabia, a VPN with an additional Stealth feature is often required to use Kik.
🌐IP bans – If you're banned from Kik for breaking its terms or service or sharing an internet connection with someone who is, your IP address is blacklisted. A VPN can bypass this and let you open a new account.
Wrap up
The best VPN for Kik depends on the restrictions you face and how you use the internet.
ExpressVPN, PIA, and CyberGhost all have impenetrable encryption, fast speeds, and simple mobile apps.
By using a VPN, you can make your Kik account truly anonymous.