Signal is part of the wave of secure messenger apps built to swim against the current and intrusive policy of Big Tech.
Developed by the nonprofit Signal Foundation, this software has end-to-end encryption, allowing users to have conversations proof against surveillance.
What's more, Signal permits disappearing messages, and it's open-source, so its code is available for public consumption.
However, the app has been banned in certain places, so you might need a VPN to bypass the geo-block or simply add one more layer of security to your communication.
Read on for more information about that and other useful tips.
Do I need a VPN for Signal?
Generally, no, but it's always beneficial to encrypt your Internet connection. While Signal is quite handy, it's not without downsides.
Not everyone is a fan of its phone number confirmation requirement. But millions of people, including journalists and activists, agree that it's a small sacrifice to pay.
This private messaging software has become a symbol of freedom of speech and Internet privacy. However, if you want to use it in an unfriendly environment, you may have to pair it with a VPN.
A VPN is valuable for many reasons — location spoofing, traffic encryption, ISP throttling neutralization, and ad blocking are its main advantages. But what makes these services important in authoritarian regimes is obfuscation.
When living or traveling to a country or territory with repressive cyberspace, a VPN with a decent network of obfuscated servers becomes a must. That's because secure messenger apps like Signal often face restrictions in states that practice heavy Internet censorship.
Usually, governments that dislike privacy-focused messaging options oppose VPNs just as much. So if you want to hide your Signal traffic, you should use a VPN that can hide its own presence.
Additionally, money could also be the reason why global messaging and voice-calling services are prohibited in certain jurisdictions.
A Signal ban could be an act of protectionism, safeguarding the revenues of local telecoms. Some governments have a vested financial interest in keeping free messaging options out of the market since they partly own domestic mobile network operators.
That's why Signal is often outright blocked or extremely difficult to download in the Middle East, North Africa, and most communist regimes.
The countries that have blocked Signal are as follows:
Oman
Qatar
Uzbekistan
United Arab Emirates
Which are the best VPNs for Signal?
Not every VPN service will work in a jurisdiction that takes Internet censorship seriously.
After testing the top providers on the market, here are our recommended picks for Signal:
1. Proton VPN — advanced anti-censorship capabilities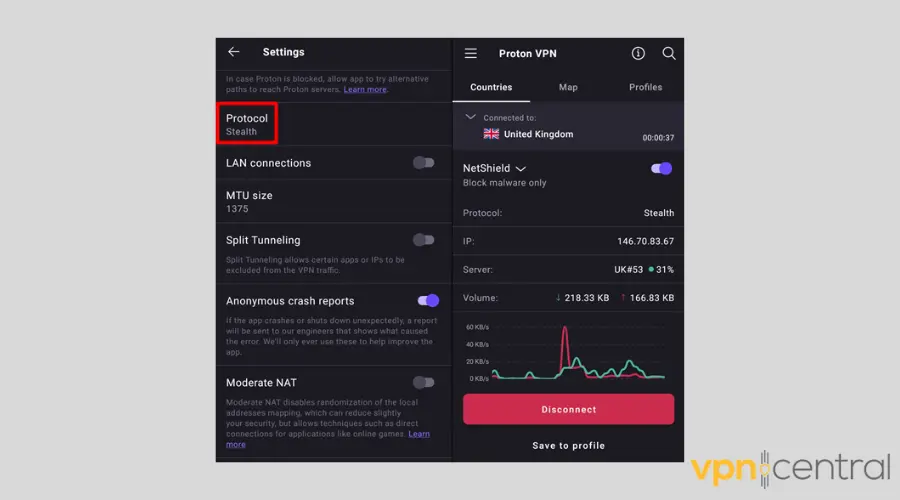 Proton VPN, a Switzerland-based service, has a strong case for the best VPN for Signal.
Its proprietary tunneling protocol optimized for obfuscation, Stealth, is the perfect addition to the other available options — OpenVPN, IKEv2, and WireGuard.
Engineered to get around most firewalls, Stealth can beat sophisticated state-sponsored VPN blocks. It creates unique data tunnels to avoid Internet filters. This protocol is undetectable because it relies on TCP, not UDP.
In addition, this VPN uses alternative routing to evade censorship. It automatically seeks new paths via third-party infrastructure to transmit your data to any of its 1900+ servers in 65+ jurisdictions without leaving a trace.
Proton VPN has dedicated Windows, macOS, Linux, iOS, iPadOS, Android, and Android TV apps, which you can install on up to ten devices simultaneously.
But if you're an Android user, you can download its APK file from GitHub to install Proton VPN on your mobile device, even if Google Play is blocked where you are.
Proton VPN's other impressive features include:
Hardware servers for P2P/BitTorrent and Tor over VPN
Kill switch
App and IP-level split tunneling
VPN Accelerator speed booster
NetShield ad and malware blocker
Port forwarding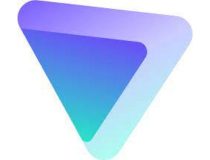 Proton VPN
Keep your Signal conversations private and secure anywhere in the world with Proton VPN.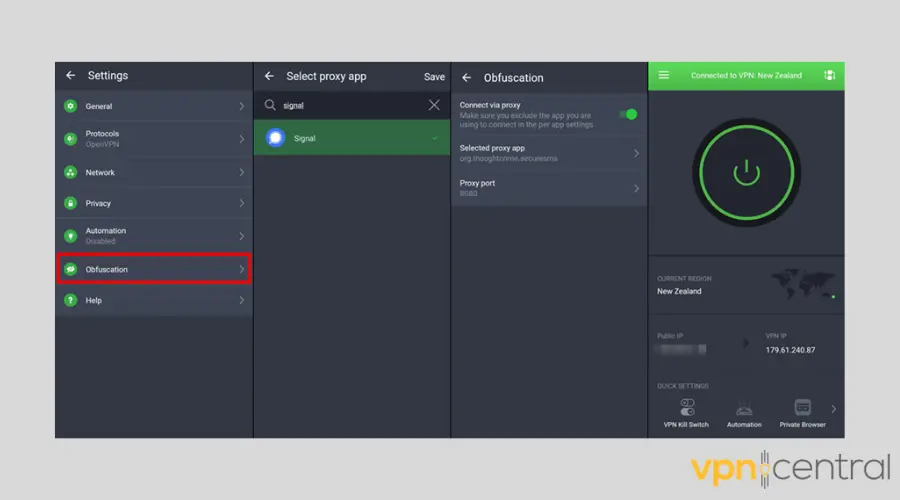 PIA is another excellent service, worth your time and money
It can obfuscate your Signal traffic by turning the messenger software into a proxy app. To pull it off, you'd have to set the protocol to OpenVPN and make the messenger software a split tunneling exception in the Per App Settings.
In addition to WireGuard, OpenVPN, and IKEv2/IPSec protocols, this open-source VPN provides SOCKS5 and Shadowsocks proxies.
Both connections require some manual configuration, but they can roll the merits of obfuscation and double VPN into one.
You may use its native Windows, Linux, macOS, iOS, and Android apps and Opera, Firefox, and Chrome browser extensions or install it to your router.
Alternatively, if Google Play is unavailable in your location, you can download PIA's APK.
More reasons to go all in on PIA:
RAM-only, 10 Gbps VPN servers in 83 countries and territories
Dedicated IPs
Split tunneling
MACE ad and malicious site blocker
Verified no-logs policy
Ten-device connection cap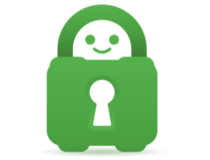 Private Internet Access
With this premium VPN service, you won't ever worry again about the privacy of your online activities.
3. Surfshark VPN — most expansive obfuscated server network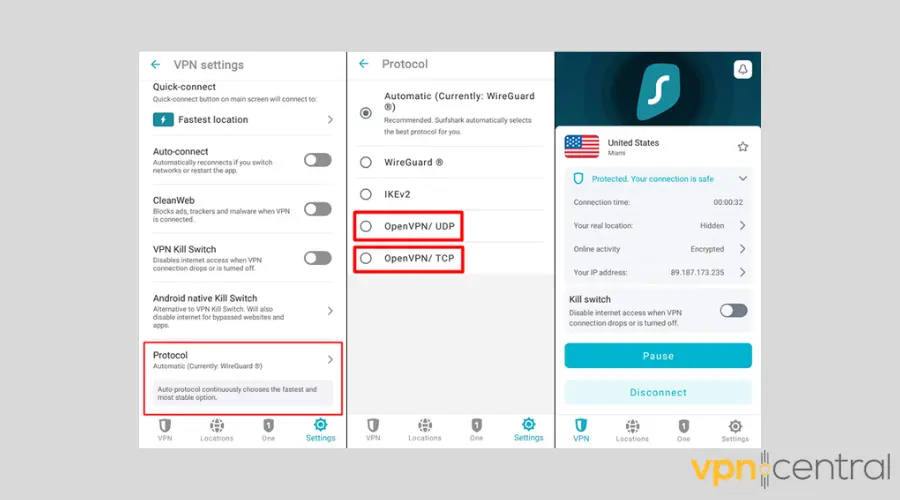 You can't go wrong with Surfshark, another premium VPN provider. It has 3,200+ RAM-only servers in 100 jurisdictions across Europe, the Americas, MENA, and the Asia Pacific that support OpenVPN, WireGuard, and IKEv2.
So, there's always one nearby to connect to, no matter what region you're in.
Although it has ceased offering its Shadowsocks protocol, it remains a credible solution to combat censorship, ISP snooping, and government tracking. It has two features that make it stand out from the competition — Camouflage and NoBorders modes.
In Camouflage mode, you send your Signal traffic to a network of obfuscated hardware. What's best, you don't have to do much. Once you switch to any of Surfshark VPN's OpenVPN protocol options, the obfuscation feature automatically kicks in.
The NoBorders mode, on the other hand, helps you bypass network restrictions by recommending carefully selected servers that perform best under such circumstances.
Available on Windows, macOS, iOS, and Android, NoBorders is more like a knee-jerk reaction when Surfshark detects censorship. So, it takes effect on autopilot.
Of course, you may also sideload this VPN service on Android by downloading the APK file from Surfshark's site. This app version also includes CleanWeb — a malware alerter, ad banner, and tracker blocker.
Other great things to expect from Surfshark VPN:
IP rotation
Kill switch
App- and URL-level split tunneling
No data usage logging
Limitless simultaneous device connections
Seven-day free trial on Android, iOS, and macOS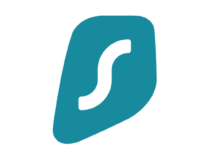 Surfshark
Secure all your devices with this top-tier VPN provider.
4. NordVPN — best set of security features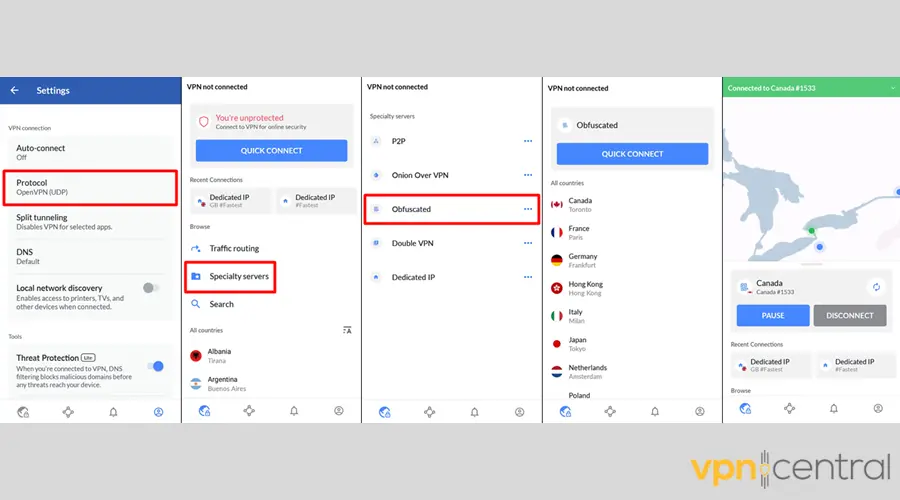 NordVPN is another user-favorite solution.
It has a fleet of obfuscated servers in 19 locations in 15 countries and territories, including Hong Kong, the UAE, and Turkey.
They're specifically engineered to dodge deep packet inspection, which is the most common technique firewalls use to block VPNs.
To connect to this Panama-based service's obfuscated hardware, you'd have to set the protocol to OpenVPN and then go to its rosters of specialty servers. These are hardware tied to dedicated IPs or optimized for double VPN, Onion-over-VPN, or P2P file-sharing.
What's more, with NordVPN, you get flawless tapjacking protection and a dark web monitor.
The service has native Android, iOS, macOS, Windows, Linux, and Android TV apps and Firefox, Edge, and Chrome browser extensions. What's more, you can set up its APK version.
Enabling you to sneak NordVPN in places that forbid Google services, the APK also has the Threat Protection Lite feature that neutralizes malicious sites and ads.
Other NordVPN selling points:
5,370+ RAM-only servers in 60 countries and territories
NordLynx and IKEv2/IPSec protocols
Kill switch
App-based split tunneling
Meshnet Internet traffic routing
Up to six simultaneous device connections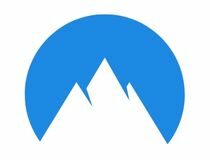 NordVPN
With its advanced features, NordVPN ensures your online anonymity and access to geo-blocked content.
5. IPVanish — simplest obfuscation configuration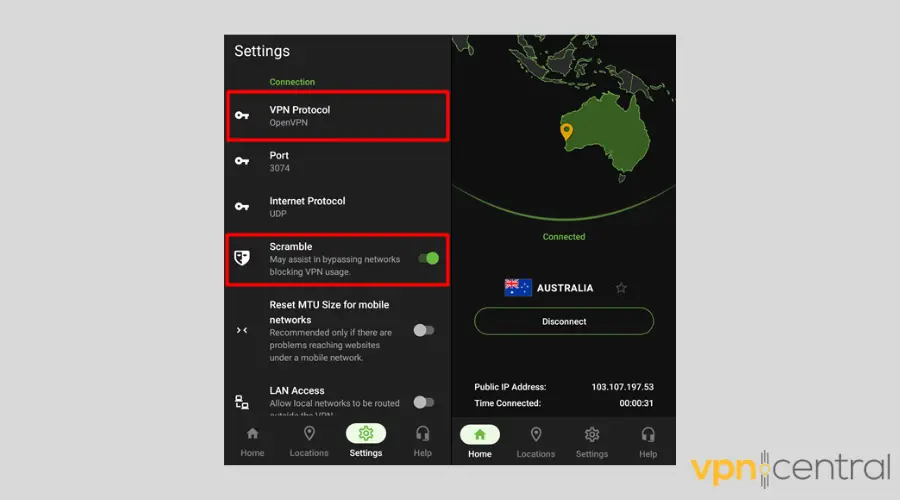 Another excellent provider that can help you access Signal even in the most restrictive environments is IPVanish.
With the help of obfuscation and the open-source nature of OpenVPN, the company developed its Scramble feature. It can render your OpenVPN connection indistinguishable from regular Internet traffic.
This way, your encrypted Signal data can hide in plain sight, despite the watchful eyes of censors, like the Great Firewall of China.
Furthermore, this Linux and router-compatible VPN has a downloadable APK file for sideloading.
To set it up, you'd have to install the Downloader app via a link on IPVanish's site. Then, you'd need to type in the URL of IPVanish's APK file to initiate the download and get this VPN's Android version without Google Play.
Other IPVanish highlights:
2,000+ servers in 75+ locations worldwide
Dedicated Windows, macOS, iOS, Android, Chrome OS, and Fire OS apps
WireGuard, IKEv2, and L2TP protocols
User and system app split tunneling
Verified no-log policy
Unlimited connected devices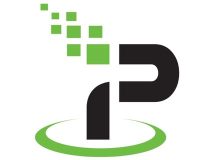 IPVanish
Don't compromise your online data, secure your Internet connection with this premium VPN service.
How to use Signal with a VPN?
The setup process of VPNs these days is painless.
For example, here's how to get started with Proton VPN on a mobile device:
Visit Proton's site and purchase a subscription to create an account.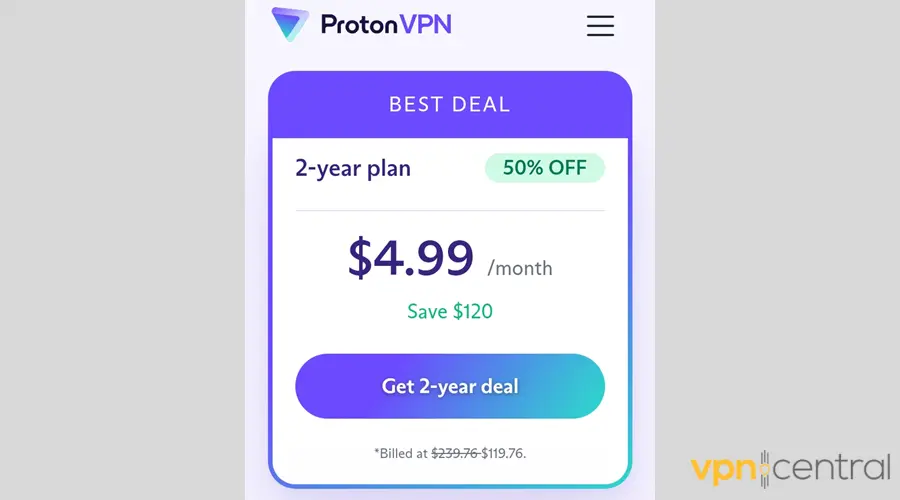 Download the native app for your device's OS.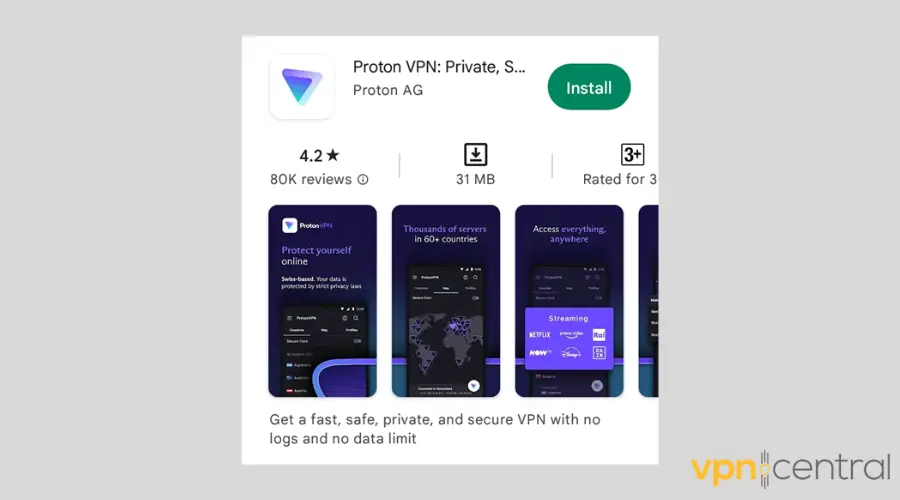 Launch the Proton VPN software and tap the hamburger icon.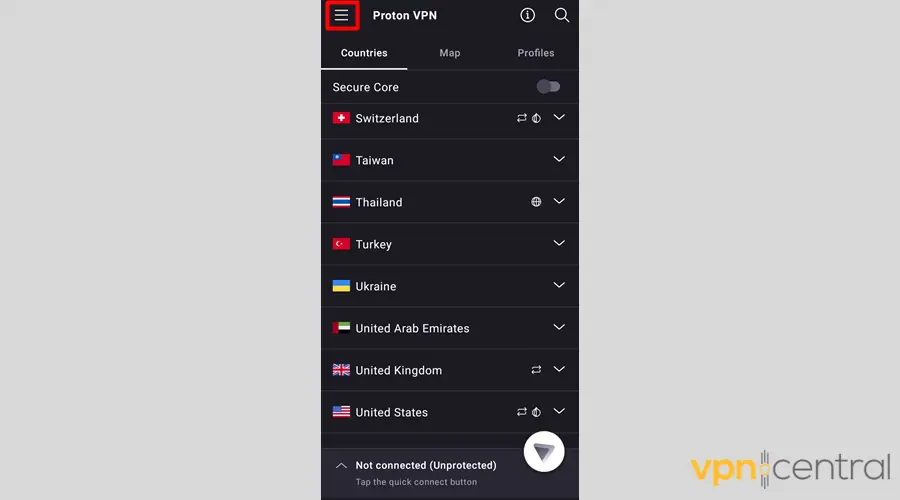 Go to Settings.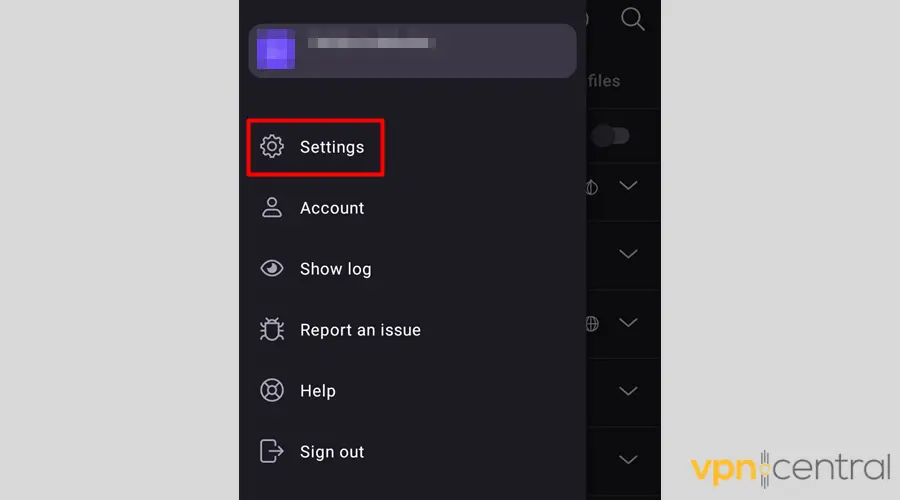 Proceed to Protocol.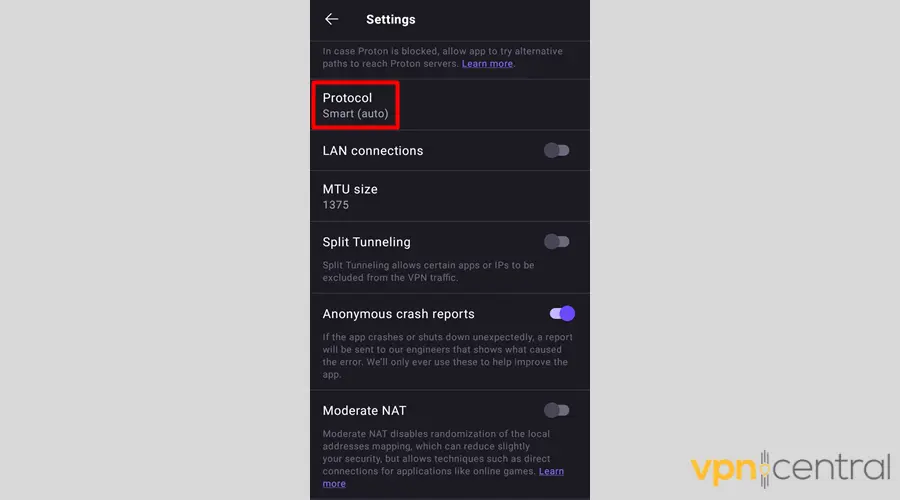 Choose Stealth.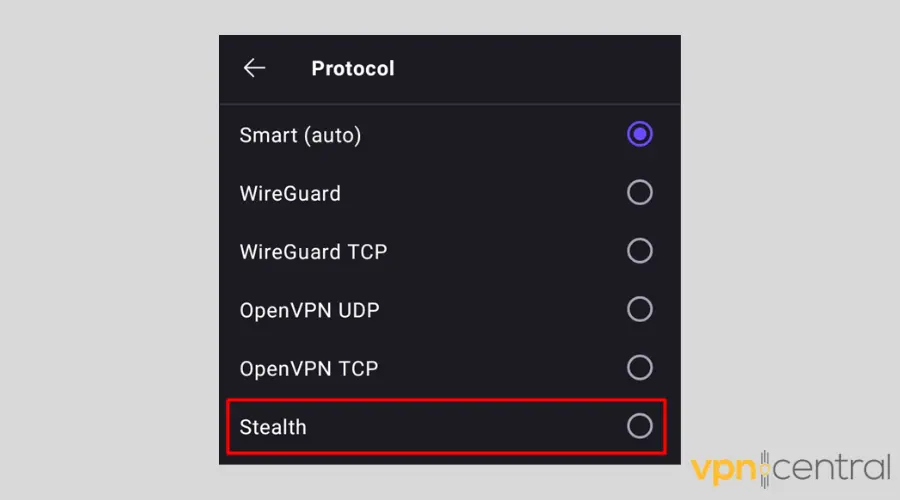 Return to the home screen and tap on your preferred location.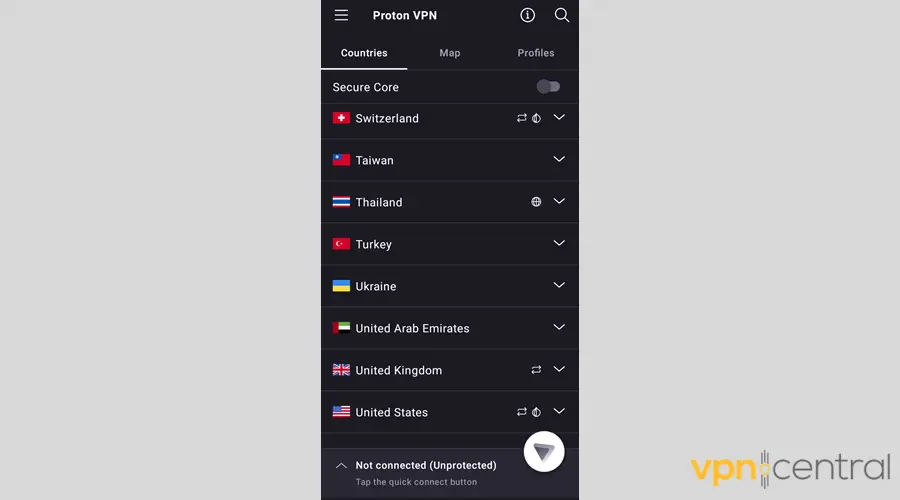 Connect to a server.
Enjoy using the Internet free from censorship and tracking.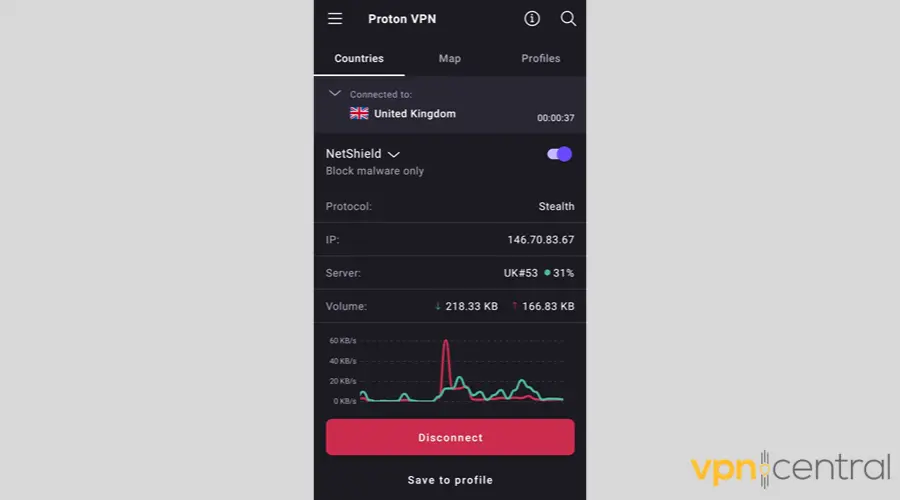 Wrap up
Unfortunately, the use of the Internet comes with a great deal of censorship, tracking, and security and privacy threats. That's why many users resort to encrypted messaging apps to keep their communication away from prying eyes.
Signal stands out as a reliable and user-friendly service, which you can combine with a VPN when living or traveling to a country with restricted cyberspace.
Hopefully, you'll find the best VPN for Signal in our recommendation above. All of these tested solutions can grant you the safety and anonymity you seek online.
Let us know which one worked out best for you in the comments section!