If you're in need of a new VPN today, you're probably aware that you have a wide selection of providers to choose from. Some of them are big and popular, others are small and new.
Still, they shouldn't be judged by the number of their clients and their popularity. You should judge and choose based on what a VPN can offer, and for what price.
That's why we've decided to talk about a VPN that might not be as popular as some of the big names out there, but can still be very useful to you.
Read our CactusVPN review to see how:
CactusVPN is a small VPN provider that has been on the market since 2012. It offers a number of features, and some of them may even be unique for this provider.
Let's start with protocols. CactusVPN offers several of those, including:
OpenVPN
PPTP and SSTP
SoftEther
L2TP/IPSec
You can change each one of these at any time, and they all have their own encryptions, which are very strong and will be useful to keep your data safe and secure. It also offers a combination of VPN and a proxy, as well as unlimited bandwidth and speed.
Some of the most promising features are:
CactusVPN doesn't log any of the user's activities
It accepts many methods of payment
Offers a 30-day money return option
Very professional
24/7 customer support
A great number of compatible platforms
The possibility of using it on three devices simultaneously.
Of course, not every VPN can be perfect, and so CactusVPN also has its flaws.
The biggest one may be the size of its network, which only numbers 20 servers in 9 countries – the US, UK, Romania, Canada, Germany, the Netherlands, South Korea, Australia, and France. This number of servers or countries isn't as big as what other providers might offer.
However, the network's still growing, and also, the provider offers servers in countries that have access to almost any geo-restricted content. This makes them small in number, but still very useful.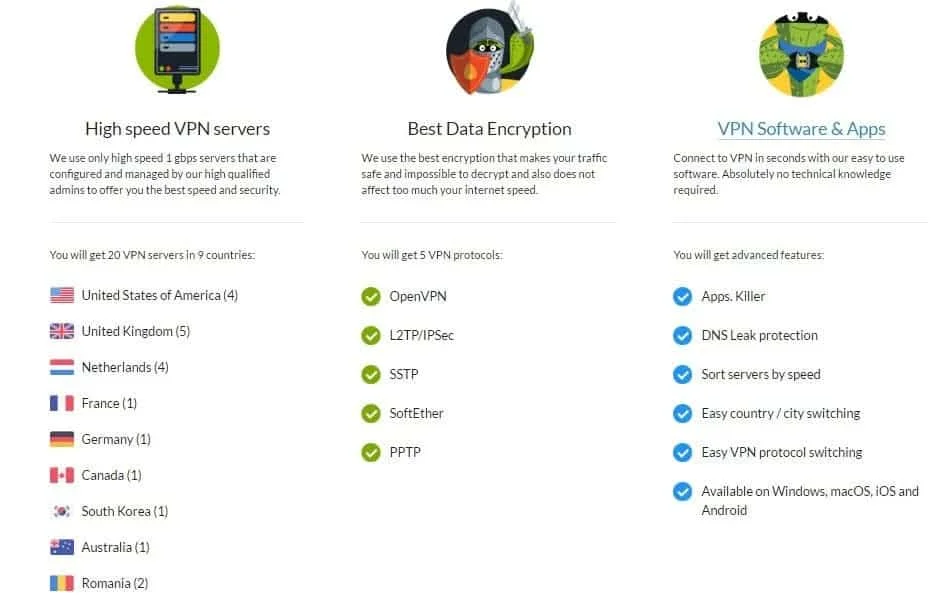 Even better, the small size of this network and the fact that the provider still isn't a big name in the world of VPN means that none of the strict online services has yet blocked CactusVPN's servers.
Additional features
CactusVPN also offers some features that aren't found elsewhere. For example:
Several different packages
SmartDNS
Selective kill switch.
CactusVPN also offers a 24-hour trial that comes with all of the features so that you can check it out and easily discover its qualities on your own, instead of just reading about them.
It also provides its users with apps for both desktop and mobile phones, so that both of those devices could be safe. And let's not forget the fact that CactusVPN also allows you to download torrents, as well.
CactusVPN review – pricing and plans
When it comes to plans and prices, CactusVPN has a pretty good system, that allows several options for users to choose from. These include: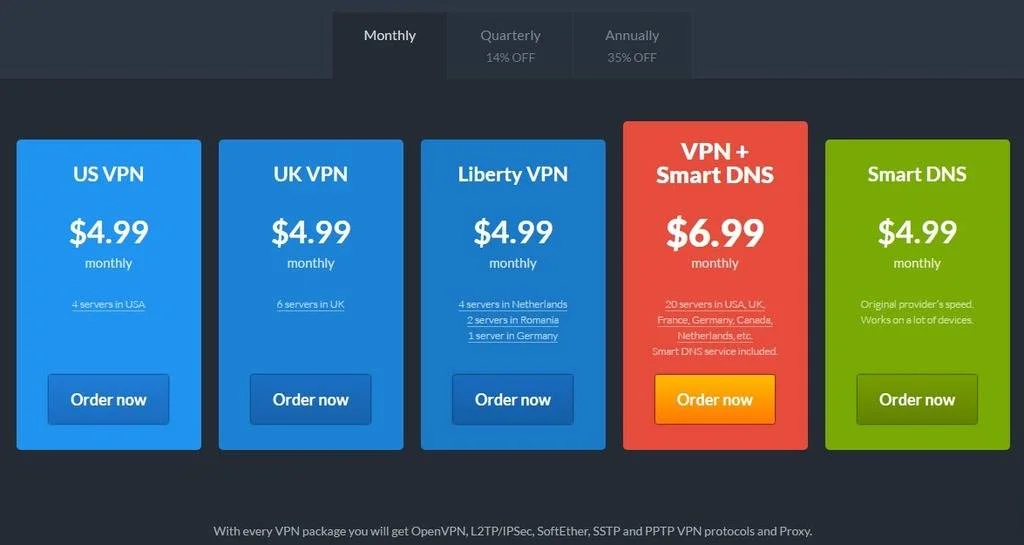 US VPN
Monthly ($4.99)
Quarterly ($12.99)
Yearly ($38.99)
Subscriptions with 4 servers located within the US.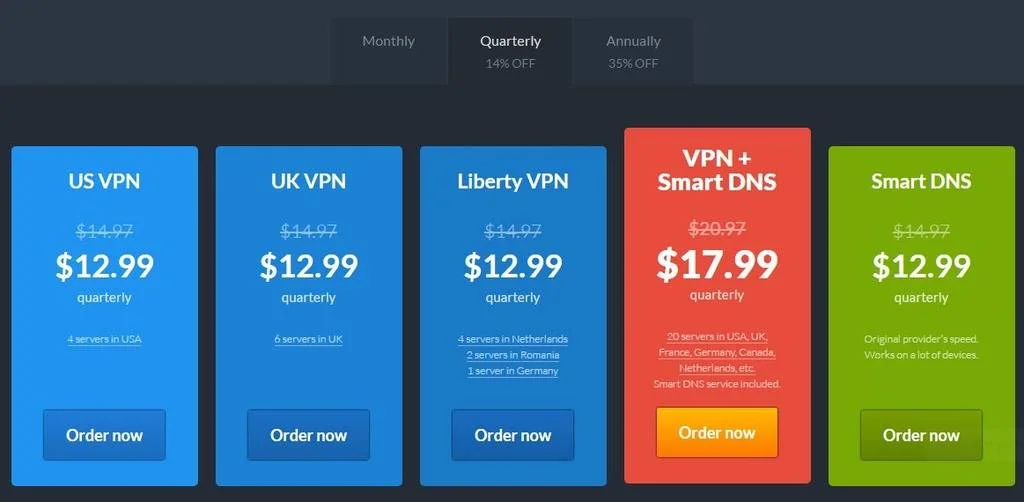 UK VPN
Then there's the UK VPN, with the pretty much same prices for the subscriptions, only it offers 6 servers in the UK.
There's also a Liberty VPN, with the same prices, but this one offers 4 servers located in the Netherlands, 1 in Germany, and 2 in Romania.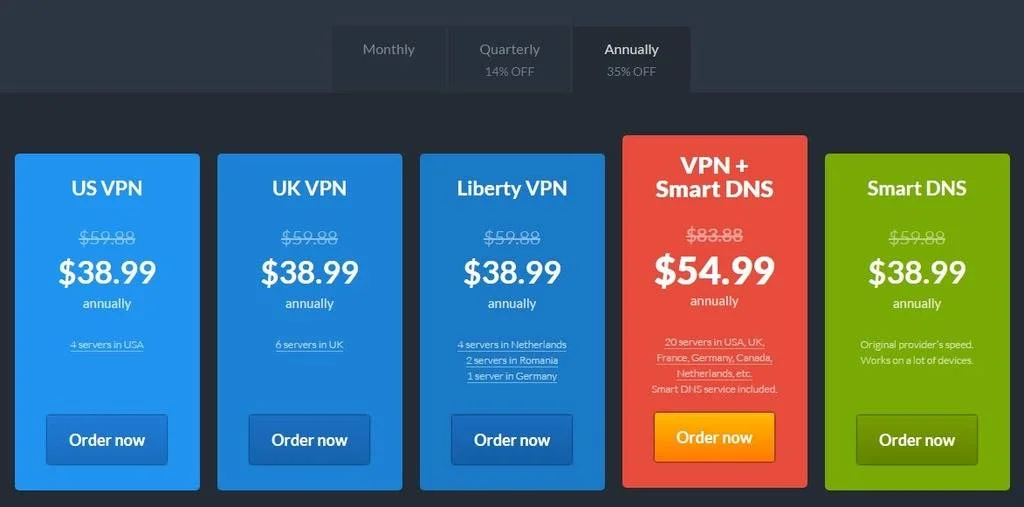 Liberty VPN
You may be interested in this plan if you use your VPN for torrenting and file-sharing. Subscribing to Liberty VPN you can download torrents as much as you like.
VPN+SmartDNS package
Lastly, there's the biggest and most expensive one, VPN+SmartDNS package. That one offers a bit more expensive subscriptions are:
Monthly ($6.99)
Quarterly ($17.99)
Yearly ($54.99)
But it also gives you access to 19 of the servers that are located in the US, France, the UK, Canada, Germany, Romania, and the Netherlands, and comes with an included SmartDNS.
Money-back guarantee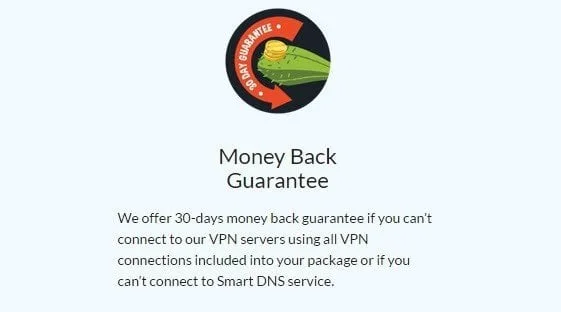 As we already mentioned, a money return policy is a part of CactusVPN's deal.
However, cannot apply for a refund in the following cases:
If the site you want to unblock using SmartDNS is not present in the CactusVPN list.
In case of policy violation
If the service does not work on devices/OS that is not officially supported
If your account is closed because you shared the account or service login credentials
If the service worked on your original setup but you made changes in your network
Payment methods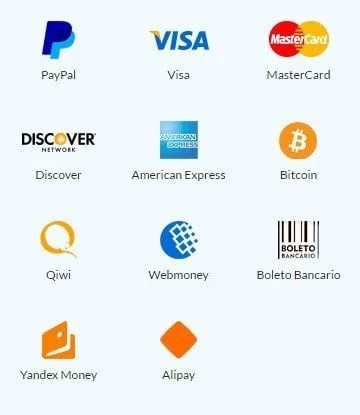 When it comes to the method of paying for your service, CactusVPN has an amazing number of different payment methods.
It's obvious that this provider works whatever it can to be accessible and useful to everyone.
The payment methods that CactusVPN accepts include Bitcoins, Credit Card, Qiwi via PayPro, Visa, American Express, Boleto Bancario, Master Card, Yandex Money, PayPal, Webmoney, and AliPay.
Privacy and security
This is another major part of our CactusVPN review. And we can say that this provider is very much dedicated to its users' privacy and security.
It offers up to five different protocols, the best encryptions for every one of them, a SmartDNS service, and a no-logging policy.
The software offers you an option to save logs. Actually, this button is more like a crash report. So when for some reason the app does not work, doesn't connect or disconnects often you can save logs of the app (connection and disconnection logs). You can send them to support so they can find the problem with the client's app.
This is done solely by you and just on your request.
That means that your privacy is still private, they simply wish to follow the quality of the service and notice any suspicious patterns in the way their app works.
This is solely for the purpose of making the service even better, and it doesn't hurt anyone's privacy.
Benefits of the kill switch tool
We have already mentioned a specific kill switch that this VPN uses, which is a selective one.
This one is something very rarely seen since it doesn't cut you off completely in case of VPN problems. Instead, it only stops or 'kills' specific apps, the ones that you yourself can order to be shut down in the case of any issues regarding your encryption or the IP address masking.
Other VPN providers mostly offer regular kill switches, that would completely sever your internet connection so that you wouldn't be recorded in case of VPN failure.
That used to be a problem for many users, so CactusVPN went one step ahead and employed a kill switch that only kills the apps and programs that you manually choose.
Basically, you'll now be able to add a list of apps and programs that you want to immediately abort their operations in case of a VPN fail, while the other ones, that aren't dealing with any sensitive info may remain fully operational even if the VPN itself fails.
CactusVPN speed review
Speed is something that this VPN values greatly. It even goes as far as to sort out the available servers by their current speed, and thus provide you with the best possible experience.
Speed is described as decent by many users, especially when it comes to the upload speed. Many of the VPNs are known to slow down their customer's internet, especially if a lot of people surf the web via the same server.
Other than that, speed, as well as bandwidth, is unlimited. This makes the service great and very much reliable when it comes to sharing data, streaming media, or uploading any sort of files.
A user-friendly VPN
Let's talk about CactusVPN's interface now. This is easily one of the most user-friendly VPNs you'll find out there. It's also very modern, and allows you to choose your own servers and protocols.
The thing about this interface is that it's so easy to use and find your way around it, but it still offers an amazing level of detail when it comes to your protection.
It doesn't do everything in your stead, but it actually allows you to set your level of defense, privacy, and anonymity the way you want it to be.
In our book, this makes it a great app, and therefore a top service as well.
Signing up and getting started
As we've said, it's very easy to use CactusVPN. However, in order to use it, you'll have to get it first. Don't get the wrong idea, this process is also extremely simple, and all you have to do is enter your name and email address, followed by the payment details.
It requires even less data about you than any social network profile.
Here's how to set everything up:
Download and install the relevant app.




Log in with your credentials




Choose your server and protocol




Click Connect




You're ready to go.
In the settings, you can set up details like launching the app on startup, enabling the Smart DNS as soon as you sign in, or how often you wish to update your IP address and more.
It's not difficult to understand or set, which makes it perfect for both experienced, as well as new users.
CactusVPN for mobile devices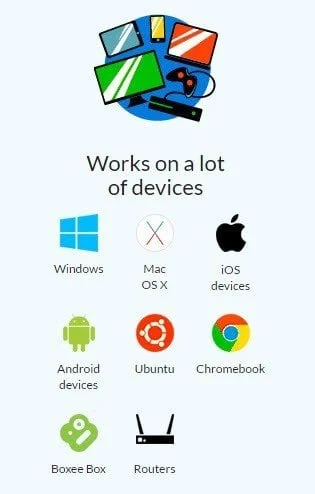 CactusVPN offers an application for mobile devices too, and that includes both iOS and Android. The app for the mobile is also very easy to use, and completely user-friendly.
It allows you a great amount of control when it comes to creating your very own system of protection, just like the desktop one.
24/7 Customer service
It's said that the best customer support starts on the provider's website itself. CactusVPN has made sure that there are absolutely no issues when it comes to this, and you're guaranteed to find the answer to your questions in a matter of seconds.
The website offers a FAQ that can explain and advise on how to deal with various problems, and also offers a setup guide. If you still have issues that you can't deal with on your own, there's also a live chat.
The live chat option is available to all users but only for about 15 hours a day. Still, the service is extremely professional and efficient, and they'll deal with any problem you have in a matter of minutes.
The support is available 24/7, which means that no matter where you are and what time of day it is, you'll be taken care of as soon as you contact them.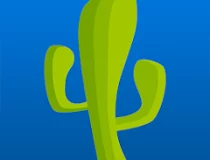 CactusVPN
Enjoy high-level privacy and security with this fast and reliable VPN.
CactusVPN review – Verdict
CactusVPN isn't among the greatest names in the VPN world, but as you can see, that doesn't stop them from being among the most quality providers that you'll find.
The number of servers may be small, but the service is still growing and expanding. There's no telling what it might look like one day, provided it gets the support it needs.
Its small network even has its advantages, since it's not perceived as a threat by the online services, and they don't bother to block this VPN. On the other hand, many of the popular VPNs that have hundreds of servers can't even access services like Netflix or Hulu because they got blocked.
---