Some Fortnite players that use VPNs or proxies reported encountering an error message that states We recommend not utilizing VPN or proxy services while attempting to play Fortnite.
This left them wondering if using a VPN when playing Fortnite can get them banned.
To answer that, we'll explore the policies of Fortnite regarding the use of VPNs, the risks, and some common reasons why they might ban you.
Can you get banned for using a VPN on Fortnite?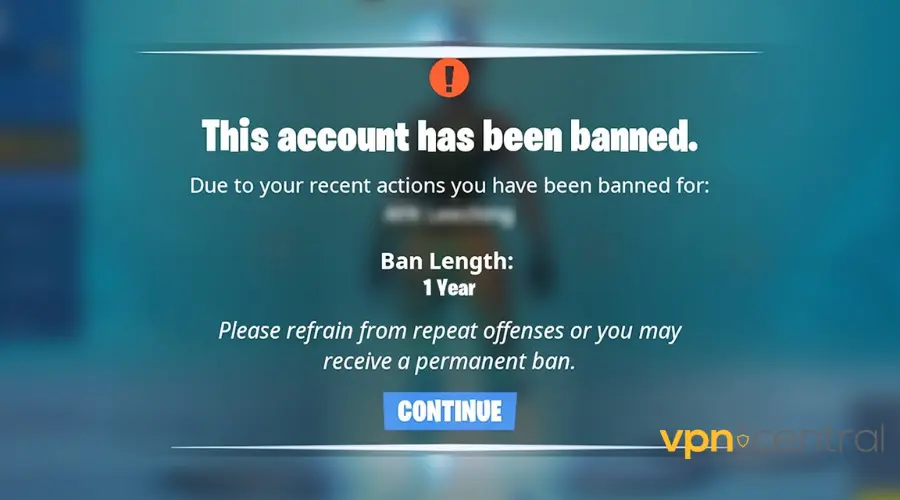 Yes, you can. Fortnite places an IP ban on users that break their terms of use. If that's what you use the VPN for, you're at risk.
Here are some of the most common cases when your VPN can get you in trouble on Fortnite:
Cheating or hacking: using VPN to gain an unfair advantage in the game or to access banned mods
Account sharing: Accessing an account not registered to the user's IP address can get the account suspended
Evading bans: using a VPN to continue playing after you were banned on a different account or IP address can get you banned if they're able to identify you
Keep in mind that Fortnite can't always accurately detect exactly what you use the VPN for. They may ban you even if you don't actually break any regulations, but your traffic seems suspicious.
This however seems to be way less likely. We did try out various servers from different countries when we tested VPNs to see which are the best for Fortnite and didn't get a single error message.
How can a VPN impact Fortnite?
Connection speed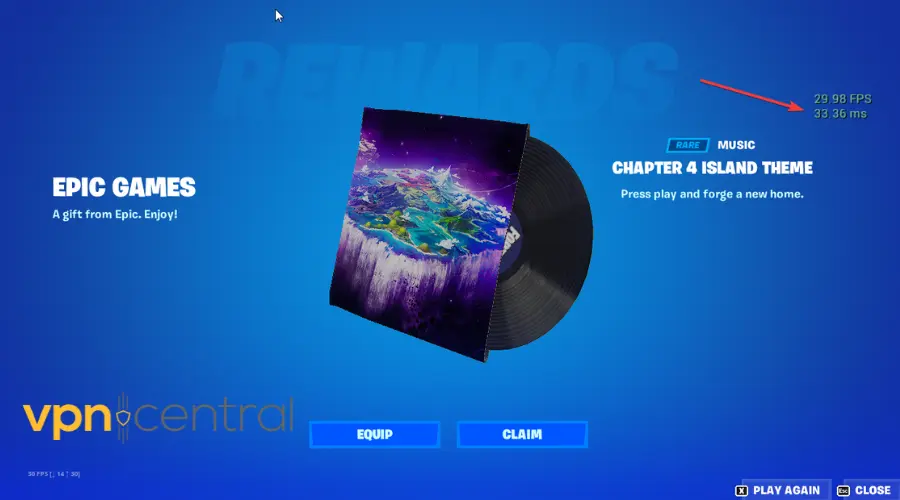 VPNs affect Internet speed a lot.
If the distance between the VPN server location and your actual whereabouts is large, the data will take a long time to travel through the VPN tunneling.
This results in poor speed, thus low FPS and probably high ping.
For this reason, we often advise connecting to a VPN server that's close to your actual location.
However, if Fortnite is banned in your location, the next best thing is to find a VPN server in a supported country that has relatively low ping.
In contrast, a good VPN can work as a ping reducer on Fortnite as long as you configure it properly.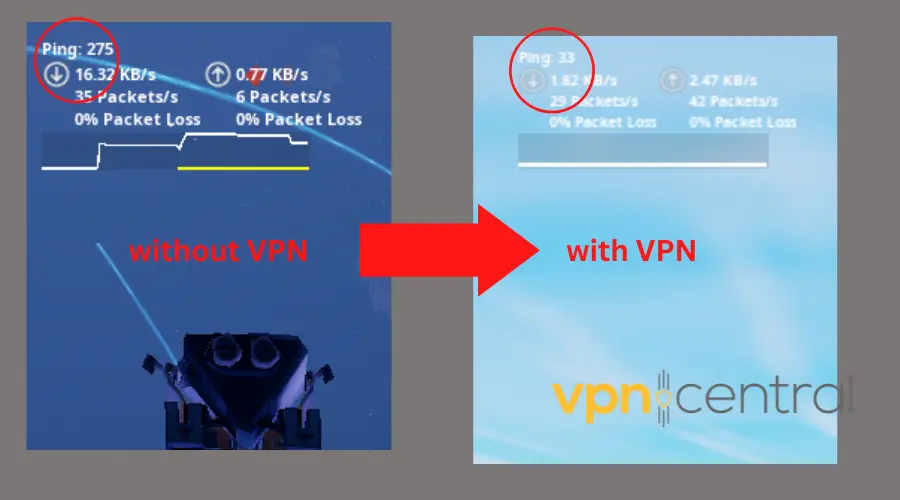 Reduced ping leads to a more responsive, smoother, and faster gameplay experience.
Some VPNs have built-in latency analysis and you can get reports when you access the VPN list.
You can also use an online speed tester on the VPN and compare several servers until you find an optimal one.
Overall, the lower your latency, the faster the command execution, resulting in a smoother and more responsive gaming experience.
Stability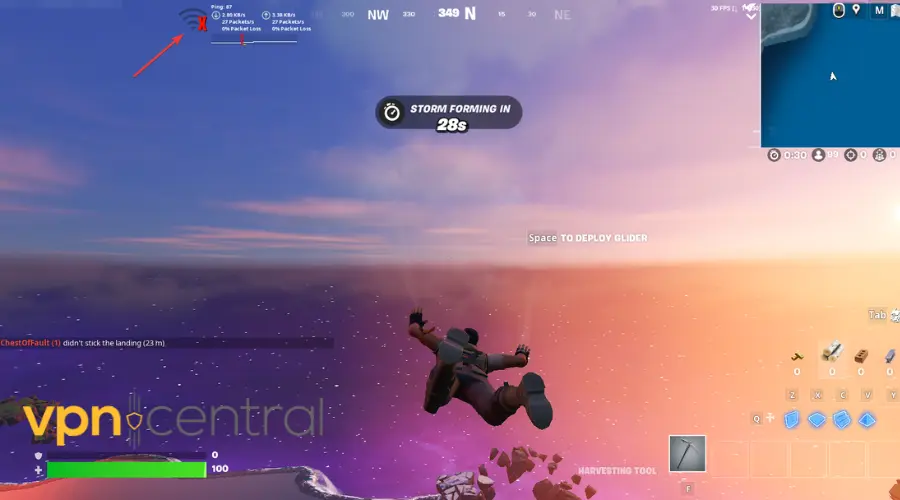 Some VPNs cause disconnections or crashes in Fortnite, which can be frustrating for the player. Too many people connected to the same server can cause disconnections and crashes.
To prevent that, you can allocate all VPN traffic to Fortnite by enabling the split tunneling feature in your VPN.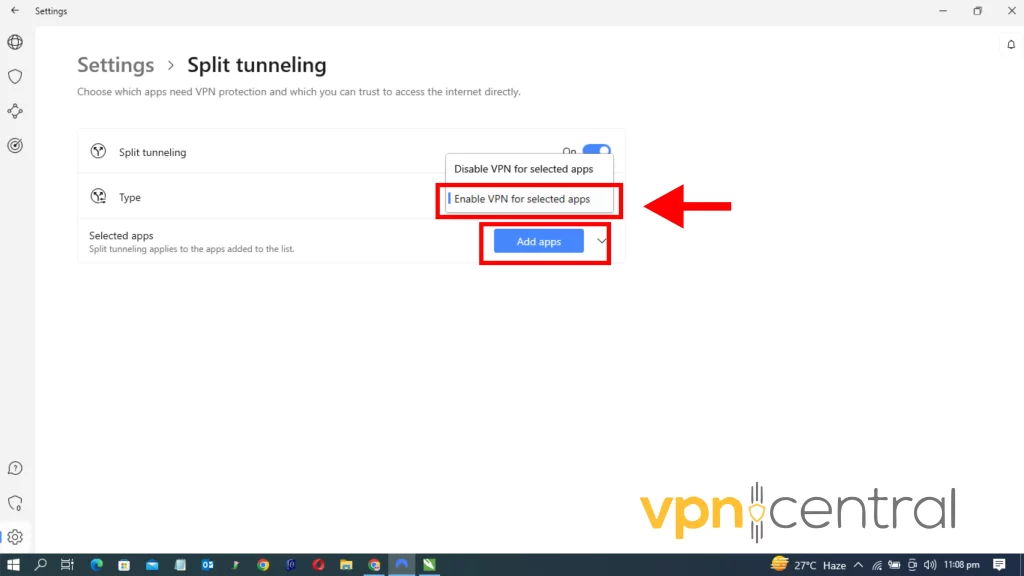 Split tunneling lets you route specific apps or devices through the VPN connection while allowing the rest of your internet traffic to bypass the VPN.
Enabling it when playing Fortnite can help improve your connection speed, as the VPN server will not have to route any other background apps.
You also risk getting disconnected mid-game if the firewalls on Fortnite detect and block your VPN or proxy. This is why it's important to use a truly secure VPN and enable all its advanced privacy features.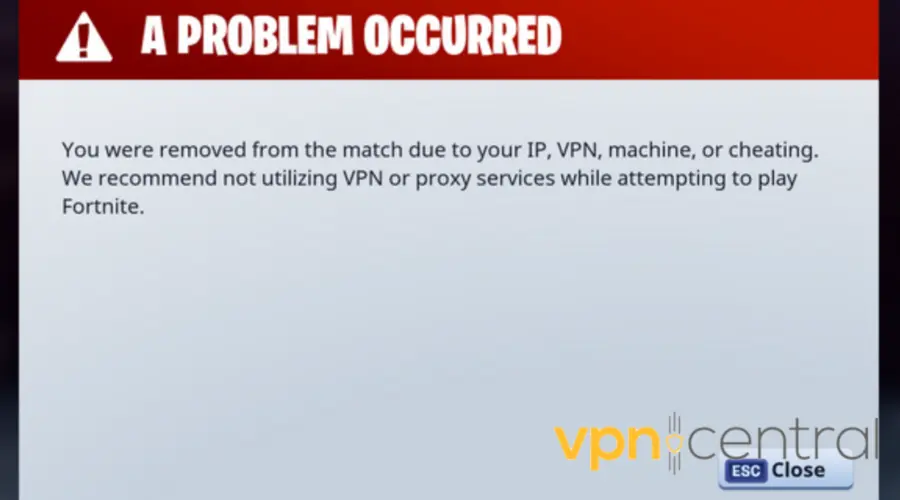 For instance, a VPN with a kill switch will automatically disconnect your internet connection if the VPN connection drops.
Additionally, consider connecting to an obfuscated server or enabling a double VPN.
Privacy and security
A VPN can provide added security features such as hiding your IP address and encrypting your data, which can help protect your information from trackers and hackers.
They reduce the risk of falling victim to a DDoS attack on Fortnite.
DDoS (Distributed Denial of Service) attackers aim to disrupt the regular traffic of a targeted server, service, or network by overwhelming it with a flood of internet traffic.
Using a strong, untraceable VPN can help you evade IP bans on Fortnite. However, you have to enable all security features to make sure you remain undetected.
Geo-location change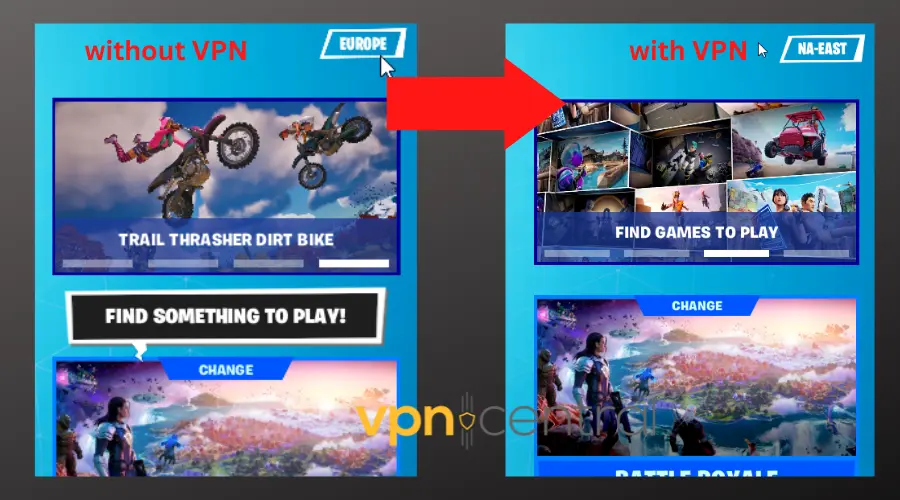 VPNs can help you change your apparent location.
This benefits Fortnite players because they can play from restricted countries.
On top of that, changing location will let you benefit from exclusive features and tournaments that aren't available on all Fortnite server locations.
Connect to a VPN server of your desired location, then launch Fortnite. You'll see the location in the lobby will automatically change.
Conclusion
Fortnite's policies don't specifically state they ban VPNs, but they do restrict them.
Given that a VPN can impact the performance, stability, and security of Fortnite gameplay, stopping using them altogether can be a loss.
We recommend following the tips for optimizing VPN settings to minimize the impact on gameplay and reduce any potential risks or consequences.