Lag spikes and connection drops can really drain all the fun during online games.
And to make matters worse, it can be pretty hard to identify the underlying issue.
One of the most recommended solutions is switching to another DNS service. But like all popular fixes, it's not a cure-all.
The question is:
Is changing DNS good for gaming, or is it just a myth?
Let's find out!
What Is DNS and How Does It Work?
DNS (Domain Name System) translates domain names that humans can easily remember into machine-readable IP addresses.
Here's an example for you:
Whenever you type in "youtube.com," you'll be redirected to the actual IP address for YouTube (208.65.153.238).
That way, you don't have to remember and type in a string of numbers every time you want to access a website.
So, think of DNS as the internet's equivalent of Yellowpages. You look up a name and get the actual number and address.
This process is called DNS resolution. And here's a more in-depth explanation of the steps:
Once you send your request, its first stop is the recursive DNS server. It checks recently cached addresses for the right IP for your website. If it's not there, it sends your request to other servers.
The next step is the root name server. It points your request towards more specific areas.
The top-level domain (TLD) name server hosts top-level domains such as .com, .edu, .org, and more. So, if you've initially sent a request for youtube.com, you would be redirected to the .com TLD name server.
Finally, the authoritative name server hosts specific IP addresses for domain names. Once it finds the IP, this information is sent back to your browser so your web page can load. If it can't find it, you'll get an error message instead.
Check out this handy illustration below: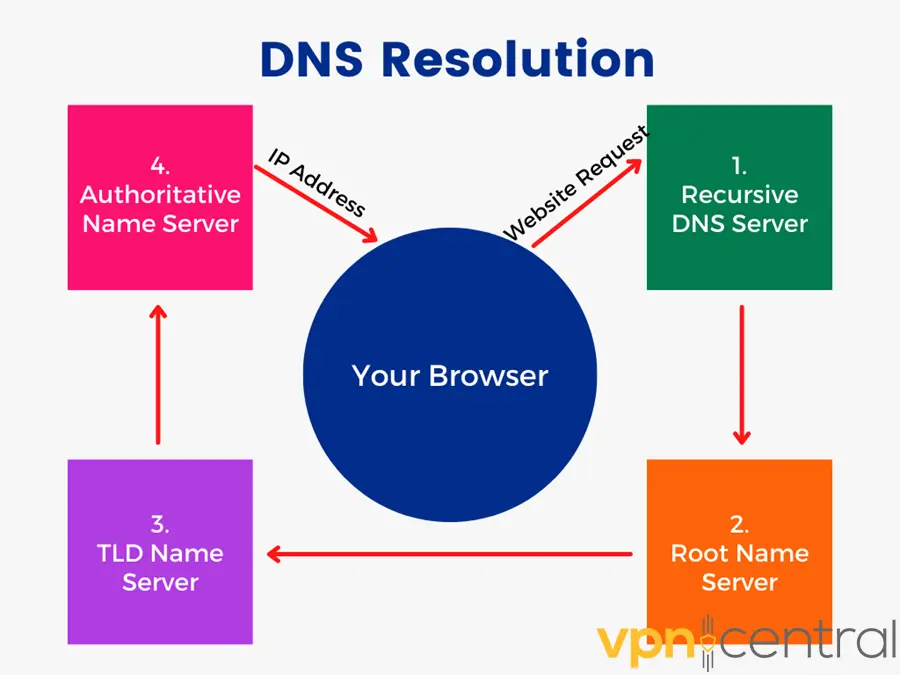 DNS works quietly and quickly in the background. Most users are unaware of how their browser knows exactly where to point their web page requests.
The entire process only takes moments. The recursive DNS server will also remember IP addresses for up to a week to shorten your request's journey.
How Does DNS Affect Gaming?
Changing your default DNS servers will indirectly affect your gaming, but don't expect magic results.
DNS only translates web page requests, so it can't be as impactful as a hardware upgrade.
But it does improve a couple of things.
New DNS servers can speed up the amount of time for an individual webpage to load.
Still, they won't improve your overall internet connection. You won't notice a difference when downloading large files or streaming shows.
Other than webpage loading time, DNS can slightly affect ping and latency.
Latency represents the time it takes for data to travel from your device to a server. Ping is the measuring unit for latency as the average time in milliseconds.
The average ping is around 100ms and below for broadband connections. Anything below 20ms is excellent for gaming and is considered low ping. The 50-100ms range is regarded as good to average, whereas a ping of 150ms or more isn't suitable for gaming.
A lower ping is more desirable because it leads to faster data transfer and server responses within the game. That results in smoother, lag-free gameplay.
The greater the distance between your gaming system and the gaming server, the greater the ping.
Some games let you select custom servers that are physically closer to your location. If you also choose a DNS server that's closer to you, their combined effect will lower your ping.
Is Changing DNS Good for Gaming?
So, to reiterate, switching to another DNS server address can positively affect your graming in two main ways:
Your online game will load faster because it will take less time to translate your web page requests.
Your ping will be reduced if you connect to game servers and DNS servers that are near you.
But those aren't the sole benefits of DNS changing.
You can also cut down packet loss.
Packet loss is another source of lag spikes in online games. Essentially, you're losing data during the exchange between your computer and the game server.
It's similar to latency, except instead of taking a longer time, some data packets fail to arrive at all.
Each of them has to be re-sent, which causes bottlenecks and slows down your network speed.
Other than that, some servers support DNS filtering.
They can block malicious apps and websites at the DNS level and thus prevent them from loading.
Here's a quick rundown on how that works:
All DNS requests need to go to a DNS resolver. However, you can configure the resolver so that it filters out queries that are part of blocklists.
It can block harmful sites based on their domain name or IP address.
This makes DNS filtering an excellent defense against phishing attacks.
If you receive a phishing email that tricks you into clicking a misleading link, your DNS resolver will block the request.
Which Is the Best DNS for Gaming?
There are plenty of DNS options available, both paid and free. However, not all services will necessarily be a better alternative to your ISP's default servers.
Don't worry, though:
We've picked out the best publicly available free DNS services. Each will provide a smoother gaming experience and improve your connectivity and security.
All you need to do is type in their addresses in your computer's or console's internet connection settings.
Take a look:
1. Google Public DNS
Google Public DNS promises complete security and accurate responses to your queries without redirects.
It has data centers all over the world and can support a higher volume of web page requests than most DNS providers.
Besides traditional DNS over UDP/TCP, it provides DNS over HTTPS (DoH) and TLS (DoT).
Additionally, Google DNS uses DNSSEC cryptographic standards to prevent cyber attacks and redirects to malicious sites. It has also never fallen victim to DDoS attacks.
To use it, you need to change your DNS addresses to:
Primary DNS — 8.8.8.8
Secondary DNS — 8.8.4.4.
Or if you use IPv6:
Primary DNS — 2001:4860:4860::8888
Secondary DNS — 2001:4860:4860::8844.
2. Cloudflare
Cloudflare prioritizes your privacy and speed.
It won't record your IP address or use your browsing data for ads. It deletes all the other logs daily. Best of all, it's been independently audited by KPMG.
All the reports are available online for your scrutiny.
In addition to that, it has access to the addresses of more than 7 million domain names on its own servers. It supports DNS over HTTPS and TLS, too.
You can use it on the 1.1.1.1 website and app. The app also offers WARP — a VPN service that automatically encrypts your connections.
Here are the IPv4 addresses for Cloudflare:
Primary DNS — 1.1.1.1
Secondary DNS — 1.0.0.1.
IPv6 DNS servers are also available:
Primary DNS — 2606:4700:4700::1111
Secondary DNS — 2606:4700:4700::1001.
3. Quad9
Quad9 might be one of the newest players in the field but it has definitely made a name for itself.
It's based in Switzerland and is subject to Swiss privacy laws that prohibit wiretapping.
Quad9 is especially focused on cyber security. It employs a robust blocking system based on commercial and publicly available threat intelligence software.
It will block the IP address of malware, spyware, ransomware, exploits, and other suspicious websites. The only drawback is that you can't manually blocklist websites.
Use the following addresses to set it up:
Primary DNS — 9.9.9.9
Secondary DNS — 149.112.112.112.
You can also use Quad9's IPv6 DNS servers:
Primary DNS — 2620:fe::fe
Secondary DNS — 2620:fe::9.
4. OpenDNS
OpenDNS offers custom content filtering and phishing protection.
Gamers will benefit from the free Home plan, as the Family Shield plan is primarily oriented toward parental control.
OpenDNS processes billions of DNS queries daily and supports DNS over HTTPS. It also promises 100% uptime.
Furthermore, even complete novices will find it easy to install it on their PC, Mac, router, and other devices.
Type in these IPv4 addresses:
Primary DNS — 208.67.222.222
Secondary DNS — 208.67.220.220.
Alternatively, try the IPv6 DNS servers:
Primary DNS — 2620:119:35::35
Secondary DNS — 2620:119:53::53.
Wrap-Up
So, is changing DNS good for gaming?
In a nutshell:
Yes, but not nearly to the extent that many blog posts would want you to believe.
After all, DNS can only do so much since its main task is translating domain names into IP addresses.
Depending on your location and the game server's location, it can improve latency. Additionally, you can cut down on loading times, prevent packet loss, and protect yourself from harmful websites.
Essentially, It won't cost you anything to try out some public DNS servers, so give it a go!