Your IP address is the main factor in determining your visible geographic location on the internet, but there are several other indicators that can also play a role.
One of them is the Domain Name System (DNS) and the DNS servers your device uses.
Does a VPN encrypt DNS? Some VPNs do and some don't. But first, it's important to understand what DNS is, how it works, and why you might wish to encrypt it.
What is DNS encryption?
DNS encryption is the process of scrambling DNS data so it's unreadable by website trackers and other snoopers.
The Domain Name System
DNS is the technology that maps website domains (e.g., www.example.com) to their server IP addresses (e.g., 192.0.2.1).
When you type a website name into your browser, your device makes a request to a DNS server to resolve the domain name to its corresponding IP address. The DNS server responds with the site server's IP address, and your browser then sends a request to that address to retrieve the website content.
The DNS acts as a sort of telephone directory for the internet, allowing you to access websites easily with a human-readable name rather than having to remember complicated strings of numbers.
Normally, your internet provider will assign the DNS servers that handle your DNS requests. However, this is often linked to a local geographic area. Your ISP is also visible during the DNS process, which also indicates your general location.
Even if you spoof your IP address using a VPN or proxy, DNS might still be visible and reveal your whereabouts. While most sites and services only look for your IP, some also monitor the DNS. If there's a mismatch, you could still be blocked.
DNS encryption and its benefits
DNS encryption is the process of hiding activity between your device and the DNS server. This prevents sites and apps from viewing your DNS information, which increases security and hides your real location.
You might do this when you need extra privacy or when trying to access region-restricted content that still won't load when you spoof your IP address.
It's also common to change DNS servers and use one or more that aren't linked to your ISP or location. For example, public DNS servers from the likes of Google and Cloudflare are now very common.
The main benefit is that these tend to be faster than the servers assigned by your average ISP. They can also help in changing your visible location because they have different geographic data.
Does a VPN encrypt DNS?
Whether a VPN encrypts your DNS info depends on the provider. Different methods are used, each with its own pros and cons.
How can VPNs encrypt DNS?
The best VPNs will either legitimately change the DNS servers or mask them with servers that match your new IP address. Either way, the end result will alter the data visible to websites and other internet services.
For example, if you're in the United States and choose a French VPN server, your DNS will also appear as French. This is the best option.
Another method is to simply hide all DNS information, so nothing is shown publicly. This provides the most privacy but isn't always practical if your aim is to bypass geo-restrictions.
For example, if you are trying to unblock a streaming service, it might assume you are using a VPN because the information is not available. Others require some kind of DNS data to function correctly and might display an error.
What is Smart DNS?
Smart DNS is a feature that changes your DNS servers to those specifically designed for certain streaming services, like Netflix. You can sometimes use it without turning on the full VPN service and there are even standalone Smart DNS services without a VPN at all.
However, the best way to use Smart DNS is alongside a VPN. When you use it this way, it can speed up your streaming experience and you're still guaranteed to unblock access.
Changing your DNS on its own is not always enough to unblock geo-restricted content.
Why is DNS encryption important?
DNS is a small aspect of internet privacy, but it's still important to use encryption to protect against eavesdropping and tampering from hackers. Sensitive information such as website IP addresses, location data, and your ISP, can be exposed during DNS resolution.
With encryption, third parties can't intercept and modify the content of DNS communication, which reduces the risk of cyber attacks.
Moreover, spoofing your DNS not only hides your real data but also allows you to effectively change your geographic location so you can unblock region-restricted content.
How to check if your VPN is encrypting DNS
Most VPN providers will tell you if they encrypt or spoof your DNS. It's also important to use a VPN with good leak prevention, as your DNS can sometimes be temporarily exposed, even when it's usually encrypted.
You can check which DNS servers are visible in real-time by going to IPLeak.net. Once the page loads, scroll down to the DNS section and it lists all the DNS servers, their IP addresses, and a convenient country flag.
If your VPN is working correctly, the country flag should match the IP address at the top. If you have a mix of different countries or your ISP's name is shown under the DNS section, you know the VPN is leaking your DNS data.
In the below example, we used ExpressVPN and chose Italy as the location. Our real IP is in the UK, so we now know ExpressVPN doesn't leak DNS data and displays both the IP address and DNS as being in Italy.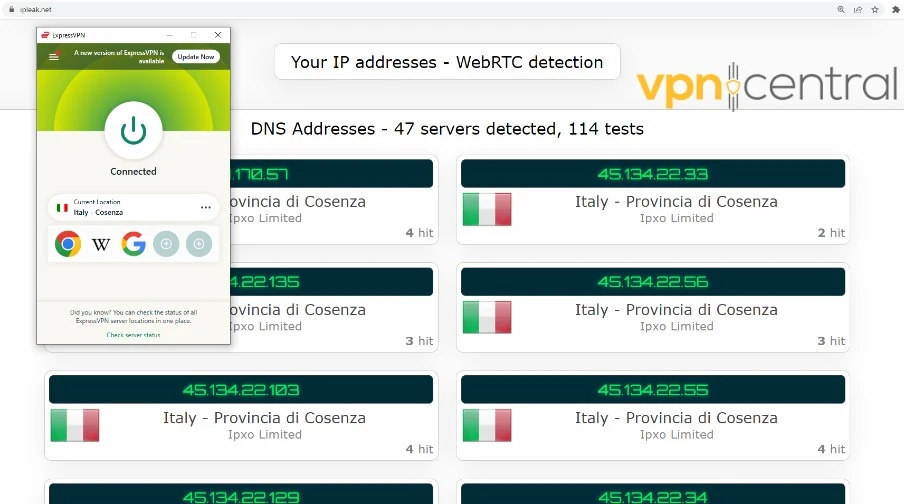 Top VPNs that encrypt your DNS
We put the leading VPN services to the test and checked which ones successfully encrypt your DNS. These are our top 5 picks:
Summary
So, does a VPN encrypt DNS? Yes, the best ones will not only encrypt your DNS but also display DNS data that matches your new IP address for optimal location masking. Some even provide a Smart DNS feature for better streaming.
DNS encryption is automatic. However, if you wish to check for leaks, a quick visit to IPLeank.net will show which DNS servers are visible.