The CiscoVPN solution is working rather nicely if we look at the reports. The most prominent issues appear only after the major updates which tend to break the application.
These are not common, but then again, they seemingly render the VPN client completely unusable. At least that was the case with the Fall Creators Update and April Update.
However, there's no need to worry. We found some applicable steps and enlisted them below so make sure to check them out.
Why is Cisco VPN not connecting?
There are a few things that might happen when the VPN is not working. Some users say the Cisco VPN client is not opening or they get a login failed message
Others get error messages such as:
The necessary VPN sub-system is not available. You cannot connect to remote VPN server displays.
The VPN service is not available. Exiting.
VPN subsystem is not available.
Cisco Anyconnect connection attempt has failed.
VPN service not available on Cisco.
These three factors can cause those errors to appear:
The VPN client service has not yet been launched
Installation issues with the VPN, possibly caused by corrupted or duplicated files
A firewall or antivirus software may be interfering with the VPN connection
Additionally, a VPN client is more prone to lose Dead Peer Detection while it is having connectivity problems. If your system's firmware is outdated, it could affect DPD issues.
How do I get my Cisco AnyConnect to work?
1. Repair the installation
In the Windows Search bar, type Control, and open Control Panel.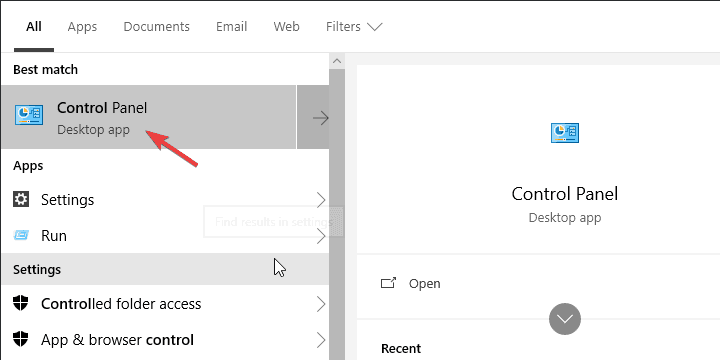 Click Uninstall a program in the bottom left corner.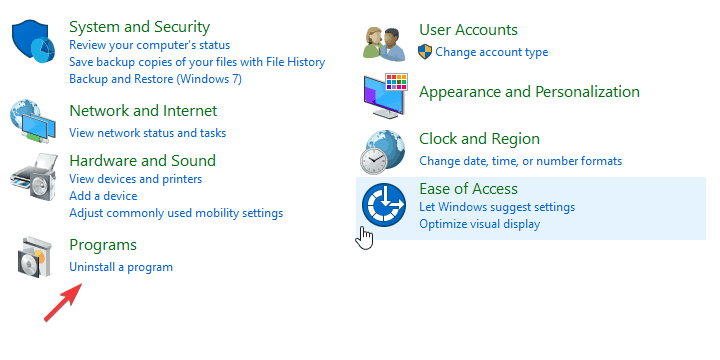 Click on the Cisco System VPN client and choose Repair.
Follow the instructions until the installation is repaired.
Let's start by repairing the installation. Lots of third-party applications tend to break after a major update is administered. That's why it is always recommended to reinstall them after the update is installed.
Even better, if you want to avoid one of the numerous update/upgrade errors, uninstalling is a viable choice.
However, if you've not uninstalled Cisco VPN prior to an update, instead of reinstallation, you should try out repairing the present installation first.
If you're not sure how to repair the Cisco VPN, follow the steps we provided above.
2. Perform a clean reinstallation
Time needed: 3 minutes.
Navigate to Control Panel and open Uninstall a program.


Search and select the Cisco AnyConnect Secure Mobility Client.

Uninstall the Cisco AnyConnect Secure Mobility Client.

Next, open up File Explorer by typing it in the Windows Search Bar.

Go to the following path: C:\ProgramData\Cisco. The ProgramData folder may be hidden so click View at the top-left > Check Hidden items.

Delete the folder named Cisco AnyConnect Secure Mobility Client.

Lastly, go to the following path: C:\Users\<username>\AppData\Local\Cisco. The AppData folder may be hidden so click View at the top-left > Check Hidden items.

Delete the folder named Cisco AnyConnect Secure Mobility Client.

Restart your PC.

Install the client and try running it
Finally, if none of the previous solutions got Cisco VPN to work, the only remaining solution we can suggest is performing a clean reinstallation.
Ideally, this will require a clean slate install where you'll clear all remaining associated files from your PC prior to installing Cisco VPN again.
Follow the above steps to perform a clean reinstallation and fix Cisco VPN on Windows 10. If Cisco VPN is not working on Windows 11 the steps for fixing the error are the same.
3. Allow VPN to freely communicate through Firewall
In the Windows Search bar, type Allow an app and open Allow an app through Windows Firewall.
Click Change settings.
Make sure that Cisco VPN is on the list, and it's allowed to communicate through Windows Firewall.

If that's not the case, click Allow another app and add it.

Check both Private and Publicrong> network boxes.
Confirm changes and open the Cisco VPN.
System updates can, quite frequently, change the system settings and preferences to default values. This misdeed, of course, can affect Windows Defender settings as well.
If that's the case, chances are that lots of third-party apps that require free traffic through the Firewall won't work. Including the Cisco VPN client.
That's why we encourage you to check the settings and confirm that the app is indeed allowed in Windows Firewall settings.
4. Tweak the Registry
Right-click on the Start button and open Device Manager.
Expand Network adapters.
Right-click on Virtual Adapter and update it.
Restart your PC.
Like many other integrating VPN solutions, Cisco VPN comes with the specific associated Virtual Network Adapter. The failure of this device is another common occurrence, and it's accompanied by error code 442.
The first thing you can do if this error occurs is to check the Virtual Adapter driver in the Device Manager.
Now, if that fails to resolve the issue, you can try a Registry tweak which seems to address it fully. This requires administrative permission, in order to make changes to Registry.
Furthermore, we strongly suggest treading carefully since untaught meddling with the Registry can result in a system failure.
Follow these steps to tweak Registry and repair Cisco VPN:
Type Regedit in the Windows Search bar and open Registry Editor.
Copy-paste the following path in the address bar:

HKEY_LOCAL_MACHINE/SYSTEM/Current/Control/SetServices/CVirtA

Right-click on the DisplayName registry entry and choose Modify.
Under the Value Data section, make sure that the only body of text which stands is the Cisco Systems VPN Adapter.

For the 64-bit version, the text is the Cisco Systems VPN Adapter for 64-bit Windows.

Save changes and try running Cisco VPN again.
5. Reset vpnagent
Close CiscoVPN
Click CTRL + SHIFT + ESCAPE
Go to Services
Find vpnagent and right-click it
Select STOP and wait for it to stop
Right-click it again
Select START
6. Disable NpCap Packet Driver
Open Networks in CiscoAnyConnect
Select Properties
Uncheck NpCap Packet Driver
If you had previously installed Nmap for Windows, this could add an additional driver to the network interfaces.
Disabling the NpCap Packet Driver can get your Cisco VPN to work again.
7. Uncheck the IPv6 box
Unselect IPv6 in your client
Even if you haven't previously enabled IPv6, the protocol could have been enabled automatically during a system update or a Cisco AnyConnect application update.
With the AnyConnect client not supporting split-tunneling of IPv6 traffic, it could cause the program not to work.
Manually unselecting this option in your client can resolve the problem.
Why is Cisco AnyConnect not opening?
Common errors include Cisco AnyConnect VPN Login Failed, which can happen for a variety of reasons.
The VPN client's inability to connect to the VPN server is the most frequent cause of this problem. Incorrect VPN settings, firewall configuration, or problems with network connectivity are just a few causes of this.
By navigating to the Windows Administration Tools and making sure that the Cisco AnyConnect VPN Agent is not running, you can determine whether another program interfered with the service.
It might be necessary to disable or even uninstall another VPN application on the desktop if it is already operating and the error message still shows.
Verify if you have more than one VPN service installed on your PC, this might be the core problem for Cisco AnyConnect not opening.
If Cisco VPN is still not working on Windows 10 and 11, try contacting the support as they would more likely assist you in the best manner, you can also check our guide on what to do if your Cisco Anyconnect is not working through RDP.
And lastly, if the software is proving to be more trouble than it's worth, feel free to check out our list of the best Cisco alternatives.
While these fixes are made for the personal version, they may also help if the business version of the VPN Cisco Anyconnect Secure Mobility Client not working.
That's it. If you have any alternative solutions you care to share with us, feel free to do so in the comments section below.
FAQ
How do I connect to a Cisco AnyConnect VPN?
You can connect to a Cisco AnyConnect VPN by starting the app and enabling the VPN. Then select a Group drop-down and choose the option that best works for you. Once you enter your userID and password, you'll authenticate with 2FA. After that, tap Connect.
Why does my Cisco VPN keep saying login failed?
Your client may say login failed if there's something wrong with your client. Try the Cisco AnyConnect troubleshooting tips we listed in this post to resolve the problem.
Why is VPN service not available?
Some users reported seeing the VPN service not available error when running Cisco VPN on Windows 10, Windows 8, and Windows 7. If this happens to you, try clicking CTRL + SHIFT + ESCAPE and selecting Services. Find Cisco Security Service and restart it.