Many YouTube Shorts viewers have recently noticed strange messages and animations appearing in videos out of nowhere. Not only that, but more and more weird things started happening.
While it was difficult to understand what was going on at first, the story finally started to unravel.
Latest updates:
August 2 UPDATE
While season one of YouTube Shorts Wars ARG has finished, content creators are still releasing content related to it.
Jonny RaZeR posted what he calls a secret ending to the ARG asking viewers to complete the series of riddles on his channel. As you can imagine it's just another gimmick that eventually leads to this video on Danno Cal Drawings.
Meanwhile, RoyalPear opened a tribute channel for his clone, RoyalMelon. He continues to put up content on it, so if you miss all the clone stuff, that's where you can still find some.
Jonny's Q&A livestream didn't reveal much about potential season two or CloneVPN in general. However, he and other creators said that season two might take a few months to create. They also hinted that more YouTubers may be involved in the story.
At the moment, it looks like we won't see the actual CloneVPN hit the market. Considering the number of searchers this VPN got during the past month, this may disappoint many.
Still, season two may prove that CloneVPN is just something in the making and that the creators didn't choose a VPN provider to be the main villain of the story by chance.
We'll have to wait and see it for ourselves once the ARG continues.
August 1 UPDATE
It looks like season one of YouTube Shorts Wars ARG has ended. None of the creators who were a part of it have posted new content with clones and glitches.
Viewers are still waiting for Jonny RaZeR's Q&A livestream and RoyalMelon's live funeral.
When will season two of this ARG take place? There's no information out just yet. However, due to how much audience the story has attracted, it could be sooner rather than later.
July 31 UPDATE
While it may have looked like the clone saga has concluded, there's some exciting new information.
Online communities following the YouTube Wars Shorts ARG have pointed out that Jonny RaZeR may be behind the Anonymous-like voice that has appeared throughout the entire affair. Either that or it was his clone who was managing the whole scheme.
If you're wondering how they came up with this theory, here's the explanation.
In his video titled End_Credit_Scene, the person behind the voice finally takes off the mask and is seen in the background putting on a shirt. And it's not just any shirt, it's the famous black-and-red shirt Jonny wears in his Shorts videos.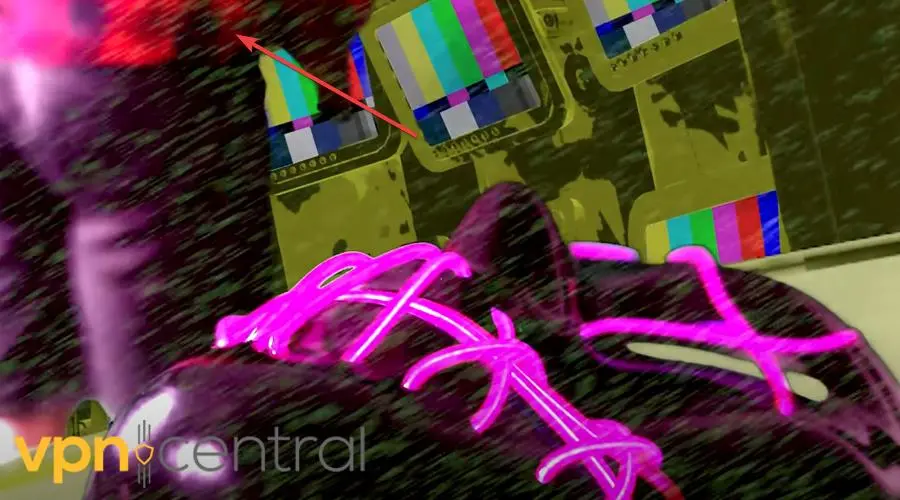 While it makes sense that the duplicate was in charge, some believe the real Jonny was and still is the mastermind behind CloneVPN.
He later posted a video saying how the ARG ended. In it, he said that the end credit scene leaves a lot to theorize about for season two.
Does that mean we'll see more from CloneVPN when the ARG continues?
However, creators have planned two more streams that will be a part of the current phase. RoyalPear will host a live funeral for his clone, while Jonny RaZeR will host a Q&A livestream where viewers will be able to find out more about the whole thing.
There's no doubt everyone's waiting for more information and the start of what Jonny calls season two of YouTube Shorts Wars ARG.
July 30 UPDATE
While RoyalPear's livestream yesterday didn't reveal much, it continued the YouTube Shorts Wars ARG. The streamer constantly complained about how slow his connection is, even though he's in the CloneVPN facility.
Riggy's and RoyalPear's escape continued in an audio recording. They figured out that whenever someone uses the codes to sign up for a VPN, it sends energy to the cloning machine. Its purpose was to clone every Shorts creator on YouTube.
RoyalPear came up with an idea to ask Joe Caine, who wasn't cloned, to enter all codes at once. He and Riggy wanted to carry out their plan but the cloning machine tried to fight them off.
While Riggy tried to escape, RoyalPear wanted to save his clone. When he tried to do that, the clone's self-destruct mode activated. And it looks like we might've seen the last of it.
Riggy bumped into his clone when teleporting and the two had their final battle. It looks like the fake dark-blue version has finally been defeated.
At the same time, Jonny RaZeR pretended to be his clone and entered the CloneVPN facility as well. He posted a video from it saying he'll upload everything from the flash drive and destroy the clones.
In a separate video, he finally defeated his clone and returned to film his Shorts as usual.
Is this really the end of the clones?
We'll have to wait and see.
While they've all been defeated, CloneVPN may still be around. This may be a big step towards uncovering what this VPN provider really is about and what its intentions are.
The Anonymous-like persona that appeared in another Jonny RaZeR video said that destroying clones isn't enough to stop the invasion. He said that he'll return stronger and that things won't be so easy for Shorts creators next time.
July 29 UPDATE
YouTube Shorts Wars ARG continues as some of the content creators still look for ways to defeat their clones.
Jonny RaZeR posted a Short showing him following the duplicate into the woods. The most important part of the video is a USB flash drive with a reverse version of the CloneVPN email that started the whole thing. Now, Jonny wants to use it to nullify everything the clones did.
Later, he posted another video of the building his clone entered. Next, he wanted to get in and try to stop them. Since then, the only thing we saw is another Short featuring the fake Jonny.
The fake Riggy the Rabbit Monkey also made an appearance in a video hidden behind a QR code. It shows him holding the real version hostage. However, Riggy manages to escape and tries to save the real RoyalPear as well. That's how the video ends.
The fans will have to wait and see what happens next. Maybe there will finally be some clarification on what exactly is going on with CloneVPN if Jonny finds a way to nullify clones' actions.
We're patiently waiting for RoyalPear's and Phaleur's livestreams and will bring more updates soon.
July 28 UPDATE
If you thought the shutdown of CloneVPN's website was the end of the YouTube Shorts Wars ARG, you were wrong. While the site is no longer operating, the content creators continue to publish the same type of content we've been seeing lately.
In his latest video, Jonny RaZeR's clone isn't very subtle about who he is and how clones are replacing real people.
The real Jonny made an appearance in an earlier video (see below), revealing that his clone doesn't know he's still around. He then gave his audience hope that he'll find a way to shut this whole thing down from the source.
Meanwhile, other Shorts creators continue to post content featuring their clones. Their videos still glitch and display QR codes leading to other pieces of the ARG.
For example, the dark-blue version of Riggy the Rabbit Monkey continues to act weird and has occasional bursts of anger.
RoyalPear's clone still argues with the voice that is giving him instructions. This may be a sign that some of the duplicates are not on the CloneVPN's side.
Both he and Phaleur have live streams scheduled for the weekend, so it will be interesting to see what they have to say next.
Speaking about Phaleur, he uploaded a video revealing the next piece of the puzzle. It features the demo of the apparent CloneVPN game. The gameplay shows something that resembles an RPG with Riggy the Rabbit Monkey's shadow as the player character.
Of course, the video includes as many retro effects as possible, such as the original PlayStation startup sound.
Joe Caine posted about finding the way out of this entire situation (see below). He used one of the promo codes to shut down the CloneVPN website. This maybe explains why the site isn't operating at the moment.
Commenting on his video, Joe Caine said that "We're in the endgame now."
The viewers count on him and the real Jonny RaZeR to save the day. They also hope RoyalPear will finally find a way to fight off the voice in his videos.
So, will they be able to do it? And what are Phaleur's and RoyalPear's live streams all about?
Stay tuned because we'll bring more updates as the YouTube Shorts Wars ARG continues.
July 27th UPDATE
The CloneVPN website has been shut down. There's no doubt those who've been following the YouTube Shorts Wars ARG will wait patiently to see whether it comes back and what happens next. It also remains to be seen whether the event CloneVPN announced for July 30th will take place.
The YouTube Shorts glitch
When you find animations, morse code, QRs, and other creators, just randomly appearing in the middle of a YouTube Shorts video, it's natural to assume something weird is going on.
And when this occurs in videos posted by quite a few creators, things get even stranger.
That's exactly what started happening about 10 days ago and some viewers are still wondering what's the reason behind this.
If you look at the channels by Jonny RaZer, Bundun, RoyalPear, Phaleur, Riggy The Rabbit Monkey, and a few others, you'll find weird things like this happening all the time.
The creators said they were also confused by this YouTube Shorts glitch. They also claimed they had no idea how these animations find their way into their content.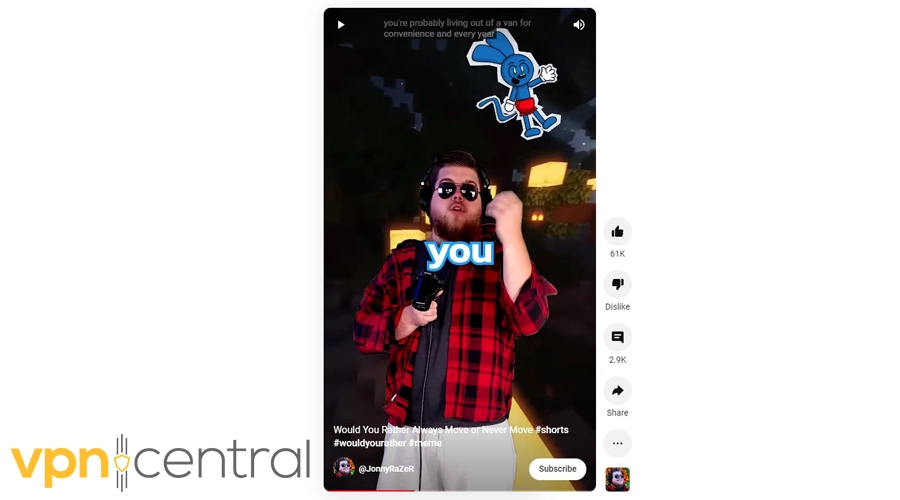 For many, using a Morse code translator and scanning QR codes to see what's behind them was the way to start investigating. Interestingly, all links take you to an Anonymous-style video in which the speaker threatens Shorts creators.
He gave them a chance to cease their operations, otherwise, they risk getting replaced. At first, this didn't make much sense. However, as more weird things occurred, users started to put things together.
Next, users found random codes like "jgvgcdlz" in Shorts videos by the same creators.
Every cryptic message they bumped into turned out to be a CloneVPN code. Those who copied it into a YouTube link (youtube.com/watch/v=CODE) were eventually directed to a retro-style commercial for this VPN service.
While it still used odd animations, the video was your standard VPN ad. It covered the topics of why it's important to hide your actual IP address and protect yourself during your online sessions.
Users were still confused as that wasn't exactly what they were expecting.
Content creators also posted their promo codes such as "vg-danno2" and "cdbundun3" but never explained what they are for. Reddit and Discord users tried to come up with their theories. However, nobody found the right answer.
Later, more videos like the one with the original threat started appearing on the creators' channels.
Then, the whole thing got even crazier.
The clone wars
No, we're not talking about Star Wars, although this name has already been adopted by online communities.
So, what exactly happened next?
Content creators whose Shorts videos experienced "glitches," all received emails from CloneVPN while live streaming. The provider asked them to click on a link in exchange for a hefty paycheck.
It really looked like a no-brainer.
When they did so, even stranger things started happening. They were indeed replaced, not by anyone but by their own clones.
What instantly draws interest is that this coincides with the name of the VPN from some of the QR codes. This is when things started making a little more sense but was still extremely goofy.
It's also not a coincidence that many of these creators had made videos about cloning or mentioned it in some way in their videos.
Jonny RaZeR, for example, talked about how people are cloning him on TikTok and re-uploading his videos to fake accounts.
In the same fashion, DannoDraws posted a video titled "CAN WE CLONE HUMANS?"
But things didn't stop there.
RoyalPear recently posted a Shorts video on how VPNs help you stay safe online. But in the middle of it, he opposes the idea of talking about it. An Anonymous-like voice then forces him to continue.
While things are still not as clear, the whole thing makes a little bit more sense. It's all just a very fun and clever marketing campaign by CloneVPN.
Is there any evidence to support this?
Yes. When you visit the CloneVPN site, you'll find out that it listed all Shorts creators who experienced these glitches under its partners.
Don't get us wrong, things are still pretty weird but they're just starting to make more sense.
For example, if you click on the VPN's quote request link, you'll see that it uses the [email protected] email address. How crazy is that?
Since the whole affair became clearer, people on YouTube and Reddit started calling it Shorts Wars ARG with ARG standing for "Alternate Reality Game".
CloneVPN is the most searched for VPN term for the last 7 days
There's no doubt YouTube Shorts Wars ARG sparked a lot of interest soon after glitches and clones started appearing. More and more people are now trying to figure out what's going on.
What best displays it is an increased search volume for CloneVPN on Google. The number has skyrocketed recently.
The number of searches for the term "Clone VPN" went up by 3,250% in the past 7 days. At the same time, the searches for its website increased by 2,700%.
Another stunning fact is that CloneVPN has been the most searched for VPN in the past week, topping even the most renowned providers.
And it doesn't look like these numbers will stop going up, with clones still being around and more events being scheduled.
Another good example are the numerous Reddit threads and Discord channels on the topic. Users are joining forces and working together toward uncovering new clues.
People on the internet are now trying to learn more about CloneVPN. They're wondering whether it's something that'll actually hit the market soon or it's just a part of the game.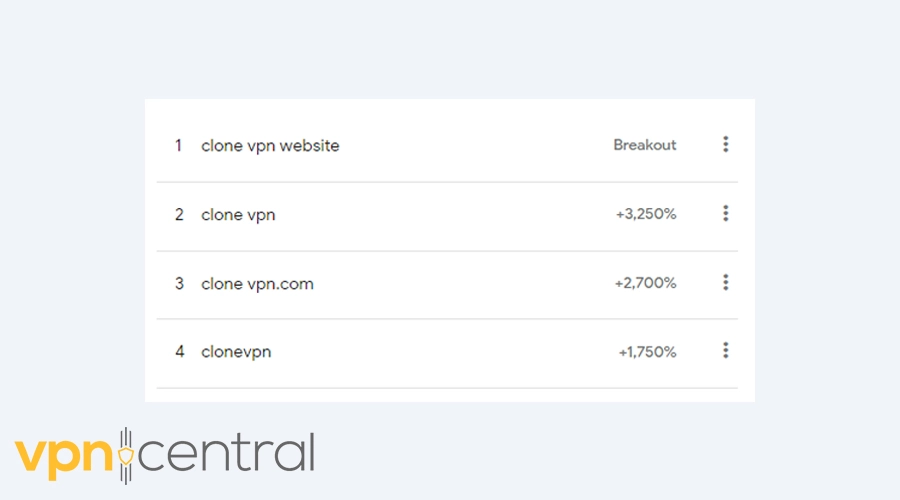 What's next from CloneVPN?
This is not the end of it all.
The VPN service has something big planned for July 30th. What exactly it intends to do is still unclear. The only thing we have so far is the date that the provider has put on its "The final hours" page.
Perhaps this is where the campaign will end and the content creators will provide more information on the topic.
Until then, you can try requesting a quote from the CloneVPN site if you were as moved as us by this witty marketing tactic.
If you indeed need a VPN, turning to a renowned provider is definitely a safer option.
But you have to admit, CloneVPN's Shorts Wars on YouTube is one of the funniest and most mysterious campaigns we've seen in the industry so far.
[Editor note: We've contacted CloneVPN but haven't heard from the company yet. We'll update this article as soon as we get a reply]
---