Today we'll compare the giants in the VPN market: NordVPN vs ExpressVPN.
Are both VPNs a good choice or does one excel over the other?
Let's read our ExpressVPN vs NordVPN comparison to get the answer.
The VPN industry is booming, and for many reasons, at that. More and more people around the world have started using VPNs to protect their internet connection.
They want protection from companies that are trying to invade their privacy, snooping governments, hackers, malware, and other similar threats.
Not to mention the fact that the amount of online censorship and geo-restrictions is so big these days.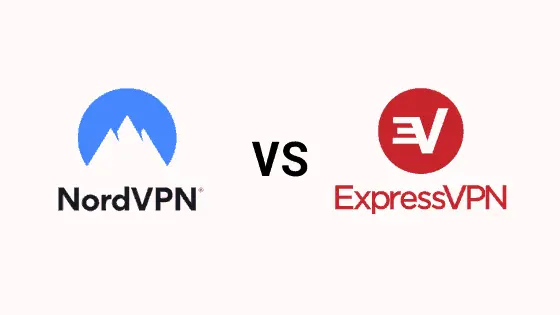 As a result, VPN is nothing less than a necessity for anyone who wishes to experience anything resembling a free, open internet.
With that in mind, it is no wonder that people want a VPN, and they want the best one.
If all of these threats forced them to use a VPN, they could at least pay for one that offers the best privacy and security features, has the biggest server network, and the one that will bring them the most benefits.
With that in mind, many have done their research, and have discovered a few names constantly popping up as the best services available.
Specifically, the names that keep reoccurring are ExpressVPN and NordVPN, and today, we will compare the two and see which one is better and which one you might want to use.
ExpressVPN vs. NordVPN
Before we start, we should point out that these are probably the two biggest names in the VPN industry. Both of them spent years serving thousands, if not millions of people around the world.
Eventually, they became not only popular but also quite reputable and trustworthy.
As such, any of the two is an excellent choice if you are simply interested in protecting your internet connection.
This text will not aim to prove their legitimacy or usefulness to a casual user, as this was already done time and time again.
What we wanted to discover is which one is better. To that extent, we will compare their:
Features
Security
Logging policies
Jurisdictions
Streaming abilities
Plans and prices
and more.
With that in mind, let's begin.
ExpressVPN vs NordVPN – features overview
As mentioned, both VPNs are at the top of the list of the most desirable VPN services, meaning that both contain all kinds of features.
While they share many of them, they also each have their own unique offers. One example is ExpressVPN's split-tunneling option.
It allows you to decide which apps should go through a safe tunnel created by security protocols, and which should not.
However, more about that later on. For now, here is a list of the features that these services offer:

EXPRESSVPN

NORDVPN
Strongest security protocol (OpenVPN)
Strongest available encryption (256-bit AES)
3,000 servers in 94 countries
It does not keep logs
Extremely fast and perfect for streaming
Unblocks Netflix, UK content, and more
Based in the British Virgin Islands, outside of 5/9/14 Eyes jurisdiction
Custom router firmware
Apps for Windows, Android, Mac, iOS, Amazon Fire, Linux, routers, Smart TVs, consoles and more
24-hour live chat customer support
30-day money-back guarantee
3 payment plans
5 simultaneous connections
Browser extensions for Chrome, Firefox, Safari
Works in China
DNS leak protection
Kill Switch
Allows torrenting
Strongest security protocol (OpenVPN)
Strongest available encryption (256-bit AES)
5,380 servers in 59 countries
It does not keep logs
Excellent speeds and perfect for streaming
Unblocks Netflix, Hulu, BBC iPlayer, NBC, and more
Based in Panama, outside of 5/9/14 eyes jurisdiction
Available for Windows, Mac, Android, Linux, iOS, Android TV
24-hour live chat customer support
30-day money-back guarantee
3 payment plans
6 simultaneous connections
Browser extensions for Chrome, Firefox
Works in China
DNS leak protection
Kill Switch
Supports torrenting
As you can see, there are quite a few similarities between the two. But, with that out of the way, let's see how each of them performs when it comes to security, privacy, and anonymity.
1. Security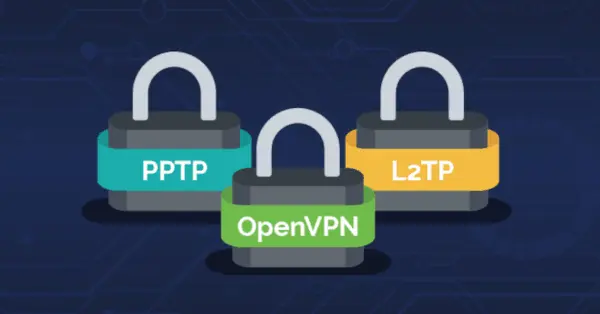 What VPN protocol does NordVPN use?
When it comes to VPN protocols, there are plenty of them that were all standard protocols for the VPN industry at some point in time.
Many VPNs are still using some of the older protocols, while some have created their own protocols.
The ones that do use older protocols usually allow the user to choose which one will be used.
When it comes to NordVPN, it uses the best of the best: OpenVPN.
This protocol is considered to be the top product in the industry, which is why it is one of the most popular ones.
However, NordVPN does not offer only this single protocol. It also offers several others, including IKEv2, L2TP, and PPTP. Users can control which protocol is in use at any time.
In terms of encryption, NordVPN uses 256-bit AES encryption, which was never broken, and is the very best that the industry has to offer at this time.
Further, NordVPN also uses Obsfproxy cloaking technology, and DNS, WebRTC, and IPv6 for leak protection. It even has a Kill Switch and Private DNS.
ExpressVPN security features and protocols
As for ExpressVPN, it also uses OpenVPN, L2TP, and PPTP in terms of security protocols.
However, instead of IKEv2, it has SSTP. This is a slight difference from NordVPN. But, most users never have the need to switch from OpenVPN in the first place.
Just like NordVPN, ExpressVPN also offers 256-bit AES encryption, but it features Cipher block chaining as its cloaking tec. In terms of leak protection, it has DNS, WebRTC, and IPV6, the same as NordVPN.
Finally, it uses Private DNS, and it has a kill switch, in addition to the already mentioned split tunneling.
Now let's compare NordVPN vs ExpressVPN's privacy features.
2. Privacy
How safe is ExpressVPN?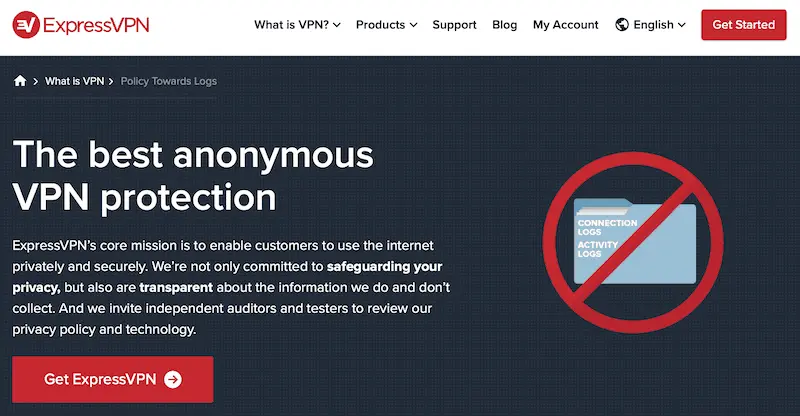 When it comes to ExpressVPN privacy, the first thing to note is that it is based in the British Virgin Islands, which puts it well outside of the 5/9/14 Eyes Surveillance Alliance's jurisdiction.
In other words, intrusive governments have no legal right to appear at the service's doorstep and demand their users' information.
But, even if they did, they would not receive much, as this VPN doesn't keep browsing logs.
ExpressVPN does keep some information, but that only includes connection logs that are used for statistical purposes and the improvement of their service.
Nothing can harm your privacy in any way.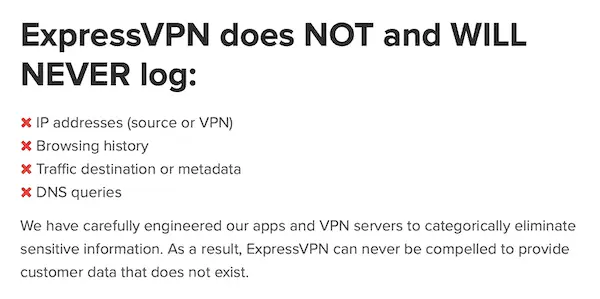 However, the service guarantees that it does not store any activity logs, and the only detail that the service needs in order for the user to sign up is their email address.
Well, that and a payment method that would allow users to purchase a payment plan of their choosing. You should also keep in mind that they could keep the data you reveal while talking to their customer support.
In other words, this service will not keep anything that you did not intentionally reveal to them.
However, this does not have to be a problem, as ExpressVPN also allows users to pay anonymously, through the use of Bitcoin or Mint.
Is NordVPN the best VPN for privacy?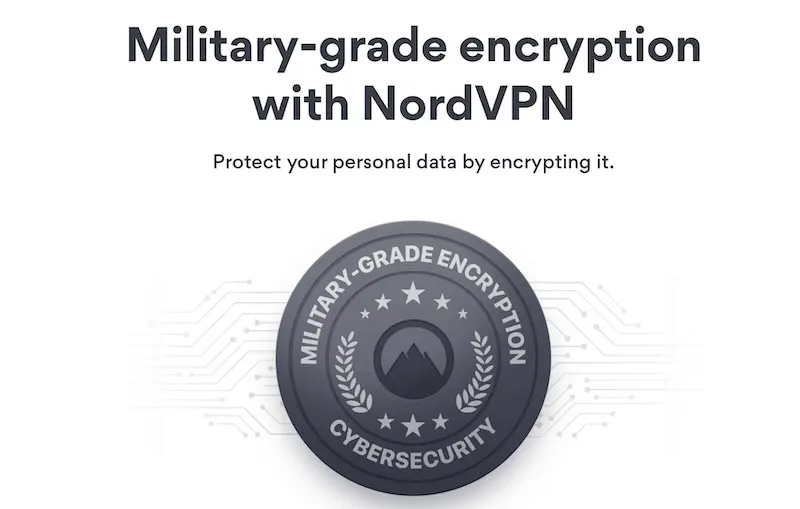 Then, we have NordVPN, which is based in Panama, meaning that it is also just as safe from the surveillance alliance as ExpressVPN.
In other words, both are pretty safe from intrusive governments of the world, such as the US, Canada, the UK, and others.
However, when it comes to connection logs, NordVPN does not keep any of that information either, unlike ExpressVPN. In this regard, NordVPN might be a slightly better choice, at least if you are concerned about privacy.
NordVPN also doesn't keep activity logs. It also requires an email address, and it provides an even greater number of anonymous payment options, including Bitcoin, Litecoin, Ethereum, Zcash, XRP, Gridcoin, Dash, and Monero.

So, while ExpressVPN is certainly not bad, privacy-wise, we feel like NordVPN has won this round, as it doesn't keep connection logs and it accepts a bigger number of digital currencies.
And, if you worry about your privacy or potential for exposure during browsing, it is worth noting that both VPNs feature an automatic kill switch. The kill switch will activate instantly if the app malfunctions and threatens to reveal your identity. It will sever your internet connection momentarily, so none of your data will leak.
3.Anonymity
Is ExpressVPN better than NordVPN?
Finally, it is time to consider the anonymity elements of the two services, starting with ExpressVPN.
As you probably know, the anonymity that VPNs provide mostly revolves around their server networks.
Server networks are extremely important for a VPN, as they determine what users of that particular service can unblock.
Online censorship and geo-restrictions continue to become stronger all the time. Because of that, it is necessary to use a VPN in order to unblock most of the things that you would want to access.
Some examples include unblocking foreign versions of Netflix and other streaming services, social media, news outlets, and the like.
It all depends on where the VPN servers are located.
By using a VPN server, the user can hide their IP address. This is what websites use to identify them and determine their location in the world.
By simply replacing the original IP with one owned by a server located in, let's say, the UK any service that the user is attempting to access will believe that the user is located in the UK.
That way, you can trick them into granting you access to geo-restricted services. You can also bypass censorship introduced by the country. It also works by bypassing censorship introduced by private network owners. This includes businesses, universities, and the like.
Now, ExpressVPN has a massive server network, with over 3,000 servers located in 94 countries around the world. It is one of the most widespread networks out there. As such, it can unblock nearly anything in any of the 94 countries.
Further, the great number of servers per country ensures that none of them are overburdened by the sheer number of users, which is why the service can achieve its fast speeds.
And, while we are on the topic of speeds, ExpressVPN speeds are among the fastest out there. You can easily use it for downloading large files, streaming without buffering, playing games online, and more.
How does NordVPN compare?
In terms of servers, NordVPN is better and worse at the same time. It has significantly more servers than ExpressVPN around 5,800 which makes its server count almost twice as big.
However, the downside is that NordVPN only covers around 59 countries, which is 35 countries fewer than ExpressVPN.
Both services are fast, and they are both well-known for their ability to unblock content.
However, ExpressVPN is clearly superior when it comes to coverage, even though NordVPN has almost twice as many servers out there, which does wonders when it comes to accommodating huge numbers of individual users.
This is what allows NordVPN to keep its great speeds no matter how many users are interested in unblocking any country's content at the same time.
4. Setup and interface
When it comes to setting the two VPNs up, both are pretty easy to install.
ExpressVPN has dedicated apps for a greater number of devices, but NordVPN covers all popular systems as well.
Both providers offer browser plugins, meaning that you can use them on any device that can run Chrome or Firefox.
ExpressVPN app is rather small, and it keeps its mobile-friendly proportions on PC and Mac as well. A lot of users like this, as the app doesn't come off as too dominant on your screen.
The app is also pretty clean, with no unnecessary distractions. There is a button for connecting, and a list of servers, in addition to the last server you have connected to.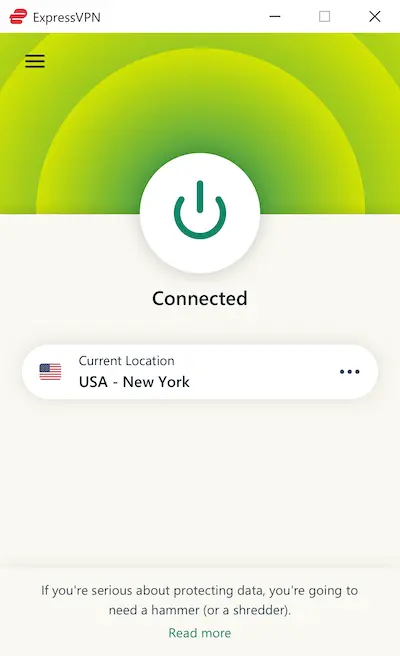 ExpressVPN's server network is very neatly organized in the form of a list. You can simply open and seek out the location you wish to connect to.
On the other hand, NordVPN has a more attractive user interface, where servers are displayed on a world map that dominates the app.
The app itself is not as space-efficient, although that is not really a problem. You can simply minimize the app's window and get it out of the way.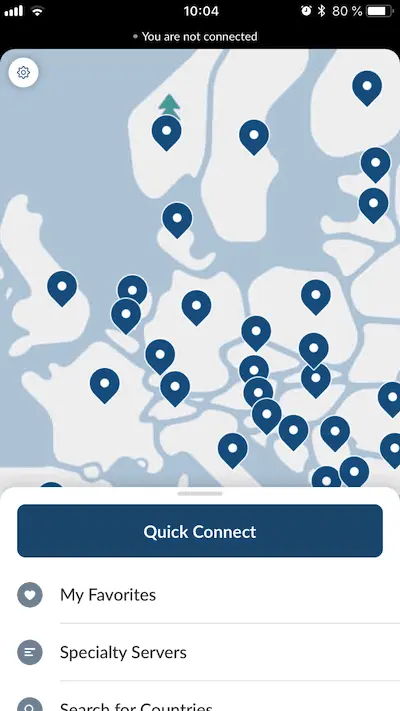 Now, those who prefer their servers in a list view can set up NordVPN to display their servers that way, as well. However, you cannot set up ExpressVPN to show you servers on the map, which might mean that NordVPN might be a bit more user-friendly, if only for that single detail.
In the end, it all comes down to what you prefer. However, NordVPN can serve you either way, while ExpressVPN only has its server list.
As mentioned, both apps are pretty easy to navigate and set up different options, depending on what you wish to enable or disable within the settings. Turning them on or off is also very easy, and it can be done with a click on a single On/Off button.
In the end, there is not a lot of difference between the apps, although NordVPN might be slightly more user-friendly, and ExpressVPN keeps a bit more professional look.
5. Customer Service
Customer service is a big factor when choosing a VPN. After all, you need it to be reliable, available, competent, fast, and easy to reach.
Many VPN services often make the mistake of not realizing this. A lot of them do not offer live chat as an option, at all.
Others do not ensure that their operators are knowledgeable or helpful enough. There are plenty of issues with customer service that are making users skeptical when they need to work with them.
We are glad to say that both of these VPNs have pretty good customer service, although ExpressVPN's team might be swifter when it comes to responding to emails, on average.
Both services can be contacted via live chat, tickets, and email. None of the two provides phone support, but they both have an excellent searchable knowledge base.
That includes including video-based tutorials and guides that will take care of most of the common issues that new users may have.
As mentioned, both services respond to any question with thorough, detailed answers.
However, tests have shown that ExpressVPN typically responds somewhat quicker. Although, in some instances, the speed of response was a tie. This, of course, refers to email questions and responses. Meanwhile, the results are pretty much equally as good if you choose to contact them via live chat.
6. Plans and prices
Finally, it is time to talk about the two VPN plans and prices. The two services are relatively similar in terms of pricing, although one of them does offer more diversity when it comes to plans, as we are about to see.
ExpressVPN plans and prices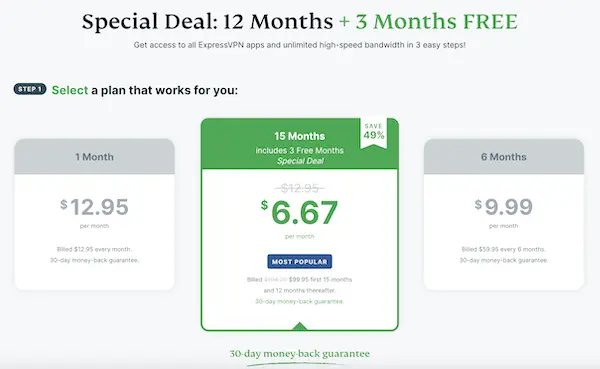 If you choose to go with ExpressVPN, here is what you can expect in terms of plans:
1-month plan $12.95 per month
6-month plan $9.99 per month; $56.95 in total (billed once per 6 months)
12-month plan $6.67 per month; $99.95 in total billed once per year.
It is also worth noting that ExpressVPN currently offers a special deal where you get three extra months for a 12-month plan.
In other words, if you choose to go with this plan, you will get 15 months for the price of $99.95. After that, further renewals of the deal will only include 12 months.
Each of the plans comes with a 30-day money-back guarantee, meaning that you can request your money back at any point during the first month from the moment of payment.
NordVPN plans and prices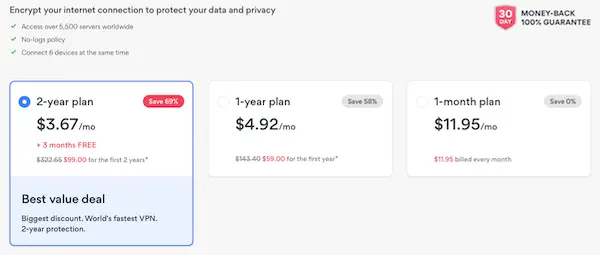 Now, let's take a look at what NordVPN has to offer and how does it compare to ExpressVPN.
1-month plan $11.95 per month
1-year plan $6.99 per month ($83.88 in total, billed once per year)
2-year plan $3.99 per month ($119.76 in total, billed once per 2 years)
3-year plan $2.99 per month ($125.64 in total, billed once per 3 years)
Just like ExpressVPN, NordVPN currently offers a holiday deal where you can get extra three months if you choose its largest plan a 3-year plan. In other words, you would get 39 months of coverage in total if you pick that plan.
We must mention that NordVPN lacks a 6-month plan vs ExpressVPN which does have one. Even so, it is a perfect solution for those who wish to subscribe to its service and forget about it for over three years.
However, a 3-year-long commitment does have its downsides.
For example, you can never know what might happen during that time. No one can know whether or not the service will keep its quality over the course of the next three years.
Something might even happen to it, and it might have to shut down. In this case, you would end up with a useless subscription for a service that no longer works.
Still, it is definitely worth it, money-wise, as you would save up to 70% when compared to purchasing a monthly plan over and over again during the same period. Also, the risk of the VPN shutting down is not really that great.
Especially when it comes to services like these, that had no previous incidents for years and years.
As with ExpressVPN, each of the NordVPN plans comes with a 30-day money-back guarantee. So, you can still spend an entire month using it and testing it. If you decide that something doesn't work the way you need it to work, you can get your money back at any time, no questions asked.
NordVPN vs ExpressVPN: Who is the winner?
So, in the end, which one is a better service NordVPN and ExpressVPN?
As you can probably tell, it is difficult to decide. They are equally as strong in terms of features, security, and privacy.
ExpressVPN covers a greater number of countries when it comes to its server network, but NordVPN has twice as many servers as ExpressVPN.
Moreover, ExpressVPN is also a bit faster when it comes to its customer support's responses via email, although NordVPN is not too bad either, and both will respond within an hour or two at the most.
In terms of plans and prices, NordVPN offers longer plans, which can be good or bad, depending on how the next three years might play out for the service. Prices for the plans that do match are almost identical.
Even their UI is user-friendly in both instances. ExpressVPN may be a bit more efficient and professional-looking, while NordVPN remains more user-friendly.
In the end, the decision falls upon you as the user.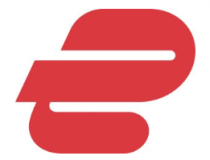 ExpressVPN
Get amazing connection speed and access to a worldwide server base!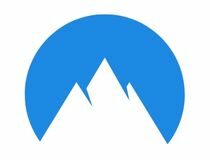 NordVPN
Protect your privacy and bypass censorship with this untraceable VPN!
We end our NordVPN vs ExpressVPN overview concluding that both VPNs are at the top of the list of excellent quality services, and the only thing remaining is your personal preference.
Whichever of the two you end up choosing, you likely won't regret it.
---