You're probably aware that your internet service provider (ISP) keeps an eye on all your online activity. True to that, it can track the websites you visit, your downloads, private data, and more.
Scary, right? And with pricey VPNs around, you're wondering if a proxy can safeguard you.
Well, this depends on the service you choose, as some vendors encrypt your traffic to secure it. Others don't. This exposes your internet activity to spying. So, knowing how proxies work is vital to enhancing your privacy online.
But first things first.
Does a proxy hide you from your ISP?
Using a proxy hardens your internet traffic against tracking by an ISP. But it doesn't wholly protect you from online monitoring. The proxy provider can still see what you're doing and track all the data you exchange. Moreover, using an unencrypted connection exposes you to monitoring by other third parties like your ISP.
Here's how it works.
Proxies serve as a middleman between you and the web. When browsing, your session goes through a remote server that processes your requests.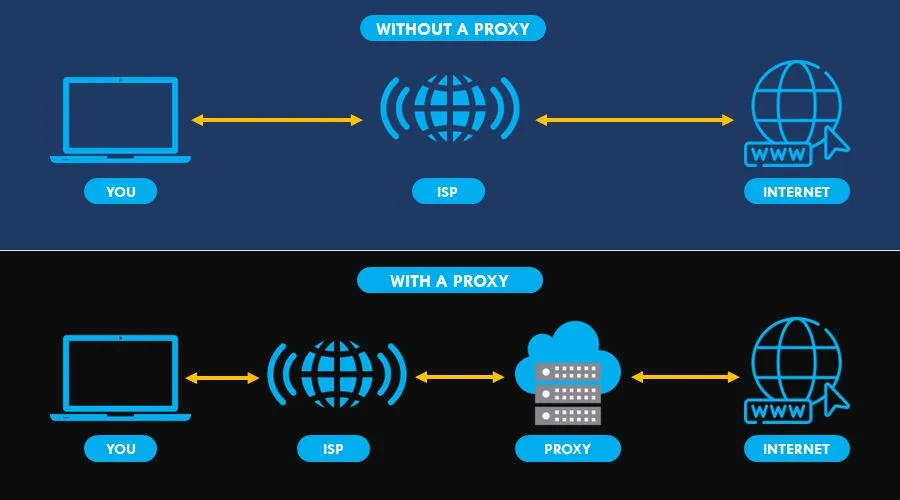 This hides your identity from the online resources you're accessing. But your ISP can still see what you're doing when using an insecure connection.
So, using a proxy has both pros and cons:
The advantages
A premium proxy encrypts traffic between you and the internet. It scrambles data making it difficult for the ISP to snoop on your activities.
Such services also swap your ISP-assigned IP address with an anonymous one. As such, you get to bypass censorship and geo-restrictions on the internet.
Some proxy vendors go as far as offering filters to block platforms that host harmful content. The best examples are phishing sites, malware-riddled websites, adult content, etc.
That's not all:
Depending on the provider, you can get an ad-blocker at no extra cost. As such, you'll appreciate an uninterrupted browsing experience.
The disadvantages
On the downside, proxies are not as fast as VPNs. You may experience sluggishness when engaging with data-hungry tasks like streaming, gaming, and torrenting.
Some services use caching to store frequently visited websites to improve performance. However, this causes users to view outdated content from those sites.
Also, configuring a proxy is not a straightforward process. You need a bit of knowledge about networking protocols to get it done.
Equally important, malicious parties may provide free proxies to harvest user data. Afterward, they can sell it to the highest bidders for a profit.
And it doesn't end there:
Limitations
Other downsides of using a proxy include the following:
Incompatibility: A proxy may prevent some websites from loading important resources. Examples comprise JavaScript, ActiveX, Silverlight, etc. They're necessary for web apps to work and for media content delivery.
Connectivity issues: Proxies are usually inconsistent, which threatens your security. You risk exposing your private info whenever the connection to the proxy breaks.
User tracking: Proxy providers don't guarantee user privacy like their VPN counterparts. They log and store your activities without your knowledge. Accordingly, they may sell the data to marketers to push targeted ads to you.
How to use a proxy to hide from your ISP?
Setting up a proxy requires a bit of technical know-how. But the process is straightforward once you understand the basics.
Just follow these five steps:
1. Subscribe for a premium proxy service. Good ones include SmartProxy, Oxylabs, and Bright Data.
2. Check your account for the proxy IP address and port number.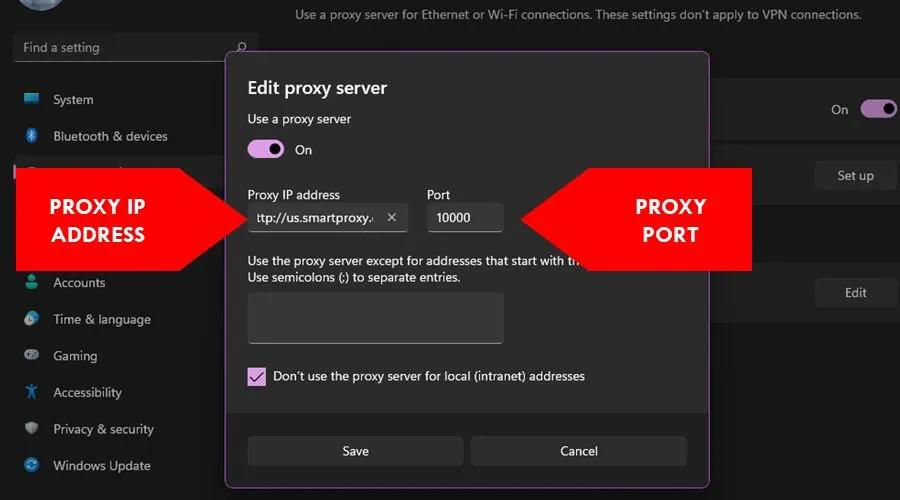 3. Open your device's Network settings and locate the proxy options.
4. Enter the details you found in step two and save.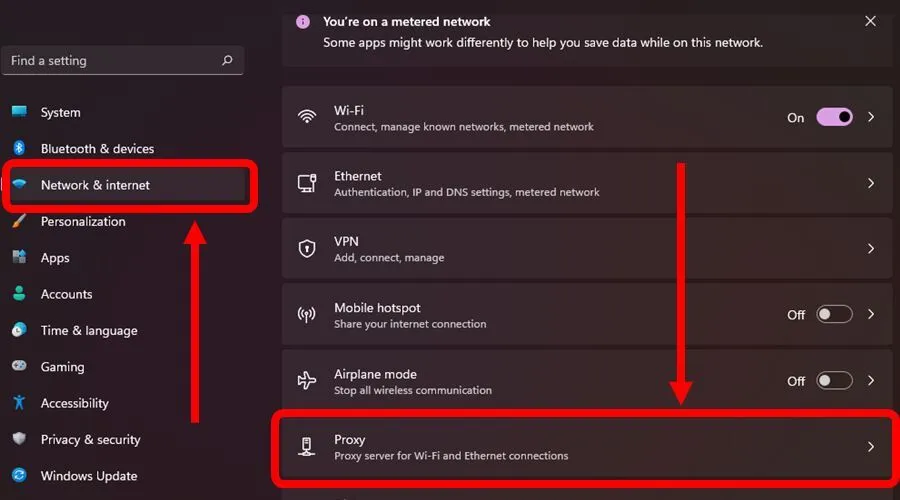 5. Open your browser/app and access the web.
Alternatively, you can get your proxy provider's web browser extension. Just install it, log in to your account, and access the internet as usual.
Proxy usage best practices
Here are the best practices for choosing and using proxy services:
Avoid free proxies: These services usually don't encrypt your traffic, which exposes you to ISP monitoring. The vendors can also collect and resell your data to the highest bidders online. Furthermore, hackers can configure free proxies to steal sensitive information from users. Keep in mind that free proxies may come in handy in some situations, just make you use them carefully.
Get a reliable proxy service provider: Do thorough and independent research about proxy providers. Check online forums for reviews, customer ratings, advantages, and disadvantages before deciding on one.
Frequently test your proxy: Conduct random tests whenever using a proxy to ensure it's working correctly. Keep an eye on your internet speed and check for IP and DNS leaks.
Use encrypted proxy protocols: Go with proxy providers that offer secure connections via HTTPS, SOCKS5, and Shadowsocks protocols. They're reliable and harden your online privacy.
Summary
Does a proxy hide you from your ISP? Only if you pick a secure service.
Free proxies might come in handy, but they hardly ever encrypt your traffic. As such, they expose your traffic to spying from various third parties.
Moreover, such services are notorious for recording your activity and collecting private data. They later sell it to marketers that spam you with online ads.
However, a premium and reliable proxy provider can be a great choice. You'll enjoy reliable connectivity, enhanced user privacy, and hardened security against ISP monitoring.