FITE TV offers a wide range of boxing, wrestling, kickboxing, and even MMA content, such as ROH wrestling, AEW Dynamite, and others. Some are free of charge and some are under a subscription.
However, the platform may restrict certain events based on licensing agreements or regional availability.
For this reason, many people want to use a VPN to access FITE TV outside of supported countries. But not all VPNs are made the same and some may not deliver what they promise.
For this reason, we tested a few services and only listed those that unlocked FITE TV on the first try and offered amazing speed for buffer-free streaming.
Why do you need a VPN to watch Fite TV?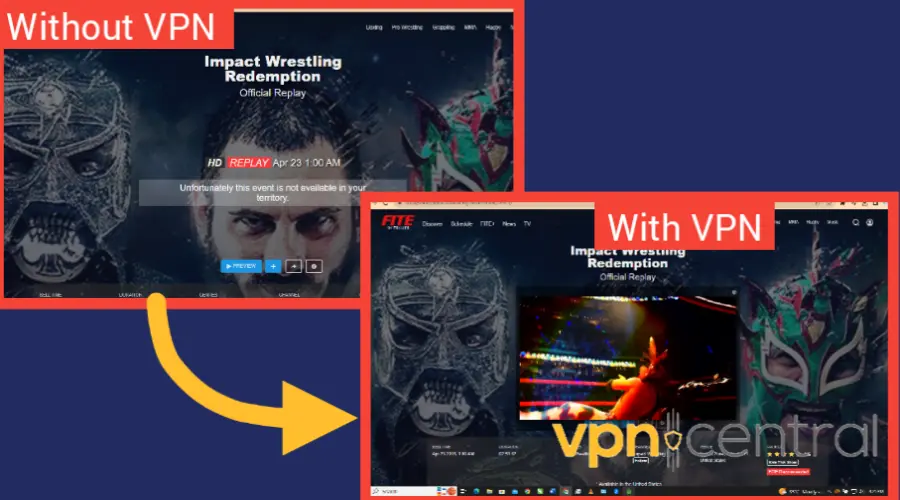 You need a VPN because it will let you change your virtual location and access all FITE content without any restrictions.
If you live outside the regions where Fite TV services are unavailable or in a country with strict internet censorship laws, you may be unable to access the service without a VPN.
That's why you may get a FITE TV not available in your territory error message when you open the platform or specific content.
Some of the shows only air live in a few countries. For example, AEW shows are broadcasted in the U.K., Ireland, Australia, Brazil, Italy, Lichtenstein, Luxembourg, and New Zealand.
Therefore, people outside these regions wait for days or weeks, depending on their area. For example, users in Germany and Switzerland have a hold-back time to be 14 days.
A VPN will help you bypass this restriction. All you have to do is pick a server in a supported region.
Best VPN services for FITE TV
To stream content in high quality, you need a fast VPN service. Our top picks all support streaming on FITE TV and have simple apps for desktop and mobile.
1. ExpressVPN — overall best performance with FITE TV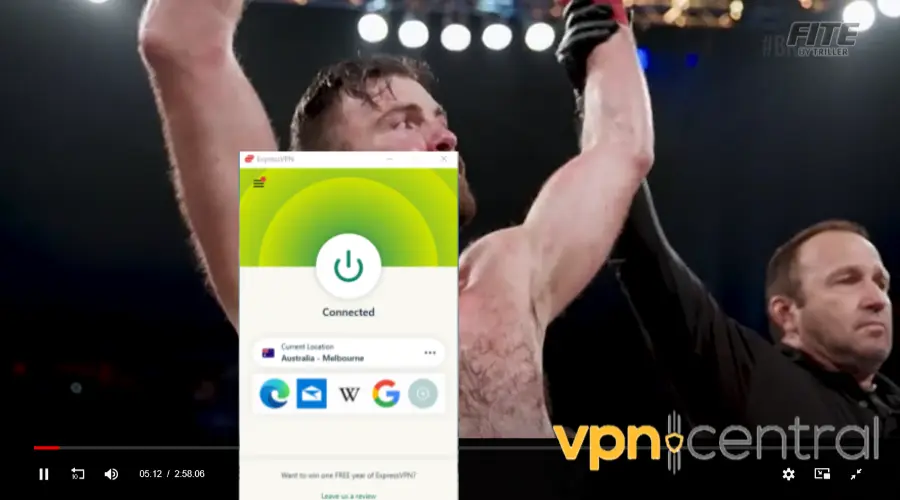 ExpressVPN provides a flawless experience with FITE TV; just fire up and enjoy buffer-free streaming.
It has a big server base in countries where FITE TV is fully available such as the UK, Australia, Brazil, and New Zealand which can unblock AEW Dynamite shows.
Although FITE TV isn't stringent when it comes to geo-blocking, ExpressVPN has military-grade encryption and advanced leak protection to prevent any possibility of you getting blocked off the platform.
Moreover, ExpressVPN readily works with most day-to-day devices that operate on Windows, Android, macOS, iOS, and Linux.
It also has extensions for Chrome, Firefox, and Edge browsers.
To top it all off, its outstanding media streamer feature allows you to connect VPN-incompatible devices and increase your options for what devices to stream on.
So, if you decide to access other restricted content, you can always be sure it'll work.
When it comes to pricing, a month-to-month commitment is a bit pricey but worth it, however, you'll get a discount for longer-term subscriptions.
Additionally, you can test things on mobile with a 7-day free trial.
✅ Pros:
Best leak protection on the market
Consistently fast and stable
Apps for all conceivable devices
❌ Cons:
Not the cheapest
Its servers occasionally get blacklisted due to its popularity
Only five device connections at a time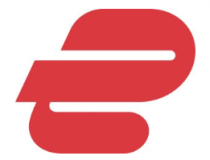 ExpressVPN
Watch all shows you want restriction free with this reliable FITE TV VPN!
2. NordVPN — multiple servers for unblocking FITE TV shows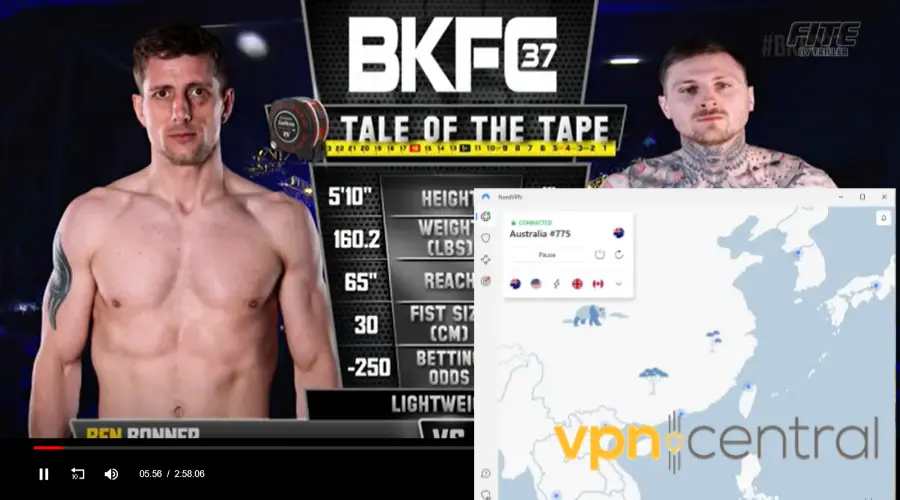 FITE TV is supported via several VPN servers, connecting you to the fastest one at any given time to enjoy shows like The Gamer Hour – a weekly series hosted by e-sports Hall of Fame broadcaster Chris Puckett.
NordVPN's 5,500+ servers, including in Australia, the UK, and Ireland, also make it perfect for unlocking FITE TV content like Kunlun Fight World Championship 82 and BKFC 37 anywhere in the world.
Since FITE TV can lock you out of the platform based on your current IP address, changing it will stop that from happening.
On top of all key VPN features, like split tunneling and a kill switch, NordVPN offers threat protection which stops web tracking, ads and monitors malicious websites.
If you need a faster response, they allow you to chat with someone live. That is perfect for those pressing questions you may have.
However, while they have great how-to pages and guides to set everything up correctly, they still offer you their 24/7 support network.
✅Pros:
Affordable monthly price
A high number of servers that can unblock FITE TV
Apps for Fire Stick and Android TV
❌ Cons:
Servers are fast, but apps are often sluggish
Complicated when using router setup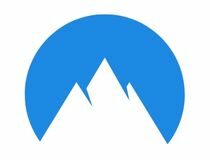 NordVPN
Unblock FITE TV from any country using this foolproof and fast VPN!
3. Surfshark — unlimited devices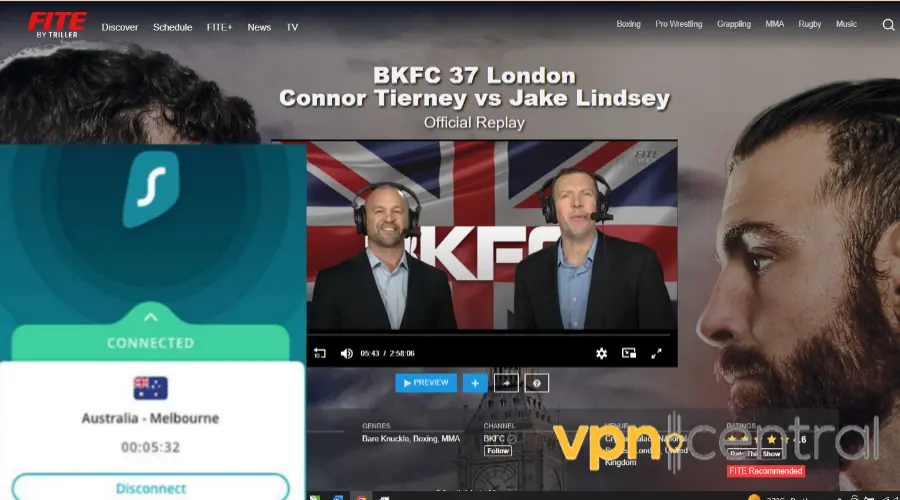 Surfshark has over 3200 servers in 100 +countries, including the UK and New Zealand, which work perfectly to access FITE TV content from different regions worldwide.
This VPN uses AES-256-bit encryption, ensuring no traffic data can be traced back to you.
On top of that, it has a built-in killswitch feature that stops all traffic when your VPN disconnects.
These two features are essential to access geo-restricted shows on FITE TV like Renegades of Wrestling: Rebellion, Chasing the Dream: Criss Harsche vs. Rex Taylor, and AEW: Dynamite.
You don't risk tracking and blocking the website. The information you send makes it seem like you're in a supported region.
Furthermore, this VPN is compatible with all major operating systems so that you can easily watch FITE TV on your chosen device.
Moreover, Surfshark offers the cheapest monthly plan on our list.
We're particularly impressed by Surfshark's multi-hop feature, which offers double the protection by routing traffic through two different locations.
✅ Pros:
Connect unlimited devices
Excellent streaming speeds
Servers in remote locations
❌ Cons:
Inconsistent P2P performance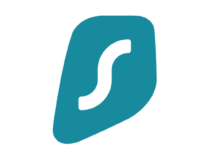 Surfshark
Get unlimited access to FITE TV in any region by connecting to Surfshark's speedy servers!
How to watch Fite TV with a VPN?
VPNs are an excellent tool to watch restricted content from anywhere, and we find Express VPN to be exceptionally reliable for unlocking FITE TV.
Now that you know what you need, all that remains is to learn how to use a VPN, and the only thing you need to do is to connect to a server from a location where your FITE TV event is available:
Here are steps to follow to connect with Express VPN:
Visit ExpressVPN's website and subscribe to a plan.
Install the app, launch it, and log in.
Locate a list of servers that allows all content and content.

Access the Fite TV website or Fite app and enjoy streaming content.
What to do if FITE TV blocks your VPN?
If you're experiencing issues with Fite TV blocking your VPN, there are a few steps you can take to try and resolve the issue:
If Fite TV is blocking your current VPN server, you may be able to access the service by connecting to a different server. Most VPN providers have multiple servers in other locations, so try connecting to a server in a different country or region and see if that helps.
Contact your VPN provider's support team for assistance. They can give you a workaround or suggest alternative servers to use.
If you try to access content that FITE TV has restricted in your area, they may prevent your VPN from accessing it if the server you're using is blacklisted or there is IPleak.
In addition, suspicious activity from your VPN provider's IP, such as an attempt to make a fraudulent purchase or use a stolen card, may have caused Fite TV to blacklist the server you're connecting with.
Fite TV's servers may be experiencing high levels of VPN traffic, which could lead to network congestion.
Summary
Even if you live in an area where FITE TV is not broadcasting certain events, only available in specific countries, you can still enjoy the content without giving up.
You can access all its content from anywhere in the world using a FITE TV VPN.
Fortunately, the recommended VPN option allows unlimited server changes, allowing users to eliminate the "FITE TV not available in your territory" error for any show they want to watch.
ExpressVPN with FITE TV will grant you access to shows like NJPW Rumble – Rocky, Romero & Clark Connors, GCW: Japan Combo 2022, Renegades of Wrestling: Rebellion, etc.
Furthermore, it enhances online privacy and security and grants you access to a vast network of servers in over 90 countries.